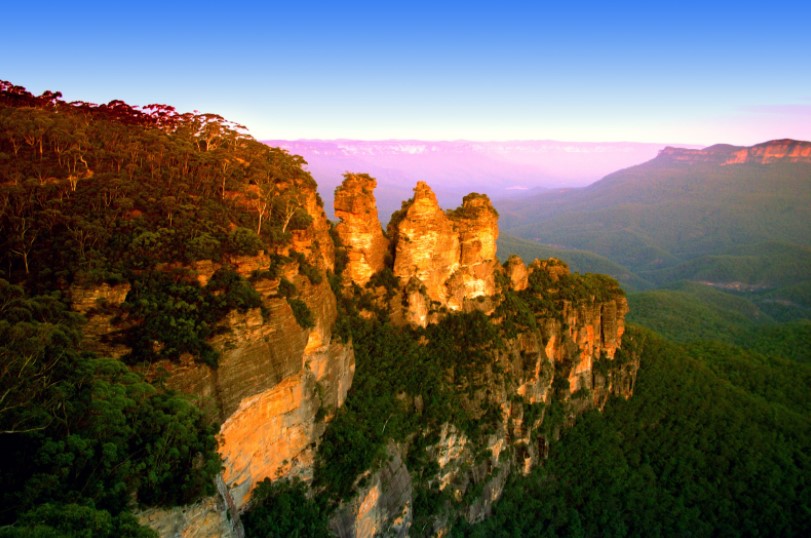 Here are 68 of the best things to do in the Blue Mountains. In our ultimate guide, you will discover activities for kids, places to eat and relax, the best bushwalks, beautiful sites, attractions and so much more! Get insight from a local for how to get the most out of your visit to the Blue Mountains for the whole family.
Please CLICK ON THE QUICK LINKS below to know more about all of the sensational things to do in the Blue Mountains.
Blue Mountains Places To Eat
High Tea At The Hydro Majestic Blackheath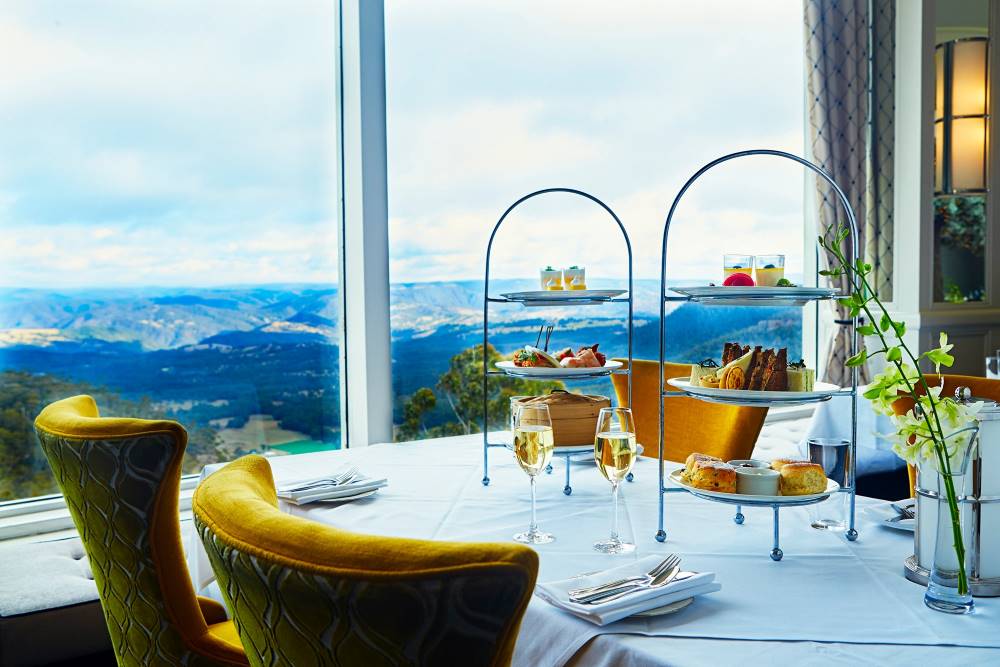 The Hydro Majestic is an iconic historical hotel in the Blue Mountains and definitely worth a visit. Their afternoon high tea is a Blue Mountains institution.
Other places to enjoy a Blue Mountains High Tea:
There are a host of other lovely places to book a lovely Blue Mountains high tea. High Tea and Devonshire tea at the Megalong Tea Rooms are very popular. High tea is also served at Art Nouveau Carrington Hotel Katoomba, Fairmont Resort Katoomba, Lillianfels Katoomba, Linsday's Cafe Faulconbridge, Archer and Hobbs Katoomba and Bygone's Beauty Leura.
A Special Dinner In The Blue Mountains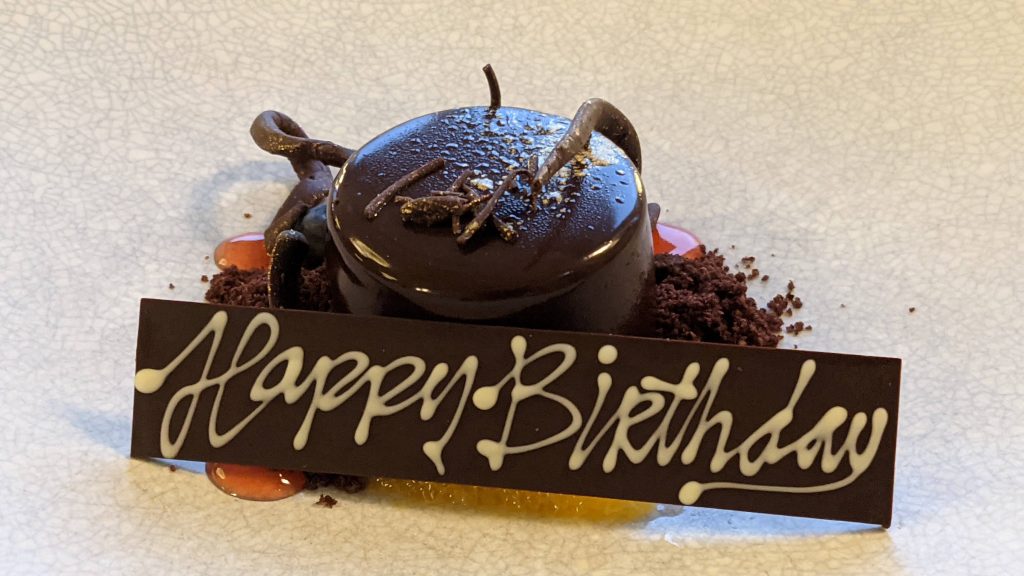 Dinner at the Hydro Majestic's Wintergarden or Boiler House with panoramic views is a real treat. The oriental-inspired Salon Du Tea is equally beautiful. You can't go wrong at the Hydro. The views and service are second to none.
The Hydro's sister property, Lilianfels Blue Mountains Resort and Spa in Katoomba, provides another high-class dining option with Darley's Restaurant, for your special occasion.
You may also like Echoes Restaurant and Bar with panoramic views of the Jamison Valley, Silk's Brasserie in Wentworth Falls and Arrana in Springwood are also great options for that special dinner. For something a little more relaxed, The Avalon in Katoomba is a unique art deco cocktail bar and restaurant with impressive views.
Back to the top of the article
Blue Mountains With Children
Visit An Inclusive Adventure Playground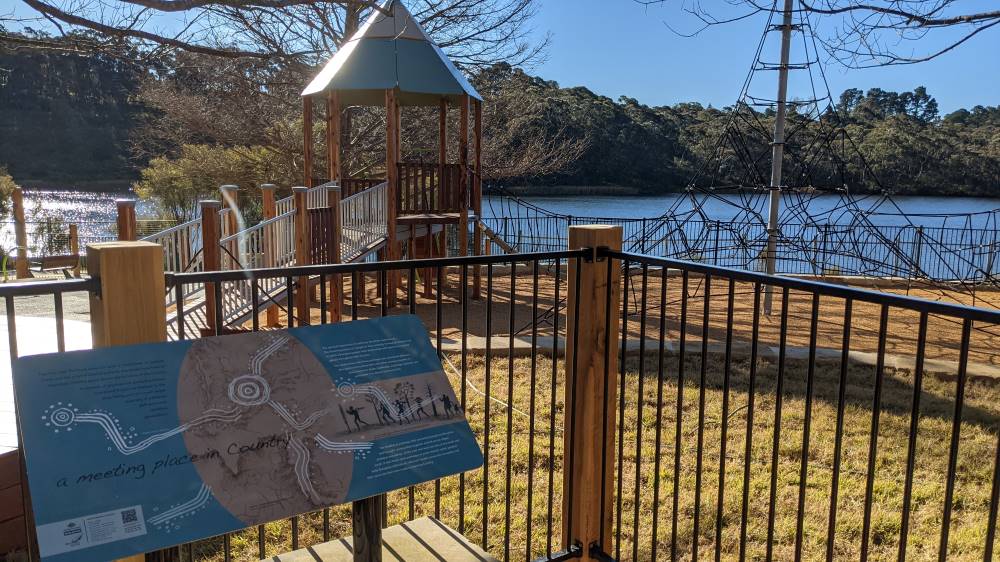 The Blue Mountains are upgrading many of their playgrounds to become more inclusive and action-packed. Explore our favourite parks and playgrounds in the Blue Mountains, particularly Lithgow Adventure Playground (at the western foot of the mountains), Glenbrook Adventure Park (located at the eastern end of the mountains) and Wentworth Falls Lake Adventure Playground (upper Blue Mountains, opening soon!).
Get Active On Wheels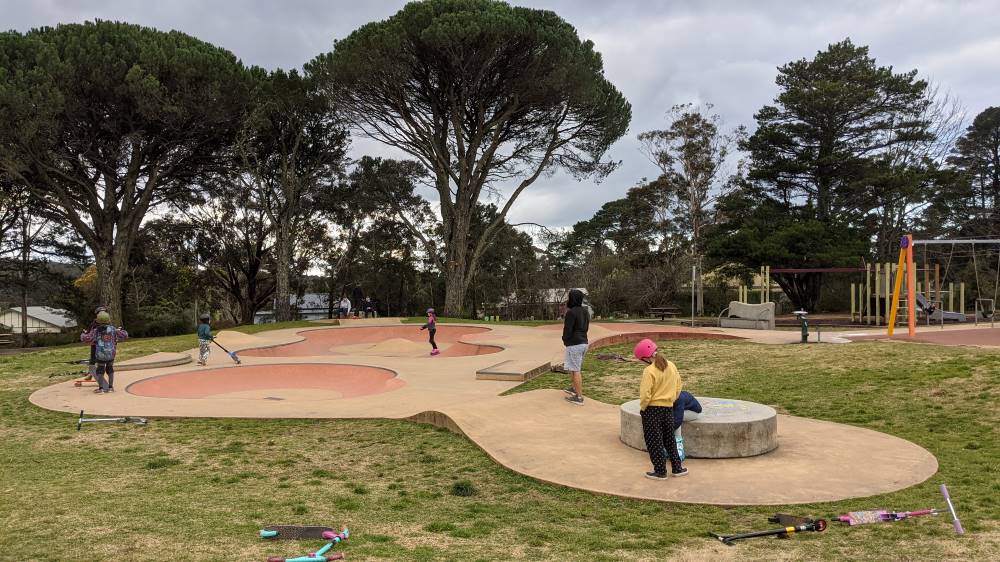 This is one of the most active things to do in the Blue Mountains for young children, apart from bushwalking. These spots are where local children head to practise pedalling, braking and navigating with their wheels. Discover places in the Blue Mountains with bike paths for kids to get exercise and learn essential bike riding and scooter skills.
Pick Fruit & Vegetables In Bilpin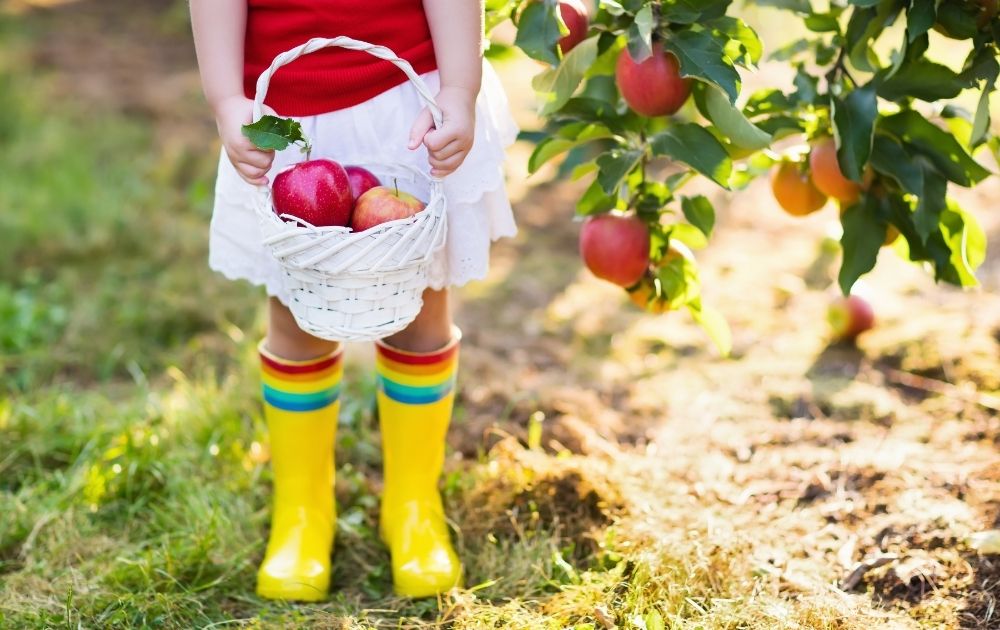 Bilpin is the heart of fruit picking in the Blue Mountains. Pick your own fruit farms are becoming one of the most popular things to do in the Blue Mountains. Bilpin Fruit Bowl is a popular spot for fruit and vegetable picking, including strawberry picking!
Other wonderful places to pick fruit in the Blue Mountains include:
Pine Crest Orchard, Bilpin Springs Orchard and
TNT Produce Pick Your Own Apples.
Explore Nature On A Blue Mountains Bushwalk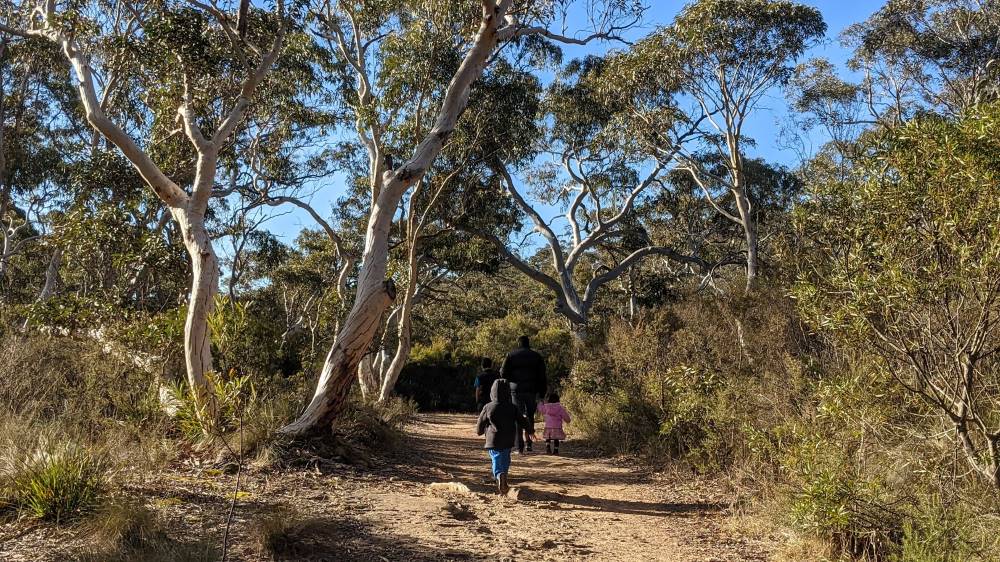 A Blue Mountains bushwalk is definitely one of the best experiences that you could have in the Blue Mountains. There are so many amazing bushwalks, so which one to choose? If you are bushwalking with children, you may need to consider your walk based on age and stamina.
For incredible views and a pram friendly walk, Fairfax Heritage Track in Blackheath is perfect. If you have more time and like waterfalls (they are not too big though), the Waterfall Loop Track, South Lawson, is a popular bushwalk with families. Horseshoe Falls, Hazelbrook and Birdwood Gully, Springwood, are also very popular with local families. Mermaids Cave Walk, Blackheath is a hidden gem in Blackheath, if you are limited for time but would like to see a special spot.
The Grand Canyon track is considered one of the very best, most beautiful Blue Mountains bushwalks. The Three Sisters Walk, starting from Echo Point, is the most touristy (because it is so beautiful and accessible). The Prince Henry Cliff Walk, Wentworth Falls Track, Lockleys Pylon and Valley of the Waters are also amazing. As you can see, there are so many options.
If we could pick just one (ok, two) bushwalks and were not limited by time, ability or young children, it would be the Grand Canyon track in Blackheath, which sets out from Evan's Lookout. The Prince Henry Cliff Walk is also a must do, to witness so many outstanding lookouts along one 7km track.
Ride Miniature Trains At Wascoe Siding Blaxland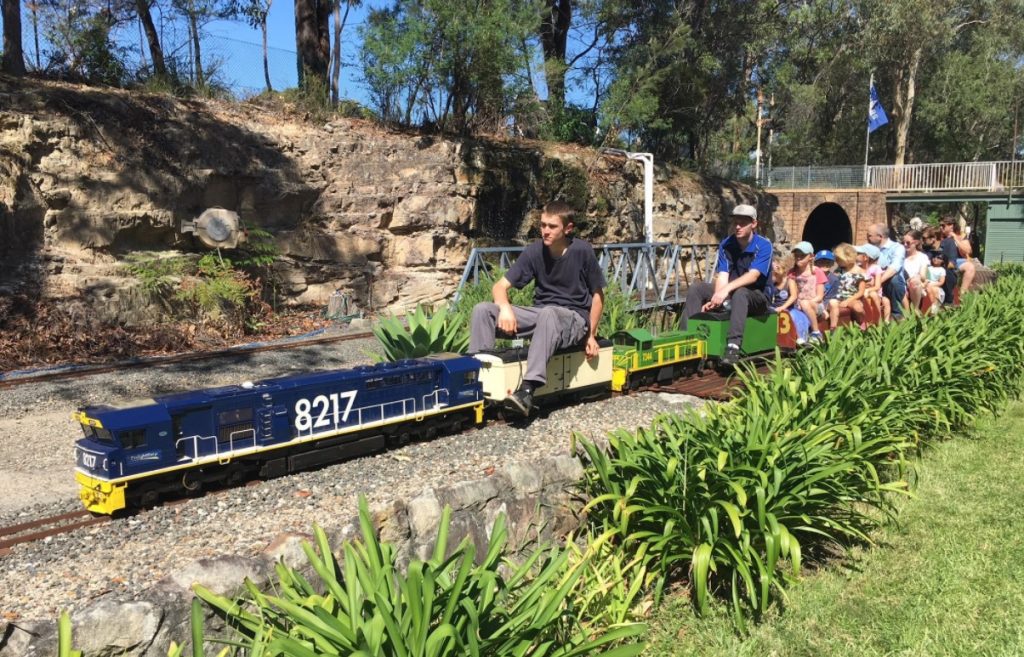 Wascoe Siding Miniature Railway is a fun and unique family activity in the lower Blue Mountains, suitable for all ages. Learn about steam engines from local miniature railway experts and create wonderful memories at the historic Wascoe Siding Minature Railway.
Discover Glow Worms At Newnes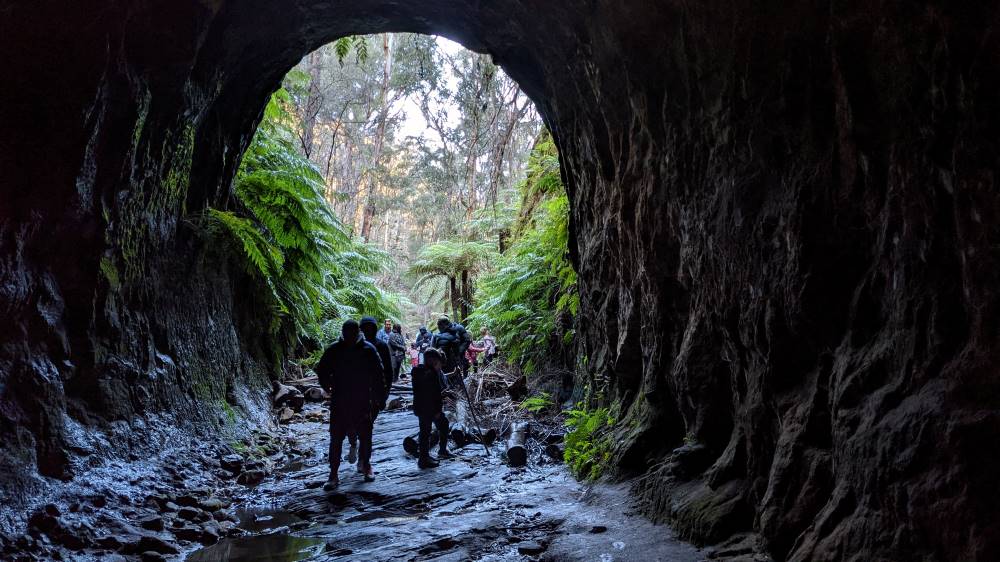 See the wonder of glow worms in the Glow Worm Tunnel in Wollemi National Park, near Lithgow. It is a short, easy, family friendly track set within a forest landscape. If you're lucky, you may even spot wildlife like goannas or even a koala.
Eat Lunch (And Treats) At These Child Friendly Places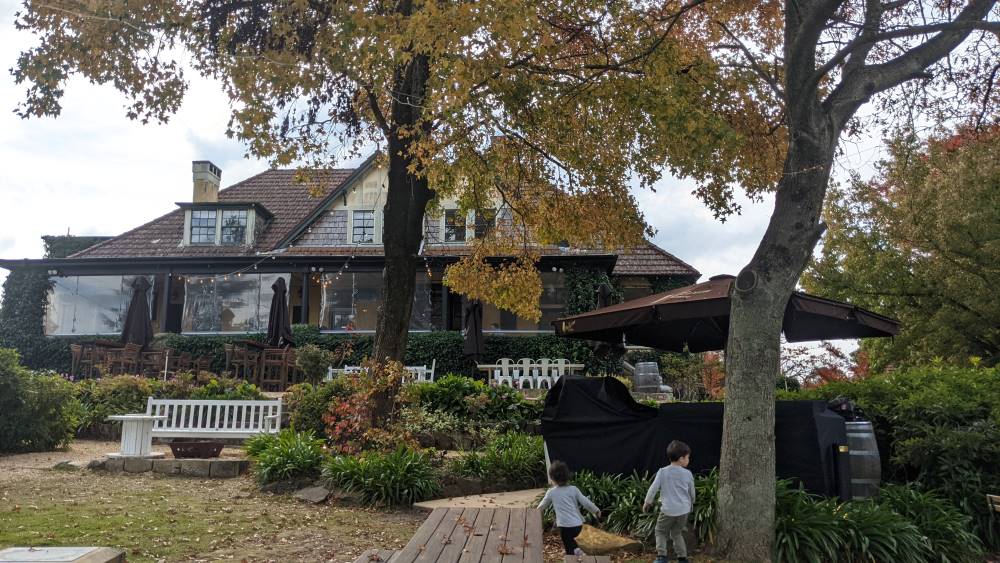 If you are after a family friendly place to eat, you will find plenty of affordable options in the Blue Mountains. Grab a toasted sandwich at a cafe with an outdoor area with a playhouse at The Gingerbread House Katoomba. The Bunker in Leura is also popular for its service, food, beautiful views and outdoor setting with a swing set. The Blue Mountains Chocolate Company serve their famous hot chocolate and there is also space for kids to run around too.
The Candy Store Leura and The Lolly Bug in Little Hartley are definitely for sweet treats (sadly, The Lolly Bug was affected by fire in January 2022, so it will be closed for some time) and The Bilpin Cider Co. and Hillbilly Cider offer families a relaxing Blue Mountains setting for a delicious outdoor lunch.
Pick Your Own Sunflowers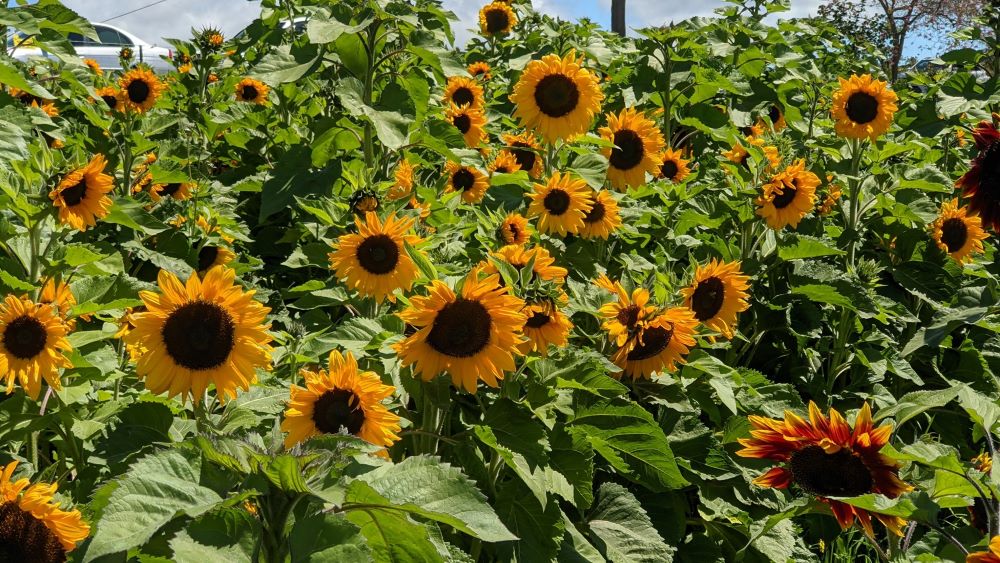 Picking your own sunflowers at Glenbernie Family Farms in the warmer months is a lovely family activity that will be sure to lift your spirits! The field of sunflowers are just beautiful and the farm is located at the foot of the Blue Mountains, near Kurrajong. Afterwards, head up to Bilpin to make a day out in the area.
Back to the top of the article
Become a Blue Mountains Junior Ranger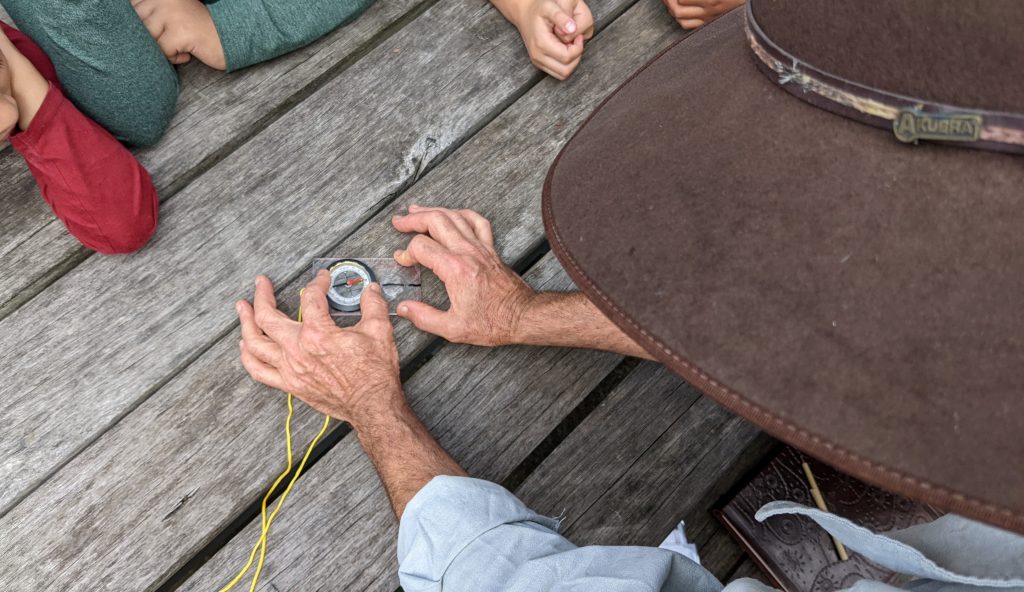 NSW National Parks runs guided tours for kids and families during the school holidays to discover the hidden mysteries of the Blue Mountains. Become a Junior Ranger and learn how to survive in the bush, discover all about lizards, get creative with Aboriginal art workshops and more!
Keep an eye on this page to see fun tours and activities in the Blue Mountains National Park.
Blue Mountains Attractions
Buy Locally Made Gifts At Blue Mountains Markets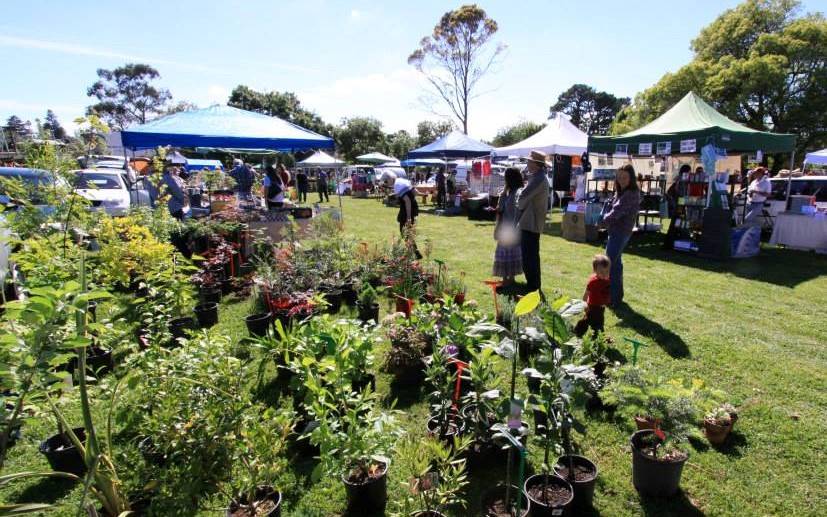 The Blue Mountains are famous for their wonderful community markets. They bring great fun and atmosphere to our weekends, for locals and visitors alike, as well as support local businesses. There are so many markets to check out throughout the month but the most popular tend to be Glenbrook Rotary Markets with over 70 stalls, run on the first and the third Saturdays every month, and Blackheath Grower's Market on the second Sunday every month, with over 60 stalls.
See The Three Sisters At Echo Point & Walk To Honeymoon Bridge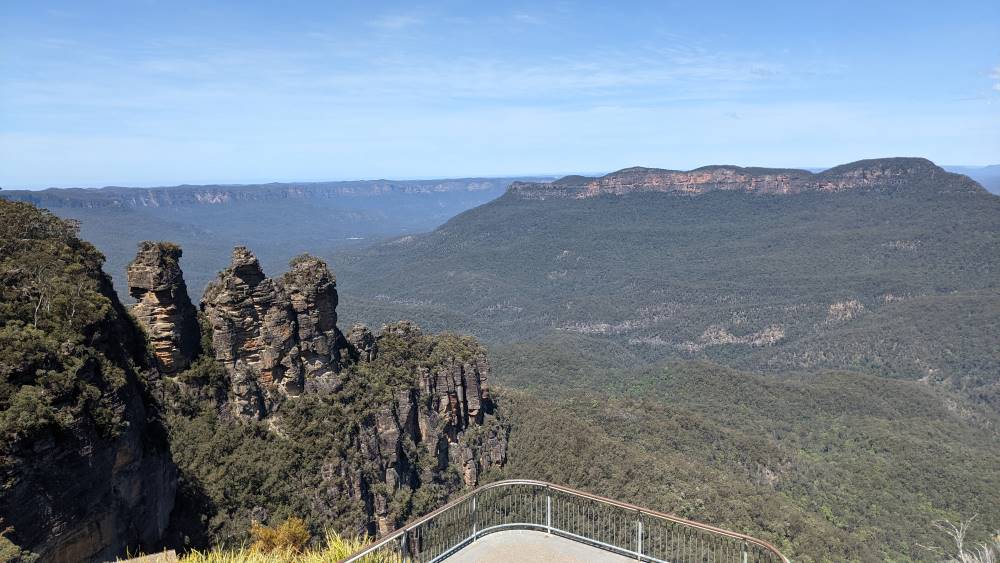 Echo Point Lookout, Katoomba, is the most famous, culturally significant lookout in the Blue Mountains, most likely because it is the best spot to see The Three Sisters, 'Meehni', 'Wimlah' and 'Gunnedoo'. According to Aboriginal legend, the three sisters were turned to stone by their father to protect them from an angry bunyip.
After immersing yourself in the views of Jameson Valley, complete the 800m return Three Sister's Walk from Echo Point via the Giant Stairway to Honeymoon Bridge, which connects to the first sister. It is a short walk with a steep staircase and spectacular views of the Jameson Valley.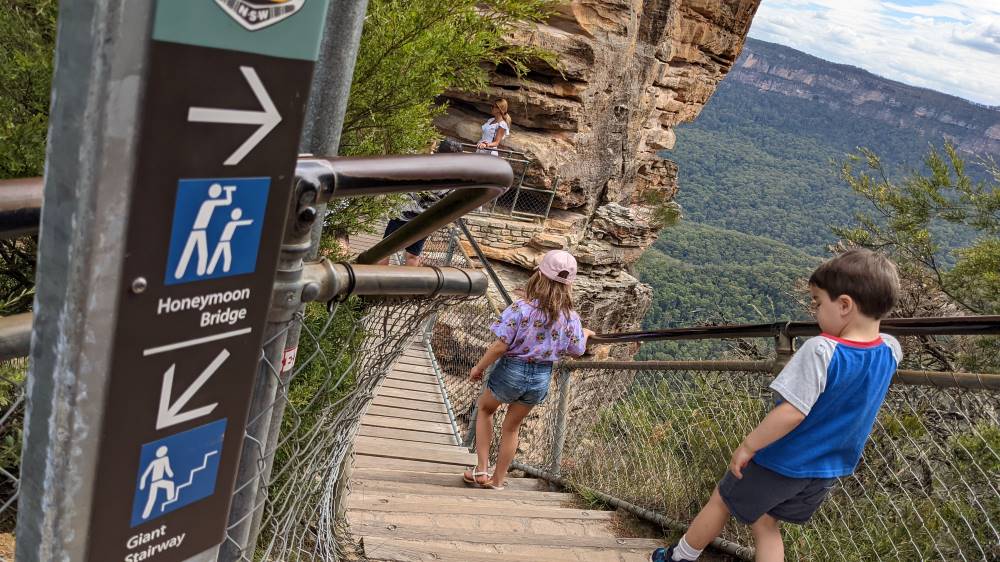 Ride The Steepest Railway At Scenic World Blue Mountains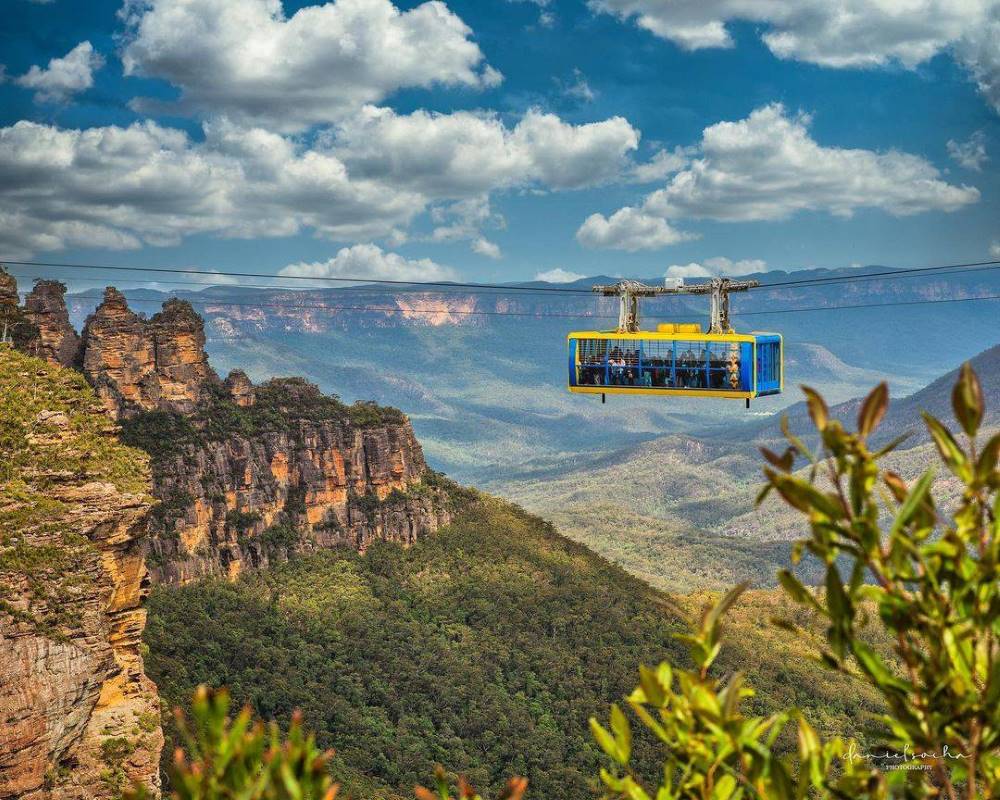 Scenic World is a wonderful tourist attraction that is home to the world's steepest passenger railway, the largest aerial cable car in the Southern Hemisphere, the Scenic Cableway, and the longest boardwalk in Australia. In the Summer, have a roaring good time at Scenic World's Dinosaur Valley!
Wander Through Oberon's Mayfield Gardens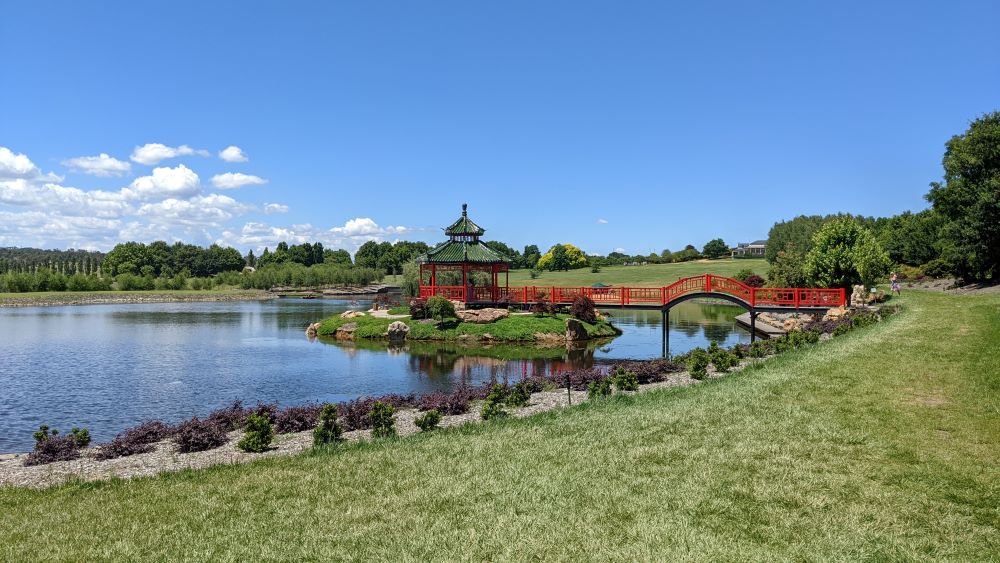 Open 363 days of the year, Mayfield Garden is gardening perfection, and lovely to visit in all seasons of the year. This cool climate garden with English Box Hedge maze, Formal Garden and Creek & Lake Garden Beds. Mayfield Garden is family owned, always growing and features seasonal festivals throughout the year.
Day Trip To Jenolan Caves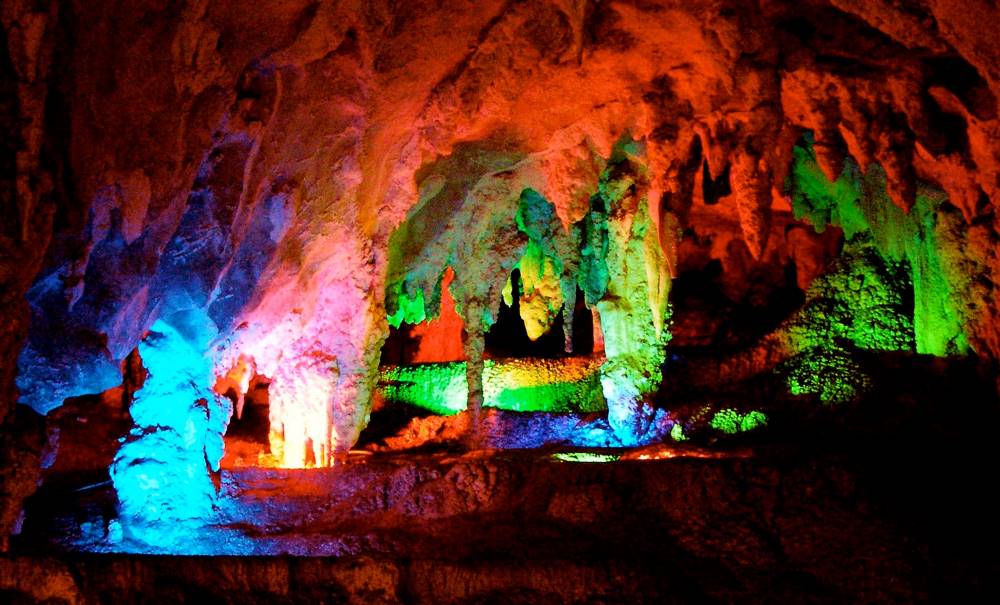 Jenolan Caves are considered to be Australia's largest and most incredible caves. You will be treated to stunning scenery, crystal blue waters, accommodation, restaurant and cafe. It is a destination in itself that the whole family will enjoy. Children under 6 are free.
Back to the top of the article
Blue Mountains On A Hot Day
Cool Off On The Five Waterfalls Loop Track, South Lawson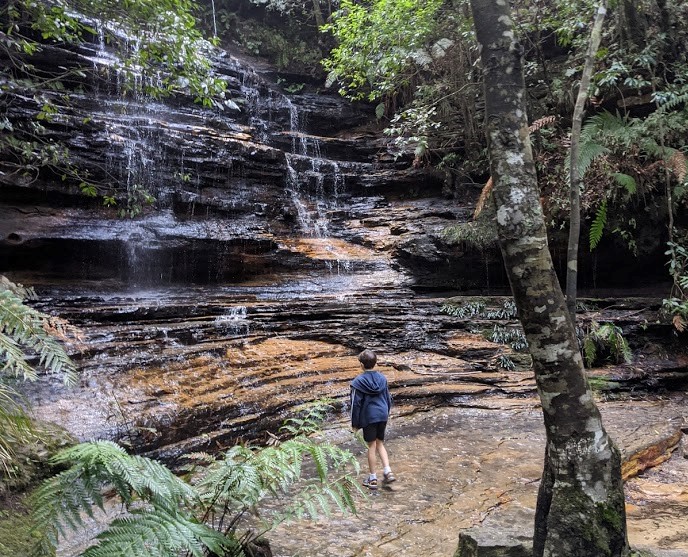 The Five Waterfalls Track in South Lawson is one of the most picturesque bushwalks for families in the Blue Mountains. This track is an easy-medium grade 3km track that takes around 1.5 – 2 hours. There's a 125m ascent so plan to take breaks at each of the five beautiful waterfalls.
On a warm day, children – and dogs! – can enjoy playing on the peaceful beach areas and there is usually ample water to splash in (if we are not in a season of drought).
There is also an abundance of flora and fauna to explore. So bring your picnic and get your camera ready for the exquisite beauty of this luscious trail. This is one of the most highly recommended child (and dog) friendly bushwalks in the Blue Mountains.

Splash At Yarramundi Reserve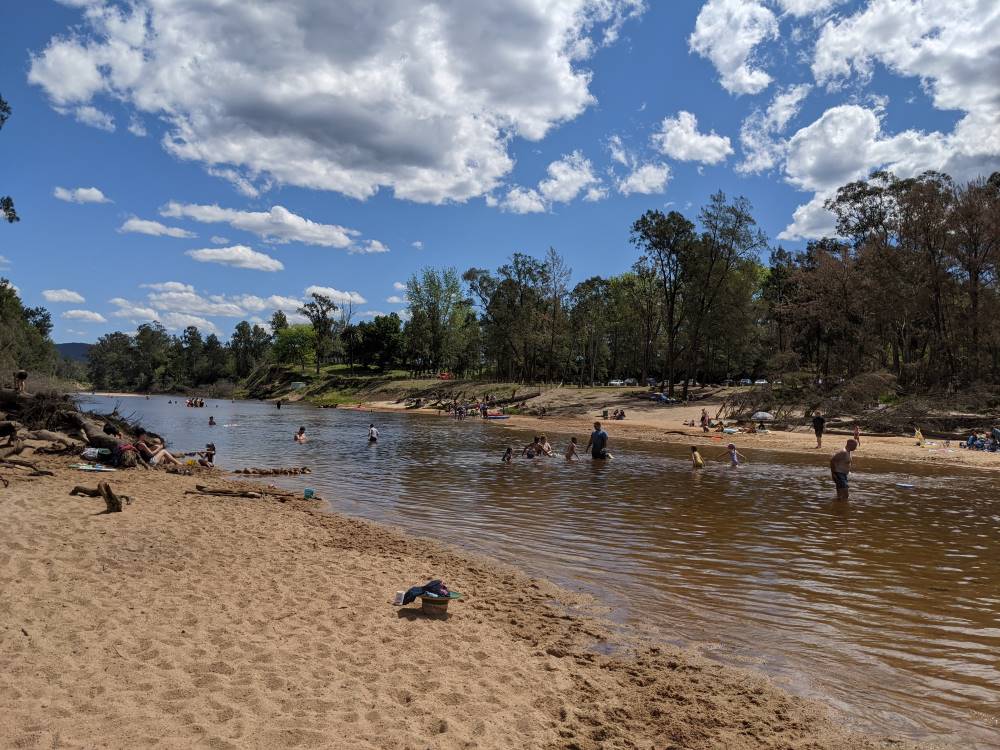 If you are looking for a free natural swimming spot that is off the beaten track Yarramundi Reserve is one area to cool off in the warmer months. Set just outside of the Blue Mountains National Park, in the Hawkesbury, discover a spot that local families flock to in Summer (it gets very busy on a hot weekend). Bring inflatable rafts and toys, water guns, buckets and spades, boogie boards, kayaks or canoes for extra outdoor fun in the Blue Mountains.

Play At Pool of Siloam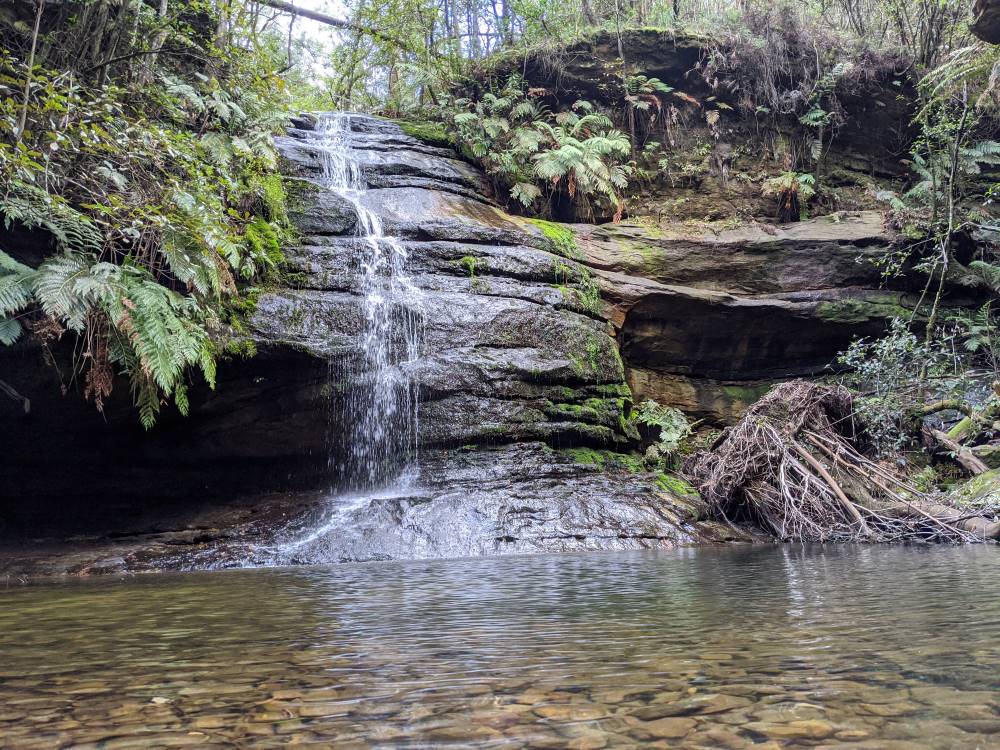 The Pool of Siloam is a tranquil waterhole and waterfall that starts at Gordon Falls Reserve, Leura, in the upper Blue Mountains. Here, you will find artificial caves and picnic areas, car parking, play equipment, toilets and electric barbeques. There is often a coffee van at Gordon Falls Reserve too. This is a wonderful spot for a family outing!
Wade Down At Jellybean Pool, Glenbrook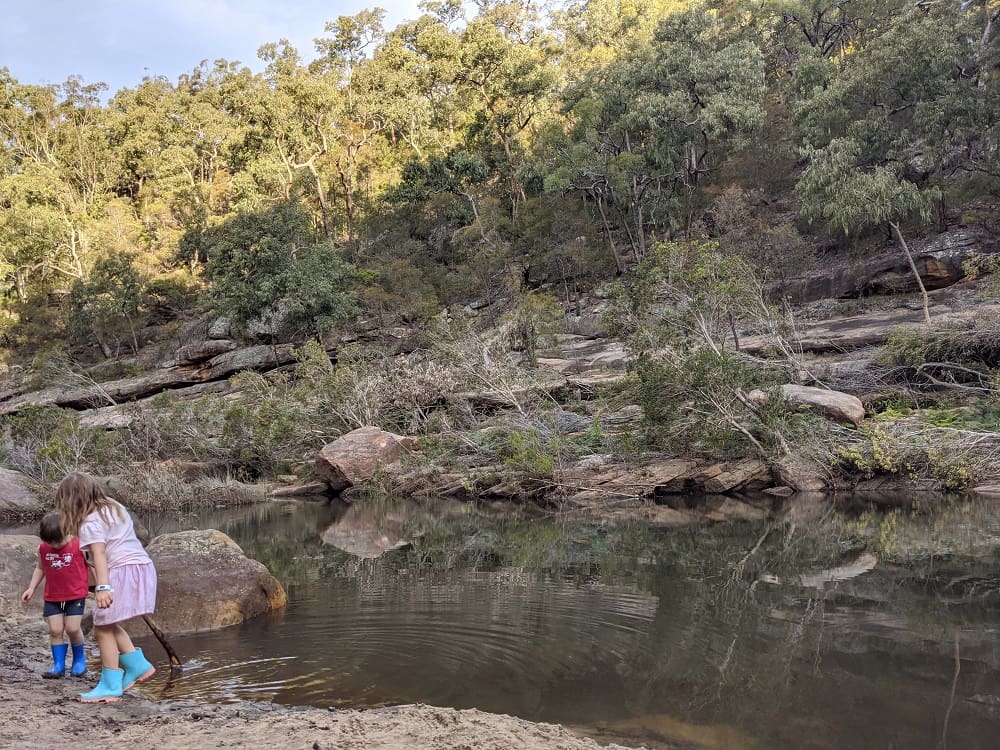 Jellybean Pool is very popular with locals in the warmer months, with its sandy beaches, shady rock platforms and impressive sandstone boulders. It is a beautiful spot to splash, play and enjoy a family picnic. Pop this special place on your 'things to do in the Blue Mountains' list a you head through Glenbrook. A small park entry fee applies.
Swim At One Of The Blue Mountains Leisure Centres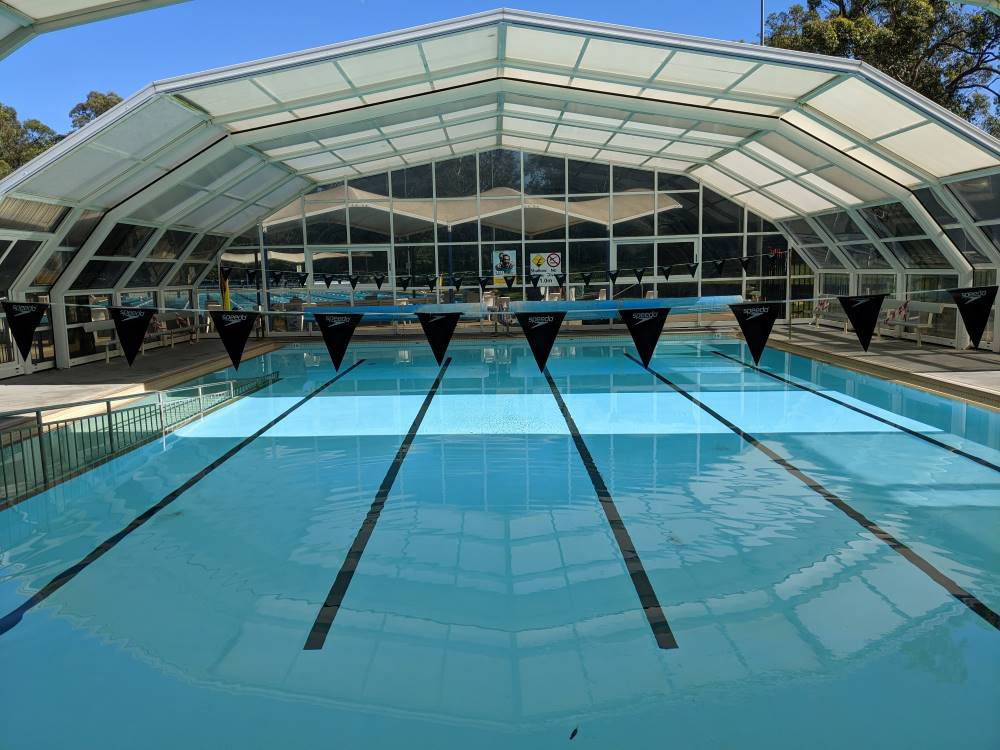 Blue Mountains Leisure Centres are popular recreational hubs and competition centres located throughout the Blue Mountains. They cater to the swimming needs of your whole family with various sized swimming pools and features for fun in the Summer.
Springwood Aquatic and Leisure Centre is a favourite indoor centre with an indoor slide (it only operates limited times though), and great water features, including tipping buckets and water spouts. Glenbrook Leisure Centre is also popular for its indoor / outdoor medium sized pool.
Bushwalk And Swim At Minnehaha Falls, Katoomba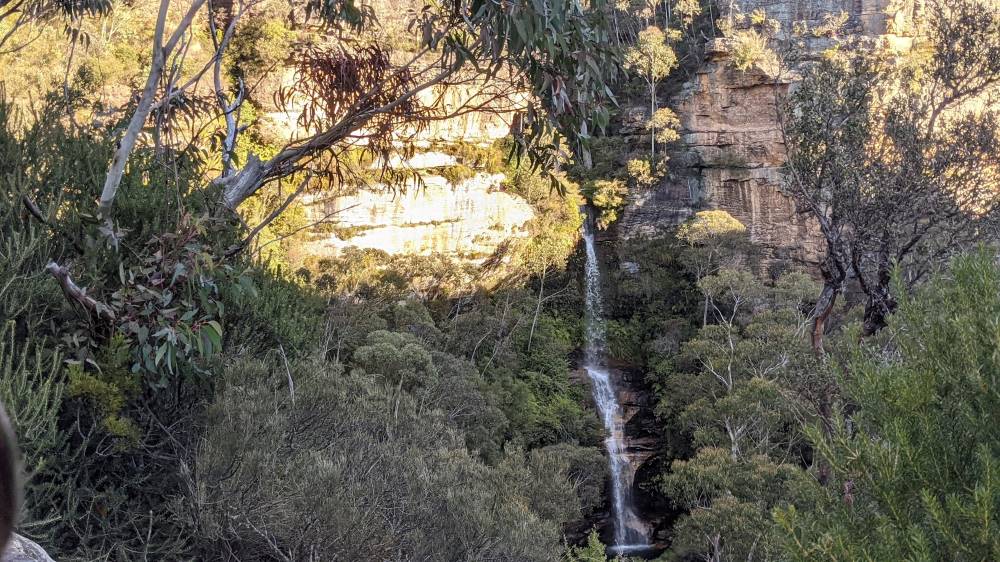 Minnehaha Falls Track Katoomba (also known as Minni Ha Ha Falls) is a beautiful bushwalk in the upper Blue Mountains National Park that leads you 1.2km along Yosemite Creek to a majestic waterfall and an ancient aquamarine swimming hole. Swimming in a natural waterhole (even better is there is a waterfall!) is one of those things to do in the Blue Mountains that really is quintessentially the Blue Mountains.
Swim At Empress Falls Swimming Hole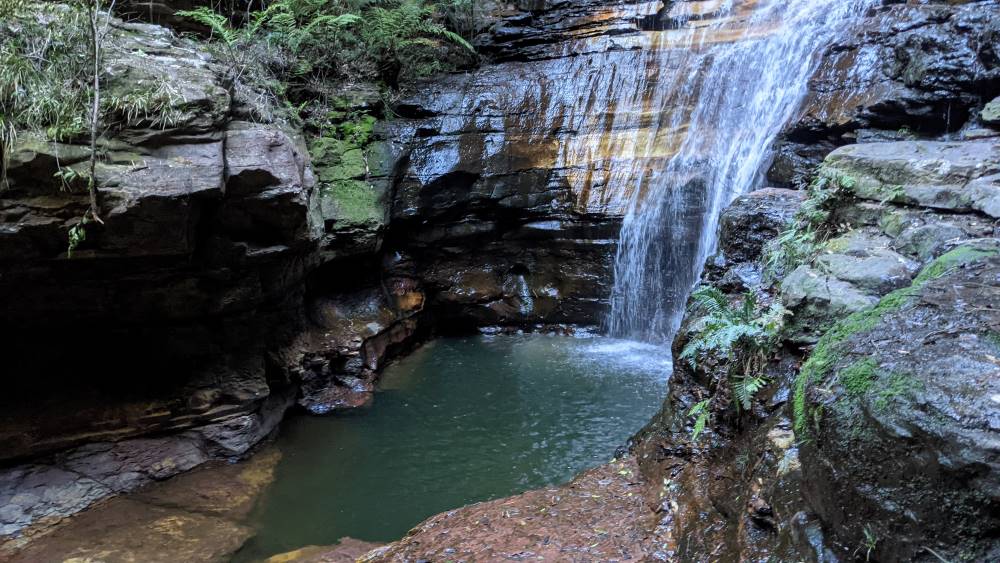 The Valley of the Waters Empress Falls Walking Track in Wentworth Falls is one of the most sensational waterfalls and natural swimming holes in the Blue Mountains National Park. Canyoners and abseilers congregate here for an extravagant dose of adventure and visitors from all over the world flock here to behold one of the most captivating scenes in the Blue Mountains National Park.
Walk The Leura Cascades Circuit
The Leura Cascades Round Walk is set in the lovely town of Leura in the upper Blue Mountains. It is a short (about 1km), family friendly and scenic walk set in a watery rainforest wonderland. On a hot Summer's day, it is a few degrees cooler down near the cascades as you need to descend towards the Jamison Valley.
Back to the top of the article
Blue Mountains Outdoor Adventure
Go On A Beautiful Family Friendly Blue Mountains Bushwalk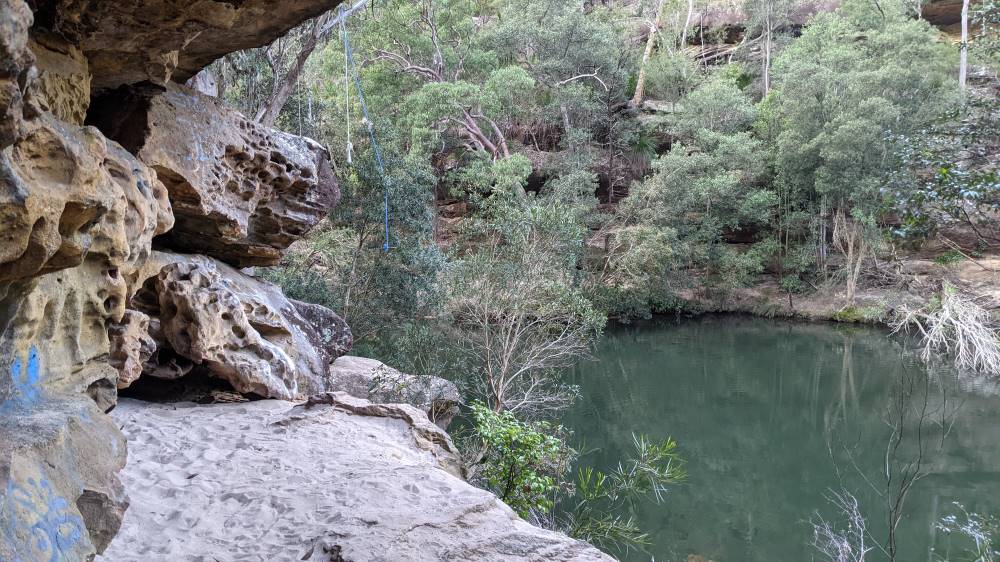 The Blue Mountains are a sensational place for bushwalking with children. Out of the hundreds of tracks to explore, there are some bushwalks that are more suitable for children just starting out or with less experience.
Hunt For Treasure With Blue Mountains Geocaching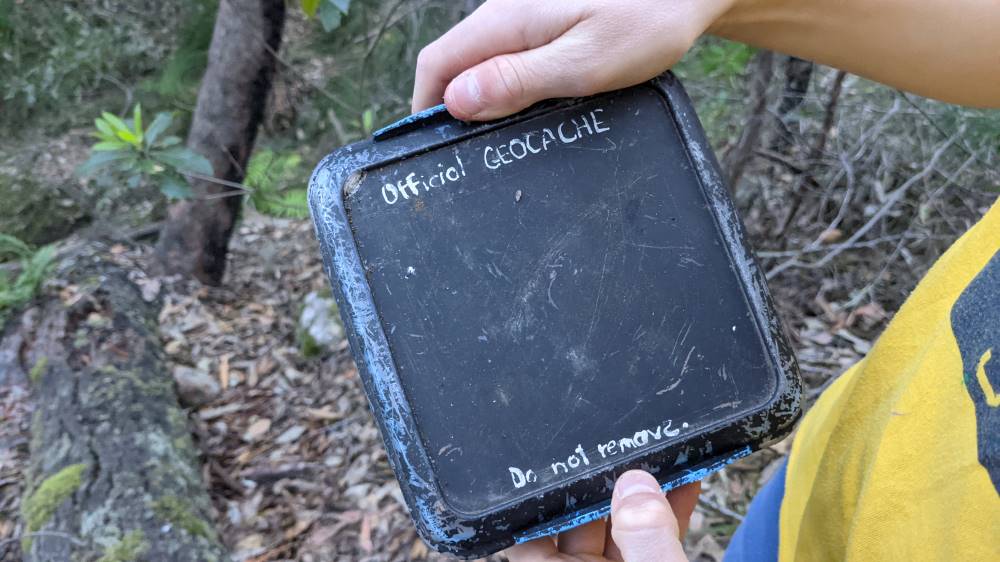 Make your walk an adventure and join the world's largest treasure hunt with geocaching. Follow the clues and coordinates, find the cache, sign your name and return the box. It's a great way for your family to stay healthy while having fun.
Download an app such as geocaching.com to find caches near you (there are plenty of easy, free caches to find without having to upgrade your app).
Abseil Down A Cliff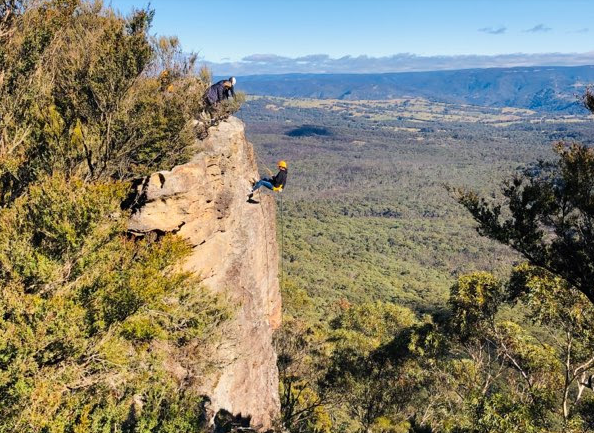 Have an adventure of a lifetime with High and Wild's Blue Mountains Abseiling Adventure, in Katoomba. You will experience the Blue Mountains in a way that is up close and personal and you'll fall in love with this incredible place that you call home. Abseiling is definitely one of the most memorable things to do in the Blue Mountains while you are here.
Go Canyoning At One Of These Awesome Sites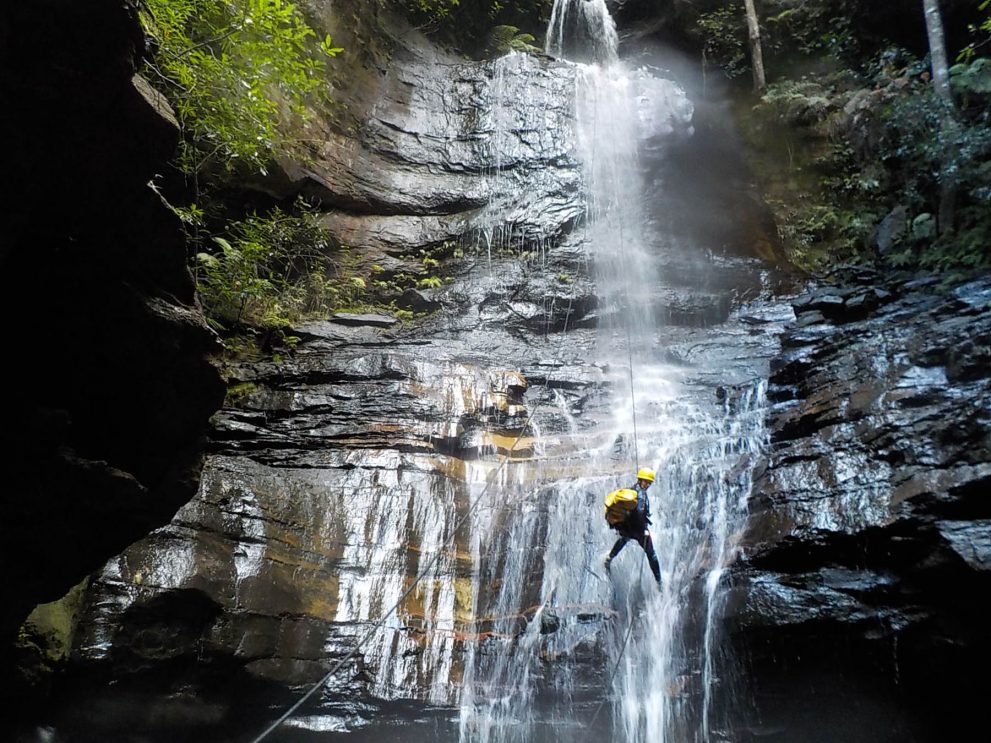 Experience abseiling, bushwalking and splashing, all in the stunning natural beauty of the Blue Mountains. With over 900 breathtaking slot canyons hidden within the Blue Mountains, there is a canyon for all levels of ability.
Some of the most popular canyons include Empress Canyon (Valley of the Waters Empress Falls, Wentworth Falls), Butterbox Canyon (Mount Hay), Serendipity Canyon (Mount Wilson), Twister Canyon and Rocky Creek (Neunes Plateau) and Grand Canyon (Blackheath).
If you prefer a guided tour, there are a few companies around that offer this amazing experience, including High and Wild Australian Adventures.
Camp At Euroka Clearing And See Kangaroos In The Wild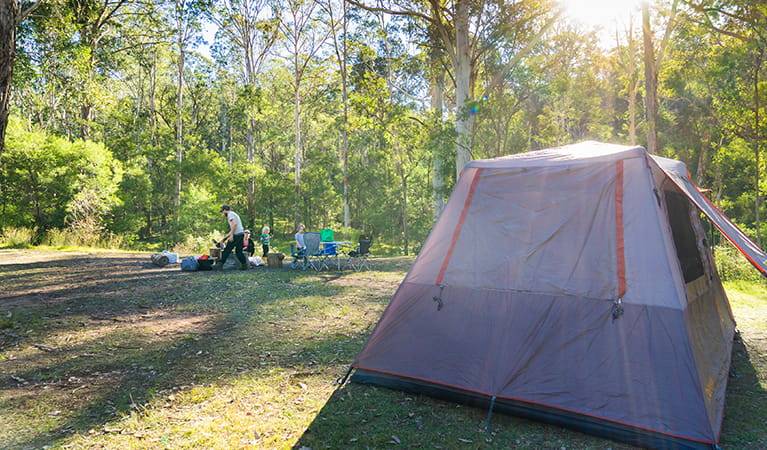 Book your next family camping trip at Euroka! It is one of the best spots to see kangaroos in the wild, as well as a variety of native birds, like cockatoos and parrots. Bring bikes for a ride along Oaks fire trail and walk to Jellybean Pool and Red Hands Cave. You will find picnic tables, firepits, barbeque facilities and toilets.
Bookings are essential and there are park entry fees in addition to your camping fees. There is a lot to explore at Euroka Clearing, making it a popular spot for local families.
Visit Amazing Natural Sites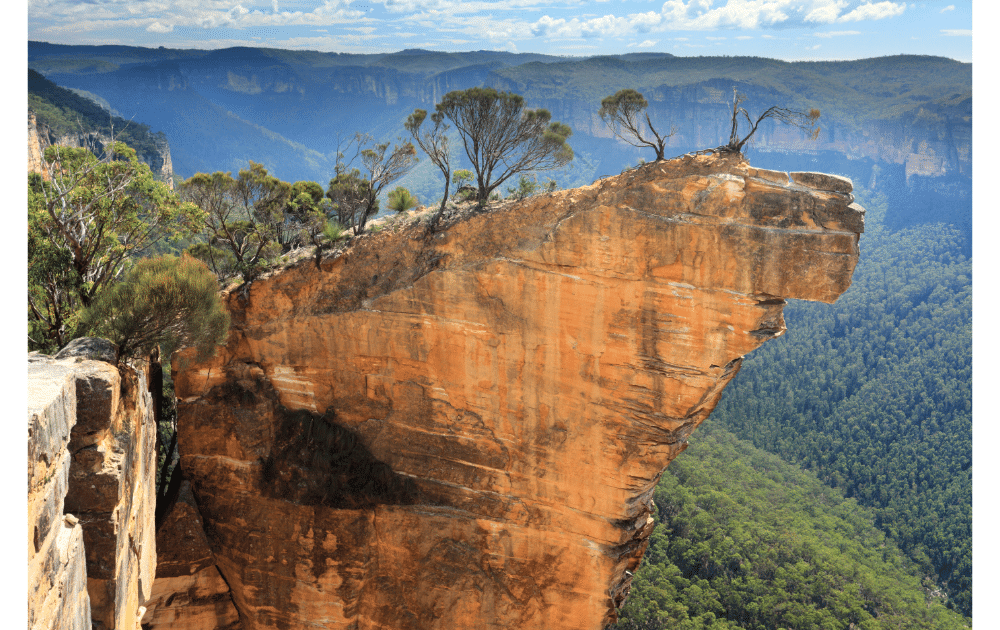 The Blue Mountains National Park are full of incredible wonders of nature. Hanging Rock (put away a couple of hours for this walk in Blackheath), Wind Eroded Cave (Blackheath), Orphan Rock (at Katoomba Falls Lookout), Anvil Rock (Blackheath) and King's Cave (Linden) are just a few that are worth setting your eyes on when you visit the Blue Mountains.
Brave Bowtells Suspension Bridge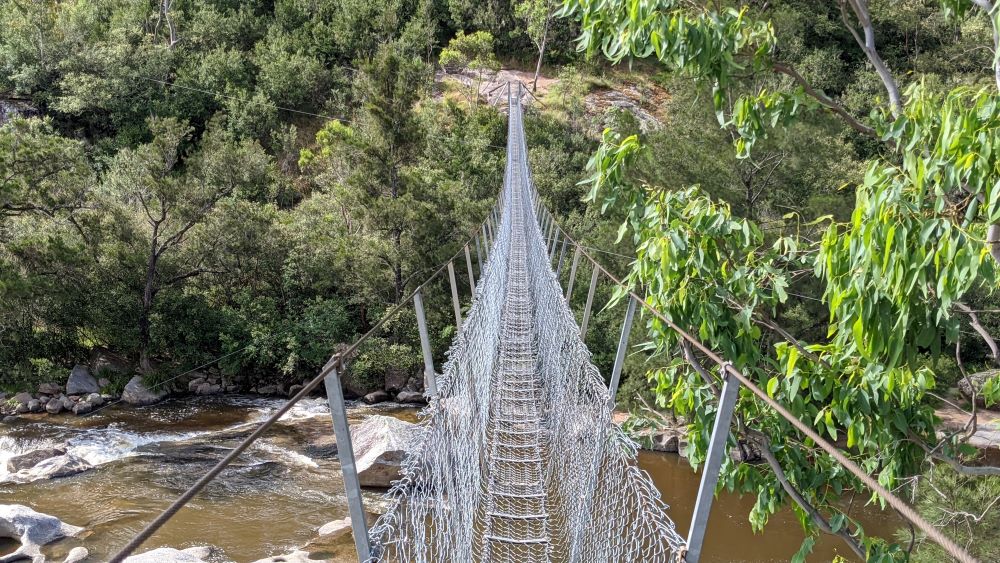 A walk across Bowtells Suspension Bridge is a unique Blue Mountains experience that you won't forget. Bowtells Suspension Bridge (also known as Bowtells Swing Bridge) is elevated about 270 metres high. A walk across the bridge is highly recommended if you are after a special adventure, that also gives you a bit of an adrenalin hit!
Back to the top of the article
Relax In The Blue Mountains
Ride A Horse Or Pony In The Kanimbla Valley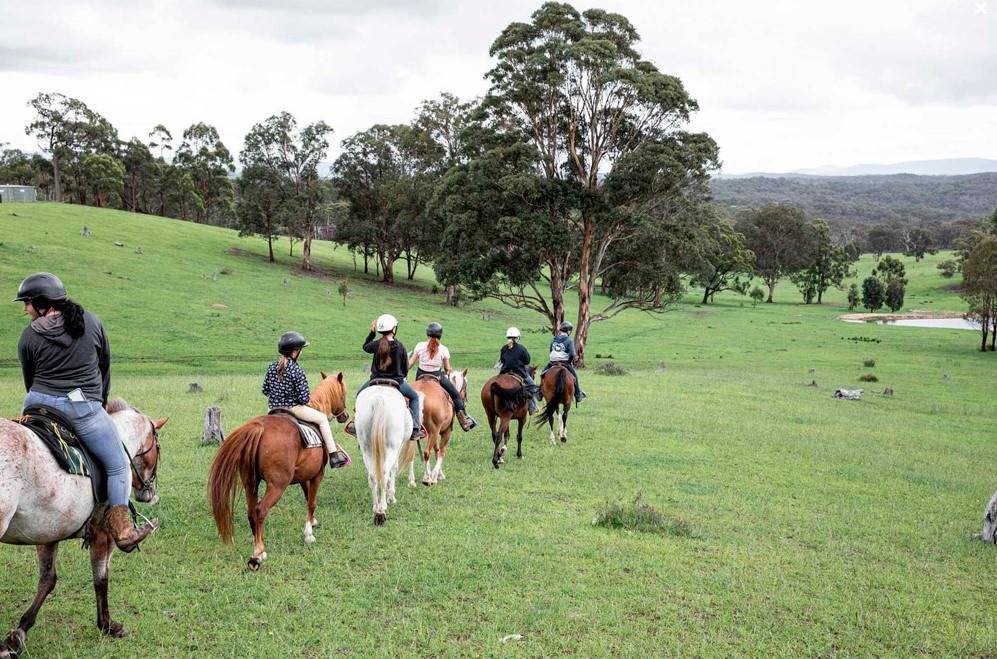 Enjoy fantastic views of Blue Mountains escarpments, open paddock, bushland and mountainside horse trails. The horses are quiet, guides are friendly and riding groups are small to better enjoy the peace and quiet of the beautiful valley.
Take A Day Trip To The Megalong Valley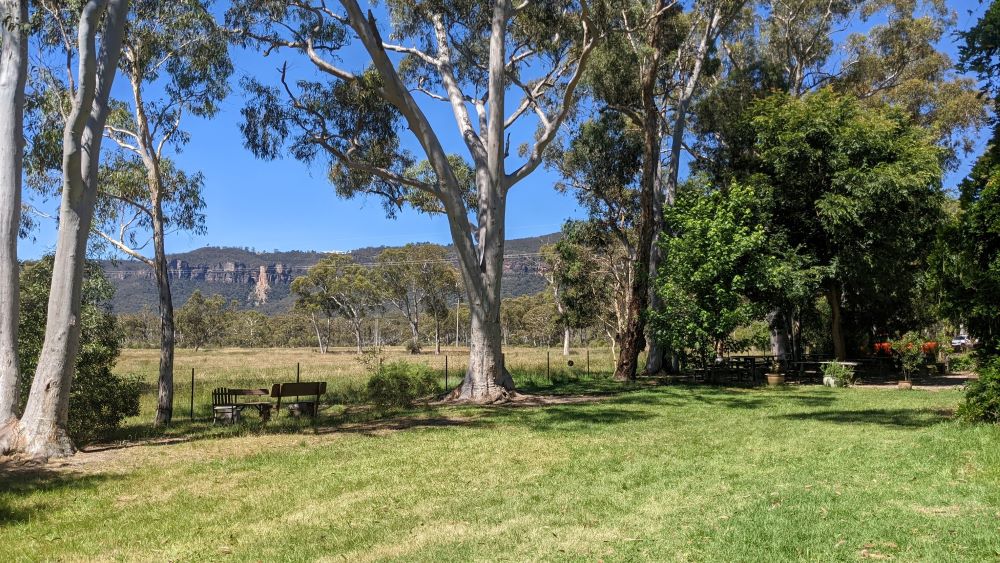 Make a day out in the beautiful Megalong Valley. Enjoy a country style lunch or Devonshire tea at The Megalong Valley Tearooms. Megalong Valley Farm is just up the road and the sensational Dryridge Estate & Megalong Creek Estate are a couple of kilometres further.
Pick up some apple juice from the side of the road from Loganbrae Orchard along Shipley Road and check out the newly renovated Hargraves Lookout – this is worth your time while you are in the area.
Also in the area are Centennial Glen Stables for horse and pony rides (book online for this).
Also recommended is the Mermaid Caves walk and Coachwood Glen Nature Trail, which you will pass on your way to the Megalong Valley.
There is plenty to explore for the whole family in the Blue Mountains Megalong Valley!
Picnic & BBQ At Blue Mountains Botanic Gardens, Mount Tomah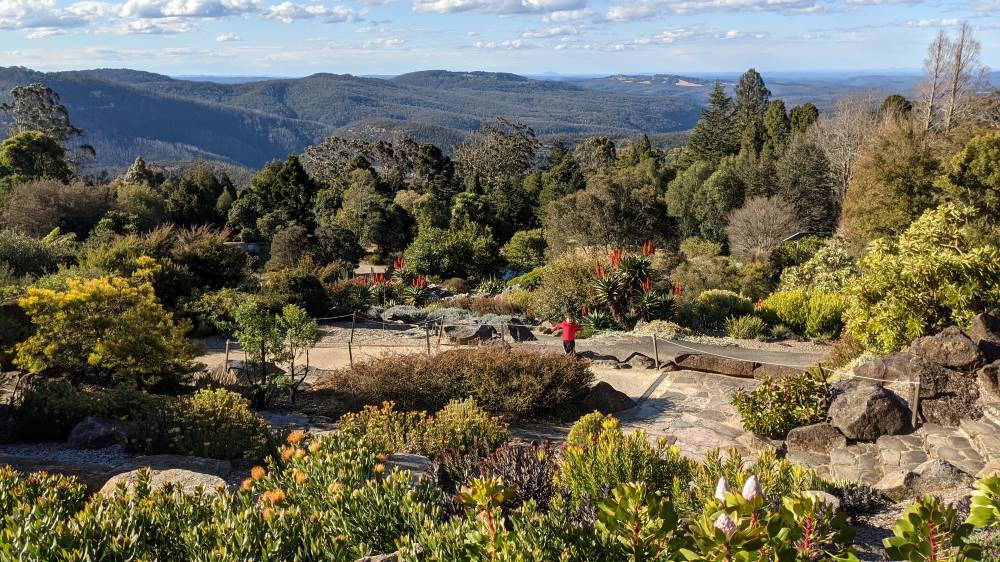 Blue Mountains Botanic Garden Mount Tomah is a sensational place to visit with the whole family. You will be wowed by the diversity and beauty of these well maintained gardens, nestled deep in the Blue Mountains National Park. Entry is FREE and the gardens are open 9 am – 5 pm every day of the year! (except Christmas Day). Visiting the Blue Mountains Botanic Garden is one of the most relaxing things to do in the Blue Mountains.
Enjoy A Picnic Lunch At The Rhododendron Gardens In Blackheath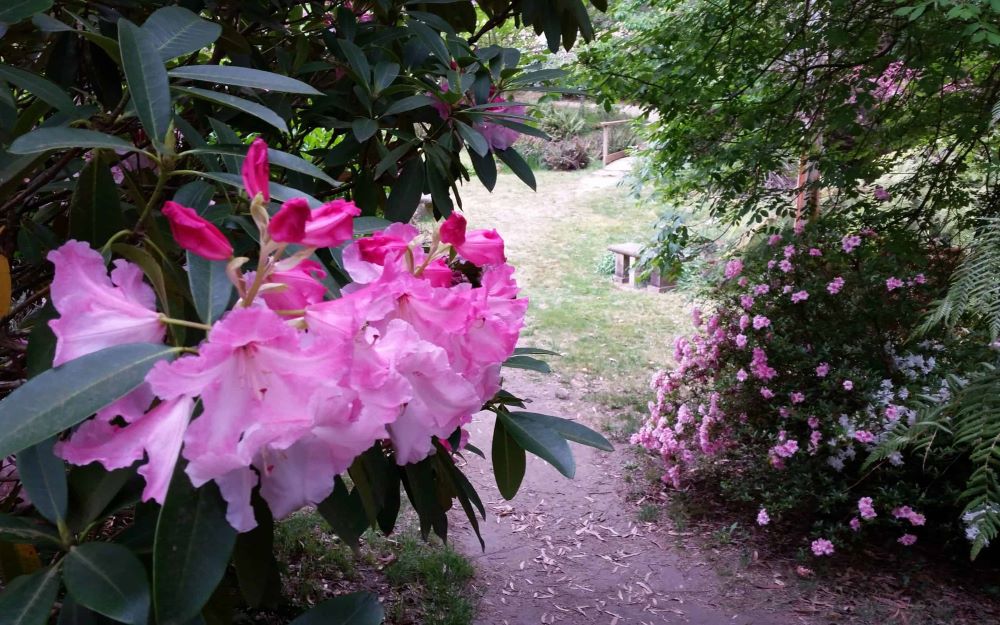 The Rhododendron Gardens in Blackheath are a wonderful place to stroll or picnic with family and friends, or with your dogs (on leads) all year round. However, Spring is the perfect time of year to visit The Campbell Rhododendron Gardens Blackheath when the Rhododendrons are in their most vivid and spectacular beauty. So pack a picnic and make a stop for lunch at these lovely gardens in the upper mountains.
Watch The Sunset At Lincoln's Rock, Wentworth Falls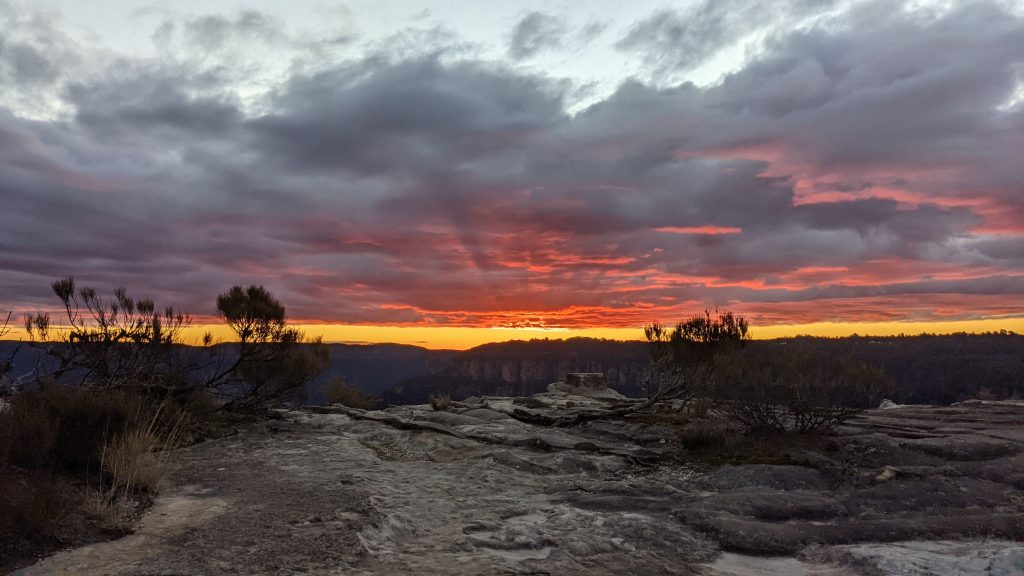 Lincoln's Rock, Wentworth Falls, is a spectacular view over the Jamison Valley. Packing a picnic and watching the sunset is definitely one of the best things to do in the Blue Mountains while you are here. There is a section at Lincoln's Rock where the optical illusion of sitting on the edge of a cliff makes a beautiful photo moment. Be wise at the edge cliffs though. The rule is to stand at least your body length away from the edge.
This amazing spot is no longer a local's secret so please respect local residents and the natural landscape by taking all rubbish with you and keeping noise to a minimum.
Take A Stroll Along Winding Paths at Everglades Historic House And Gardens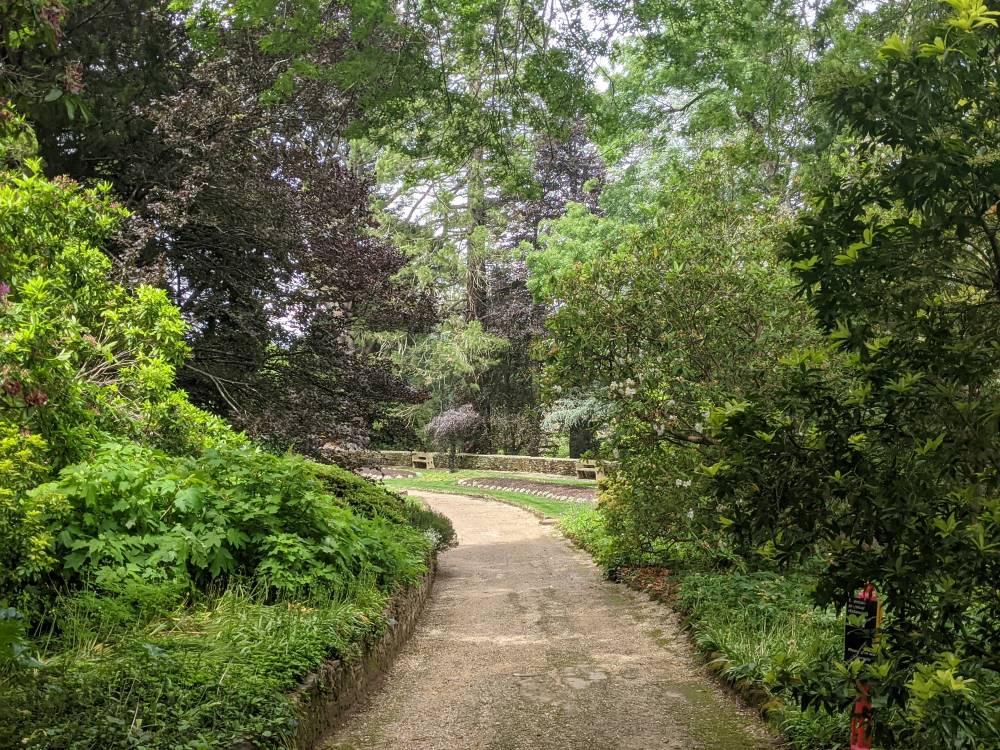 The Moderne-style Everglades 1930s art deco house is set amongst 5.2 hectares of gracefully designed gardens. From Everglades House & Gardens, you can enjoy sweeping views over Jamison Valley to Mt Solitary. Bookings are essential to enjoy these meticulously designed gardens.
Treat Yourself At A Blue Mountains Day Spa
What is more relaxing than a day spa within a stunning World Heritage listed national park? You have the luxury of so many to choose between, including Lilianfels Blue Mountains Resort and Spa, a traditional Japanese onsen at Blue Mountains Sparadise Japanese Bath House and Spa and Echoes Boutique Hotel. After a day of bushwalking and exploring, you will love unwinding at one of the spa sanctuaries to refresh and renew your energy.
Visit A Blue Mountains Winery In The Megalong Valley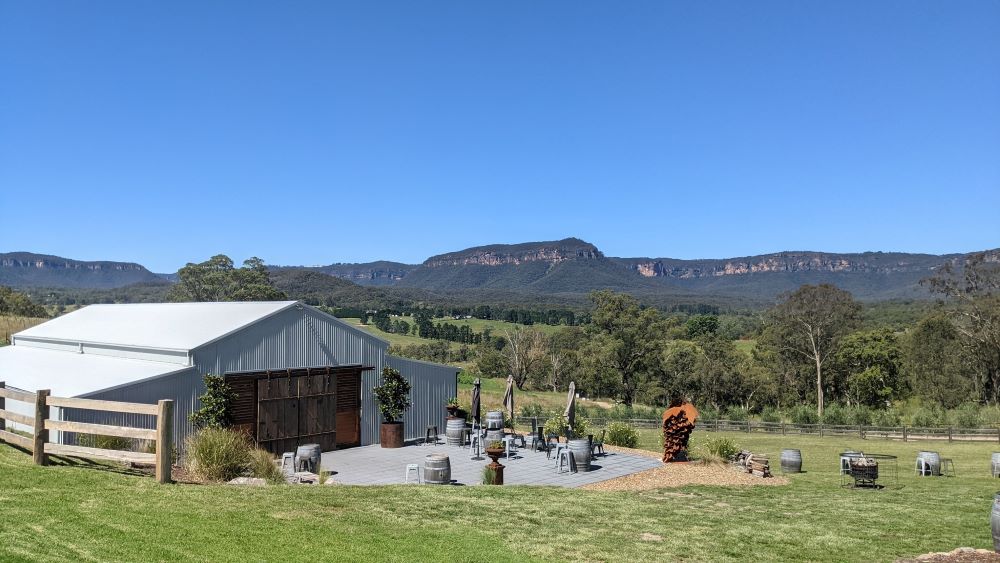 Enjoy the serenity and magnificent views of Blue Mountains sandstone escarpments from Megalong Creek Estate & Dry Ridge Estate. Situated next door to each other (and along the Six Foot Track) these two wineries are the epitome of Blue Mountains relaxation. Offering cellar doors experiences and beautiful wedding venues, these two wineries are too lovely to pass by!
Back to the top of the article
Discover Blue Mountains History
Check Out Glenbrook Tunnel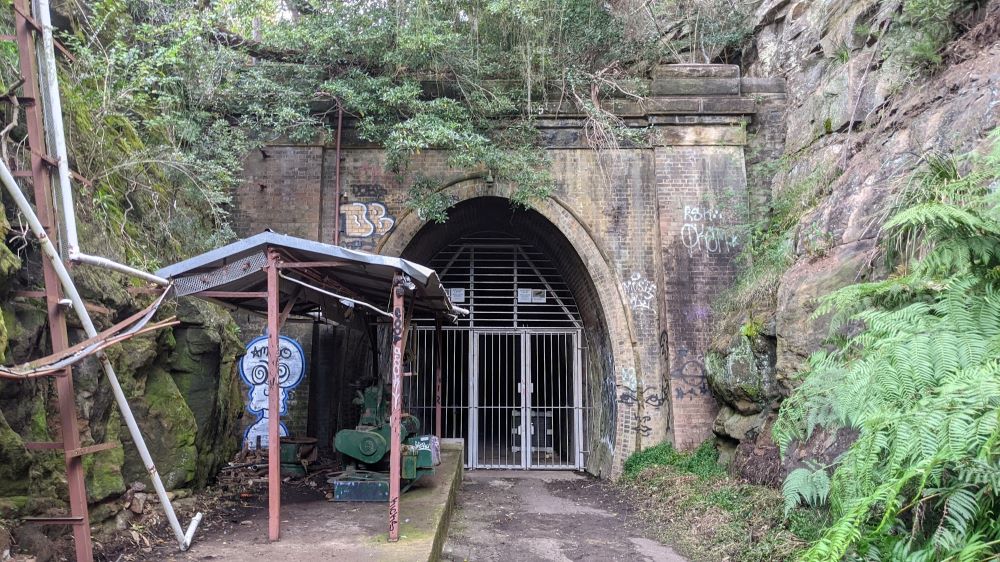 Glenbrook Tunnel, also known as Lapstone Hill Tunnel, is a historic single track 634-meter long s-shaped tunnel that operated from December 18, 1892 until September 25, 1913, as part of the Glenbrook Deviation on the main western train line.
It currently sits locked and unused, but not for long! State funding provides a promising plan to transform Glenbrook Tunnel into a practical recreation and tourism space. The tunnel holds historical significance for train enthusiasts and is easy to find on your way up the mountains.
Ride A Steam Train & Learn About Blue Mountains Locomotive History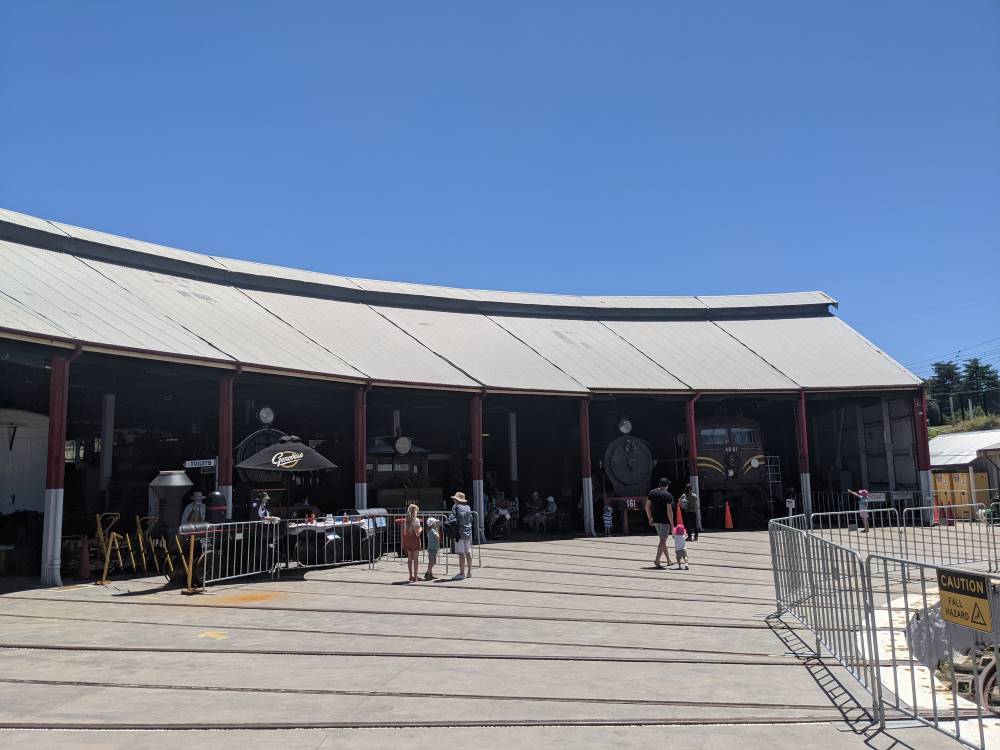 The Valley Heights Locomotive Depot Heritage Museum displays a collection of both railway and tramway exhibits as well as miscellaneous small exhibits, railway art and model railways. The Museum is usually open on the 2nd & 4th Sundays of most months from 10am to 4pm. A ride on a heritage steam train is a real treat and the volunteers are very keen to answer any questions the kids may have about steam trains.
Book online and keep an eye out on the calendar for special Open Day events for Christmas, when Santa arrives on a heritage train, and other special times throughout the year. The kids (and adults!) really enjoy these special events!
Walk Over & Under The Oldest Stone Bridge In Australia, Lennox Bridge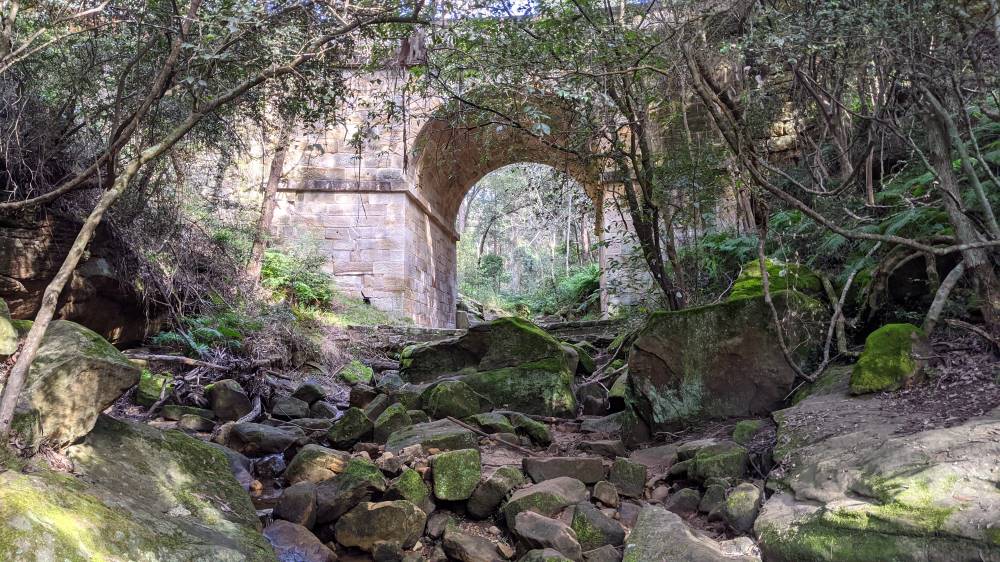 Lennox Bridge Glenbrook is the oldest stone bridge on the Australian mainland! That is reason alone to visit this beautiful stone bridge, but further to its historical value, Lennox Bridge is a lovely spot to bring children to simply explore, hop on rocks, enjoy a picnic and play in nature.
It is connected to plenty of bushwalks and bike trails too, so there is something for everyone when you visit Lennox Bridge.
Stop By Norman Lindsay Gallery, Museum & Cafe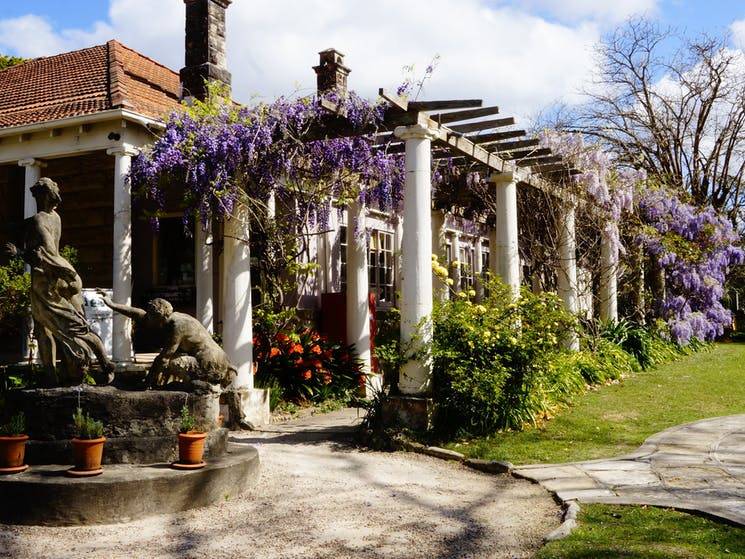 Norman Linsday was an author and illustrator, most famous for his book, 'The Magic Pudding', which was first published in 1918. Norman Lindsay Gallery, run by the NSW National Trust, exhibits Norman Linsday's artworks, including characters from his classic children's book. Enjoy your time perusing art in the gallery (entry fees apply), browsing the gift shop, enjoying the landscaped grounds and having something to eat at the cafe.
Explore King's Tableland for Indigenous History in the Blue Mountains
Kings Tableland is a highly significant Blue Mountains Aboriginal site in Wentworth Falls, in the upper Blue Mountains. It is believed to have been used as a meeting and camping place for around 14,000 years.
On your walk, you will see a variety of remnants that suggested extensive Aboriginal occupation, including bird engravings, axe sharpening grooves, modified rock pools and a sandstone rock platform or shelter, with rock art containing unique vertically engraved depictions of kangaroo and bird tracks.
Descend 888 Historic Stairs On The Giant Stairway In Katoomba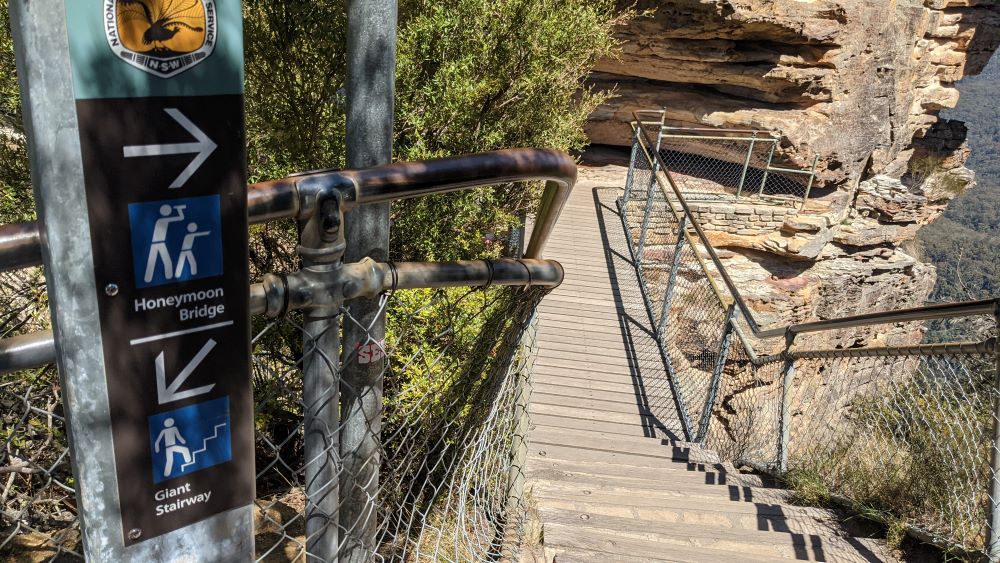 Visit The World's Largest Private Collection Of Teawares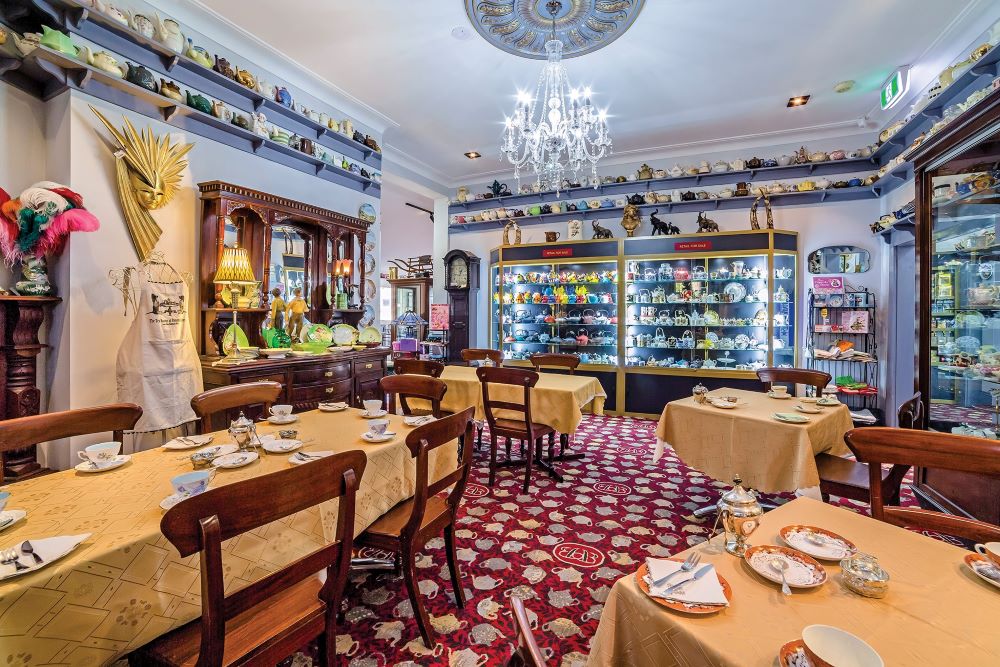 If you appreciate treasured teapots then Bygone Beautys Treasured Teapot Museum & Tearooms is a must-see. Nestled in the village of Leura, the tearooms and showrooms offer visitors a unique and memorable experience. Home to the world's largest private collection of teawares, including more than 5,500 teapots from all over the world and spanning five centuries, most items are on display in the Treasured Teapot Museum.
While you are here, you may also enjoy Bygone Beautys' Traditional High Tea, Devonshire Tea or Julefest 2022 in the Bygone Beautys Tearooms.
Back to the top of the article
Discover 1930s Art Deco Design At Everglades House & Gardens Leura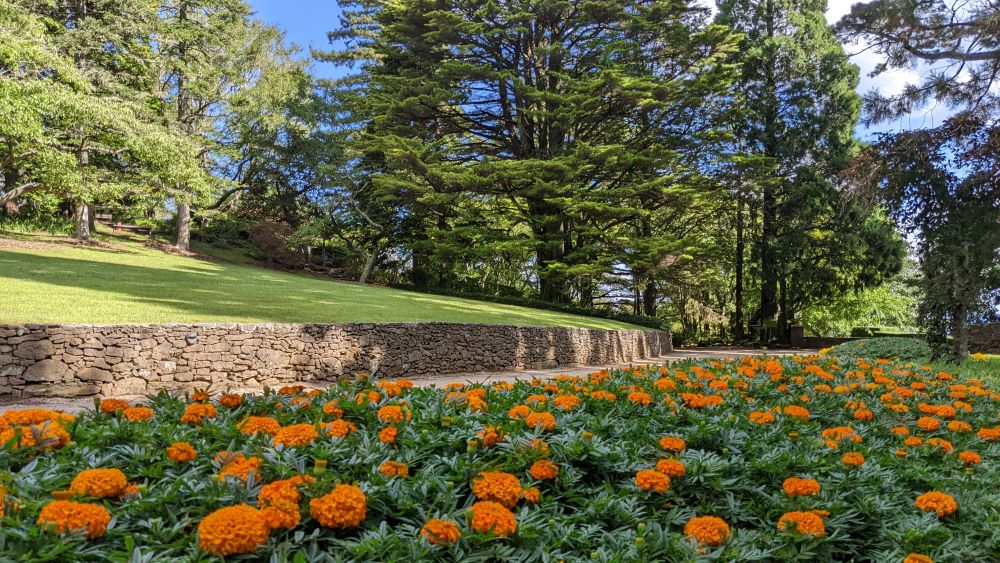 Everglades House & Gardens is a unique experience for the whole family, located in the lovely Leura. You will be transported back to the 1930s as you explore the beautifully designed 5.2 hectare cold climate gardens, sweeping views over the Jamison Valley and discover the bespoke architecture of the art deco designed Blue Mountains weekend retreat of Henri Van de Velde.
Blue Mountains By Night
Find Glow Worms In The Blue Mountains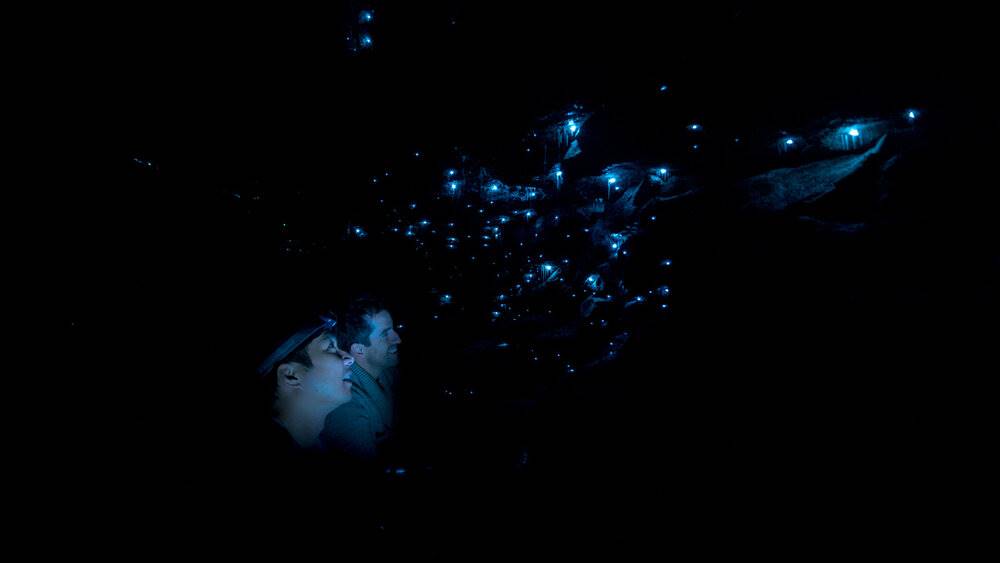 Seeing glow worms is one of the most memorable things to do in the Blue Mountains. Be immersed in the magic of glowworms in the Blue Mountains. Thousands of glowworms live around Horseshoe Falls in Hazelbrook and Birdwood Gully in Springwood, Cataract Falls in Lawson. You may also see them on the Grand Canyon track, but that is for the more adventurous!
To get the full experience you would need to visit at night and turn off all of your lights. If you wanted a daytime experience, you can see glow worms in the Newnes Glowworm Tunnel, near Lithgow. Please respect the glowworms by not shining lights directly at them.
If you would prefer to be guided by an expert, Hooked On Nature run excellent glowworm tours.

Be Amazed On The Katoomba Falls Night Lit Walk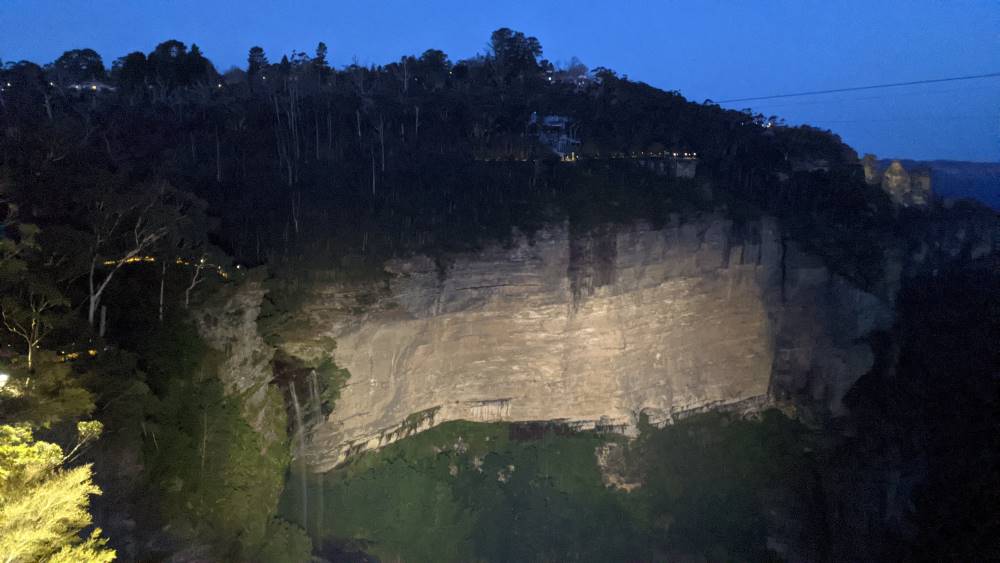 Katoomba Falls Reserve Night Lit Walk in the Blue Mountains National Park is a stunning experience attracting visitors to the region. It is a sensational 1.3km track that illuminates natural features including, Orphan Rock, Witches Leap, Katoomba Falls and Katoomba Cascades. At certain vantage points, you may also see the Three Sisters lit up.
If you are looking for a unique date night, a fun nighttime family adventure or just to simply breathe in the fresh upper Blue Mountains air, head to Katoomba for this amazing new bushwalk. Definitely pop this unique walk on your 'things to do in the Blue Mountains' list. You won't regret it.

Go Star Gazing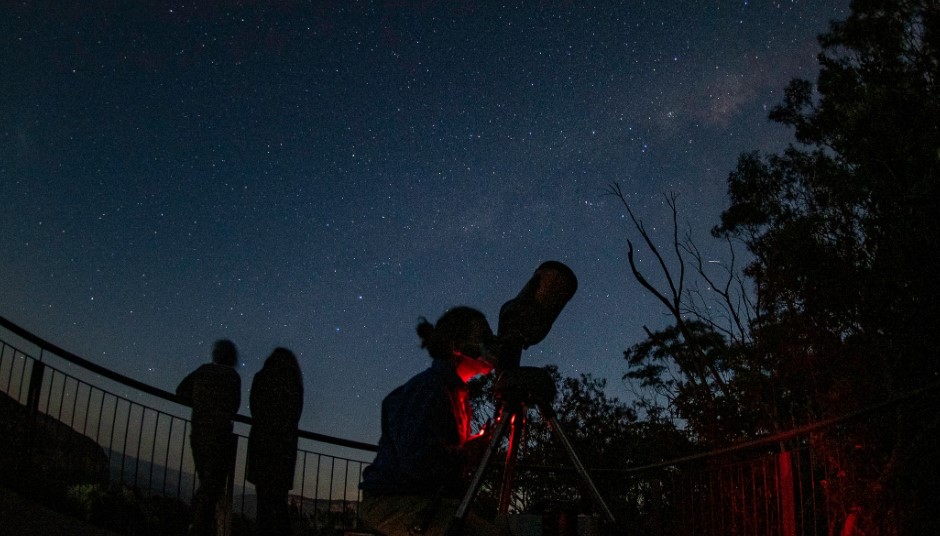 Blue Mountains Stargazing and Blue Mountains Observatory both offer unique astro tours in the Blue Mountains. Enjoy a captivating space journey in an idyllic setting.
Soak Up The Best Views At Blue Mountains Lookouts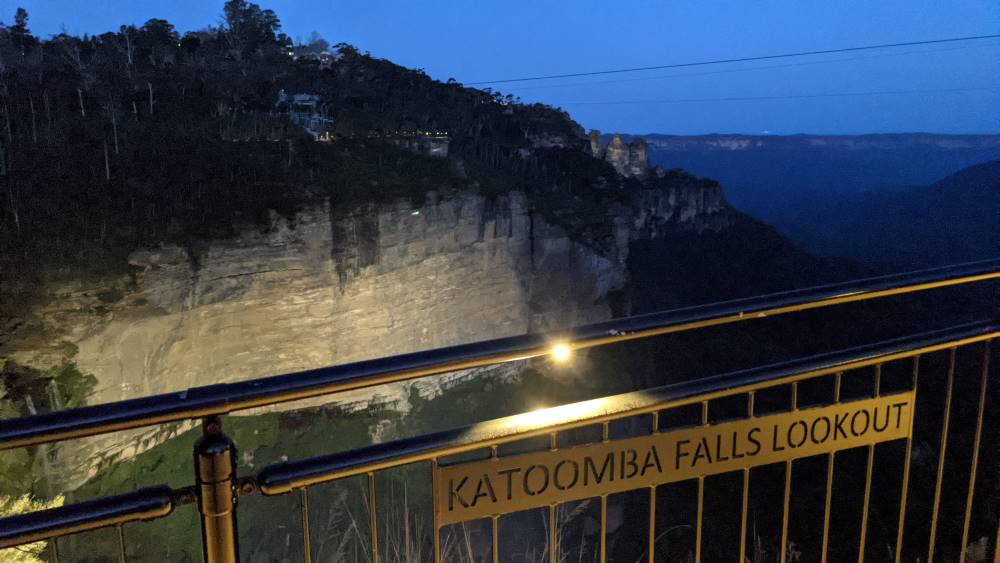 You are not short on absolutely awesome views in the Blue Mountains. Some views are easy to get to and others take more grit. Whatever you are after there is something for everyone, so you will never leave the Blue Mountains without experiencing the 'Blue Mountains WOW Factor'. It is usually as easy as popping the lookout name in your GPS to find it.
Our Favourite Easy Access Lookouts
Wentworth Falls Lookouts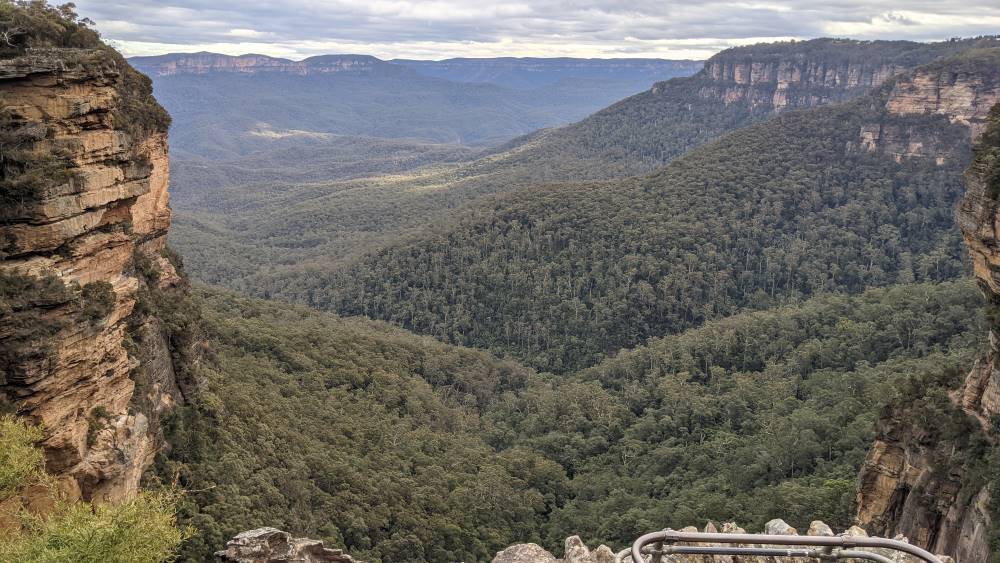 Wentworth Falls Lookout, Fletcher's Lookout & Jameson Lookout are all located along the same Wentworth Falls Track – three quick wins! Lincoln's Rock is also an absolute must-see lookout in Wentworth Falls as well as Queen Victoria Lookout on your way to Empress Falls. Breakfast Point Lookout is a lesser known lookout and worth seeing. They are all incredible!
Leura Lookouts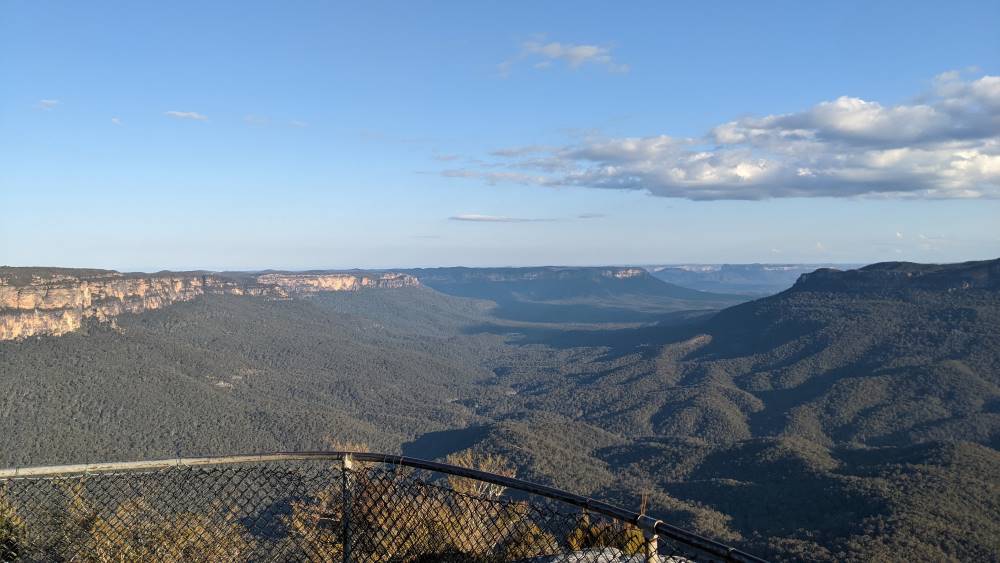 Sublime Point and Elysian Rock Lookouts are spectacular. Gordon Falls and Olympian Rock Lookouts are also amazing.
Katoomba Lookouts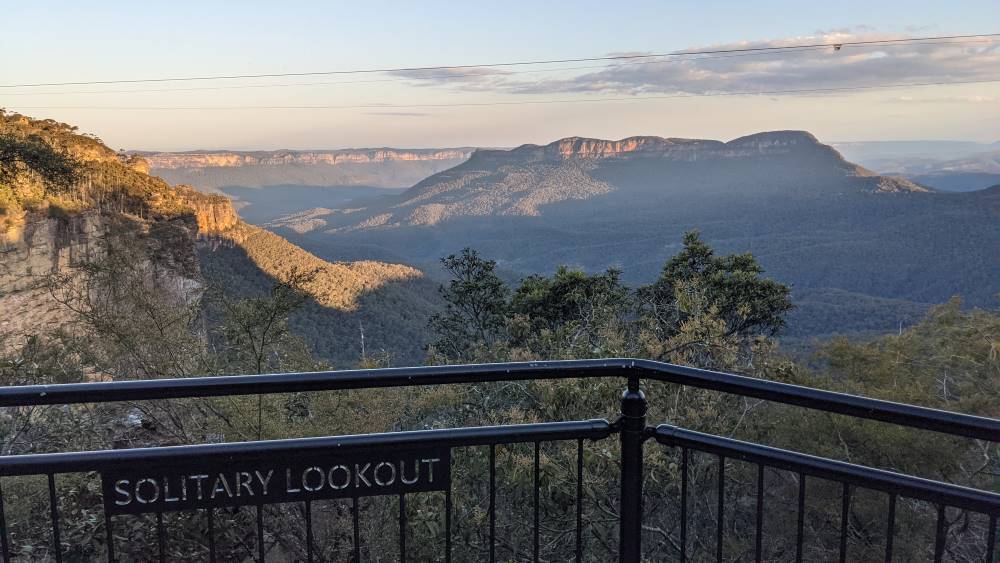 There are so many! Obviously, Echo Point is the most famous lookout in Katoomba, but there are others that are just as amazing, without the crowds. Along the Katoomba Falls (Night Lit Walk) circuit you will be awed by so many lookouts including, Katoomba Falls Lookout, Duke & Duchess Of York Lookout, Solitary Lookout, and more. Cahill's Lookout and Spooner's Lookout (located near Echo Point) are also worth seeing.
Blackheath Lookouts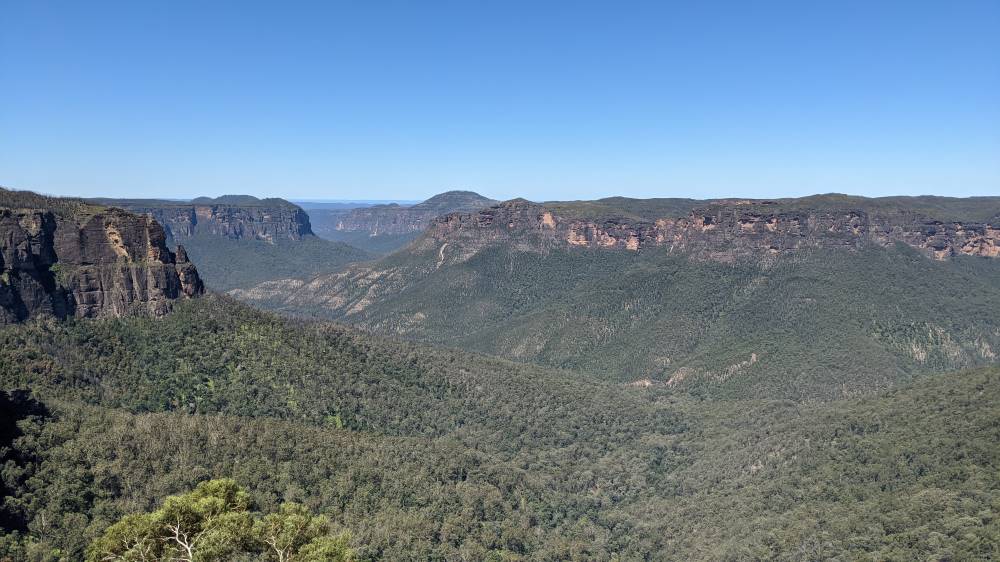 Evan's Lookout (located at the start of the beautiful Grand Canyon bushwalk) and Govett's Leap Lookouts are easy to get to by car and are amazing! Hargrave's Lookout was recently upgraded and is one of the best lookouts in the Blue Mountains.
Unfortunately, Pulpit Rock Lookout is still closed (January 2022) but it is considered one of the most outstanding lookouts in the Blue Mountains with its stunning 360 degree views of the Grose Valley.
There are so many beautiful views throughout the Blue Mountains, including the mid and lower mountains. Glenbrook hosts some great views including Portal Lookout and Marge's Lookout but head to Bluff's Reserve for a couple of fantastic views at Chalmer's Lookout and of Glenbrook Gorge along Darks Common Track.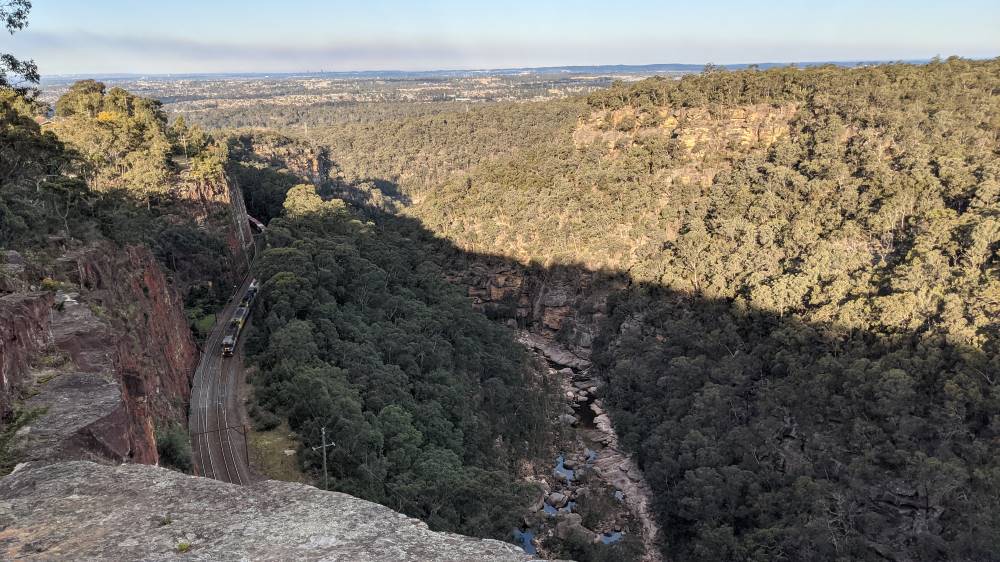 Discover more about the best lookouts in the Blue Mountains.
Back to the top of the article
Blue Mountains When It's Cold
Snow Play In The Upper Blue Mountains & Oberon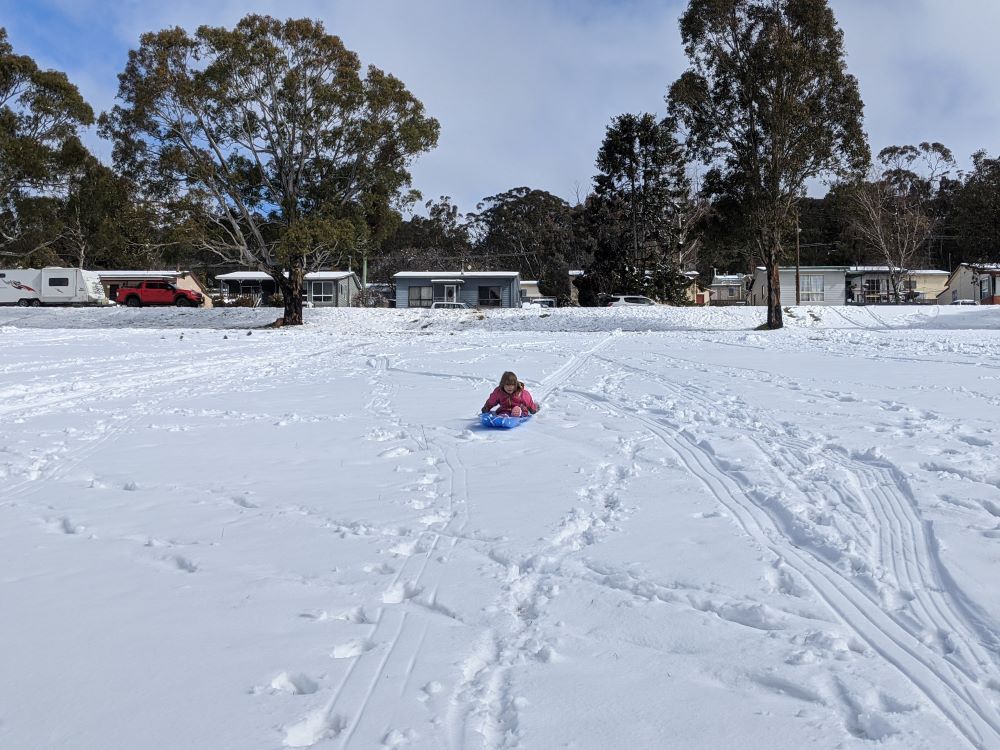 In the Blue Mountains, snow occurs on an irregular basis from year to year and often with little warning. However, there have only been a few years that failed to get at least some snow!
The upper Blue Mountains (generally anywhere from Wentworth Falls to Mount Victoria) can experience snowfalls that vary from brief flurries to heavy falls. Discover the best vantage points to enjoy Blue Mountains snow.
Experience Mount Wilson's Majestic Display Of Autumn Trees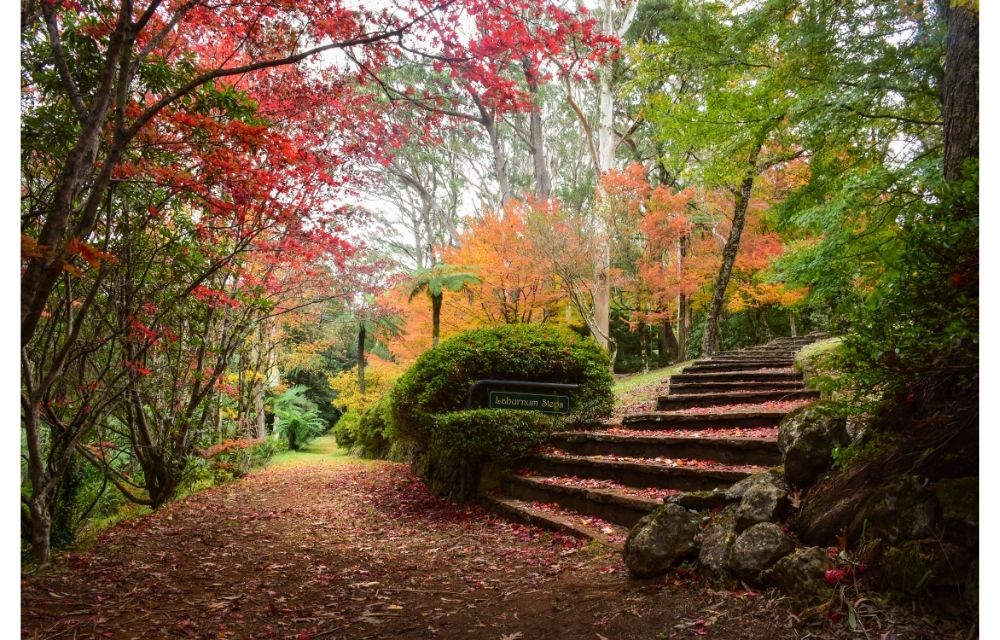 Mount Wilson is well known for the myriad of colours that emerge from its deciduous trees during Autumn. They paint the town in an amazing variety of yellows, oranges and reds. Visitors are attracted to Mount Wilson's small town charm and enjoy the walks and picnic spots here.
Please keep in mind though that mobile phone reception is patchy or non existent and that there are no shops, petrol stations or medical services in Mount Wilson (the closest are in Mount Victoria and Lithgow).
Keep Warm In A Traditional Japanese Bath House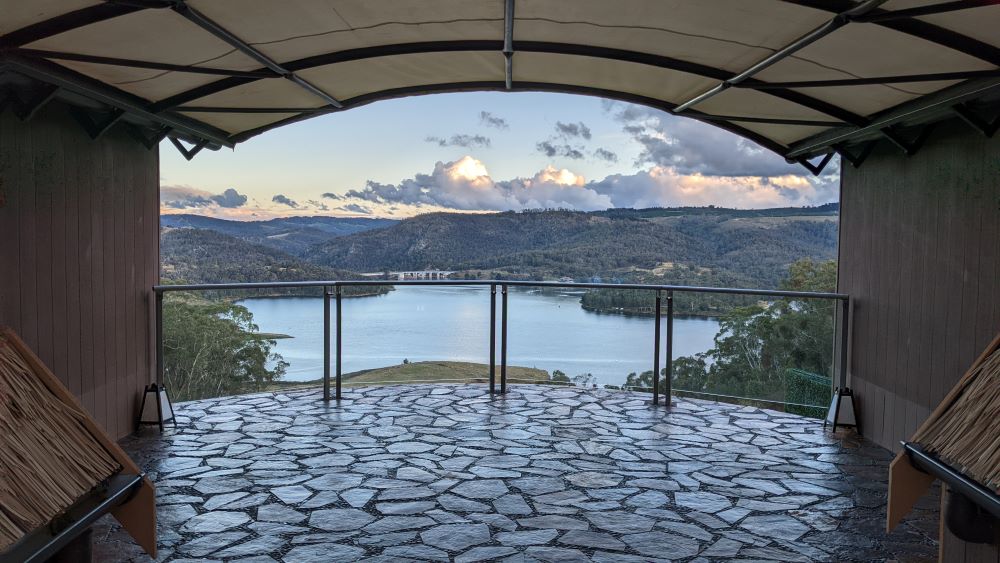 Spectacular views over Lake Lyell, serenity in nature and relaxation at the foot of the Blue Mountains. Immerse yourself in the experience of a traditional Japanese Bath House, with the tea rooms, treatments and huge range of indoor and outdoor bathhouses.
Fun Things To Do In The Blue Mountains On A Rainy Day
Go Shopping & Village Hopping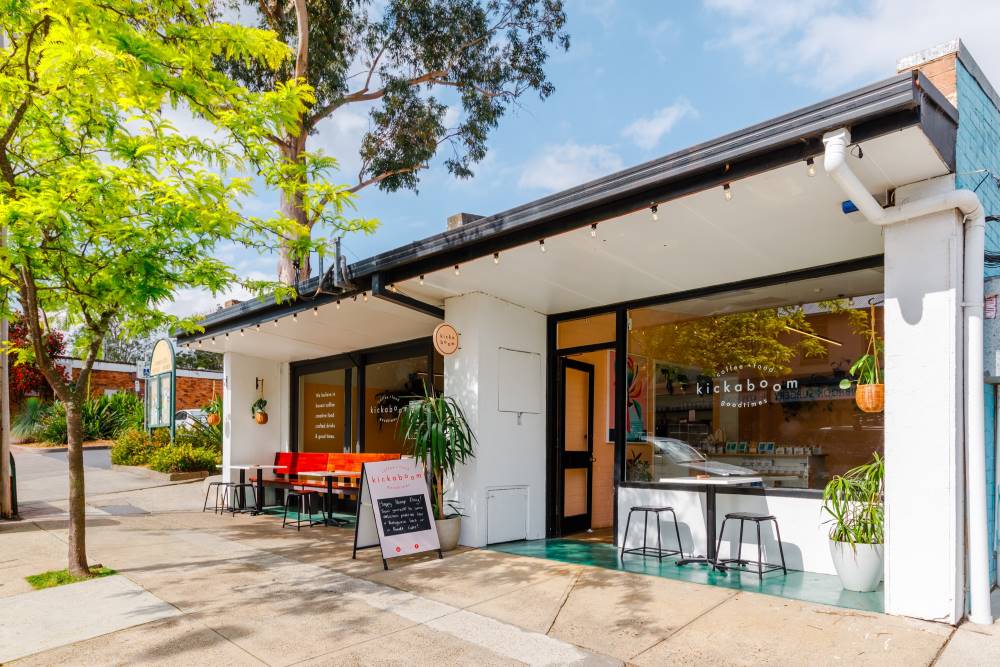 On a rainy day in the Blue Mountains, consider visiting the lovely Glenbrook Village. It is mostly undercover and hosts a bunch of lovely cafes, gift stores and other shops.
Enjoy a coffee from any of the cafes in the village – they're all great! Vincent features indoor and outdoor seating, 2773 has a children's playground and woodfired pizza, the Church Cafe is a heritage-listed building that has its origins as the Anglican Church in Glenbrook and Kickaboom has a cool, funky vibe and great menu.
Explore unique antiques in Warrimoo, Hazelbrook, Katoomba and Blackheath. The Victory Theatre Antique Centre is the largest antique hub west of Sydney.
Stroll and eat in Lawson Village or grab a pie or sweet treat at German Bakery, Patisserie Schwarts, in Wentworth Falls. Shop for Blue Mountains souvenirs at Blue Mtns Makers in Wentworth Falls. The little Asian grocer next to Blue Mtns Makers, The Laughing Elephant, also makes a really good Vietnamese roll.
Continue onto the quaint, mostly undercover, village of Leura Village and The Blackheath Creative in Blackheath for more locally made products.
Chase Waterfalls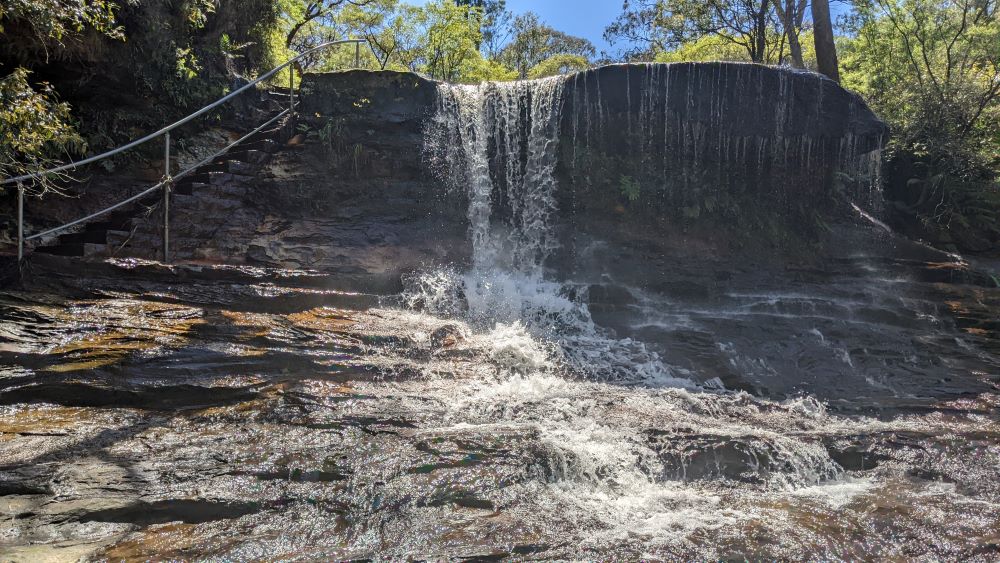 Marvel at our beautiful Blue Mountains waterfalls on a rainy day. They are at their best after rainfall! Katoomba Falls, Wentworth Falls, Horseshoe Falls, Leura Cascades, Empress Falls, Lawson's Five Waterfalls Walk and Bridal Veil Falls, just to name a few. Take care with rushing water though. Do not get too close or cross any area that might become flooded.
Swim At An Indoor Leisure Centre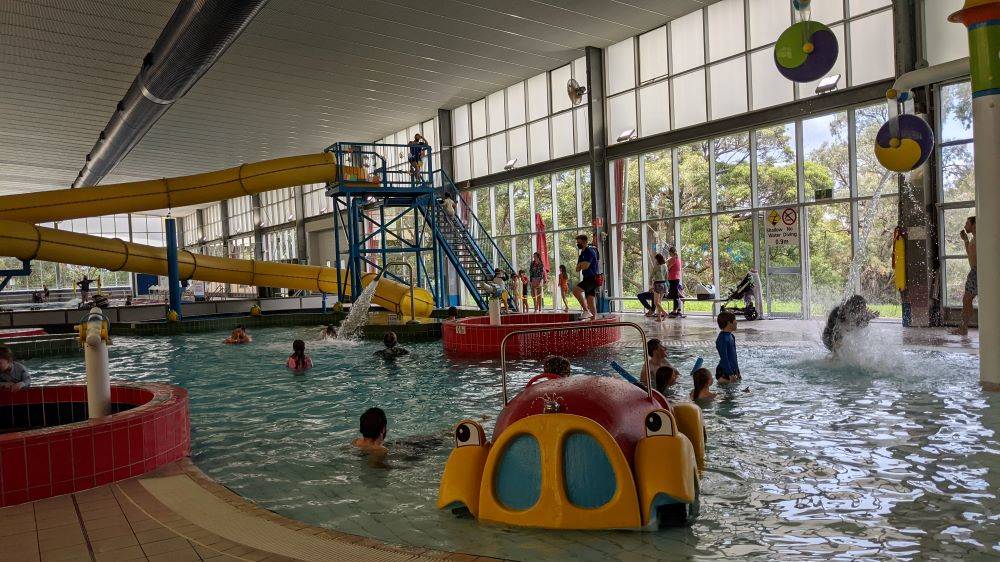 Springwood Aquatic and Leisure Centre is the perfect spot for the family on a rainy day, as it is all indoors. Young children will enjoy riding in the big red car with a watery windscreen, froggy water spouts, tipping buckets, water guns, high-pressure hose spray, whirlpool and of course the slide (which is open at weekends and school holidays between 11am and 1pm).
Kids Play At Kid's Kingdom Katoomba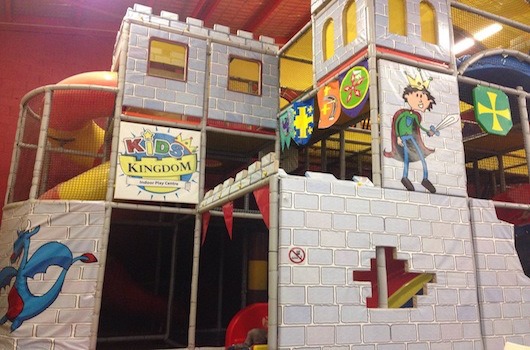 Kid's Kingdom Katoomba is a three story indoor play centre located within Katoomba Sports and Aquatic Centre on Cataline Avenue. It features soft play for children with an adventurous streak. The play centre is not huge but it is a great place for kids to run off steam on a rainy day. The wavy slides are a huge hit!
On a rainy day, combine your visit to Kid's Kingdom with a splash at the indoor pools at Katoomba Sports and Aquatic Centre.
Dine In With A View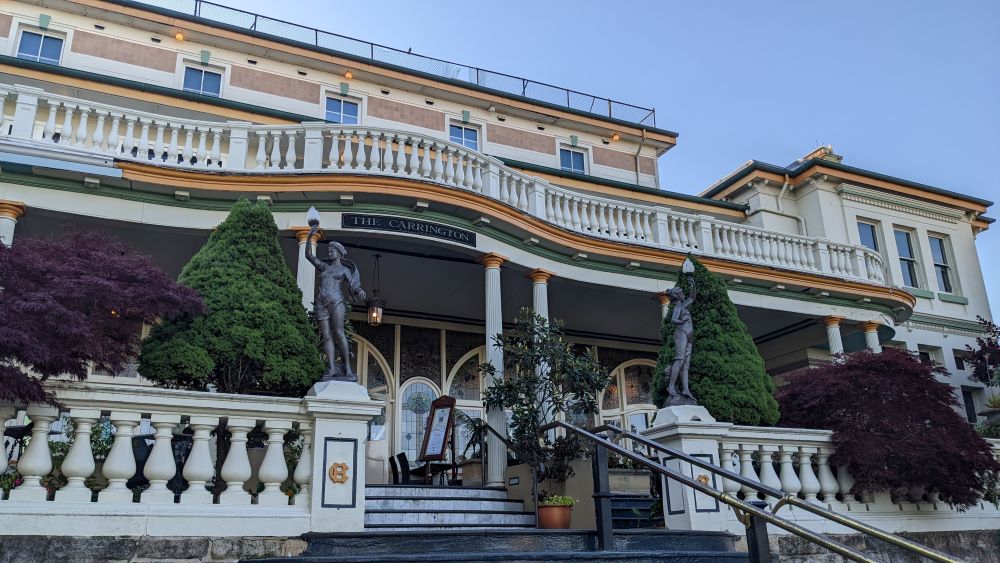 There is no shortage of spectacular views in the Blue Mountains! Combine a Blue Mountains dining experience with a view to remember. Our suggestions include The Carrington Hotel Katoomba, Echoes Katoomba, Wintergarden Blackheath, Dry Ridge Estate Megalong Valley, Conservation Hut Wentworth Falls, Boiler House Restaurant at the Hydro Majestic, Megalong Valley Tearooms, The Bunker Leura and The Avalon.
See The Latest Movies At An Iconic Blue Mountains Cinema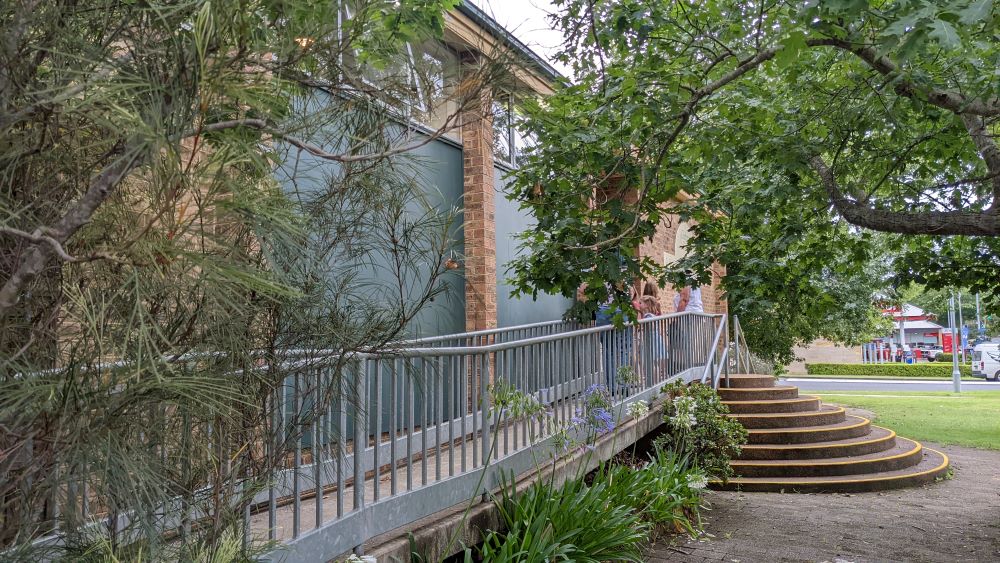 On a rainy day, relax with the latest films at one of our local cinemas: Glenbrook Cinema, United Cinemas/The Edge Katoomba, Mount Vic Flicks.
Culture In The Blue Mountains
Walk To Red Hand's Cave To Discover Ancient Aboriginal Culture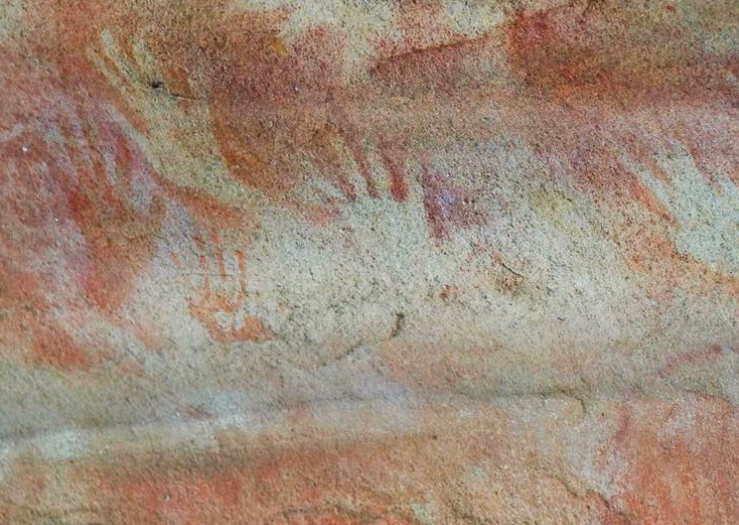 The most well known of the significant Blue Mountains Aboriginal Sites is the rock art at Red Hands Cave. A rock overhang protects a wall of artwork covered with up to 70 handprints and stencils, believed to have been created between 500 and 1600 years ago!
Interestingly, Aboriginal people created these hand stencils by spraying ochre from their mouths over a hand-pressed on the rock's surface. To check out this very special site, choose between the quick route or the 4.5km bushwalk track.
Tour the Blue Mountains Cultural Centre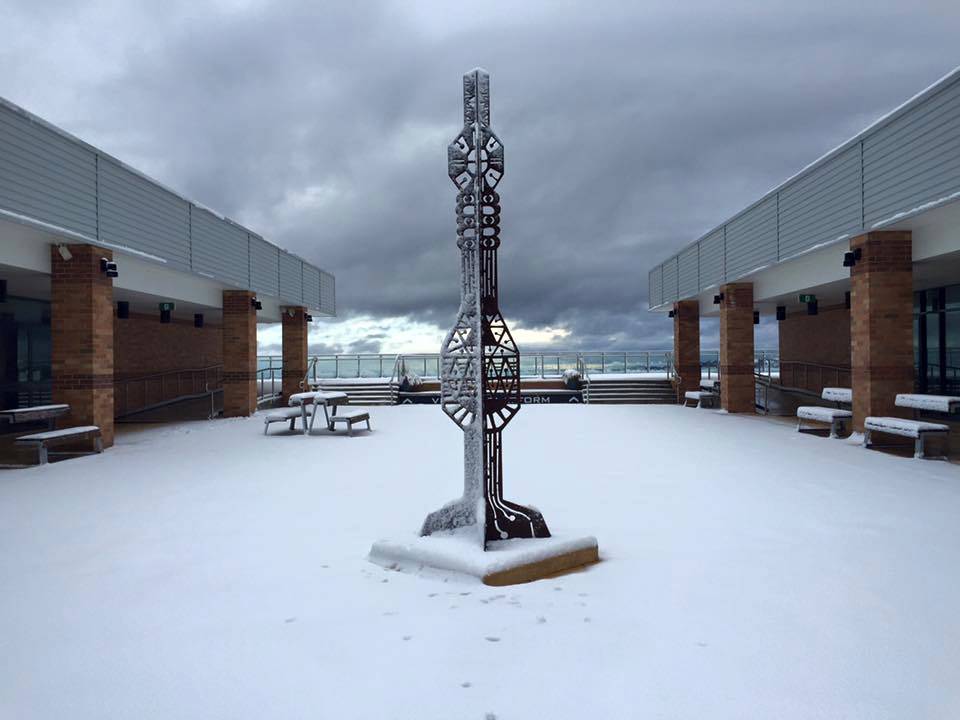 If you love to discover local art and culture, then the Blue Mountains Cultural Centre, located in the heart of Katoomba, is the place to visit. It explores the history and natural landscape of the Blue Mountains in an interactive display and you can relax for lunch at the Gallery Cafe.
The Blue Mountains Cultural Centre hosts artistic exhibitions by various local artists throughout the year and a virtual marketplace for unique products and gifts created by local Blue Mountains artists, designers and food producers.
Relish in Katoomba's Street Art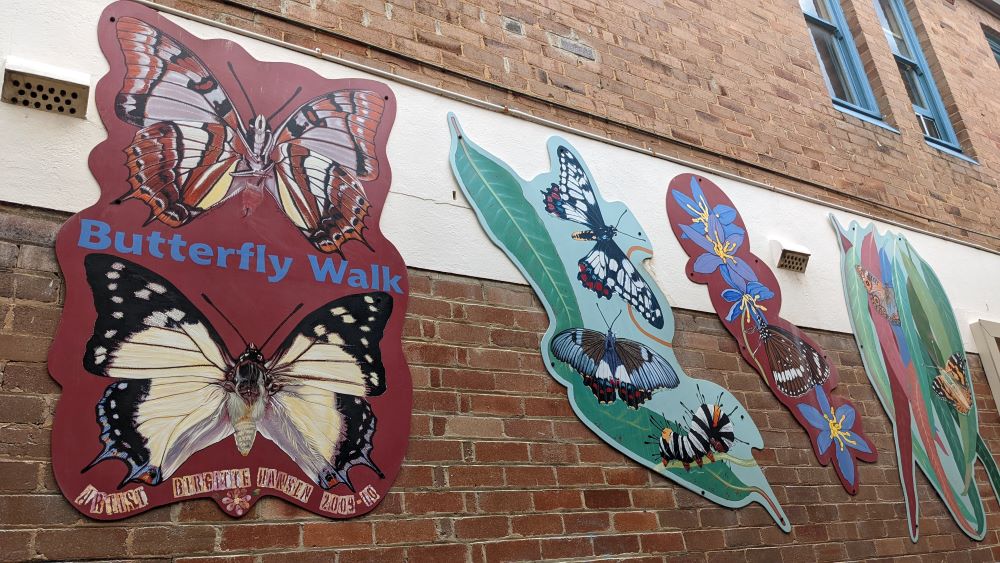 Katoomba Street Art Walk is located at Beverly Place Katoomba.
Christmas In The Blue Mountains
Discover What's On At Christmas In The Blue Mountains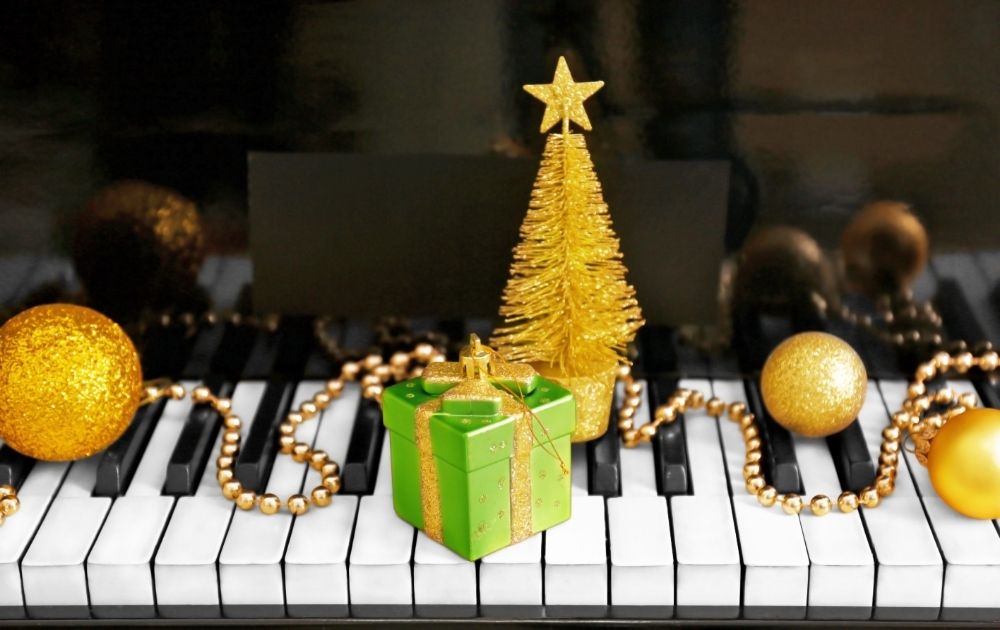 Every year, the Blue Mountains celebrates Christmas in style with a plethora of wonderful community carol events, Christmas markets, church services and other special events and activities in the lead up to Christmas. It is a beautiful time of year where the community comes together to sing, shop and celebrate!
Take Home A Real Blue Mountains Christmas Tree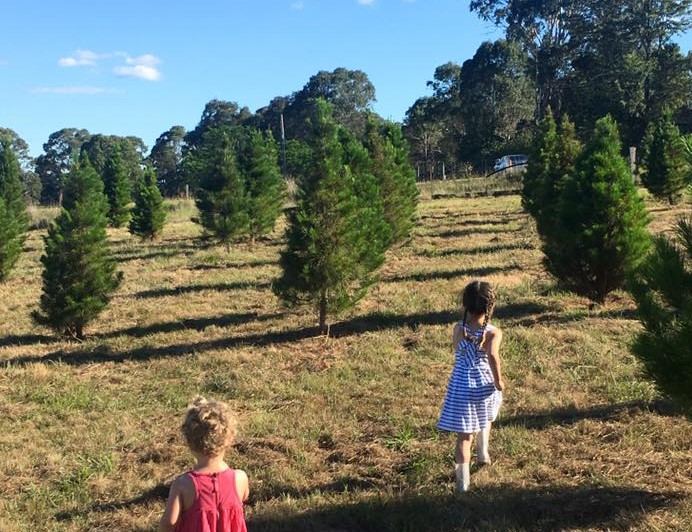 Fill your home with the fresh smell of a real Blue Mountains Christmas tree this year and at the same time support your local Blue Mountains Rural Fire Station, fruit shop or Lions Club! Purchase your real Christmas tree in the Blue Mountains this year.
Wave At Santas On His Rural Fire Service Santa Run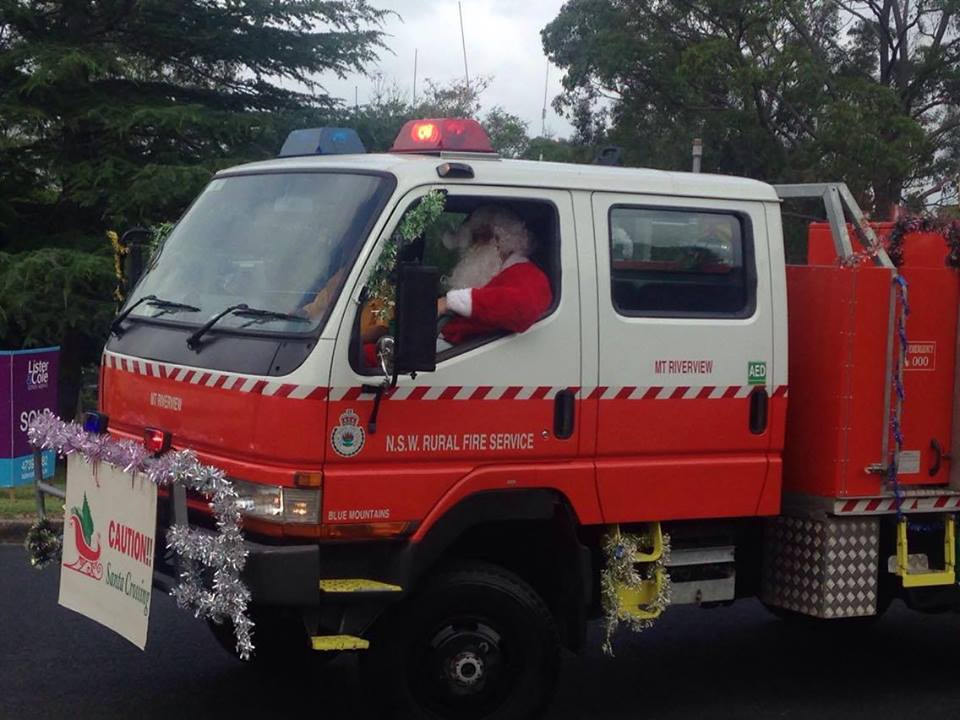 If you are in the Blue Mountains close to Christmas, your children may enjoy the thrill of waving to Santa from a fire truck! As soon as dates are known for 2021, our Santa Run article will be updated. We will soon bring you local events at Christmas and the best spots to see Christmas lights in the Blue Mountains too.
There are so many fun things to do in the Blue Mountains for the whole family. Whether you are here for a day, the weekend, or a longer holiday, you will find something memorable to do every day.
Relax and immerse yourself in the wonders of one of the world's most amazing heritage listed sites. The Blue Mountains truly are amazing and we hope that you are inspired to get off the beaten track to experience the serenity, breathtaking views and extraordinary beauty this stunning place has to offer.
Tick off each of these fun ideas for the kids!