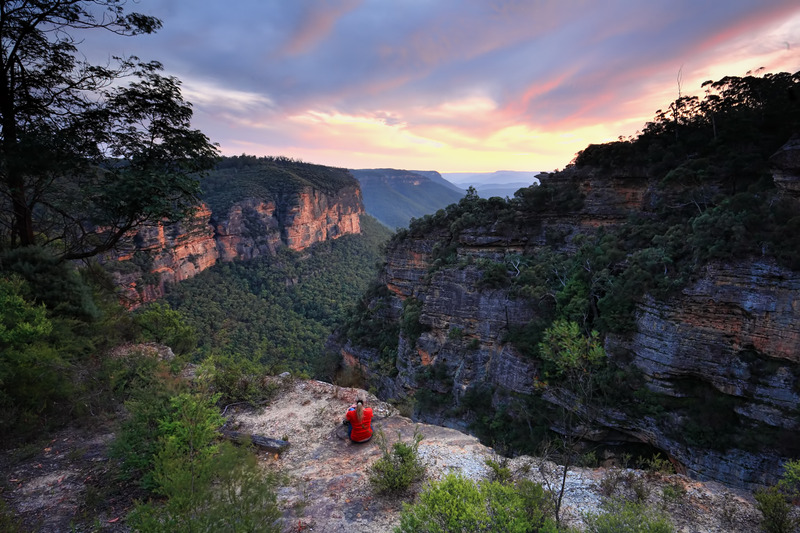 2020 marks the twentieth anniversary of the reconciliation walks of 2000, when people came together to walk on bridges and roads across the nation to show their support for a more reconciled Australia. Teaching our children about Indigenous culture is possible any week of the year though – and the Blue Mountains have just the places to visit!
As you spend time walking these tracks and visiting the ancient Blue Mountains Aboriginal sites, it might be a poignant time to discuss with your children about what reconciliation is and why it is important so that we continue to build communities that value Aboriginal and Torres Strait Islander peoples, histories and cultures.
Blue Mountains Aboriginal Sites – A Bit of Background
The Blue Mountains are located within the Country of the traditional owners of the land, the Dharug and Gundungurra peoples. Their Country is of great cultural significance to Aboriginal people, both locally and in the region.
The deep connection that the Blue Mountains has with its traditional owners is seen in place names throughout the region, rock art and other evidence of Aboriginal occupation. Katoomba, for example, is a derivative of the Aboriginal word 'Kedumba' meaning 'shiny, falling waters' after the natural beauty of the area. Bullaburra means 'clear day', Warrimoo is an 'eagle's nest' and Winmalee is thought to be named from an Aboriginal word meaning 'in a northerly direction'.
This region is a special ancient land with Aboriginal culture woven throughout and gives our children so much to learn and discover!
Let's Get Our Adventure Started!
Even though these walks are considered easy-medium grade, please read our advice regarding bushwalk safety with children.
Red Hands Cave, Glenbrook
The first and probably most well known of the significant Blue Mountains Aboriginal Sites is the rock art at Red Hands Cave. A rock overhang protects a wall of artwork covered with up to 70 handprints and stencils, believed to have been created between 500 and 1600 years ago! Interestingly, Aboriginal people created these hand stencils by spraying ochre from their mouths over a hand-pressed on the rock's surface.
Finding Red Hands Cave
When you arrive at the National Park entrance gates (off Bruce Road, Glenbrook) there is an $8 entry fee, unless you have purchased an annual National Parks pass. From the gate, go straight ahead and follow the Oaks Fire Trail for about 8km. You will see the Red Hands Fire Trail branching off on your right, just passed the Oaks Picnic Area. Drive to the end of this road to the car park area.
If you would like to complete the 4.5km Link Track, follow the sign. It is an easy-medium 2 hour walk with a 120m ascent/descent. Otherwise take the short cut straight to Red Hands Cave and soak up impressive Aboriginal artwork. Since this is becoming a popular place to visit, unfortunately it is fenced off and you need to view it through metal bars.
Give your children a copy of this Bushtrackers Map, to give them practice with map reading as they discover this fascinating Blue Mountains Aboriginal site.
Lyrebird Dell, Leura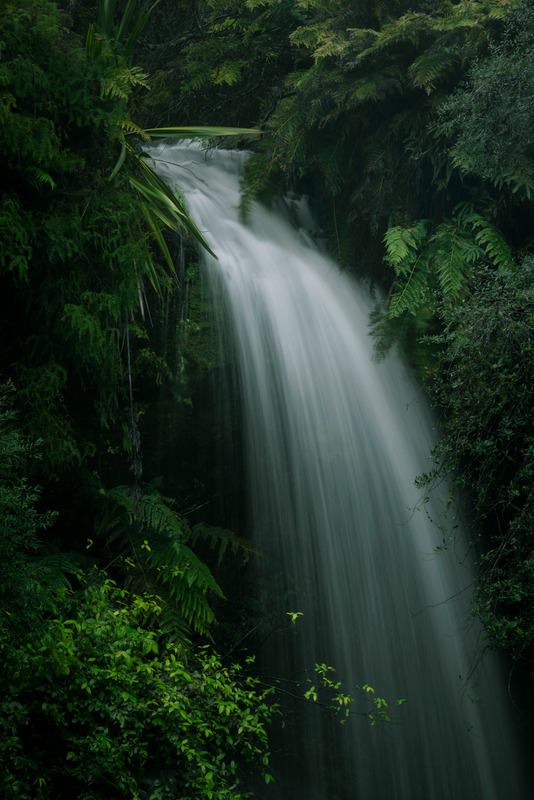 Lyrebird Dell is an enchanting easy-medium difficulty 1.4km loop track that takes between 45 minutes to 1.5 hours to walk. It is a delightful, reviving walk of Aboriginal significance, featuring two unique Aboriginal occupation caves, waterfalls, opportunities for birdwatching and picnicking.
Relax in the tranquillity of the crisp air as you descend down towards Gordon Creek and practise mindfulness as you listen to the waterfalls. See whether your children can find Australia's iconic grass trees. Aboriginal people used grass trees to make spears, tools, weave baskets, make glue and even create a fermented drink!
Finding Lyrebird Dell
Off Lone Pine Avenue, you will find a reserve with a small parking area, public toilets and electric BBQ. The track begins about 50 metres from the toilets on the eastern side of the reserve. You will then see signs to the Pool of Siloam and Lyrebird Dell. At the first fork in the path, head to your right down to enjoy the Pool of Siloam, then head back up again to follow signs to Lyrebird Dell.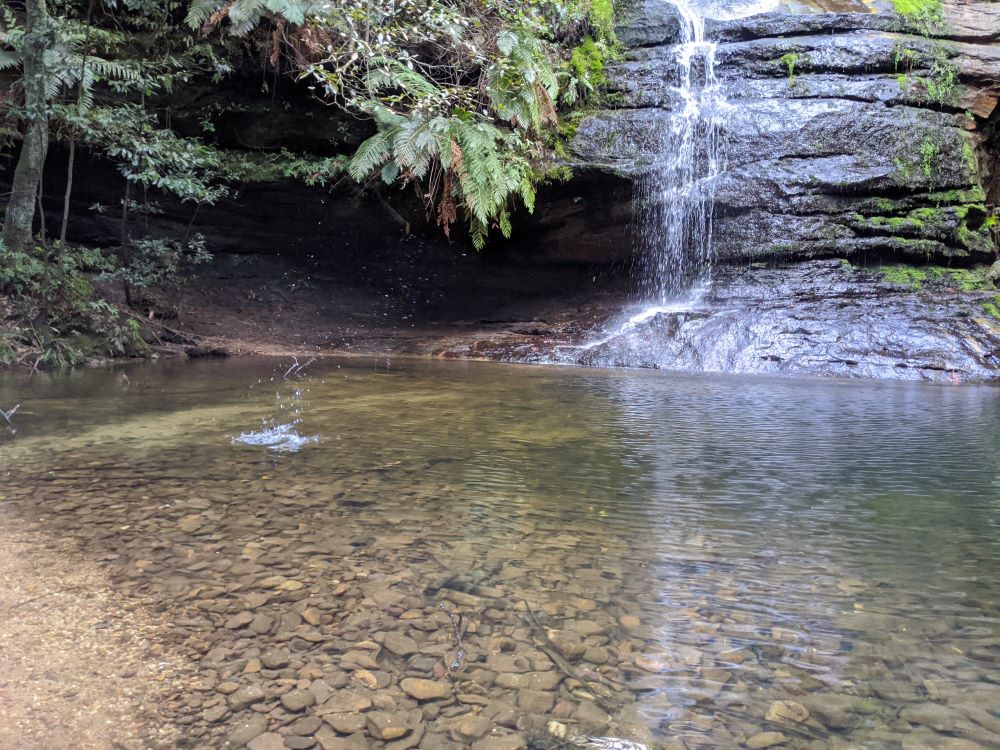 Walls Cave, Blackheath
Walls Cave was a Blue Mountains Aboriginal occupation site, dating back about 12,000 years. It is an impressive large rock overhang thought to be occupied by an extended family group that lived in the area. This track is easy and only 1.4km return (it isn't a loop track).
There are beautiful wildflowers along the start of the track during the warmer months, stepping stones, a picturesque slot canyon, a termite mound and pretty ferns along the way.                                        
Finding Walls Cave track
Head to Walls Cave Road, which is to the right, off Evans Lookout Road about 2km in from the highway. From here the start of the walk is well signposted. The track begins just beyond the Water Board gate at the end. You will need to return the way you came once you've reached Walls Cave.
Kings Tableland, Wentworth Falls
Kings Tableland is a highly significant Blue Mountains Aboriginal site in Wentworth Falls, in the upper Blue Mountains. It is believed to have been used as a meeting and camping place for around 14,000 years.
On your walk, you will see a variety of remnants that suggested extensive Aboriginal occupation, including bird engravings, axe sharpening grooves, modified rock pools and a sandstone rock platform or shelter, with rock art containing unique vertically engraved depictions of kangaroo and bird tracks.
Interestingly, the Kings Tableland was historically used as a camping site by Aboriginal residents who would walk to Wentworth Falls and Katoomba for employment purposes until the early 1900s.
Finding Kings Tableland track
This is considered an easy 1km return track that might take about an hour to complete. The track starts about 500m down Queen Elizabeth Drive in Wentworth Falls.
These ancient Blue Mountains Aboriginal sites are of special significance to Aboriginal people so it is kindly requested that you stay within the fenced areas, do not touch the carvings and please be mindful to take your rubbish with you. 
Before you begin your walks it is suggested that you call or visit your nearest Information Centre to confirm that the track is open and that the entrance to the track has not changed. You might also need to buy a map.
Glenbrook Information Centre
Hamment Pl, Glenbrook NSW 2773
1300 653 408
Blue Mountains Heritage Centre
Govetts Leap Rd, Blackheath
(02) 4787 8877
Echo Point Information Centre
Echo Point Rd, Katoomba NSW 2780
1300 653 408
Reconciliation between Indigenous and non-indigenous Australians is a journey for all of us. We can play an important role in helping children in their own journey towards understanding, acceptance of and respect towards Indigenous Australians. We can abhor violence and racism and talk with our children when we witness distressing scenes on the news. We can take children to significant Blue Mountains Aboriginal sites to experience the beauty of Aboriginal culture first hand. We can nurture a belief system that values oneness in our humanity.
At the heart of this journey, we are strengthening a deep and lasting respectful relationship between the non-Indigenous Australian community and Aboriginal and Torres Strait Islander peoples, creating a stronger, unified and more equitable Australia.