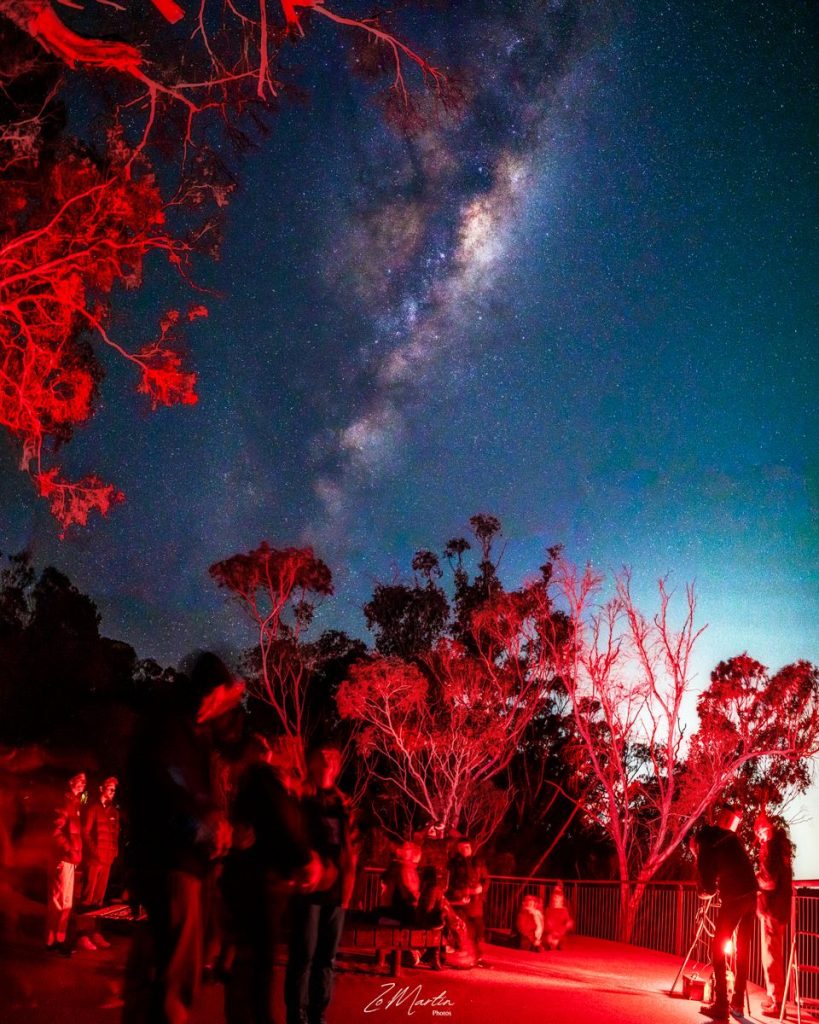 Get our top tips for your visit, and direct link to book your own Blue Mountains Stargazing tour at the end of the article.
Taking a stargazing tour with the award winning Blue Mountains Stargazing is one of our family's favourite activities! It is a wonderful Blue Mountains experience that is immersive, educational and truly awe-inspiring. If a Blue Mountains Stargazing tour were a book, it would be the perfect fusion of mystery, sci-fi, non fiction and romance, all rolled into one amazing read!
The sparkling diamonds of the beautiful night sky mesmerised us as we lost ourselves in the fascinating world of space and astronomy on our Blue Mountains Stargazing tour. Our three children, aged 6, 9 and 12 all relished the experience, as there was something for everyone, of any age and at any level of knowledge.
"The stars were really pretty, I saw two shooting stars and I loved the hot chocolate!" Mikey (aged 6)
The tour morphed its guests to behold a deeper appreciation for the beauty found in the gargantuan heavens above us and opened our eyes to the phenomenal creation of the galaxy.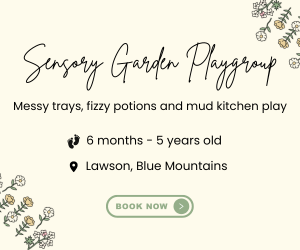 Excuse the pun, but the stars were o our side the night of our Blue Mountains Stargazing tour. We were fortunate to have the magical experience of viewing several shooting stars (also known as meteors, falling stars, or fireballs). It was the first time for many of us to see such a spectacular sight! The whole group audibly gasped and was wowed and delighted by these amazing feats of nature, darting through the sky just for us!
The Blue Mountains is certainly a very special place where we have rare access to dark skies. Only approximately 20% of the world gets this privilege thanks to light pollution so it makes complete sense that we make the most of the remarkable beauty above us when we are living in or visiting the Blue Mountains.
What To Expect on Your Blue Mountains Stargazing Tour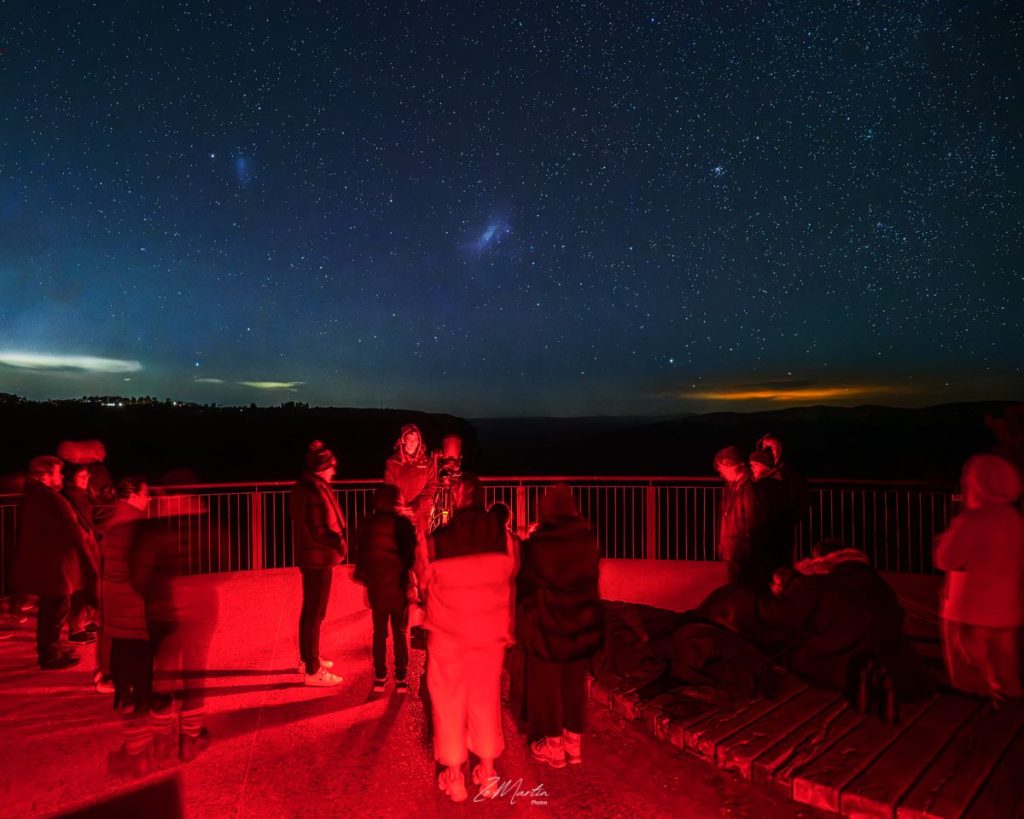 The night of our Blue Mountains Stargazing tour we were blessed with a perfectly clear Winter night sky full of dazzling stars and constellations. The elegant spiral structure of the Milky Way displayed itself for us in full splendour, showing off billions of its spectacular stars, like a cup of shimmering milk spilled across the sky.
We were excited to experience the Blue Mountains in a way that we had never done so before. Despite growing up and living in the Blue Mountains for many years, we had never been on a stargazing tour before and even though we have a few stars visible in the sky where we live in the lower mountains, the light pollution here really makes a huge difference.
Also, when we look at the stars, we don't really know what we are looking at – what the difference between a planet and a star is, or whether there is a nebula in the sky above our house! We were amazed at the thick blanket of stars visible at Wentworth Falls and were very keen to learn more.
When we arrived at Wentworth Falls Picnic Area, we found parking easily. The Blue Mountains Stargazing tour is located at Wentworth Falls Lookout (view map), the second lookout along Sir H Burrell Drive. You walk past the first lookout, Jamison Lookout, and continue walking for another five minutes to reach the stargazing meeting spot.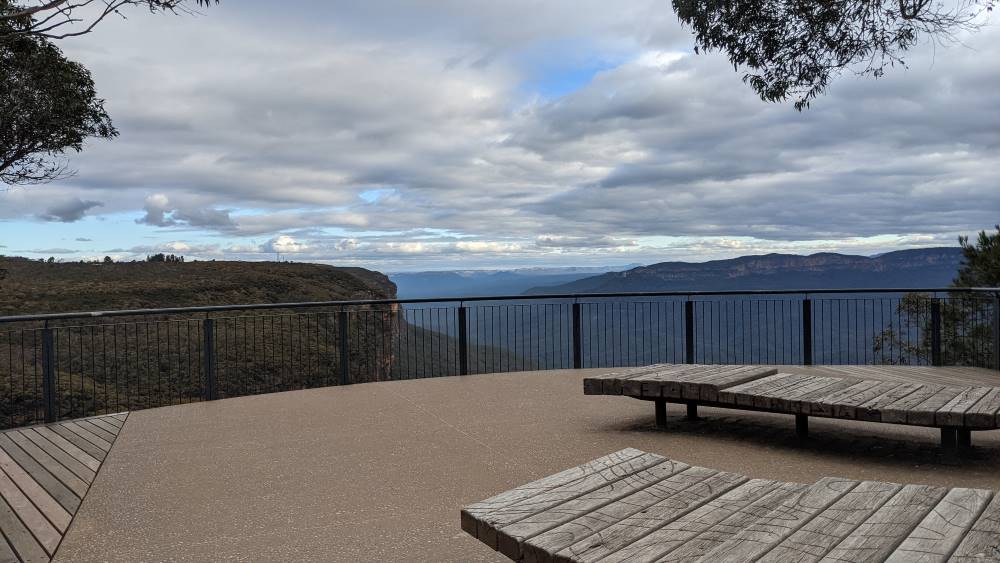 There will be red lamps and a sign that helps you to locate the spot (it is very easy to find). As it is quite dark, you will need a torch as you walk on the path.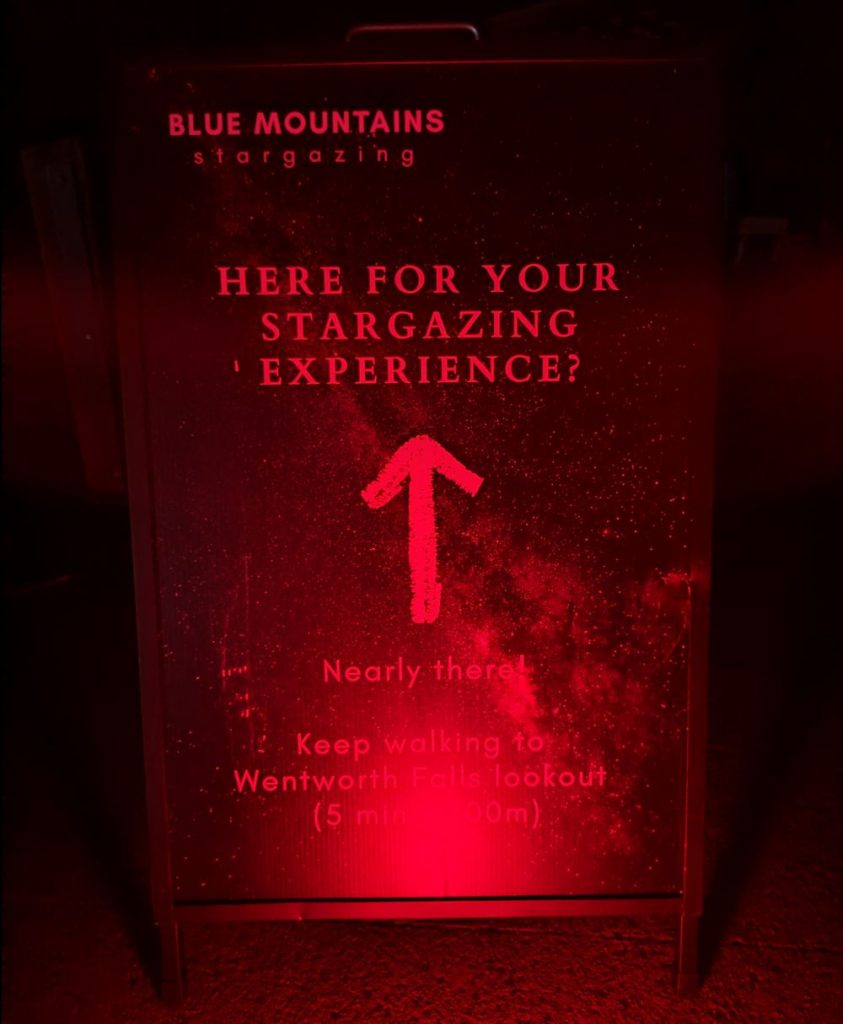 The tour starts with an introduction by your host. We had the lovely Matilde host us on our stargazing tour. She introduced us to our very knowledgeable local Blue Mountains-born and bred astronomer, Tom.
Tom lead the whole tour, starting with an Acknowledgment of Country. He told us a little about himself – how he grew up in the Blue Mountains, loves astrophotography and that his love of astronomy started young when his Dad used to read books about stars and space to him and point out constellations in the night sky.
Our stargazing tour was very interactive and ran for 90 minutes. You get several opportunities to use the powerful telescope and when everyone in the group has had a look at each selected part of the galaxy, you can have as many views as you like throughout the night. There are also a couple of pairs of astronomy binoculars circulating around for use during the tour as well.
10 Things We Loved Most About Our Blue Mountains Stargazing Tour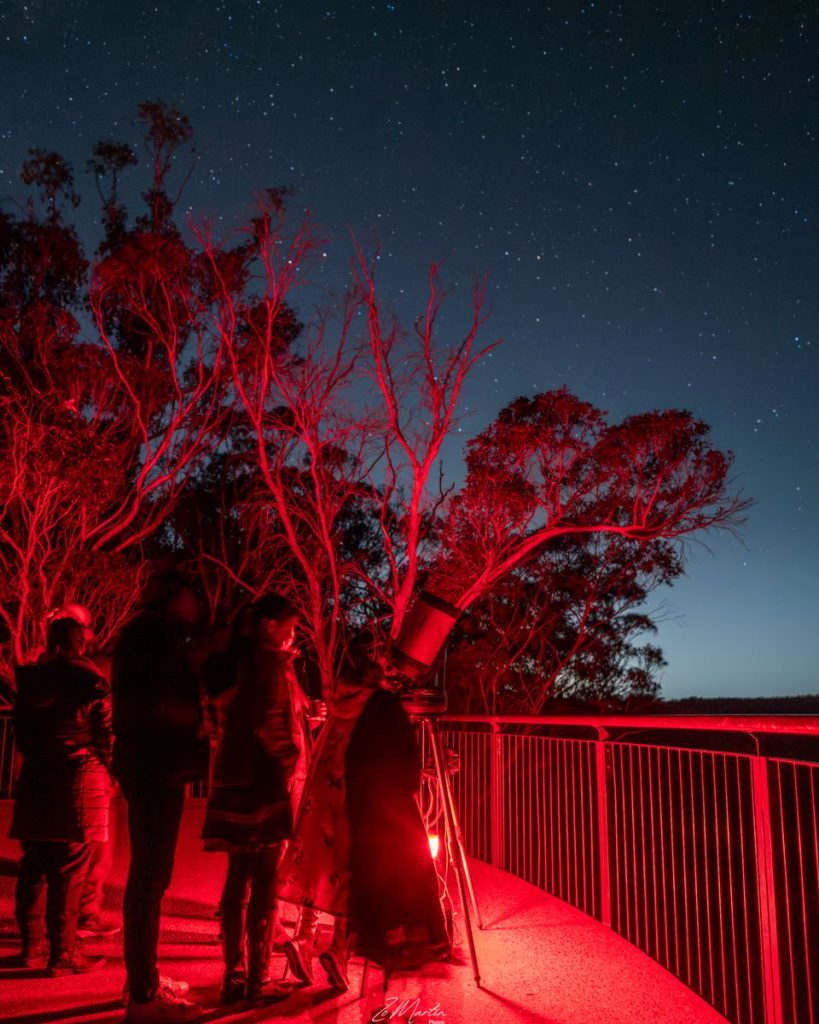 There is so much to appreciate on a Blue Mountains Stargazing tour! We had the most magical night learning about constellations, the mysterious black holes, comets, planets, the Milky Way, Aurora Australis and so much more.
1. The Tour is Relaxed, Informative and Fun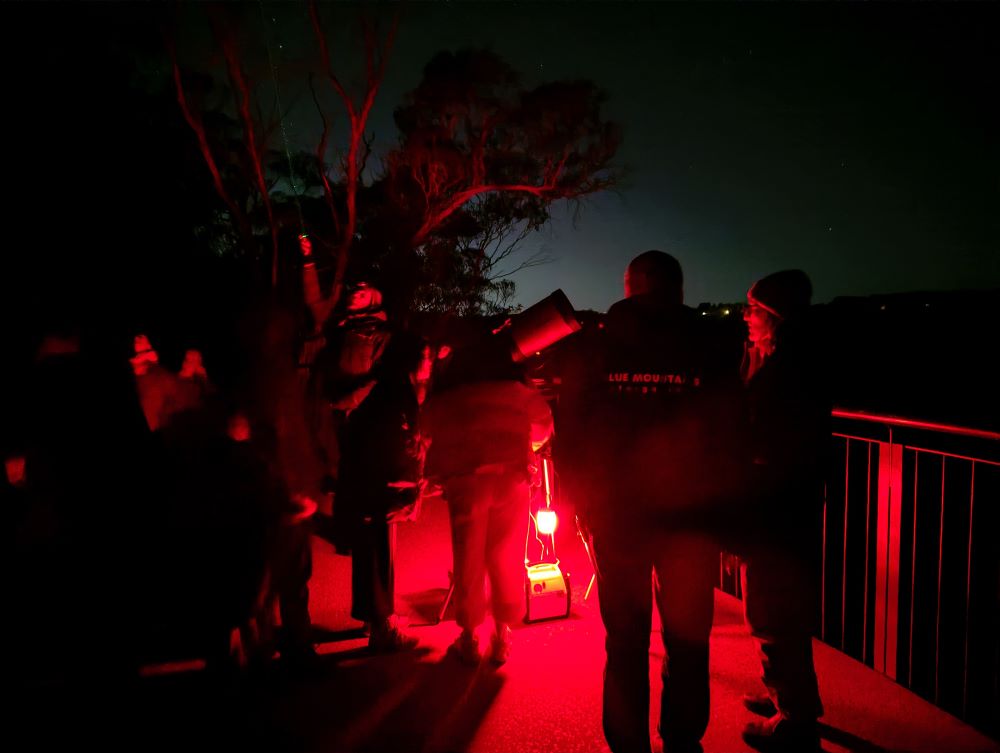 We all felt very welcome on our Blue Mountains Stargazing tour. Matilde and Tom were warm and friendly and made the children in the group feel very welcome too. We were encouraged to ask questions throughout the night and they were answered clearly, in detail and in a way that everyone could understand. Tom always repeated questions for everyone to hear. He also used the perfect balance of technical scientific terminology with everyday language.
The vibe of the tour was really positive, engaged and relaxed. You can view the stars sitting, standing, or laying flat on your back on the viewing platform, or all of the above!
2. You Get To Learn From A Real Life Astronomer!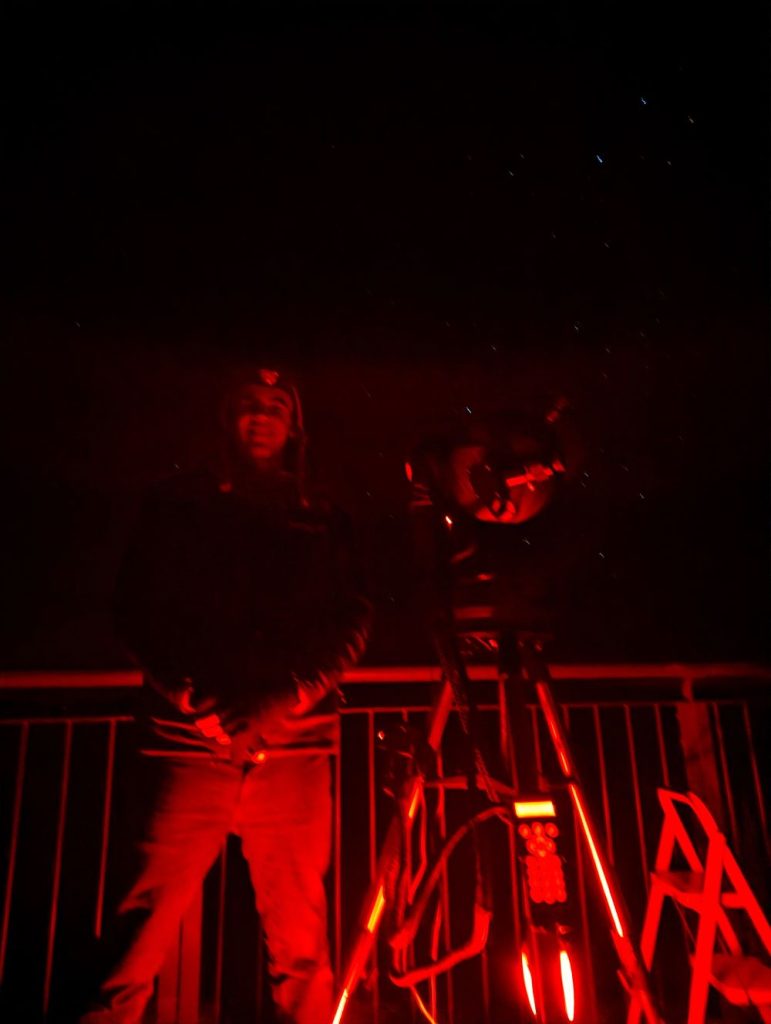 One of the best things about taking a Blue Mountains Stargazing tour is that you get your very own fully qualified astronomer for the night! Tom was our astronomer and he was fantastic. Tom was passionate and extremely knowledgeable – he was a true expert on all things astronomy. There was nothing he couldn't answer!
Tom spoke in an engaging way that was easy for everyone to understand and he encouraged us to ask plenty of questions. It was a real treat to pick the brains of an astronomer and ask our burning questions about the galaxy.
3. You're Kept Warm With
Hot Chocolate & Blankets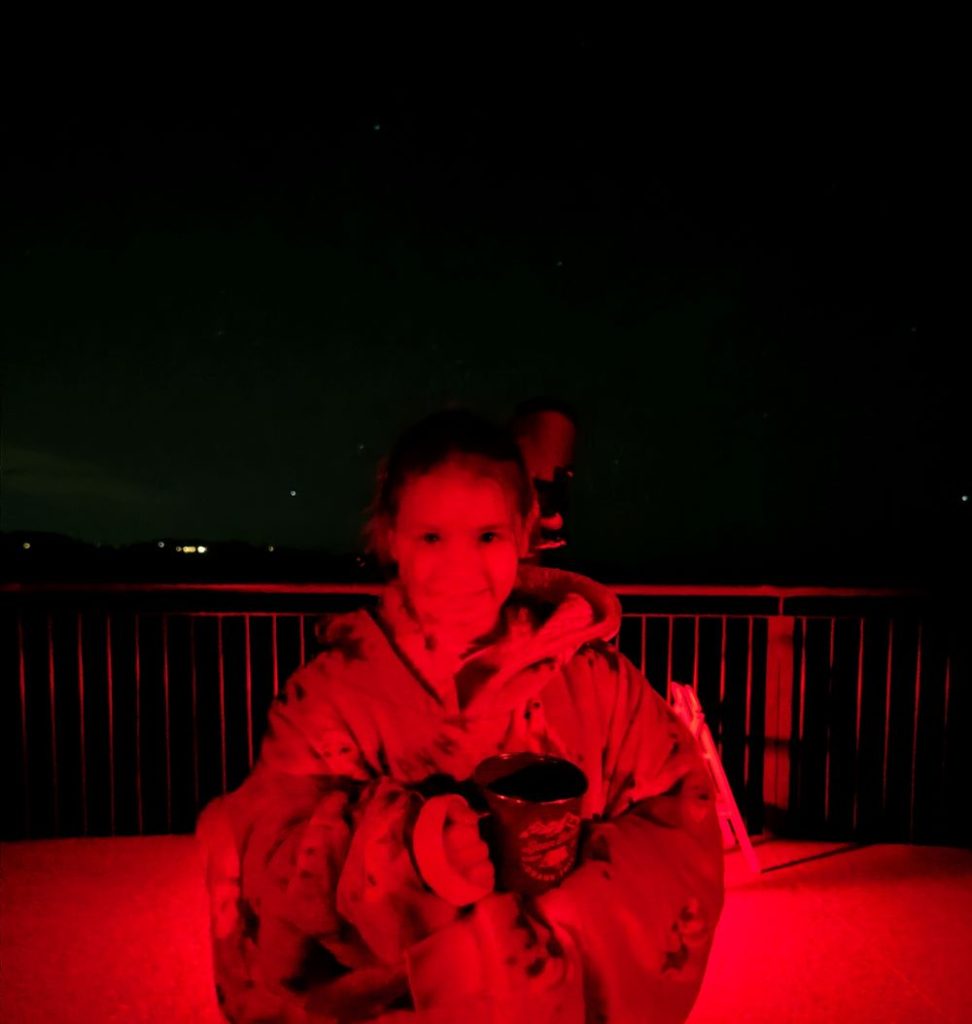 Our host, Matilde, made sure that we were warm enough with delicious oat milk hot chocolates and big fleecy blankets. It is usually cold in Wentworth Falls, especially in Winter, so the hot choccies and blankets were appreciated!
4. The Tour Is Great For Children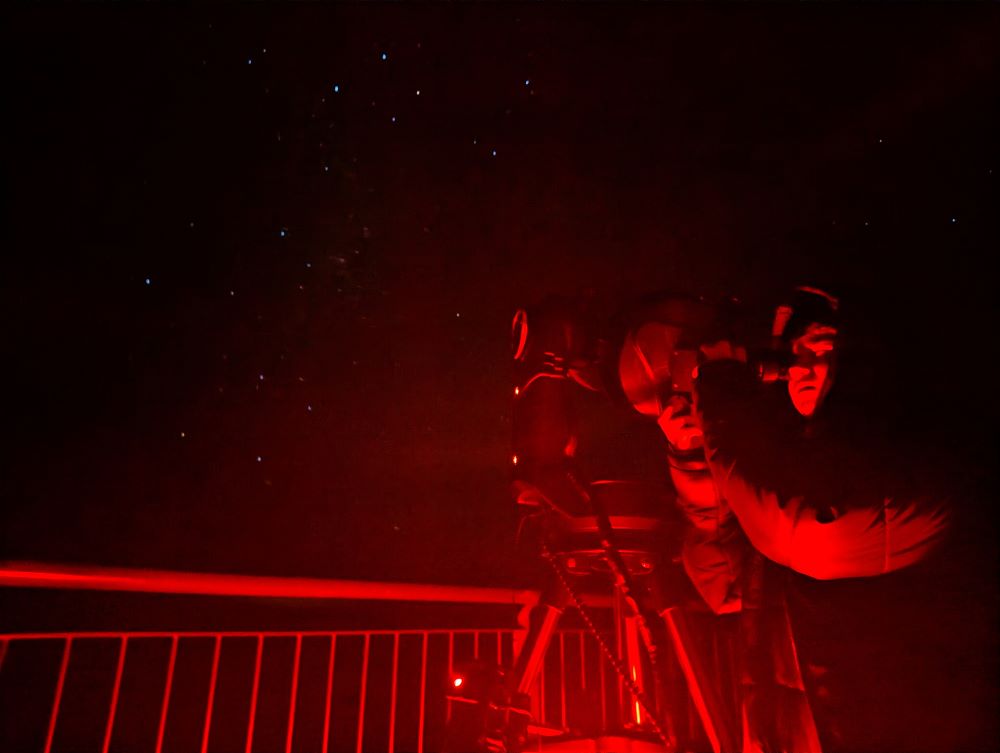 "I liked looking through the telescope and binoculars and seeing stars close up." Mikey, aged 6
Taking a Blue Mountains Stargazing tour is definitely an activity that children benefit greatly from. It sparks their curiosity and creativity and you never know, possibly inspiring them to become future astronomers!
It is clear that Blue Mountains Stargazing welcome children to their tours as they provide a stepping stool so that our budding little astronomers can step up to easily view the stars and planets through the telescope.
You will be amazed at the questions that the kids ask and the things they begin to wonder about during and after the tour. Children will never look at the sky in the same way again after their stargazing tour.
5. Astronomy Laser Pointers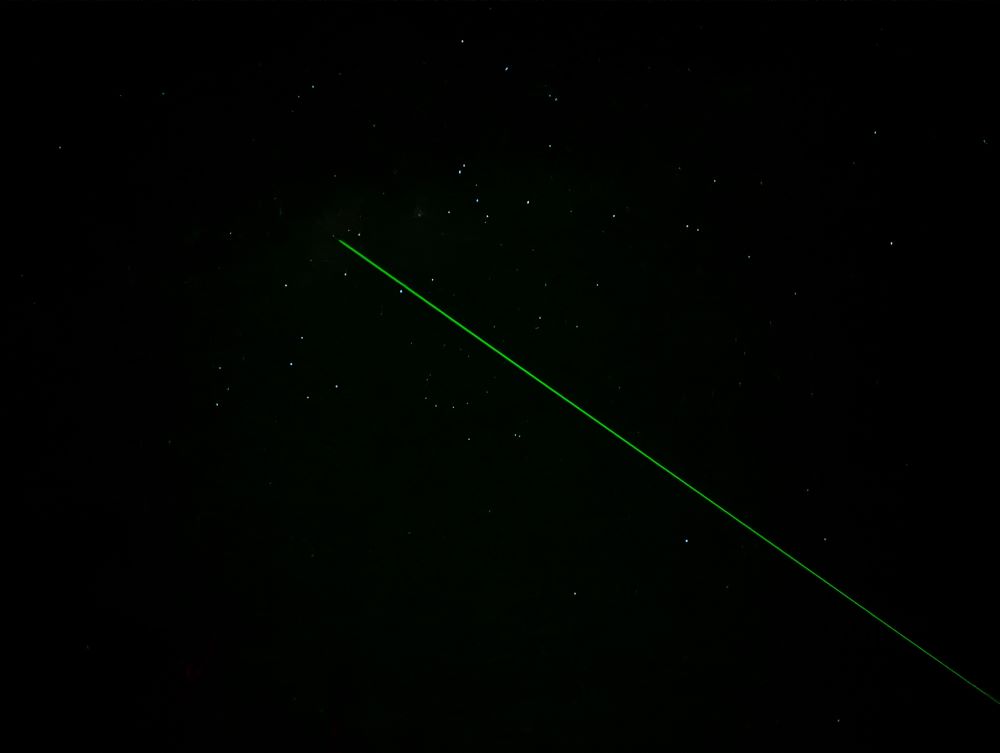 The powerful astronomy laser pointers are incredible – they are like something straight out of a Star Wars movie. Only astronomers with a permit are legally allowed to use them but they are a definite highlight for our stargazing tour because Tom was able to point at everything he was talking about with either one or both lasers. It was like being in a massive outdoor classroom with the teacher pointing at the galaxy rather than a board. It was the best classroom anyone could ever hope for!
Our kids were in awe as Tom used two laser beams to point out constellations, the location of the black hole, secret tips to finding the South Celestial Pole, the Milky Way and so much more.
6. The Telescope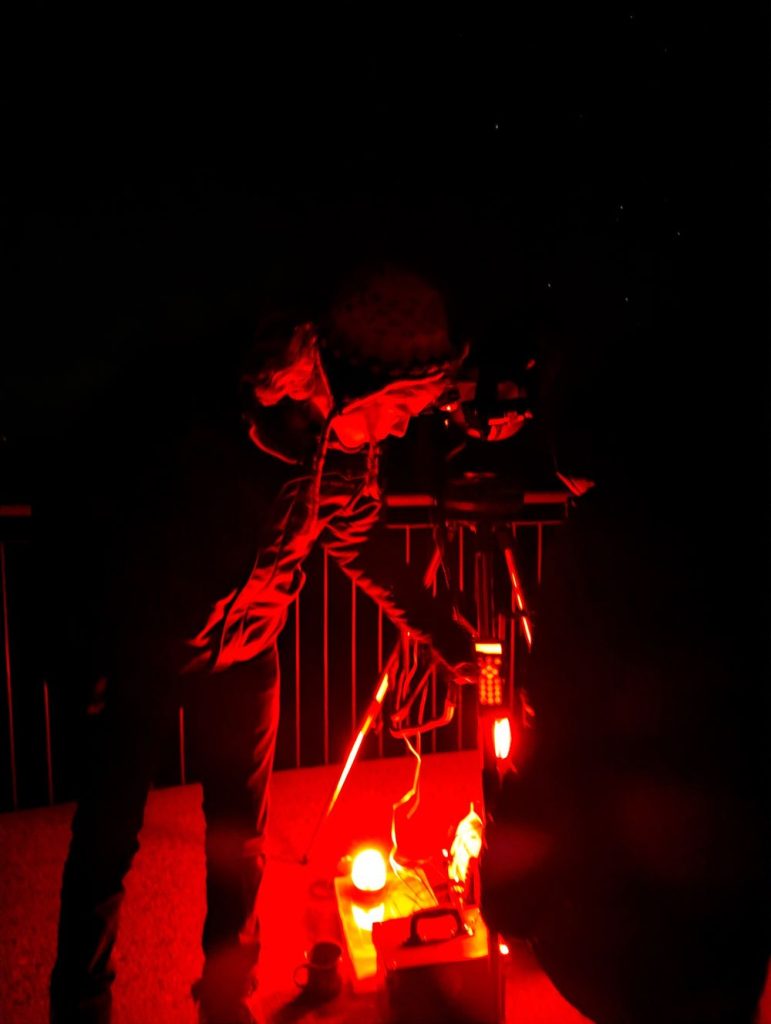 An astronomer's telescope is remarkable. On our Blue Mountains Stargazing tour, we got the privilege to view space through a computerised telescope which gave us incredible depth and detail of the stars, including the Eta Carina Nebula (which is part of the Milky Way and 8.5 thousand light years away!!).
It was a highlight for our kids as they watched Tom program the telescope as it automatically positioned itself based on its map with the true location of the stars. There were plenty of questions from the kids about this extraordinary machine!
7. Aboriginal Astronomy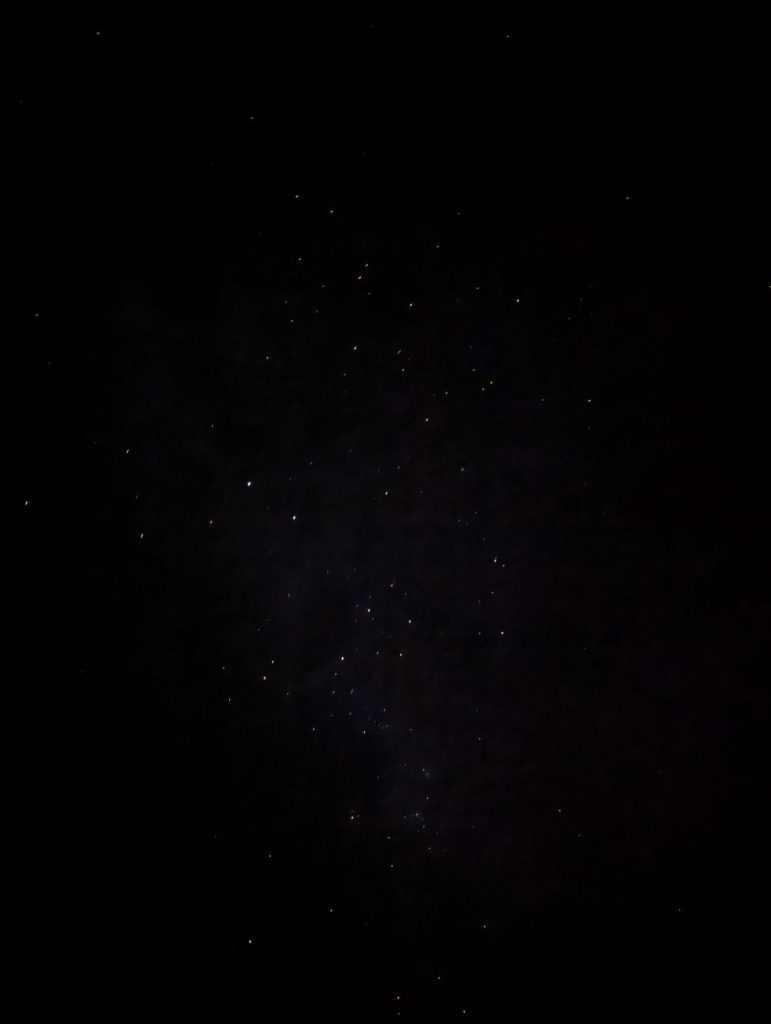 It was fascinating to learn more about Aboriginal Astronomy on our Blue Mountains Stargazing tour. Indigenous people were the first astronomers and have been looking at the stars for over 65,000 years! Tom showed us the famous Emu in the Sky (or Celestial Emu), and explained its special meaning for Aboriginal Australians, in addition to other special Indigenous constellations and perspectives.
If you would like to find out more about Aboriginal Astronomy, Tom encouraged us to watch this terrific TED talk: Wiradjuri woman astrophysicist, Kirtsen Banks' TED talk titled: 65,000 yrs – the great history of Australian Aboriginal Astronomy.
8. You Will Learn A LOT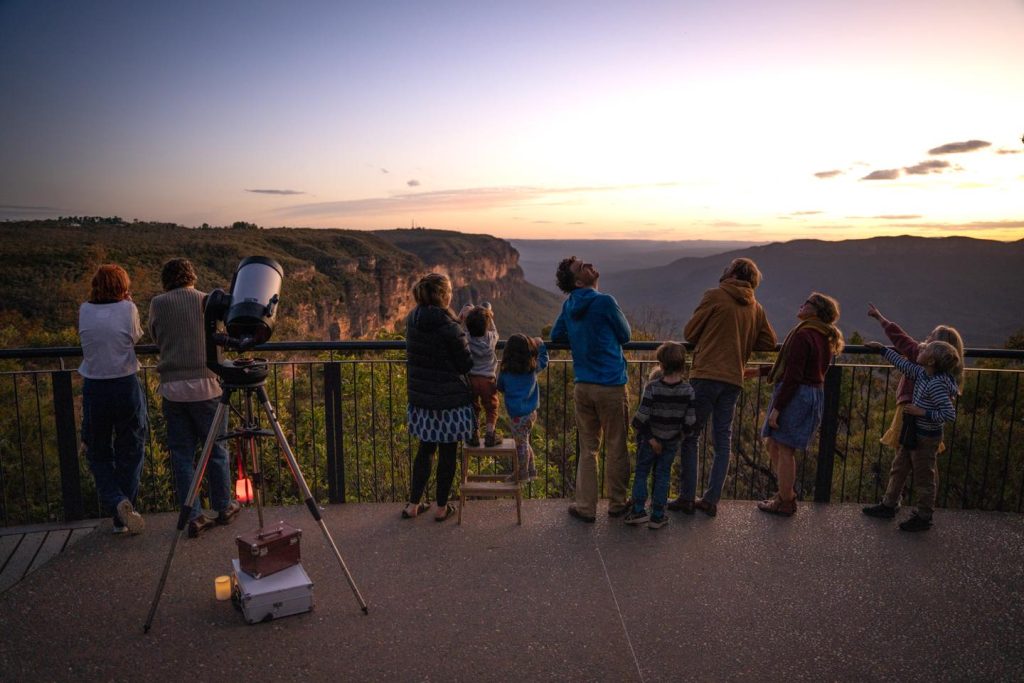 The amount of new knowledge and insight about stars, space, planets, and all things astronomy that we learned on our Blue Mountains Stargazing tour was incredible. In our busy lives, we don't tend to stop and think about the spectacular world of space that exists around us but it is a captivating and mysterious thing that helps us to feel more connected to our world on a deeper level.
Where is the black hole and what is its purpose? Where is the Milky Way? How many light years away are the stars? How did the stars and constellations get their names and how do we locate them? Why are stars different colours? What's going on with Beetlejuice?!
Tom pointed out and explained what makes up our galaxy and gave us clever tricks to find the South Celestial Pole. These are just a fraction of the amazing topics we discussed as we gazed up at the perfect night sky.
We were transfixed with wonder for the whole 90 minute tour and the great thing is that even if the weather is not great, the tour can still go ahead in a 360° Planetarium inside a Dome!
9. Stargazing Helps Us To Feel
Happy and Relaxed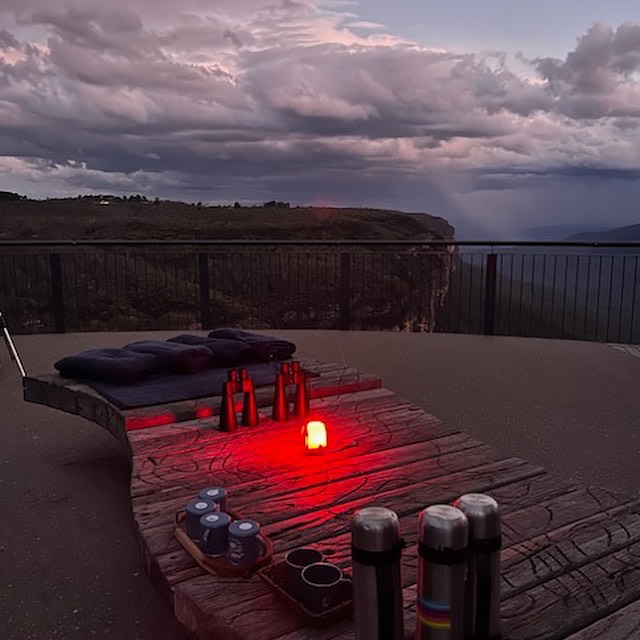 We create WOW moments in nature and inspire our guests to look inward by looking up, taking them on a journey of discovering the sky through ancient and modern times. Blue Mountains Stargazing Mission
If you're feeling down, look up! Feeling stressed or had a tough week? Go stargazing! It will take you light years away from your problems, reconnect you to nature and shift your mindset to the present.
Stargazing is known to be good for our mental health and wellbeing, decrease stress and reduce symptoms of anxiety and depression. Stargazing is mindfulness, relaxation, stillness and contemplation. It connects us back to nature and renews our mind and body. On your tour, stop and listen – you can hear the thundering Wentworth Falls in the distance.
Truly, we felt more mindful, relaxed and invigorated after our Blue Mountains Stargazing tour. A stressful few months were catching up on us and embarking on a stargazing tour was the best antidote. This amazing activity perked up our brains in the most amazing way.
It sparked our curiosity, helped us to slow down and sit still in wonder and awe of the universe. We saw shooting stars and learned things about the galaxy that we had never known before. We left the tour feeling carefree, delighted, at peace and amazed at what we saw and experienced. We were changed, for the better.
10. Stargazing is Simply… Awesome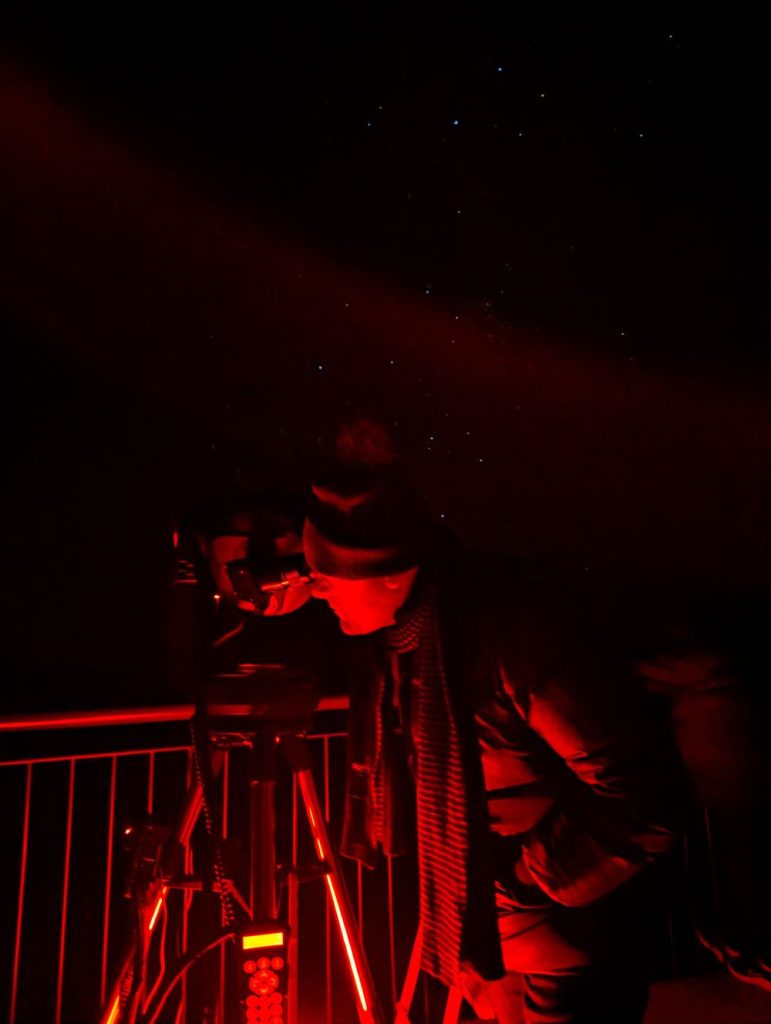 It really is. Stargazing is the perfect activity for a date night (there are even wine tasting stargazing tours in the Megalong Valley!), a gift for someone special, a family night out, as a way to unwind, a work team building day, hang out with a friend, invite out-of-towners and dive into a world of celestial knowledge and the awesome magnitude of something far greater than what meets the eye. It's definitely a bucket list item!
We would love to do this tour again one day and hope that you enjoy it as much as we did. We are also so inspired by the health benefits of stargazing and will be more intentional about finding time in our week to step outside and stare at the stars. At least now we will know what we are looking at!
"Space is big. You just won't believe how vastly, hugely, mind-bogglingly big it is. I mean, you may think it's a long way down the road to the chemist's, but that's just peanuts to space."
― Douglas Adams, The Hitchhiker's Guide to the Galaxy
Tips For Your Blue Mountains Stargazing Tour
Go to the bathroom before the tour starts. The bathrooms are located at the first lookout, Jamison Lookout, and it is a five minute walk back to the toilet. It is also dark, so you will need to escort your children and bring a torch for the bathrooms.
If you have young children choose an earlier tour time. We chose an an 8pm Winter tour and our 6 year old felt sleepy around 9pm. The older children were fine with an 8pm tour time.
Dress warmly. For a Winter tour, it will be cold in Wentworth Falls, so wear layers of warm clothes, including thermals and warm socks. It gets very cold in the upper Blue Mountains and if there is a wind about you will certainly feel the cold. We also brought Oodies for the younger children so they were kept extra toasty warm.
Keep your phone light off. It needs to be dark on a stargazing tour so that you get good night vision to see as much of the night sky as possible. It will take about 10 minutes for your eyes to adjust to the dark so avoid use of your phone light during the tour because it will be very bright for everyone. The guides have a few red night lights though so there is lovely ambient light for the tour.
Check out FAQ's on the website.
"Space is for everybody. It's not just for a few people in science or math, or for a select group of astronauts. That's our new frontier out there, and it's everybody's business to know about space". Christa McAuliffe (the first American civilian selected to go into space).
Contact Caroline at Blue Mountains Stargazing if you would like more info: hello@bluemountainsstargazing.com.au
For the latest, follow
Blue Mountains Stargazing
on Facebook & Instagram