Welcome to Blue Mountains Mums.
This website with URL address https://bluemountainsmums.com is owned and operated by Blue Mountains Mums (ABN: 97 226 690 522).
Should you continue to use this website and/or our social pages and groups, and/or our newsletters ('our digital properties'), you are agreeing to comply with and be bound by the following Terms and Conditions of Use, which together with our Privacy Policy govern Blue Mountains Mums relationship with you in connection with our digital properties.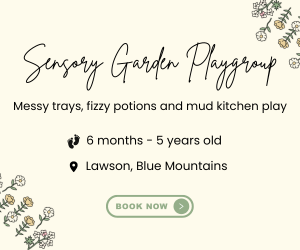 You must agree to these terms and conditions if you use our digital properties:
The content on our digital properties is for your general information and use only. It is subject to change without prior notice.
The goods and services offered on our digital properties may change without prior notice.
At Blue Mountains Mums we do our very best to ensure the accuracy and reliability of the information we provide. However, the information on our digital properties is intended as a guide only. Neither we nor any third parties provide any warranty or guarantee as to the performance, accuracy, timeliness, completeness or suitability of the information and materials found or offered on our digital properties for any particular purpose. You therefore acknowledge that such information and materials may contain mistakes, inaccuracies or errors and we exclude any liability for such to the fullest extent permissible by law. You should not visit the suggested bushwalk locations without first checking the accuracy of the information provided. Bushwalkers with their children and other consumers of our content are responsible for making their own judgements about safety, access and appropriate behaviour.
Your use of any information or materials on our digital properties is entirely at your own risk, for which we shall not be liable. You are responsible for your own decisions about whether or not to visit any given location and you must not rely (in whole or in part) on the information provided on the Blue Mountains Mums digital properties. If you are in any doubt about the safety of an activity or location mentioned on the site or your ability to cope with the physical requirements of any activity then you should not visit the location or participate in the activity.
To the maximum extent permitted by law, Blue Mountains Mums, and associates shall not be liable for any personal injury, death or other harm, loss or damage of whatever nature (direct, indirect, consequential, or other) whether arising in contract, tort or otherwise, which may arise as a result of your use of (or inability to use) our digital properties, or from your use of (or failure to use) the information in our content. It shall be your own responsibility to ensure that any products, services or information available through our digital properties meet your specific requirements.
If you use our content on your own website, you must acknowledge Blue Mountains Mums as the source and clearly + directly link back to the original page/post/article on our digital properties.
We do not verify the information provided in associate or user comments and this information should be checked by the user as with any other information provided on our digital properties. Responses to comments & reviews are welcome in order to broaden and deepen the quality of information available.
You agree that your comments & reviews will not violate any right of any third-party, including copyright, trademark, privacy, personality or other personal or proprietary right. You further agree that your comments will not contain libellous or otherwise unlawful, abusive, defamatory or obscene material.  We take no responsibility and assume no liability for any comments posted by you or any third-party.
Our digital properties may also include links to other websites which are not controlled by us. These links are provided for your convenience to provide you with further information. You acknowledge that they are used at your own risk. They do not signify that we recommend or endorse the websites. We have no control over the nature, content and availability of those websites. Certain content, products and services available via our website and social media output may include materials from third-parties. Please review carefully the third-party's policies and practices and make sure you understand them before you engage in any transaction. Complaints, claims, concerns, or questions regarding third-party products should be directed to the third-party.
You may only use our digital properties for lawful purposes and in a manner consistent with the nature and purpose of the digital property itself.
These terms and conditions may be amended anytime. Your continued use of our digital properties following any such amendments will be deemed to be confirmation that you accept those amendments.
You indemnify us from and against all claims, suits, demands, actions, liabilities, costs and expenses (including legal costs and expenses on a full indemnity basis) resulting from your use of our digital properties.
In no event will we be liable for any loss, damage, cost or expense including legal costs and expenses (whether direct or indirect) incurred by you in connection with the use of our digital properties.
Every effort is made to keep this website up and running smoothly. However, we take no responsibility for, and will not be liable for, the website being temporarily unavailable due to technical issues beyond our control.
Should you wish to contact us about any aspect of these Terms and Conditions please do so via the contact us form on our website or by emailing team@bluemountainsmums.com