Unfortunately, all RFS Santa Runs planned for this weekend have now been cancelled. This is sad news but understandable considering the current circumstances. We are thankful to the Rural Fire Service for all that they do for our community and look forward with hope and optimism to next year's Santa Runs! We would like to wish all Blue Mountains families a safe and joyful Christmas.
Glenbrook Santa Run CANCELLED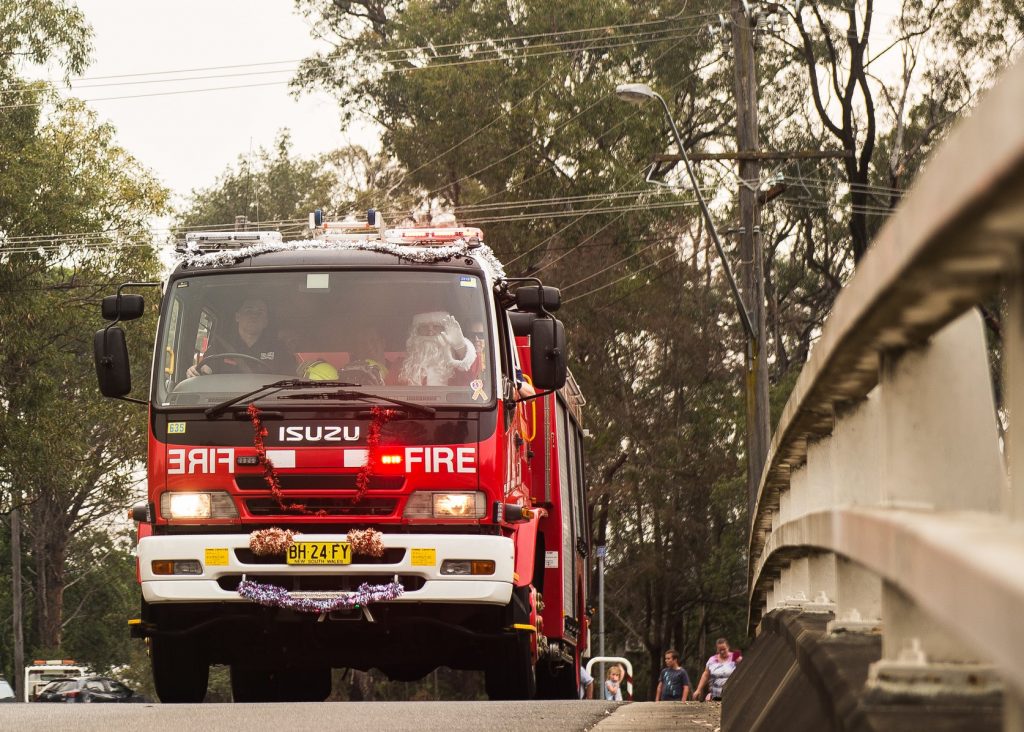 The Fire & Rescue NSW Station 301 Glenbrook have regrettably cancelled their Santa Run:
"2020 Santa Run cancelled
We regret to inform you that our annual Santa run that was scheduled for today has be cancelled. Following the announcement of new COVID-19 restrictions for Greater Sydney, we are unable to continue with the planned Santa run.This decision is one that was made with the safety of our community in mind. This has been a very challenging year for all, considering everything the crew of Glenbrook 301 wish each and everyone of you a Merry Christmas and a Happier 2021".
When is the Santa Run?
CANCELLED Sunday 20th December 2020. From 4pm.
Where will Santa visit?
Here is the live tracked MAP of the Santa Run. The RFS 301 Glenbrook apologise that they cannot visit every street but they very much look forward to seeing you all along the route this Sunday!
Mount Riverview Santa Run CANCELLED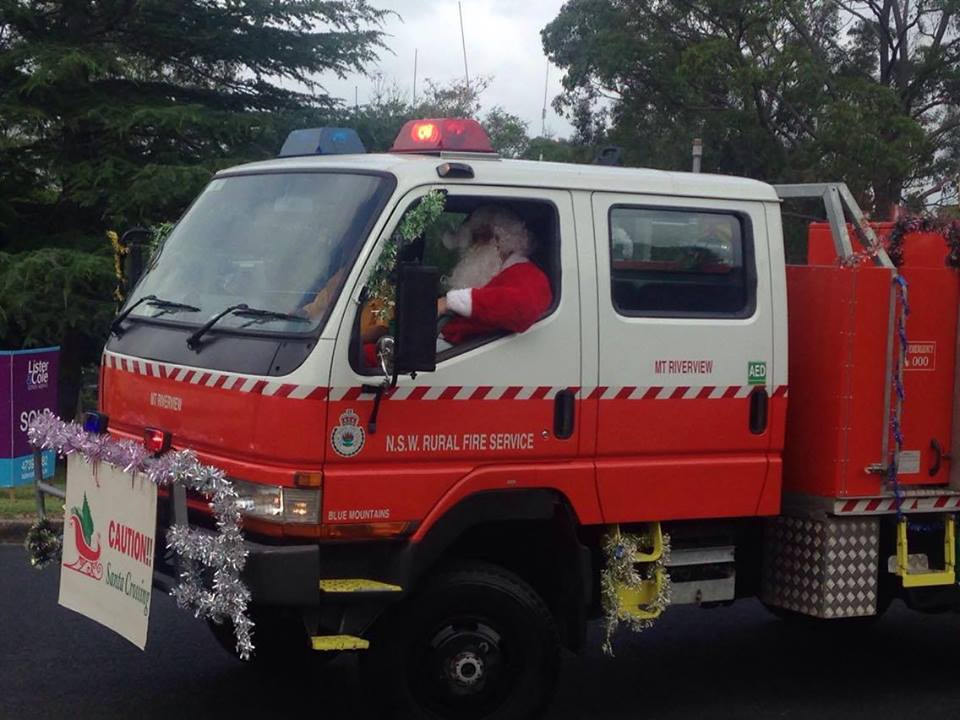 Mt Riverview Rural Fire Brigade's Santa Run will take place on Sunday December 20, 2020, from 9am. Listen for the sirens and come out to see Covid-safe Santa in the big red truck. This year Mount Riverview RFS be collecting donations for the brigade and for local welfare group, Gateway Family Services, which has supported the community through the bushfires and the Covid pandemic period. More details closer to the event.
When: Sunday 20 December 2020, from 9am.
Where: Check Mount Riverview Rural Fire Brigade's Facebook Page on the day.
Lawson Santa Run CANCELLED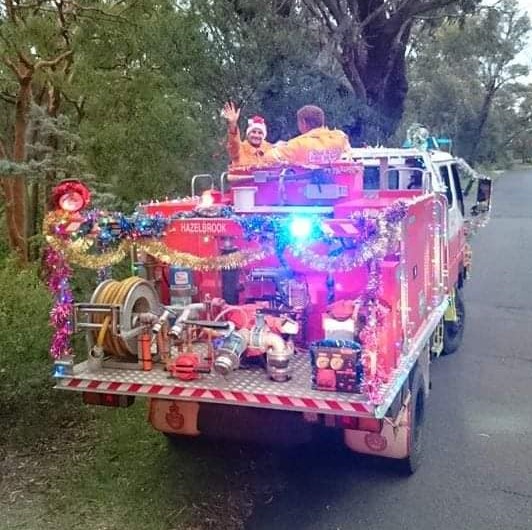 It's that time again when Santa will be visiting the local area. COVID social distancing is still 1.5 metres but Santa be sure to give Santa an elbow bump!
When: Sunday 20 December 2020 @ 10am
Where: Check the Lawson RFS Facebook Page for more details
Hazelbrook Santa Run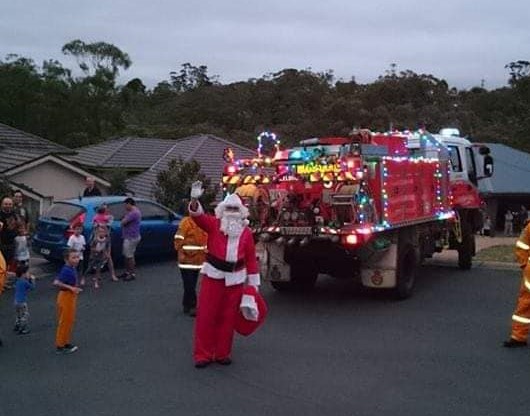 You'll hear sirens and see the flashing lights when he's in your street. So keep your eyes sharp and listen carefully for when he arrives. Have your cameras ready for a photo too!
When: From 6pm Friday 18 December 2020 and continuing Saturday 19 December 2020 from 9am.
Where: Santa will start his run Friday night Friday 18 December, on the Southern side of Hazelbrook (Railway Pde side) from 6pm.
Saturday 19th Dec, he will be driving around on the Northern side (Village shops side), from 9am until later in the afternoon.
Facebook
Faulconbridge Santa Run CANCELLED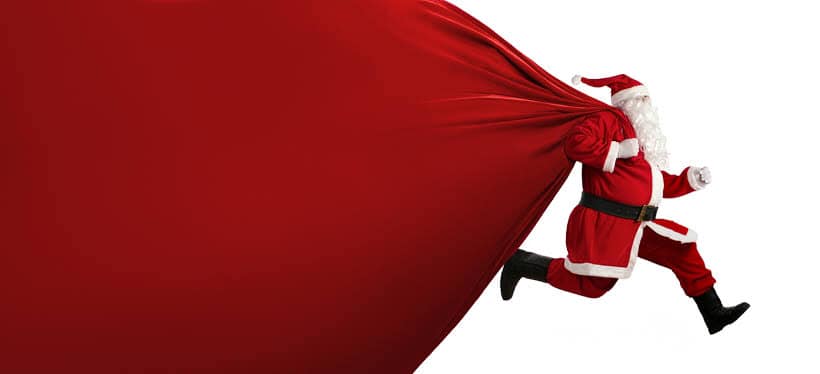 The 2020 Faulconbridge Santa Run is unfortunately CANCELLED. Faulconbridge Rural Fire Brigade sincerely apologise but they are taking precautions due to COVID-19.
Watch the Faulconbridge Facebook Page for further details.
When: Sunday 20th December 2020, from 3pm (CANCELLED)

Winmalee Santa Run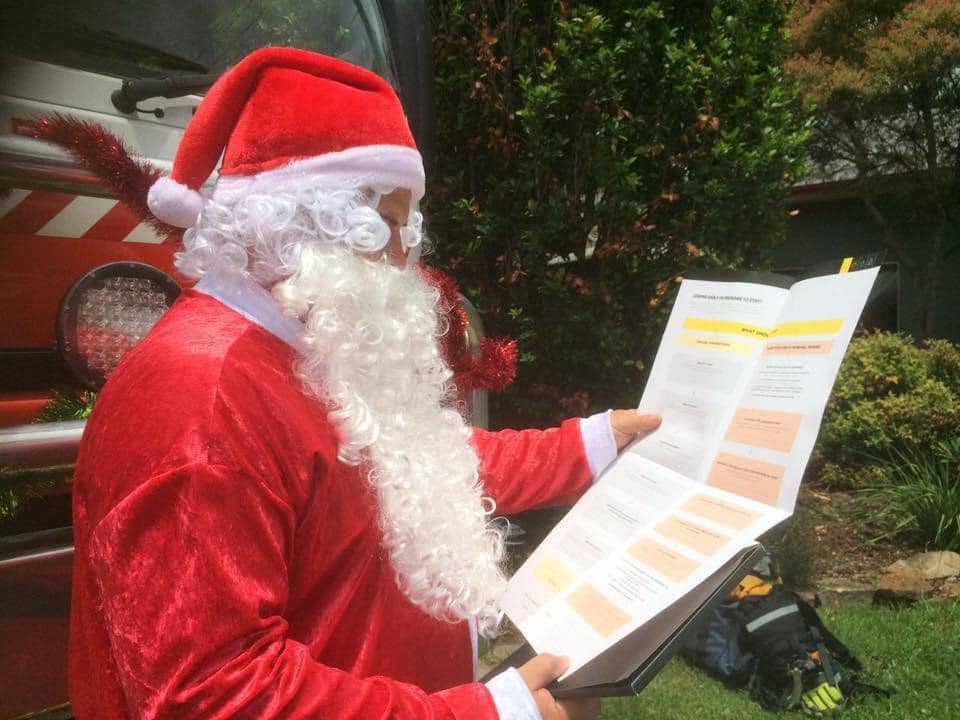 The Winmalee RFS annual Santa run is on! Santa will be escorted throughout Winmalee on Saturday 19th December from 8.30am until 2.00pm. Winmalee RFS will post regularly in the Facebook event page with Santa's whereabouts, so turn your notifications on and keep an eye out for the jolly man and his helpers!
Santa may not be able to cover every street but will endeavour to arrange a meeting point for COVID-safe elbow bumps!
When: Saturday 19 December 2020, from 8.30am – 2.00pm
Facebook Event
Blackheath/Mount Victoria Santa Run
Good news everyone, Santa is going to be returning to Blackheath & Mt Victoria this Saturday 19th December 2020. Check out the three maps for his route through Blackheath, starting at 12pm. We will provide updates throughout the day on where he is.
Unfortunately, Santa won't be able to make his normal Christmas Eve trek through Mt Victoria this year. He will, however, make a special appearance in the Mt Victoria Park at 5:30pm on Saturday.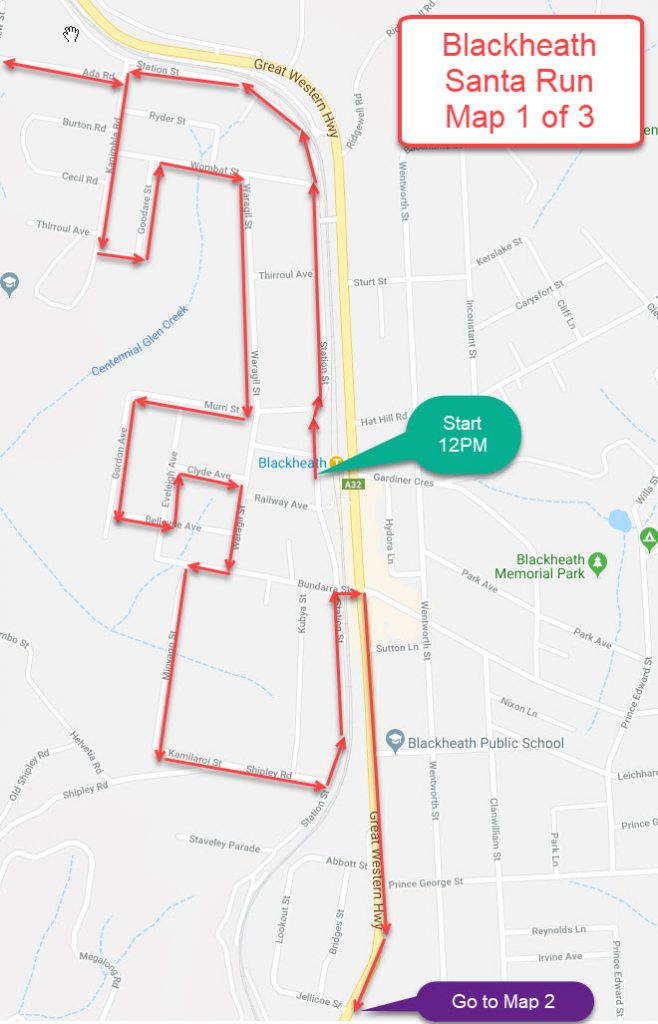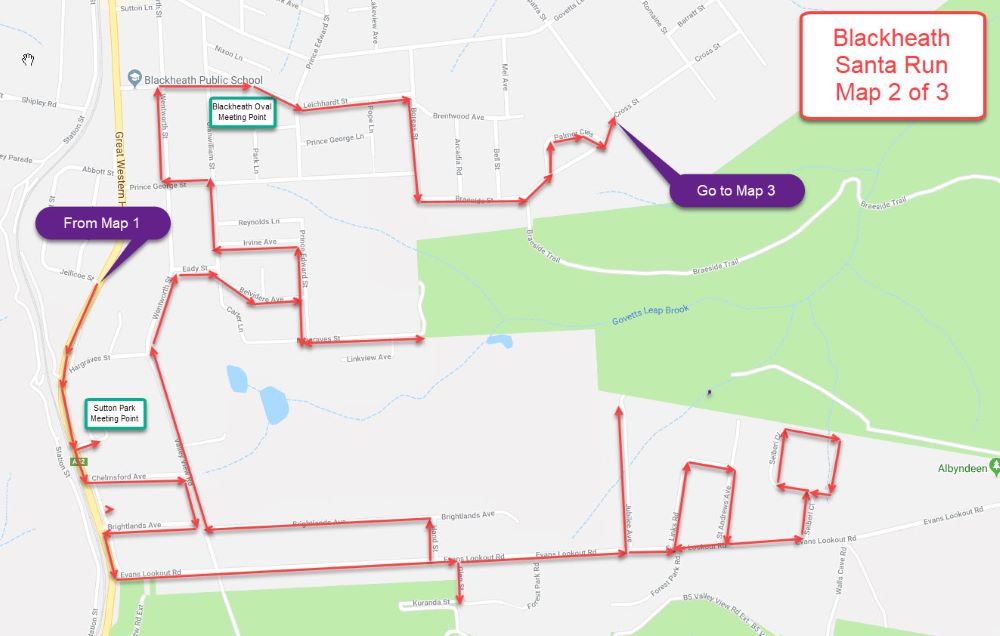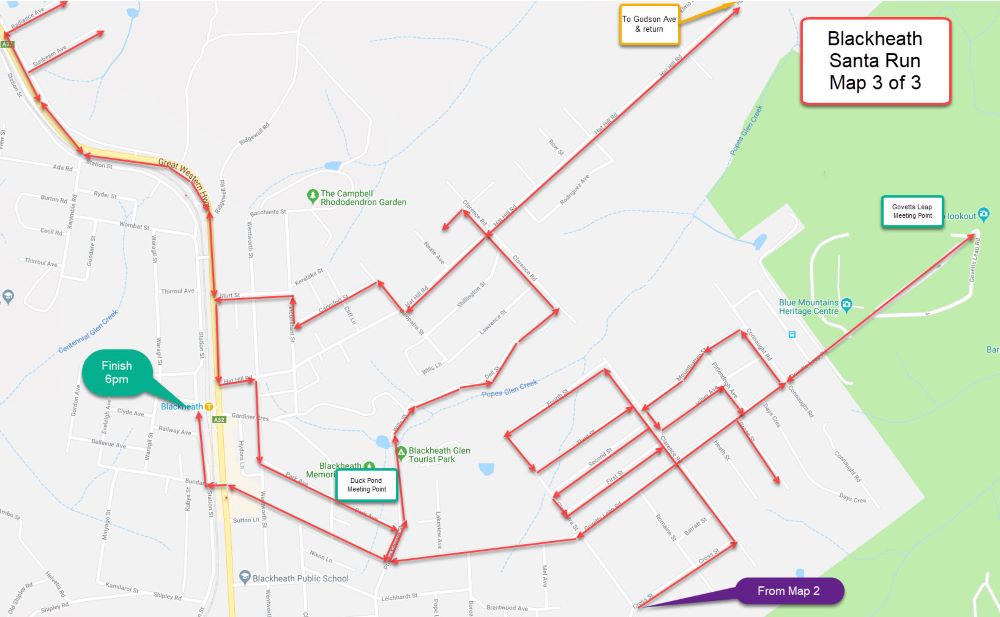 When: Saturday 19th December 2020 from 12.00pm.
Santa's special appearance will be in the Mt Victoria Park at 5:30pm on Saturday 19 December 2020.
Bilpin Santa Run CANCELLED
Message from NSW RFS – Hawkesbury District "Due to the evolving coronavirus situation, all future Santa Runs have been cancelled to minimise the risk of exposure to the community and our volunteers. We appreciate these activities bring a lot of joy to our communities, especially after such a challenging year, however, the well-being of our communities and volunteers is paramount."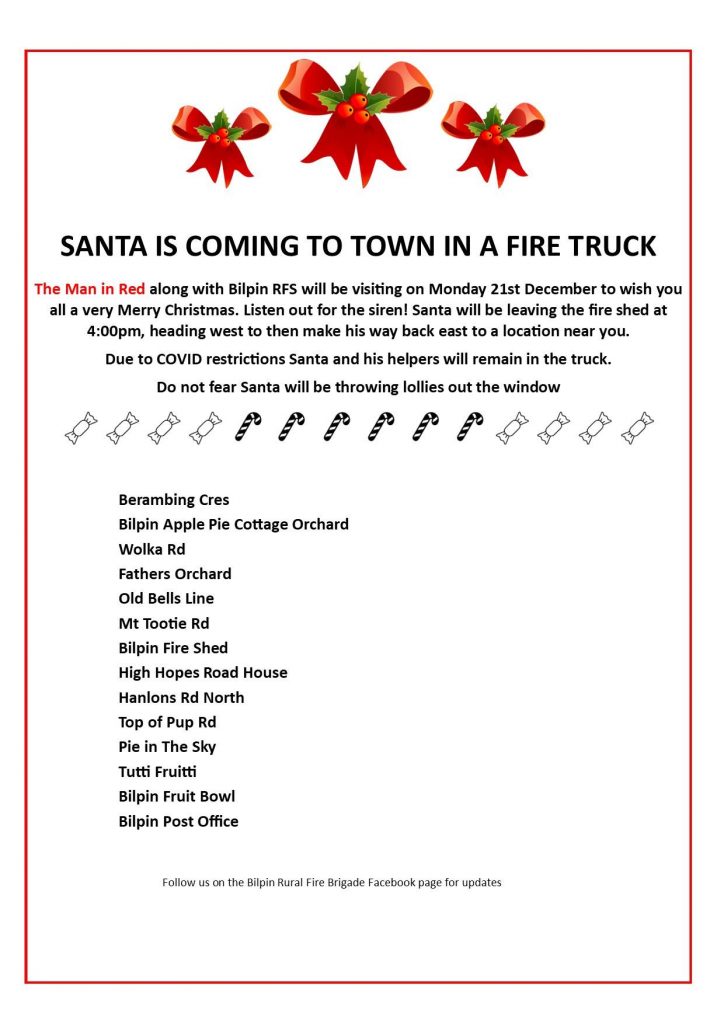 When: Monday 21 December 2020, from 4.00pm
Facebook
Thank you to Fire & Rescue NSW for all that you do to serve, protect, educate and bring joy to so many in our local community.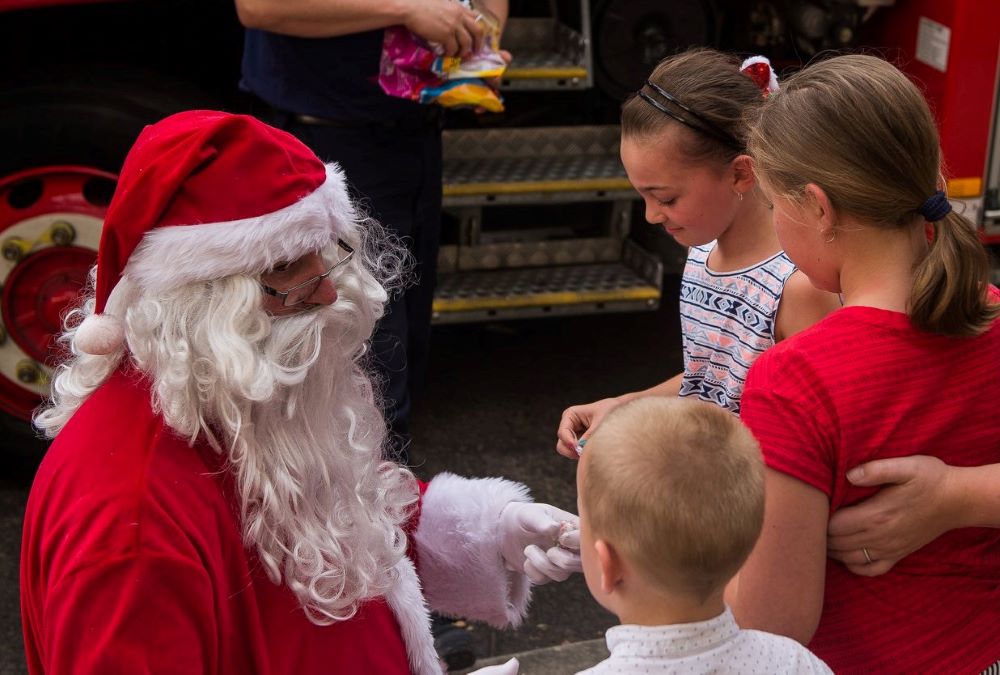 Like us on Facebook to stay in the loop and receive special local offers!
Join our Blue Mountains Mums Local Facebook Group to connect with other local Blue Mountains Mums.