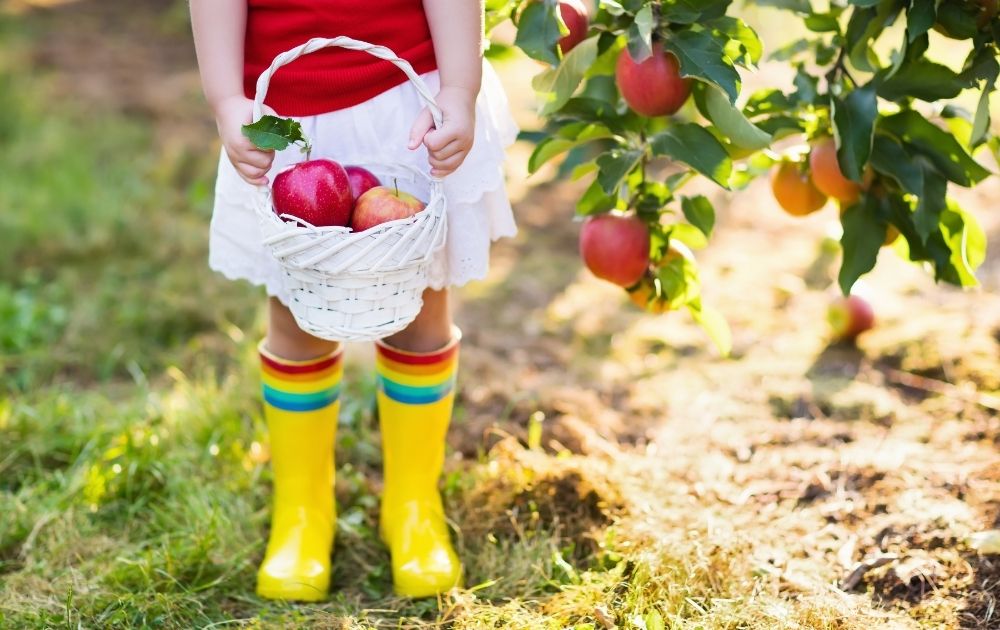 Pick Your Own Fruit Blue Mountains & Beyond Guide
Currently, all farms and orchards are closed. They open as soon as they are able to based on advice by NSW Health. Please note that all information is correct at the time of writing and we aim to update this guide regularly. Please check with the orchard directly though to confirm opening times and available fruit.

Winter has passed and Spring is here. Our orchards and farms are seeing the promise of new fruit, coming very soon, and we can play a part in lifting them up and supporting their renewal and a fresh start. Enjoy a wonderful family day out and happy picking!
Use the quick links below to skip straight to your favourite pick your own fruit destinations in the Blue Mountains and surrounding areas. Remember to please check their Facebook Page or Website for any changes due to COVID restrictions and weather affecting the ripening of fruit and vegetables:
Pick Your Own Fruit Blue Mountains & Surrounds
Some orchards will be open in October and others in November, depending on whether their fruit and vegetables are ripe and ready for picking. If it is a warm Spring, many farms and orchards hope to open earlier, but the ripening of the fruit depends on the weather.
Pick your own fruit is a lovely activity for children as it shows them where their food originally comes from and how it is grown.
Canoelands Orchards, Canoelands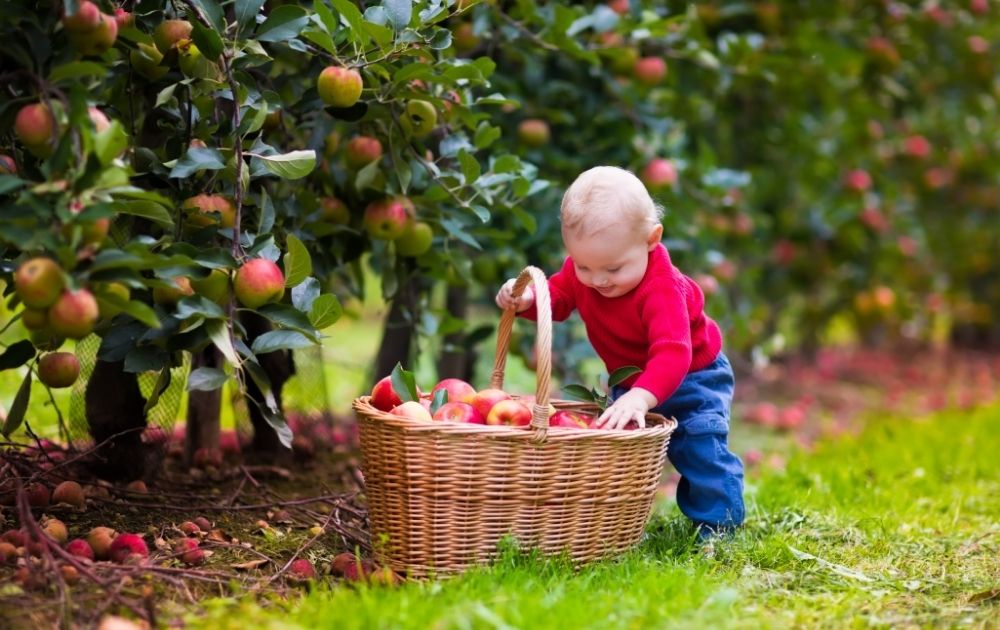 Enjoy the beauty of Canoelands Orchard with your whole family this Spring. Pick your own fruit, buy raw honey from the shop, enjoy a picnic or a refreshing drink at their cafe. Children may even enjoy visiting the farm animals at Canoelands Orchard!
Where: 27 Canoelands Rd, Canoelands NSW 2157 (halfway between Glenorie and Wisemans Ferry).
When: 7 days, 9.00am to 5pm. Bookings are two hours long with 3pm being the last booking time each day.
Season: Clementine, mercot and imperial mandarins.
Harvesting times vary from season to season. See estimated harvesting times here. During January Canolands Orchard have some fruit available for booked vacation care groups only. Should there be any excess fruit, they will promote visits on Facebook and you will need to book online but these will have very limited spaces. The next harvest will be tomatoes starting late March.
Produce: Strawberries, blueberries (depending on fruit available), tomatoes, eggplant, nectarines, peaches, plums, persimmon and citrus. Apples and pomegranate were recently planted for harvesting in the next few years.
Drive from Springwood: Approx. 1 hour 20 mins
Contact: 0419 688 039
Website
Facebook
Entry Fee: Adults $5, kids (aged 5 – 15) $3, under 5 FREE, Family 2 adults and 2 or more kids $16. Bookings required via the website.
Pick Your Own Strawberries, Bilpin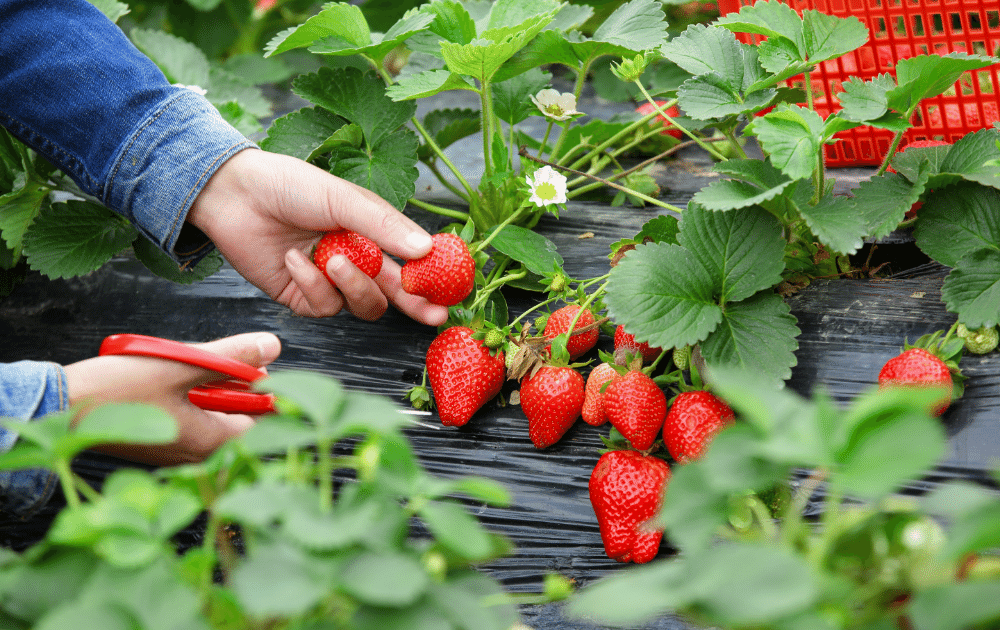 Where: 2093 Bells Line of Road, Bilpin, NSW 2758
When: End of October 2021 (pending NSW Health restrictions)
Season: Check out Bilpin Fruit Bowl's seasonal calendar for harvest times (strawberries to be added soon).
Produce: Strawberries, six varieties of lettuce, 1000 cucumber plants, radishes, bok choy, carrots, turnips, beetroot, kohlrabi (German turnip), & shallots.
Contact: fruit275@tpg.com.au
Website
Facebook
Bilpin Fruit Bowl, Bilpin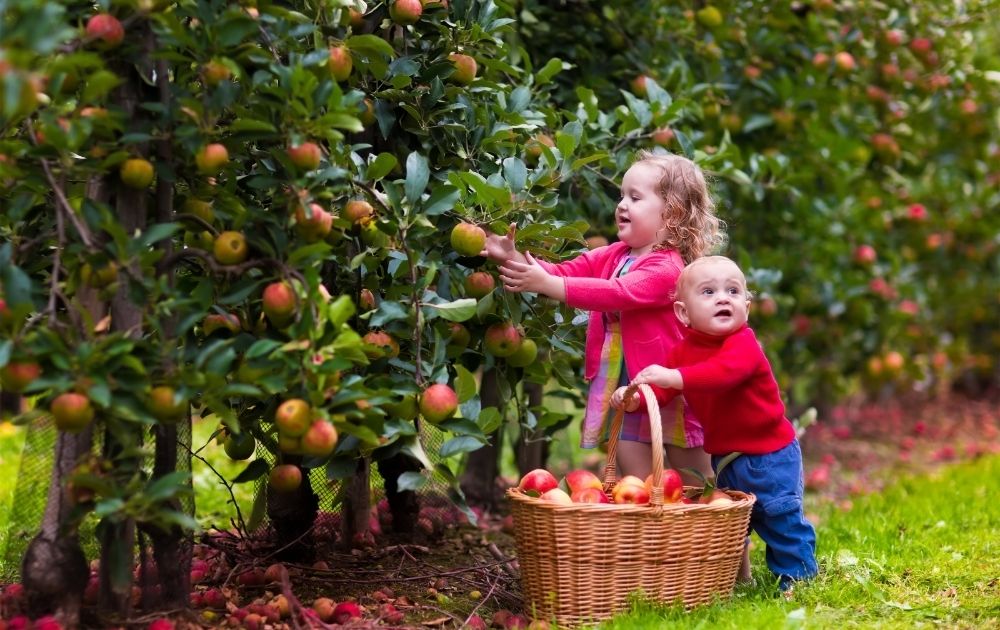 Bilpin Fruit Bowl is open for pick your own fruit most weekends of the year – please check their Facebook Page for week to week fruit picking information. The shop remains open 7 days a week from 8am – 5pm, all year round. So you can still come out and purchase all different kinds of locally made products, including Bilpin Fruit Bowl's famous apple pies, meat pies, cakes and scones, which are all freshly made on-premises.
Bilpin Fruit Bowl are now also growing strawberries for a delicious and sweet pick your own fruit experience!
Where: 2093 Bells Line of Road, NSW 2758
When: The farm is open on weekends and public holidays for fruit picking from 10am – 4pm. No bookings are necessary. The shop remains open every day all year round from 8am to 5pm.
Season: from mid-end of November.
Produce: Apples
Drive from Springwood: Approx. 50 mins
Contact: (02) 4567 1152; info@bilpinfruitbowl.com.au; fruit275@tpg.com.au for Strawberry picking.
Website
Facebook
Pick your own strawberries at Bilpin Fruit Bowl NEW Facebook Page
Entry Fee: $5 adults, $3 kids
Berrylicious Strawberries, Thirlmere
This popular strawberry picking farm is all undercover in tunnels to protect their strawberries from pests and bacteria, which means less spraying of the fruit is needed. Eat as many strawberries as you like on your fruit picking visit and then take some home! Please check their Facebook Page for updates.
Where: 200 West Parade, Thirlmere NSW 2572
When: Monday to Friday, with weekends opening up soon too. Strawberry picking starts 8 October 2020, with more dates becoming available soon. Check Facebook for updates.
Produce: Strawberries
Drive from Springwood: Approx. 1 hour 20 mins
Contact: berryliciousstrawbs@gmail.com
Facebook
Entry Fee: $20 adults, $10 kids (aged 2 – 10), kids under 2 FREE. Eat as many strawberries as you like! Strawberries you take home are $20 per kilo. Bookings essential.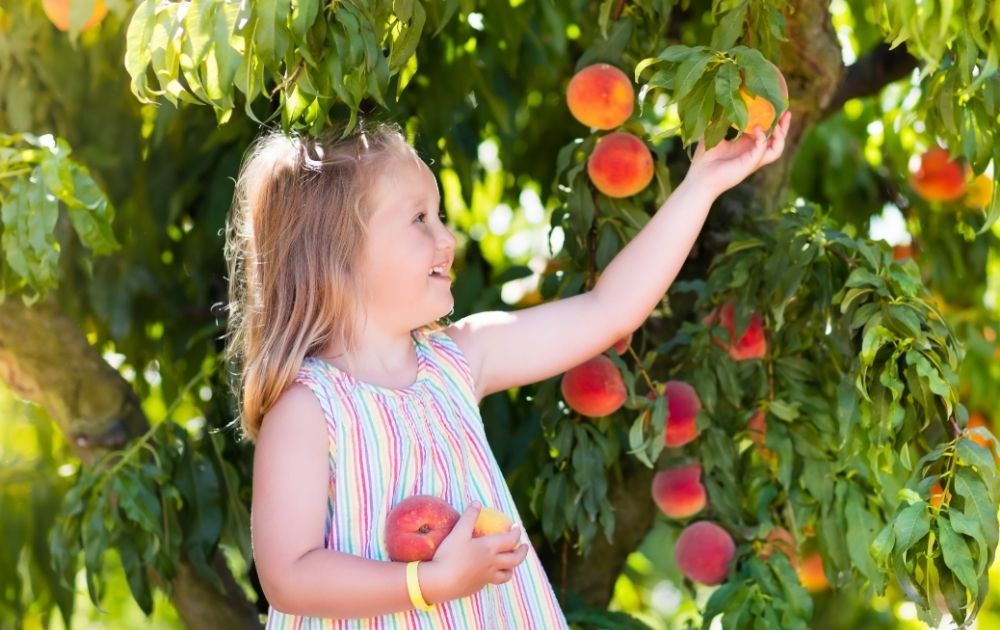 Many orchards are starting their fruit picking season in November. This will likely be a popular activity, so book in advance, if necessary, and enjoy supporting these local Blue Mountains gems for their new fruit picking season. A few other orchards and farms are open in November too but are located further out of the Blue Mountains.
Pine Crest Orchard, Bilpin
Pine Crest Orchard look forward to opening back up again in November 2021 for Cherries and Apricots.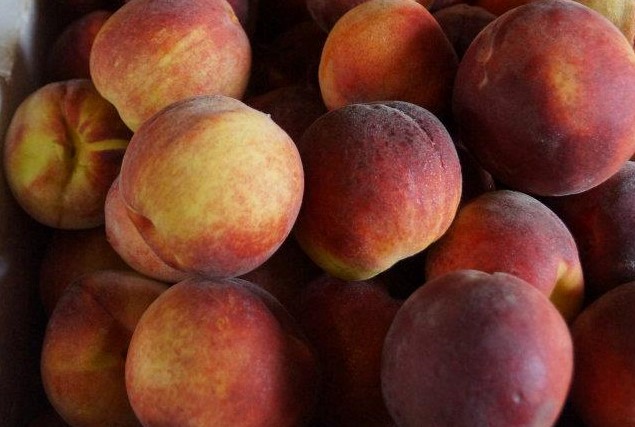 Pick your own Peaches, Plums, Apples and Pears at Pinecrest Orchard! Enjoy a day out with your family picking your own fruit, strolling through the fruit trees and appreciating the adjoining Australian bush. You may even like to bring a picnic lunch.
In addition to picking your own fruit, Pinecrest Orchard also sells homemade jams, including apricot, nectarine and traditional plum jam. The Shed also stocks local honey and nuts (when in season).
Where: 2549 Bells Line of Road, Bilpin NSW 2758 (behind Bilpin Public School)
When: Open in November for fruit picking
Produce: stone fruit, apples, pears and persimmon
Drive from Springwood: Approx. 55 mins
Contact: (02) 4567 1143; john@pinecrestorchard.com
Website
Facebook
Entry Fee: FREE. Pick and pay system. No bookings are required. However, if you plan to come in a big group, please ring in advance so that they can plan for your arrival.
Pick Your Own Fruit Orchards and Farms a Bit Further Afield
Cedar Creek Orchards, Thirlmere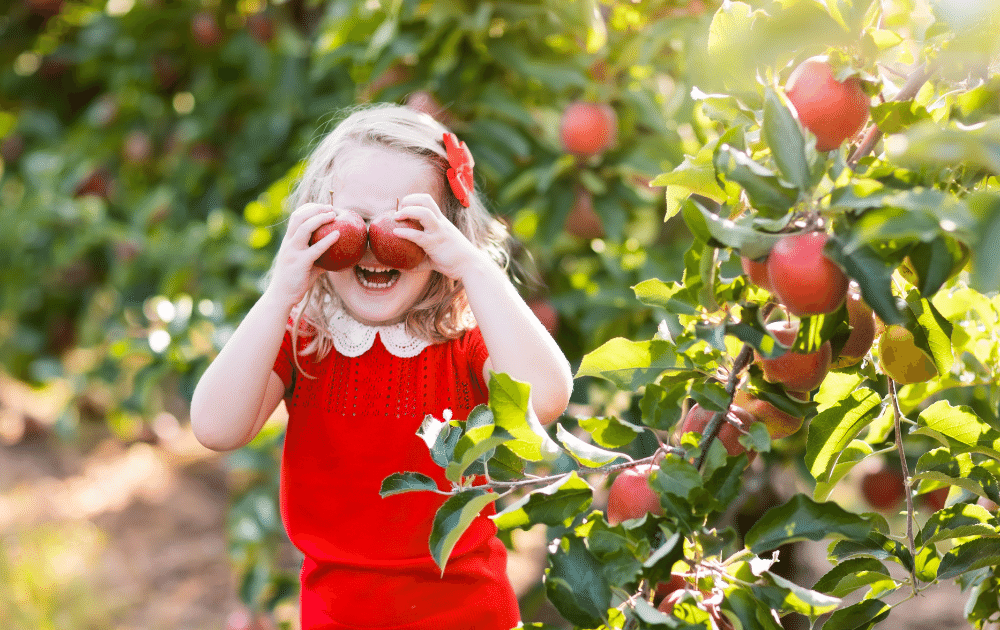 Nestled in the hills just out of the country town of Picton is the 4th generation family owned and run Cedar Creek Orchard. The Silm family began planting apple trees at Cedar Creek Orchards in the 1940's and today, the orchard has expanded into a variety of fruits, a total of around 23,000 trees, including apples, peaches, nectarines and persimmons.
Where: 269 Mulholland's Rd, Thirlmere NSW 2572
When: Open November for fruit picking. The Shed is open for sales of apples, juice, honey etc from 8.30am – 4.30pm, Monday – Friday (not weekends). Season closing mid-January 2021.
Produce: Persimmons (ranging from $4 – $8/kg depending on quality), apples, apple juice honey and cider.
Drive from Springwood: Approx. 1 hour 15 mins
Contact: (02) 4681 8457; enquries@cedarcreekorchards.com.au
Website
Facebook
Entry Fee: Adults $6, children $3.50 (for stone fruit picking). Bookings are required for pick your own fruit but no booking is required to buy from the shed.
Minimum group size of 8 adults required for week-day bookings. (You can book & join others for weekdays – confirmation after booking if the group has the numbers to go ahead). No minimum number of people is required on weekends.
Huntley Berry Farm, Huntley
Open again November 2021.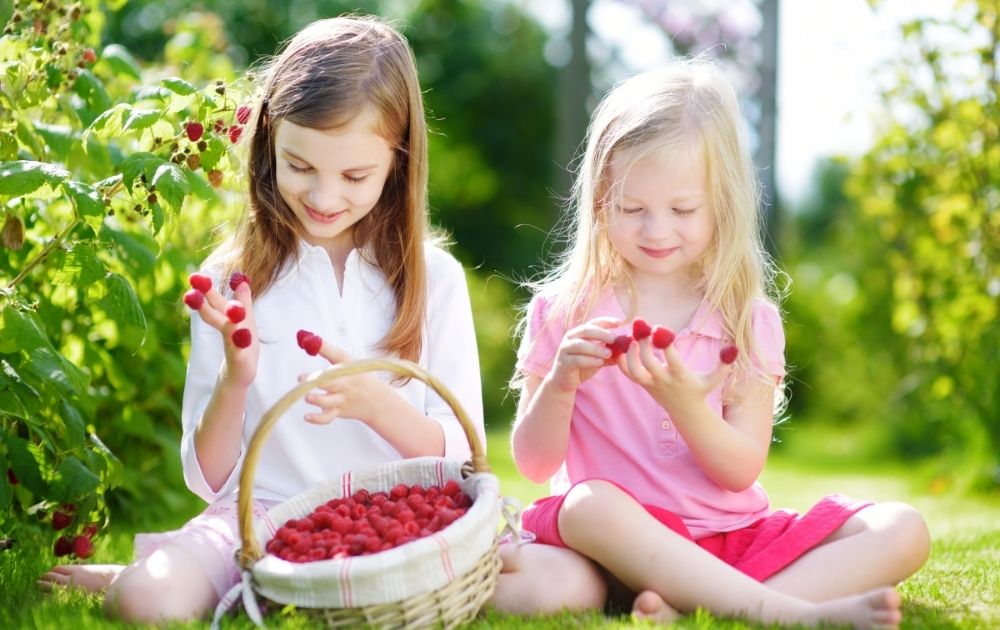 There are plenty of animals to greet and abundant berries to pick at Huntley Berry Farm – it's a great day out for the whole family! Arm yourself with a bucket and pick your own berry produce with over eleven berry varieties available throughout the berry season (early December to May).
Set in picturesque farmland in the basalt plains of Mount Canobolas, Huntley Berry Farm, also provides visitors with ample parking, leveled grass areas with complimentary BBQs and picnic benches, and an amenities block.
Huntley Berry Farm, is also a great place for a picnic or children's birthday party, with its extensive grass areas for games. Come out and see the farm animals – goats, rabbits, guinea pigs, chooks and the friendly farm dog Jack.
Where: 1053 Huntley Rd, Huntley NSW 2800 (near Orange)
When: Open early December – March for fruit picking. Open 7 days a week 9.30 am – 3 pm for picking (when berries are available) and for jam sales all year (COVID restrictions may alter these hours).
Produce: ALL ORGANIC strawberries, blackberries, raspberries. From March, veggie picking starts – tomatoes, eggplant, zucchini, cucumber, squash.
Drive from Springwood: Approx. 2 hours 20 mins
Contact: (02) 6365 5282; huntleyberryfarm@octec.org.au
Website
Facebook
Entry Fee: Gold coin donation (Huntley Berry Farm is a not-for-profit disability enterprise). Pick and pay system. Just turn up – no bookings required.
Bilpin Springs Orchard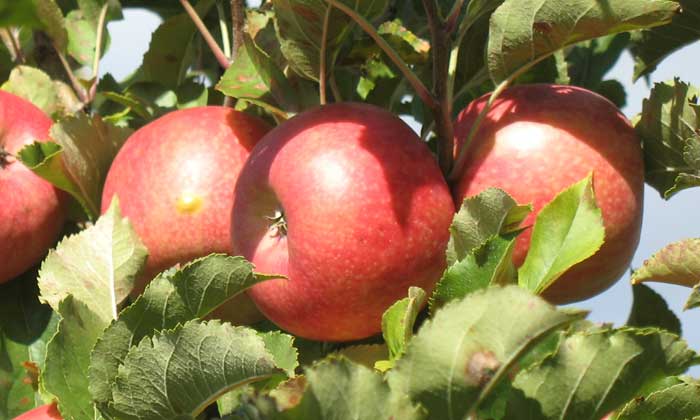 Where: 2550 Bells Line of Road, Bilpin NSW 2758
When: 15th and 16th May, 2021 from 7 am – 1 pm
Fruit: Pink Lady, Sundowner and Granny Smith apples, pears, stone fruit, persimmon, plums, lemons, quinces and more.
Drive from Springwood: Approx. 1 hour 10 mins
Contact: (02) 4567 1294
Website: Please check the website for changes before visiting.
Facebook
TNT Produce Pick Your Own Apples Bilpin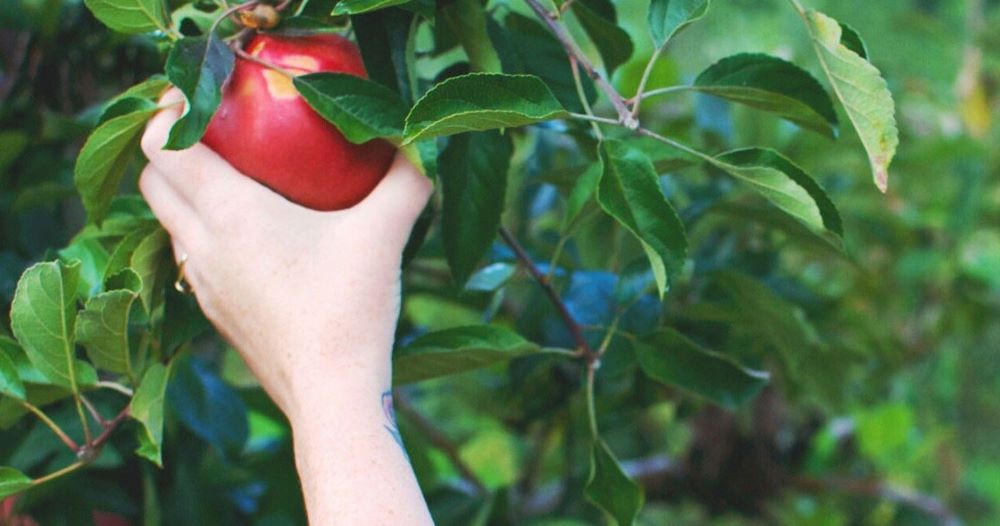 TNT Produce are the largest orchard in Bilpin and have plenty of good quality fruit for you to pick. There are farm animals to visit, including alpacas, guinea pigs, birds, ducks, rabbits and chickens. TNT Produce Bilpin also sell free range eggs from their own chickens and have lots of local produce for sale in our shed such as home-made jam, honey, vinegar, cider, Bilpin apple juice and lots more. So visit Bilpin for a fun day out with family and friends!
Where: 153 Kurts Road, Bilpin NSW 2758
When: Open 10am to 4pm. No booking required. Buses welcome. Entry is $2 per person and children under 5 are free
Season: Apples from January to June 2021
Fruit: Apples $5/kg and persimmons $10/ kg
Drive from Springwood: Approx. 1 hour
Contact: 0410 676 152; tntproduce@hotmail.com
Website
Facebook
Before You Arrive For Your Pick Your Own Fruit Experience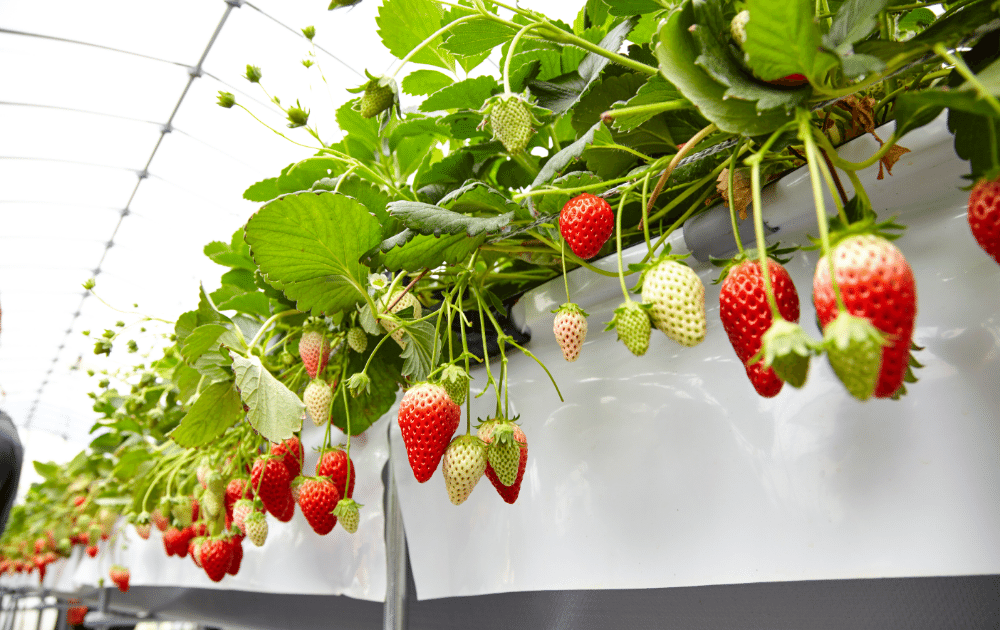 Before you pack your family, gumboots and reusable bags in the car to pick your own fruit, it is always best to check the particular farm or orchard's Facebook Page or website for up to date details of opening hours and booking availability. This is because bookings, weather and fruit availability is variable and cannot always be predicted.
Entry Fees and Bookings
Many farms and orchards charge an entry fee and others are free entry. Some require a booking and others are just turn up as you please. Pick your own fruit farms and orchards are extremely popular, so it is usually best to make a booking early to ensure that you are not disappointed on the day if it is all booked out when you arrive.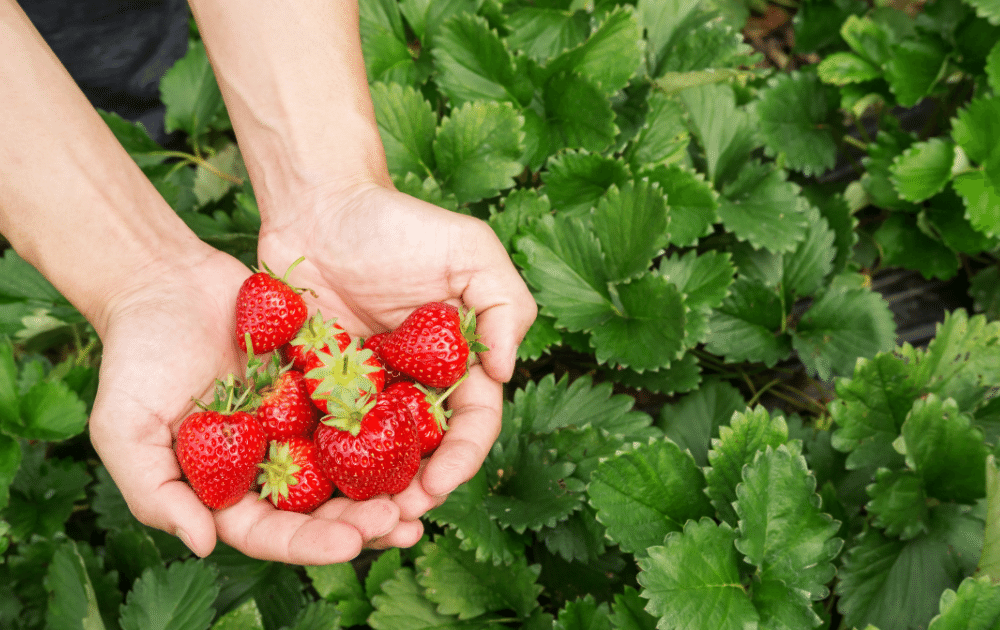 Thank You For Taking Care of the Farms and Orchards
Please take care when you visit the farm or orchard that you take all rubbish with you and only pick what you wish to buy. Even though it is all very exciting to pick your own fruit, there is often wastage at pick your own farms with a lot of fruit left on the ground. So please keep an eye on your children so that they don't get too carried away with the picking 🙂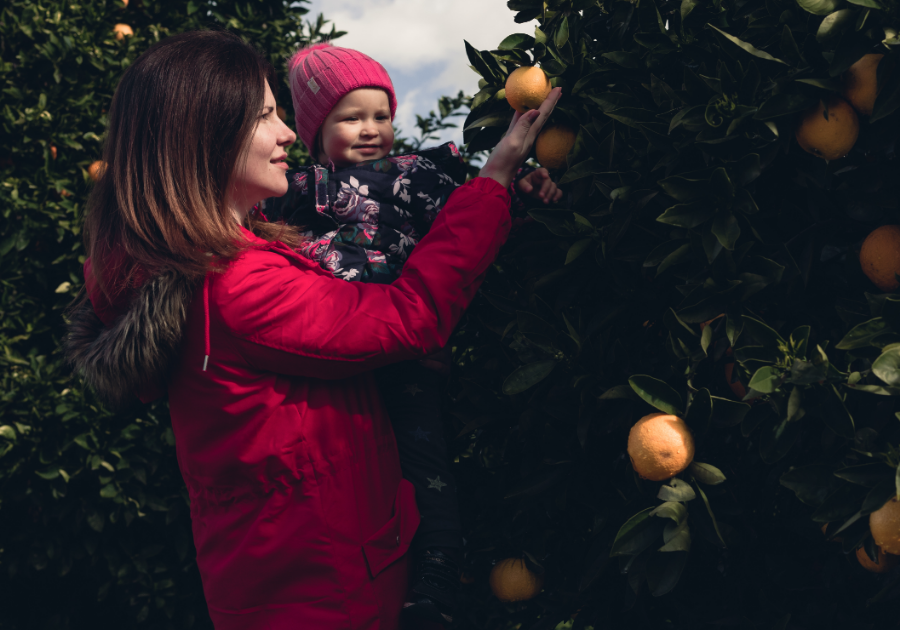 The Farm Gate Trail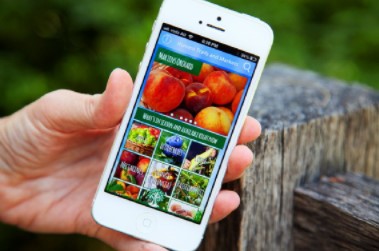 Do you love discovering the best, local, farm-fresh produce in NSW?
Then you'll love the Farm Gate Trail App, which helps you to find farms, plan a self-guided trip to visit them and buy the freshest farm produce. You'll also locate local events, exhibitions and places to stop for fun and food, or to stay-over in boutique accommodation.
The App updates for you regularly to highlight fresh seasonal produce and activities. Tag your favourites and make visiting the Trail a seasonal experience.
Download the app to check in regularly to see what's in season and what's happening out on the Trail.
Download the App for iPhone: The Farm Gate Trail
Download the App for Android: The Farm Gate Trail
Discover More In The Blue Mountains…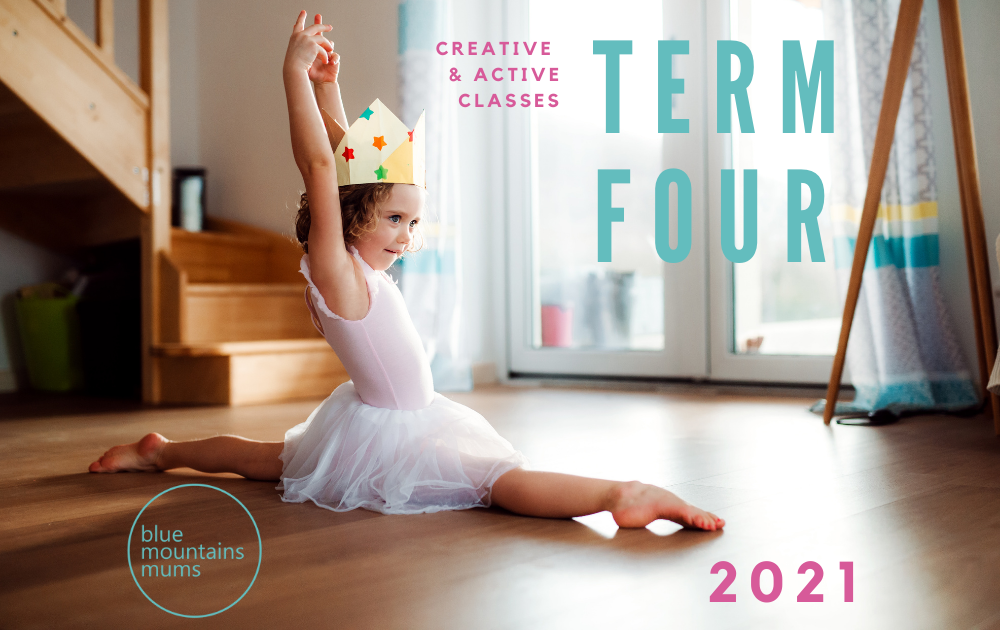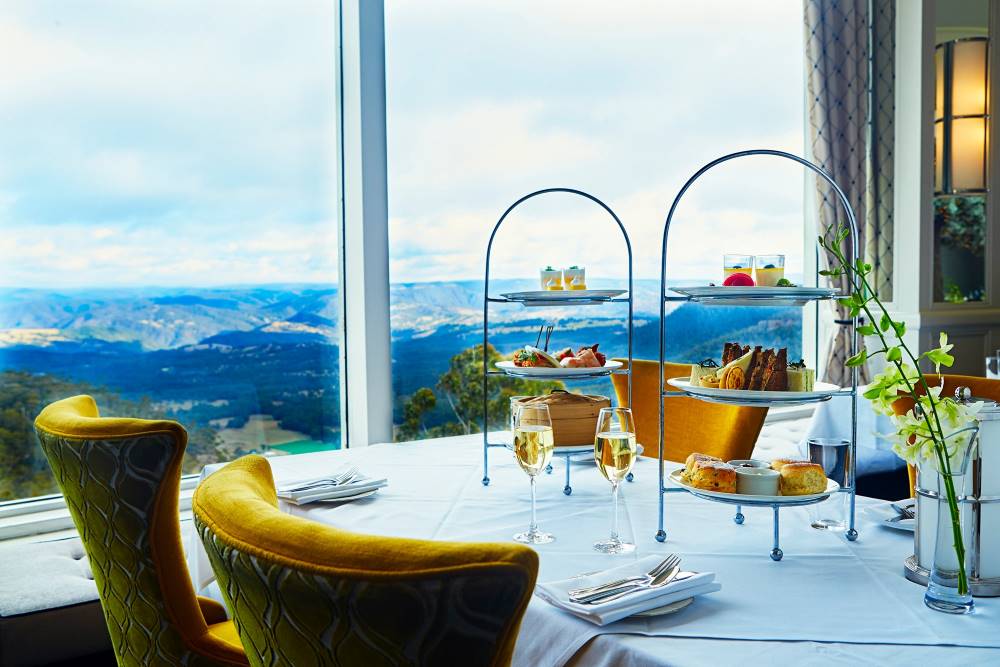 Like us on Facebook to stay in the loop and receive special offers!
Join our Blue Mountains Mums Local Facebook Group to connect with other local Blue Mountains Mums.
Visit our Directory for more local activities and workshops.
We would love to hear from you! Please leave a comment below to let us know about your fruit picking visit and what adventures you and your family embark on in and around the Blue Mountains National Park.