For a
---
For more parks and playgrounds in the Blue Mountains, please visit our Entertainment & Activities section, until we have updated this section of the website.
Parks and playgrounds in the Blue Mountains make it a very family-friendly place to raise a family. There are over 50 parks and playgrounds in the Blue Mountains for families to visit and explore.
In this list, we share our top 10 favourite parks and playgrounds in the Blue Mountains!
Our Favourite Blue Mountains Playgrounds
Memorial Park Blackheath: The 'Red Rocket Ship Park'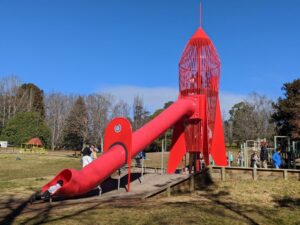 Memorial Park Blackheath is one of the most historic and favourite Blue Mountains playgrounds. Also known by locals as the 'Red Rocket Ship Park', this playground in Blackheath is definitely worth visiting. The red rocket was originally installed in 1962 and recently renovated.
Memorial Park Blackheath has plenty of space, including three different playground areas to suit all age groups. There is a range of wonderful play equipment, including a flying fox and swings, a duck pond, swimming pool (built during the 1930's), sheltered BBQs and an abundance of grassed areas for picnics and spontaneous games of soccer or frisbee! FIND OUT MORE.
---
Wentworth Falls Lake: The Pirate Ship Park

One of Blue Mountains resident's favourite parks, Wentworth Falls Lake is a really lovely park for families. With water views, birdlife, boardwalks to stroll around the lake and two sets of playground equipment, this park has become extremely popular.
Children will enjoy cruising along with their scooters and stopping off to play. Canoe around on the lake, enjoy a picnic lunch or simply enjoy watching your children enjoy imaginative play on the pirate ship equipment. Toilets are easily accessible. FIND OUT MORE.
---
Wilson Park Wentworth Falls

This lovely, leafy Blue Mountains park and playground has a wonderful playground for children with brand new swings and a path around it that is suitable for bikes and scooters. The entrance to the child-friendly Charles Darwin walk is right there too.
Wilson Park in Wentworth Falls is one of the leafiest parks in the Blue Mountains due to its beautiful, mature, deciduous trees. These gorgeous trees make great cubby houses for imaginative play and create lovely shade during Summer.
Wilson Park is an easy walk from the station and cafes across the highway. Wilson Park has toilets facilities, plenty of open space to play games and seating for outdoor picnics. FIND OUT MORE.
---
St. John's Oval Park, Blaxland

St John's Oval is one of those parks in the Blue Mountains that has something for everyone! Its main feature is the large 400m oval that is regularly used for team sports and running. St John's Oval Park is not a dog-friendly park, but it is a wonderful space for children and youth. There are two basketball/netball courts that are doubled as scooter and bike riding spaces for children. FIND OUT MORE.
---
Glenbrook Skatepark and Playground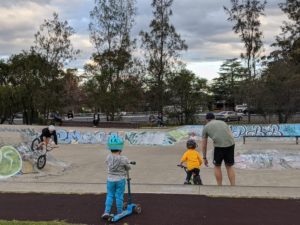 This is the largest skatepark in the Blue Mountains and possibly the most popular. It can seem a little daunting to take young children to a skate park as it is a popular hangout for teenagers. It is a very well designed skate park in the Blue Mountains that provide opportunities for challenging tricks.
The funbox in the middle is the centrepiece and has a one foot off the ground cylindrical metal pole used for slides and grinds. For younger children, there is also a small playground and swing set to play on near the skatepark. Glenbrook Oval is next to Glenbrook Skatepark and is available for ball games and other sports. FIND OUT MORE.
Hinkler Park Katoomba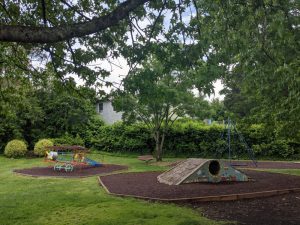 Hinkler Park Katoomba is a small playground tucked away in the backstreets of the Upper Blue Mountains. Named after the first pilot to fly solo from England to Australia in 1928, Herbert John Louis Hinkler, Hinkler Park is designed with a flying theme to commemorate Bert Hinkler's trailblazing achievements. Children will enjoy exploring the aeroplane themed mosaic tunnel and hanging from the colourful metal aeroplane. They will especially love the super high flying swings! FIND OUT MORE.
---
Glenbrook Park and Playground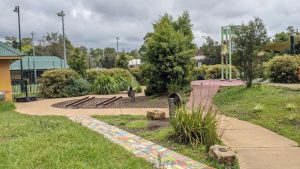 With a brand new, well-designed playground for young children, as well as play equipment suitable for older children, this park in the lower Blue Mountains offers a great morning out for the family.
In the new playground, there is a small bike/scooter path, a horse sculpture called 'Henrietta', a water tank climbing apparatus, a sensory trail and a water pump (recently turned off due to water restrictions). The local men's shed hand made the clatter bridge. There are also locomotive themed elements in the park such as railway tracks that are used as balance beams, a set of railway luggage scales used as a small stage, railway sleepers and fettler's cartwheels. It is fully fenced with gates.
The park is fully gated, with a lovely grassed area for family and friends to gather. FIND OUT MORE.
---
Lithgow Adventure Playground: Endeavour Park Lithgow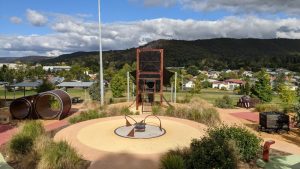 Whilst technically located just outside of the Blue Mountains in Lithgow, Lithgow Adventure Playground at Endeavour Park is an amazing playground that is definitely worth exploring. Lithgow Adventure Playground is a beautiful, inclusive playground that is designed to engage children socially, physically and cognitively. It is so much fun, has inbuilt design features to interest children as they play, tips its hat to Lithgow's mining history and is set in the most majestic location overlooking the Blue Mountains. FIND OUT MORE.
---
Buttonshaw Park Springwood 


Buttonshaw Park, Springwood, is a very popular park with locals for its vast open space. There is an excellent bike path for young riders, play equipment (including a fun round-a-bout), and its formal landscaped gardens, which feature a heritage wisteria arch walkway. It is located near the Springwood Sports and Aquatic Centre and netball courts. One negative about the park to keep in mind is that the park is not yet adequately fenced off from the carpark and highway. 
Toilets are conveniently situated near the car park. Please chauffeur your children to the toilets and supervise them. FIND OUT MORE.
Lennox Park Blaxland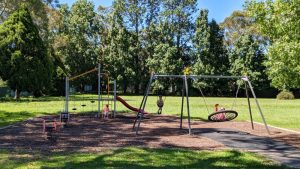 Lennox Park Blaxland has a lot of offer for families. You will find beautiful open grassland, tennis courts, a shaded playground and a bike and scooter path. Tucked away in the quiet backstreets of Blaxland, Lennox Park is an excellent spot for the whole family to relax. FIND OUT MORE.
Parks and Playgrounds in the Blue Mountains are to receive upgrades!
Four district parks and playgrounds in the Blue Mountains will be receiving upgrades. Buttonshaw Park, Springwood, is one of those parks that will undergo an extensive upgrade thanks to the Western Sydney City Deal Liveability Program. This upgrade aims to create an inclusive adventure play space for teenagers.
---
We hope that you have found this list of parks in the Blue Mountains helpful and that you enjoy visiting many of these wonderful parks with your family.
Please let us know about your visit to these parks in the Blue Mountains and what you thought in the comments section below. If you have other parks in the Blue Mountains that you recommend please also let us know in the comments below.