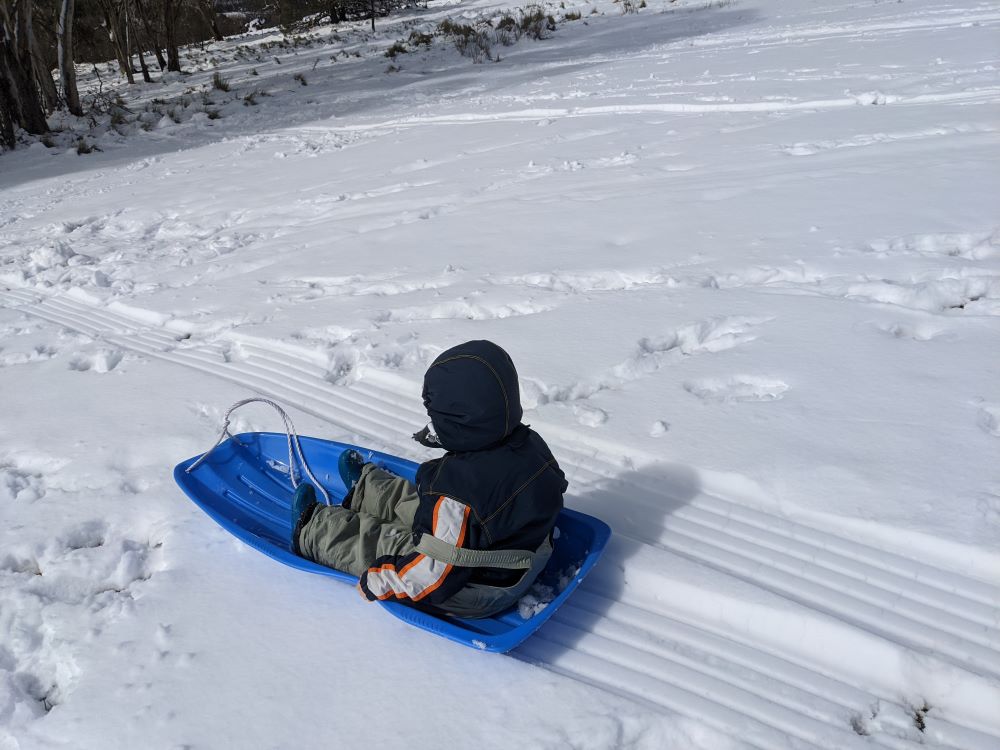 Snowfall is expected to fall in Oberon on Sunday 7 May 2023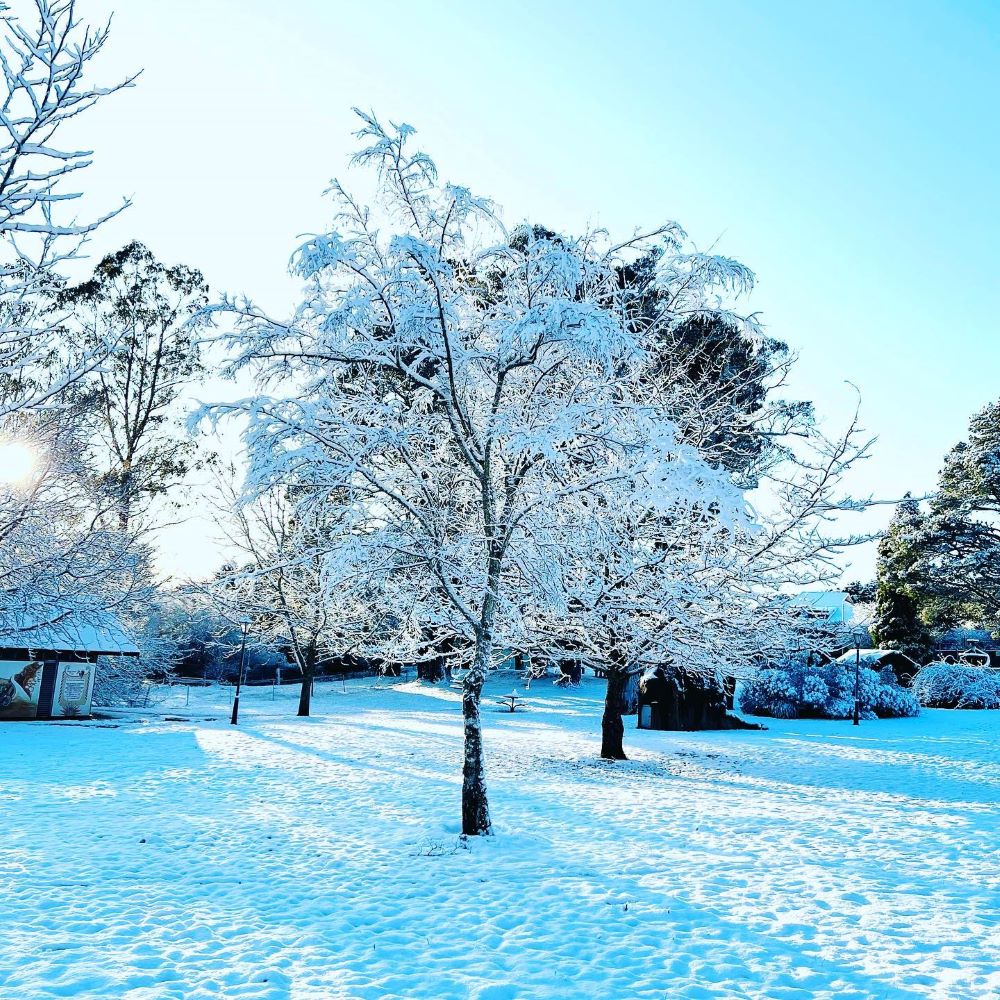 Snow play in Blue Mountains National Park is becoming a very popular pastime for families in Winter. Most Winters, the Blue Mountains transform into a majestic wonderland and families from near and far are keen to experience this rare and amazing occurrence.
In this article, we share some of the ideal places to take your children to make a snowman, go tobogganing, have a snowball fight and create glorious snow angels. A play in the snow will guarantee a smile on your child's face, especially if it is his or her first time experiencing snow. It is also important to know how to keep safe during snow play in freezing conditions and on icy roads.
View safety tips for your visit here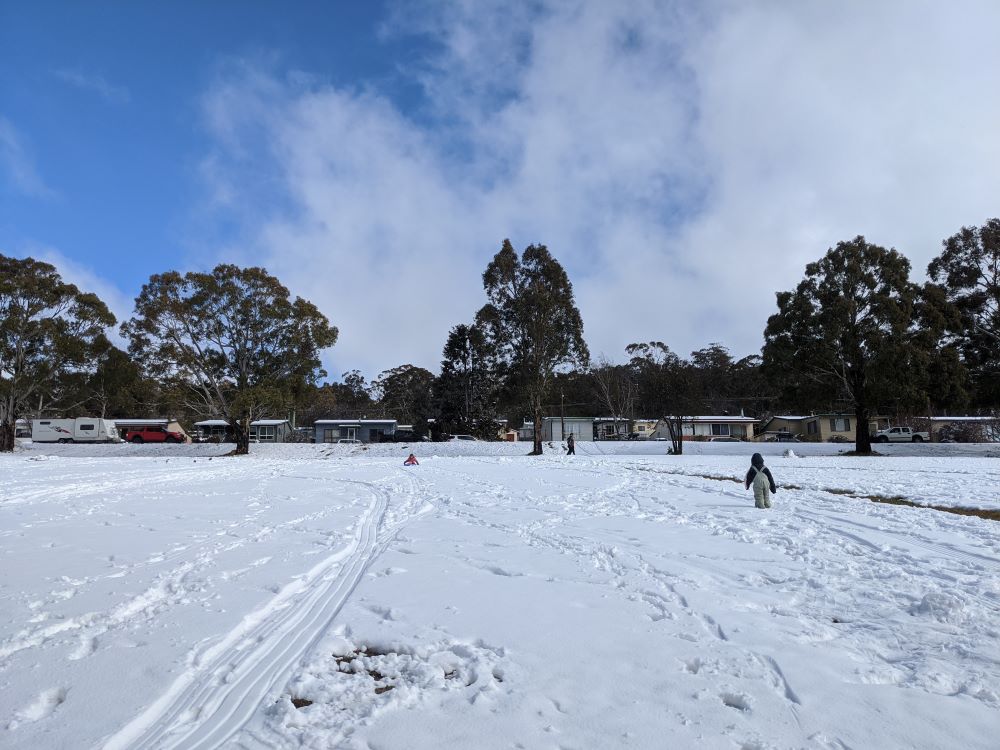 In the Blue Mountains, snow occurs on an irregular basis from year to year and often with little warning. According to our research, there have only been a few years which failed to get at least some snow.
The upper Blue Mountains (generally anywhere from Wentworth Falls to Mount Victoria) can experience snowfalls that vary from brief flurries to heavy falls. Here is our list of the best vantage points to enjoy Blue Mountains snow: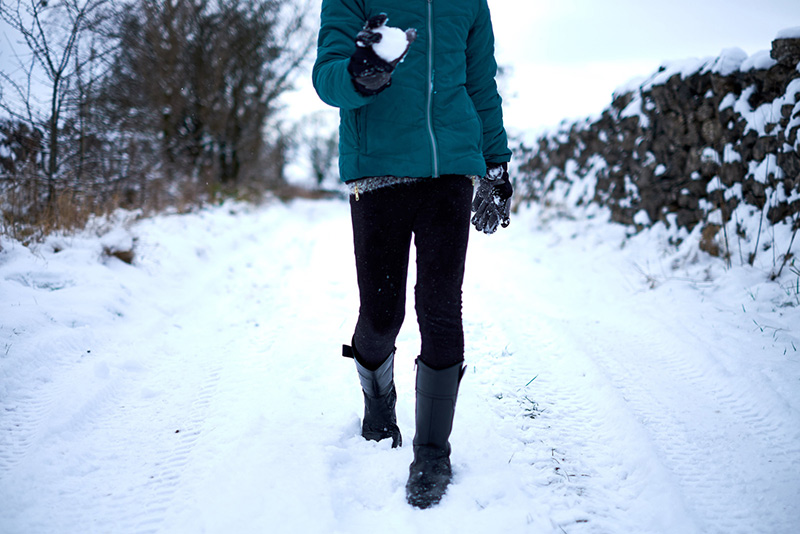 SNOW PLAY IN BLACKHEATH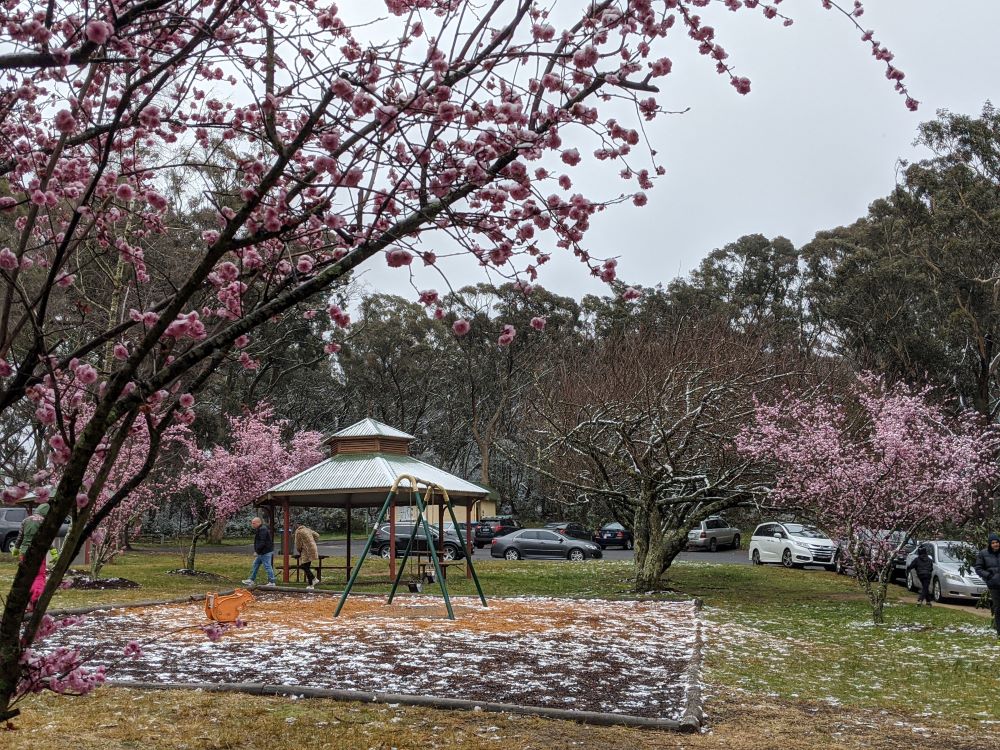 Blackheath often turns into a winter wonderland scene in Winter. Toboggans become the must-have accessory as each slope in many village parks becomes a sledging playground.
For a wonderful Blue Mountains snow experience, head to Memorial Park (The Red Rocket Ship Park), Sutton Park or Blackheath Oval for snowball fights!
The Rhododendron Gardens Blackheath are also a beautiful space to explore on a snowy day. It's free to enter and there is plenty of space for the kids to explore.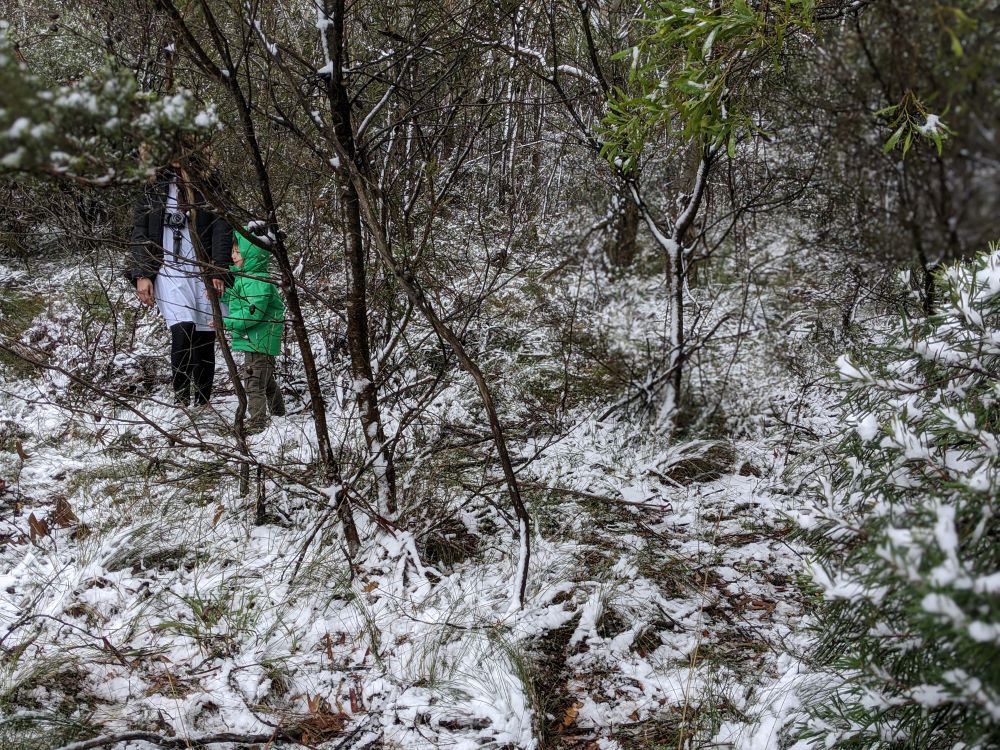 SNOW PLAY IN WENTWORTH FALLS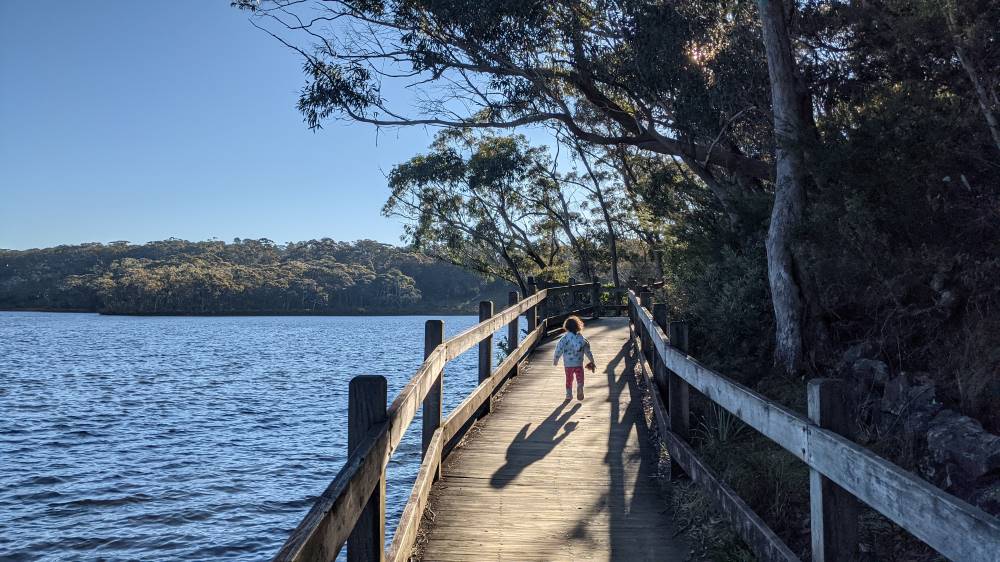 Head to the beautiful Wentworth Falls Lake and adventure playground for a truly magical snow play experience!
Wilson Park Wentworth Falls is another wonderful space for snow play in the Blue Mountains due to its large amount of open space.
SNOW PLAY IN KATOOMBA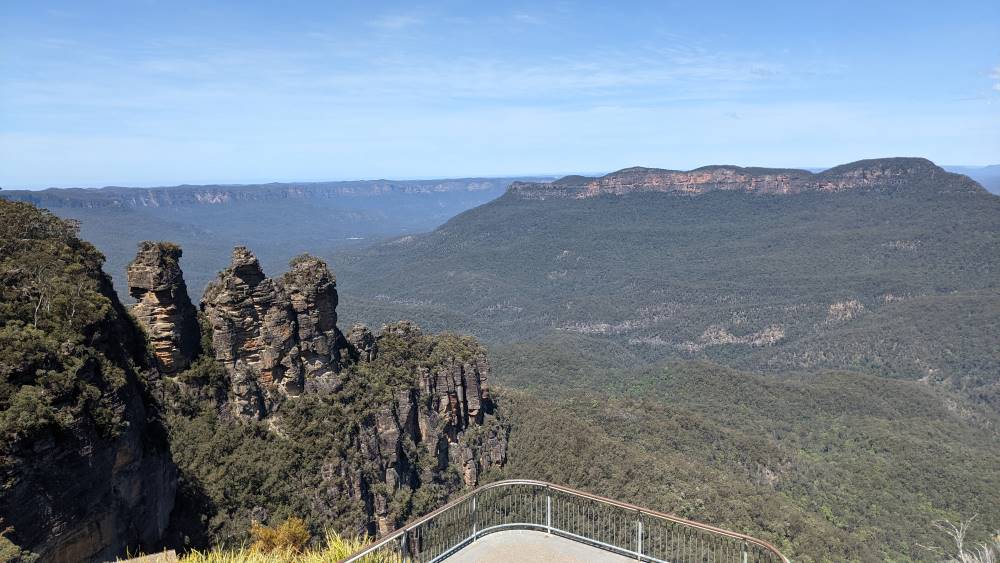 There are many wonderful locations in Katoomba to experience snow play with the kids. Be mindful that many lookouts may not be safe enough to visit if they have undulating ground that will be icy and slippery.
Echo Point and the Katoomba Falls Night Lit Walk are fairly flat though if you would like a mystical snowy experience with breathtaking views. Always walk slowly and carefully when it is snowing.
Children may enjoy playing at Hinkler Park to make snowmen and have a snowball fight. The Gully (formally known as Catalina Raceway) is another lovely spot for snow play for kids in Katoomba.
SNOW PLAY IN LEURA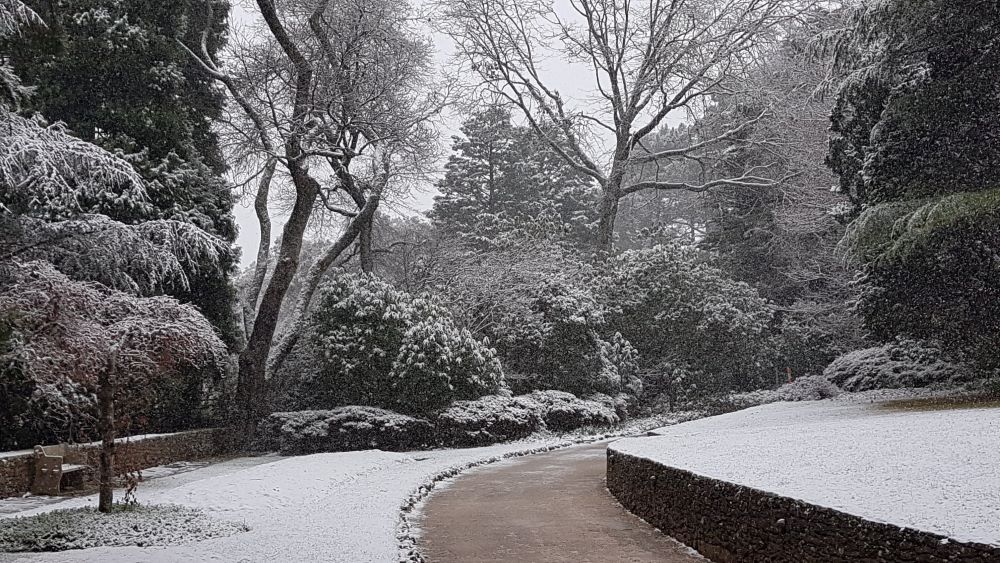 If you would like to hop out at Leura on a snowy day, there are a few great spots to explore. Exploring the winding paths of Everglades House and Garden (entry fees are applicable) is worth your time but you will need to return again when the garden is in full bloom during the Spring. Occasionally, Everglades House and Garden Leura do close during inclement weather so check their Facebook Page for updates.
Gordon Falls Playground is a great spot for the kids to play in the snow in Leura. There is often a coffee van there as well, so you can warm up while the kids play!
SNOW PLAY IN MOUNT VICTORIA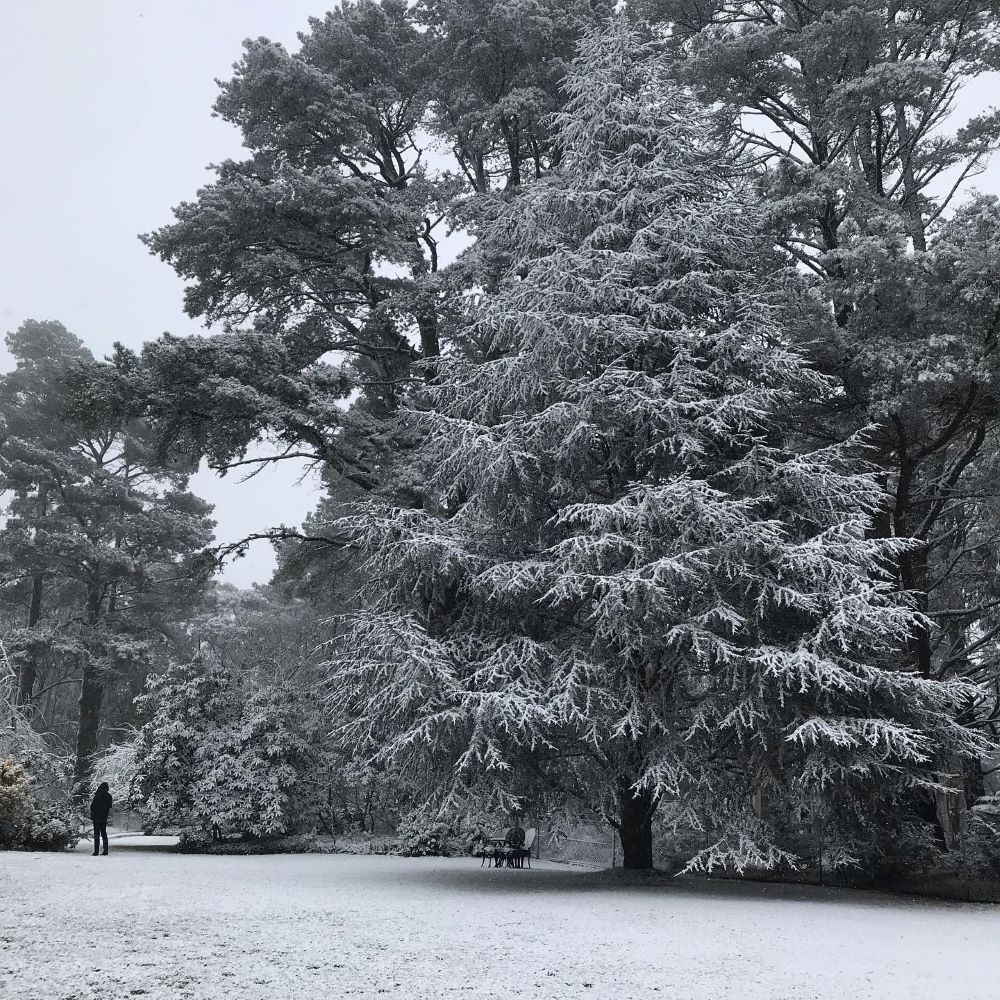 For a Blue Mountains snow experience in the upper mountains suburb of Mount Victoria, head to Mount Victoria Memorial Park. The park is central in the village and on the corner of the Great Western Highway and Station Street. You can find parking off Montgomery Street.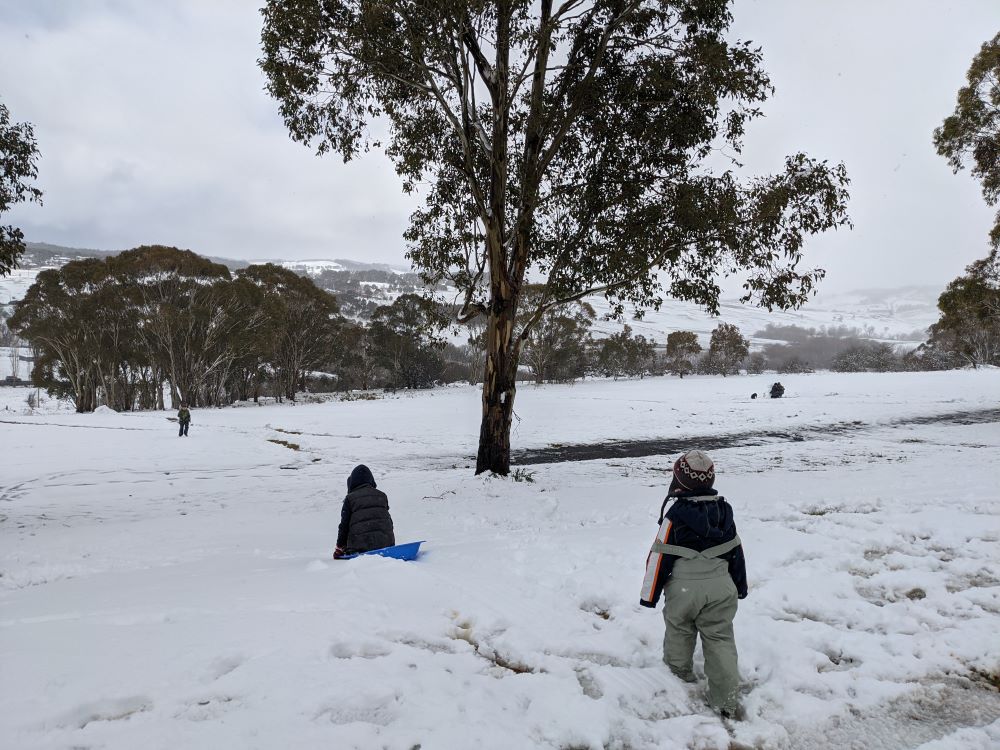 Snow Play Beyond
The Blue Mountains
SNOW PLAY IN OBERON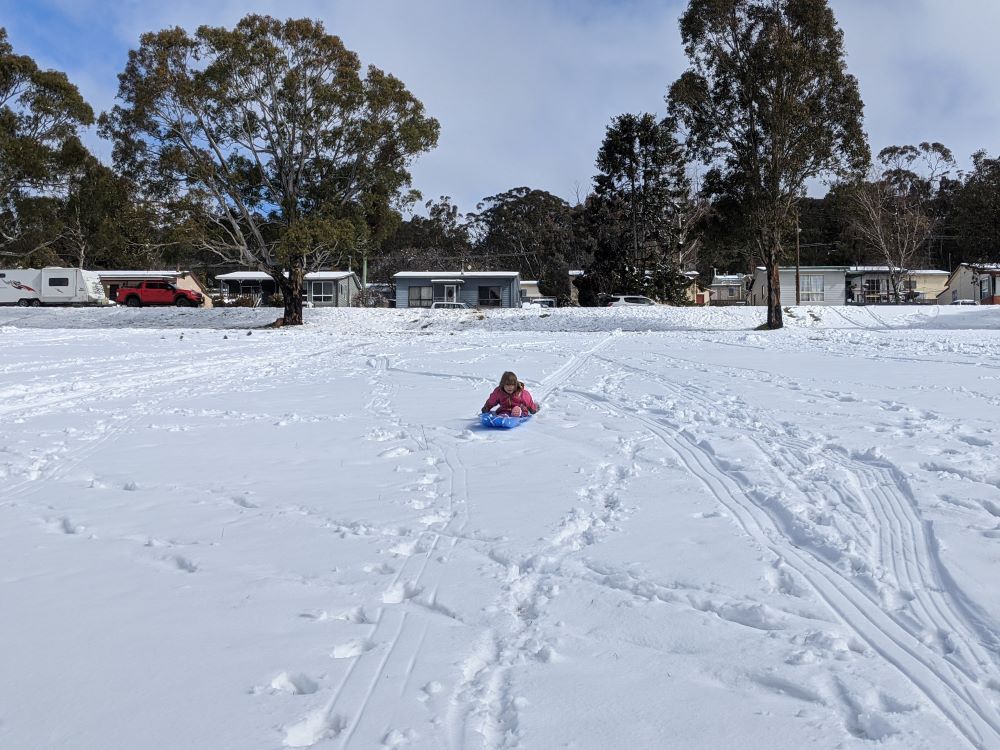 Oberon is our favourite spot for snow play as it provides the most reliable snowfall every Winter. There are a few small playgrounds you may like to head to, located at Buckley Crescent, Bligh Street, Armstrong Place, corner of Crete and Carrington Avenue and at Glyndwr Avenue through to Oberon Street.
Oberon Common is probably one of the best places to play in the snow. The hill on Curtis Street is fantastic for tobogganing!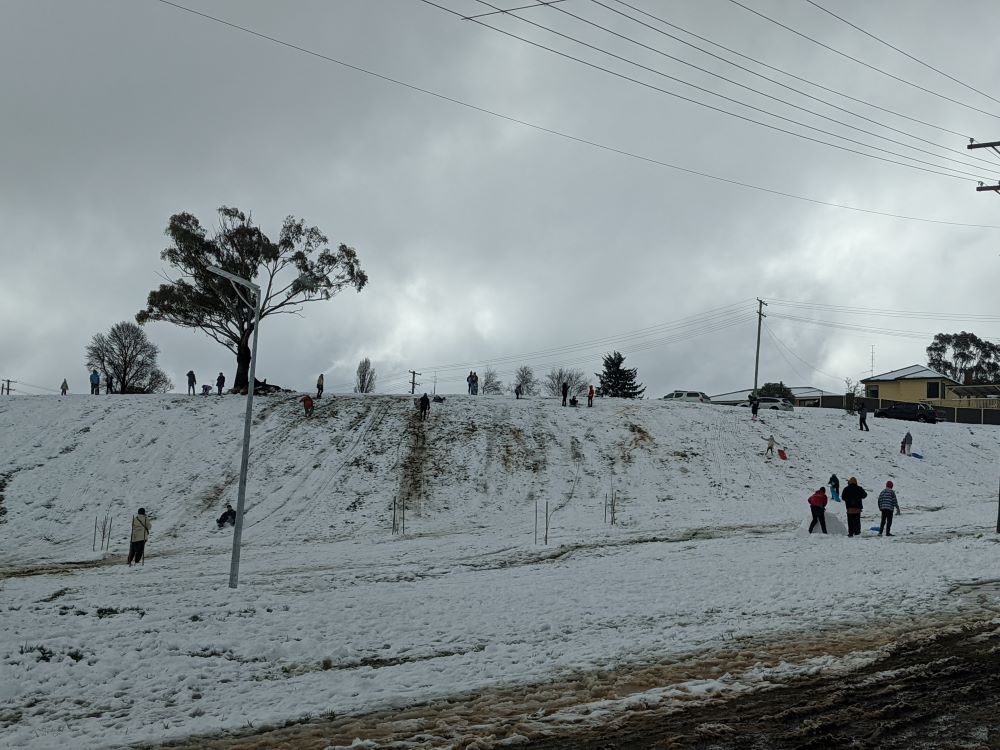 If you do drive up to Oberon to check out the snow, please drive carefully. Drive slower than you normally would, be mindful of black ice and drive according to the conditions you encounter. Road condition updates will be posted on Council's website and Council's Facebook page.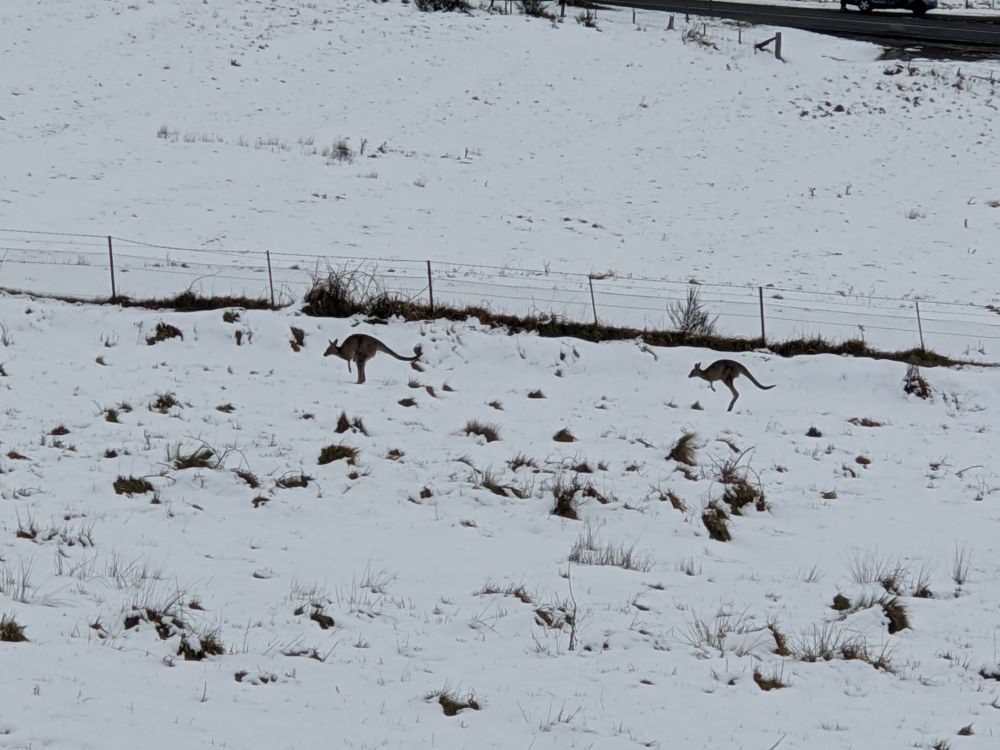 SNOW PLAY IN LITHGOW
Lithgow is one city that receives a decent snowfall most winters. Queen Elizabeth Park or Endeavour Park are fun spots to visit with your children to enjoy snow play.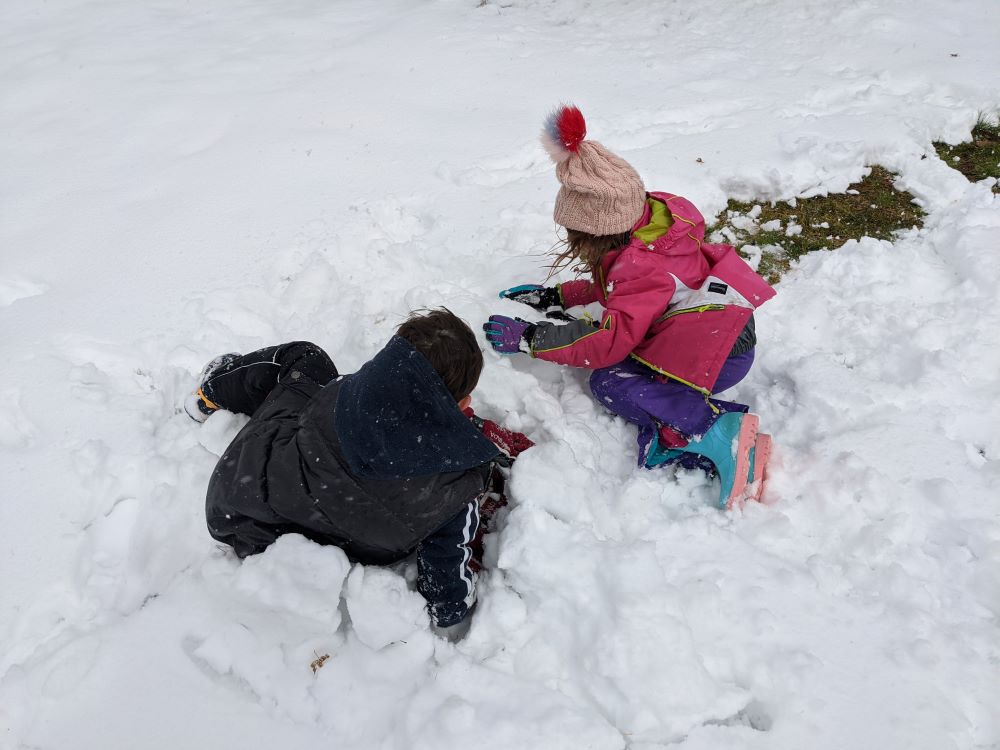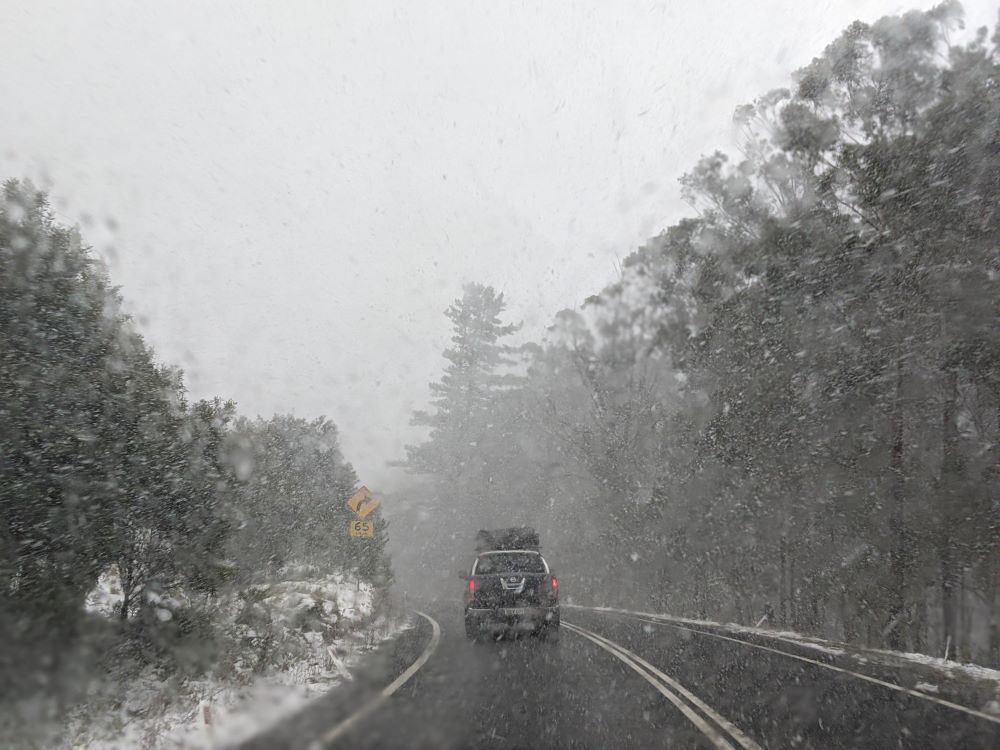 JENOLAN CAVES
You might see a good dusting of snow at Jenolan Caves. With cold air masses in Winter and the benefit of Orographic Lifting*, the Jenolan Caves do well from relatively stable air masses. Please remember that roads might be icy, so drive with great care.
Even though this is a great place to experience snow, it might be a little unsafe to travel here with your family due to windy roads and the road often closes when weather conditions become too dangerous on the roads. Check Live Traffic for up to date traffic conditions.
*If you're interested in how the Oberon Plateau, which includes Jenolan Caves, gets great snowfall, here it is: When wind hits a mountain, it is forced to rise. This rising motion helps the air to cool and moisture to condense into snow. 'Orographic lift' is the technical term for terrain forcing air to rise.
Family Friendly Cafes In The Blue Mountains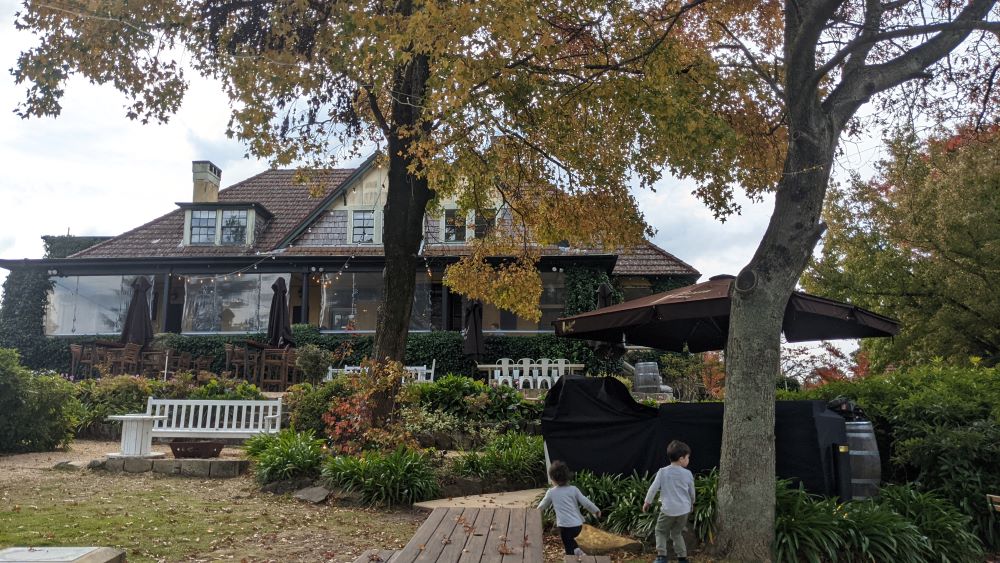 If you and your family are feeling chilly, head to one of the family friendly cafes and places to eat throughout the Blue Mountains to warm up with a hot chocolate and a bite to eat.
Winter Fun For The Adults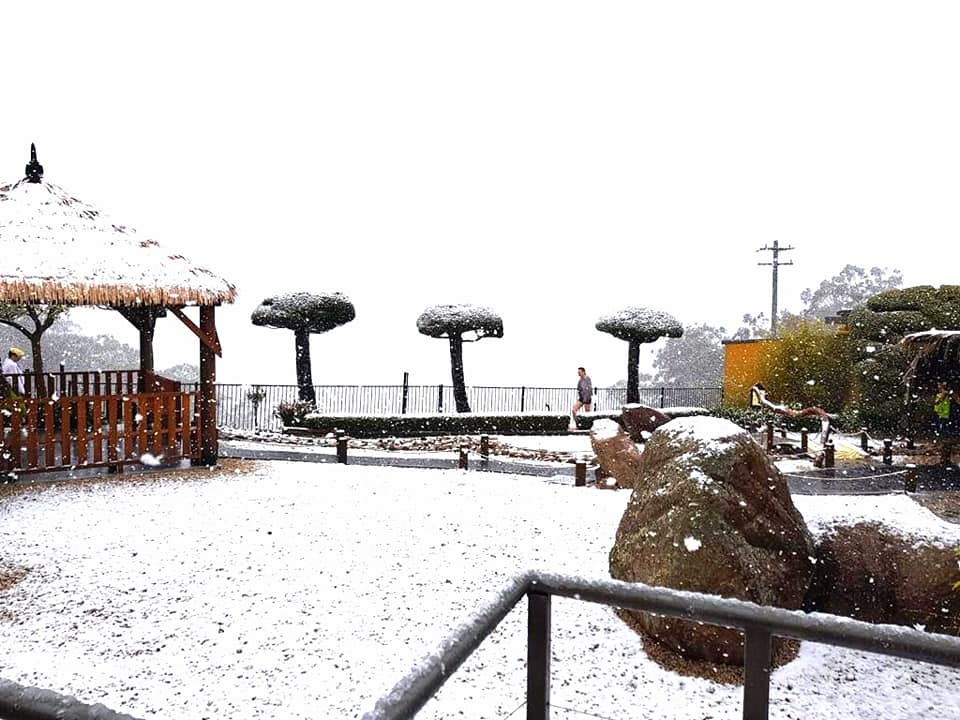 If you are after a truly special experience with friends or a loved one, head to the Japanese Bath House Blue Mountains in South Bowenfels. You must book many weeks in advance, but soaking in a gloriously hot bath with snow falling all around you is an 'out of this world' experience.
You may also enjoy the snowy views of Lillianfels Katoomba (View map) or the Hydro Majestic Blackheath (View map) for high tea. Discover more inspiration for things to do in the Blue Mountains.
Tips For Motorists & Visitors Travelling In Blue Mountains Snow And Ice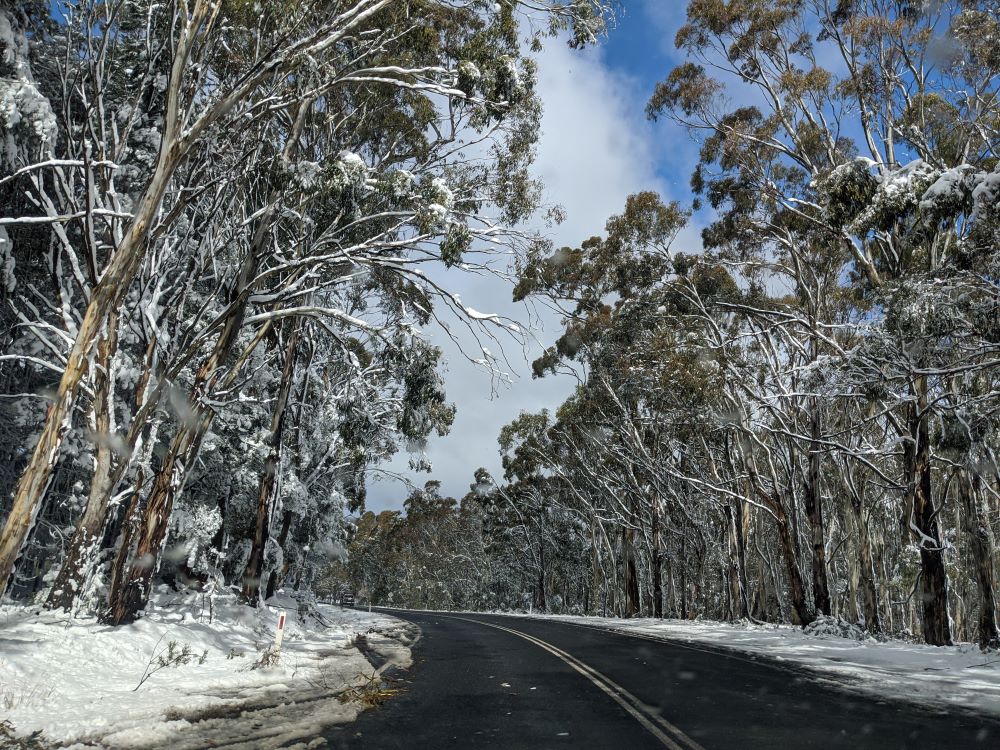 When visiting the Blue Mountains to see snow, please keep in mind that locals still need to use the roads. Taking the train up is a good option, as roads become congested.
There's no such thing as bad weather, just bad clothing! When taking children to the snow, we want them to have a fun time and stay warm and dry so wear plenty of warm layers, including thermals and a waterproof outer layer.

You will also need waterproof gloves and boots. Many people do not realise how cold it is in the snow and dress inappropriately. Avoid wearing jeans in the snow. Wear what you would if you were going on a ski trip. Wear warm clothes underneath your waterproof gear. A warm beanie and spare socks are essential too.

If you will be playing for a while and the sun is shining, you may also need sunglasses or goggles and sunscreen.

Pack food, snacks and drinks. Snow play can be tiring and your family will need to refuel throughout the day. To avoid constant trips to the shops you may like to have all of the essentials with you. It might be helpful to pack warm food in insulated canisters as well, to warm you all up during the day.
It is best to steer clear of lookouts and walks that are not flat, as they will be too slippery and dangerous. Echo Point, however, is flat and easy.
Drive to the conditions. Keep in mind that if road conditions become too dangerous, the Great Western Highway and Bells Line of Road will both close for a period of time. This would be very frustrating, especially if travelling with young children. Always pack extra warm clothes, food and water in your car in case of an unexpected extended journey.
If you must drive in Blue Mountains snow or icy conditions here are some tips from the SES:
Driving in snow or icy conditions requires a high level of concentration, skill and a lot of patience. Only drive through snow or ice if it is essential.

Maintain low speed and drive in low gear. Vehicles may lose traction and control when travelling too fast and in a higher gear.

Avoid gear change: Engage first or second gear on level ground (including automatics) before ascending or descending hills in snow or icy conditions.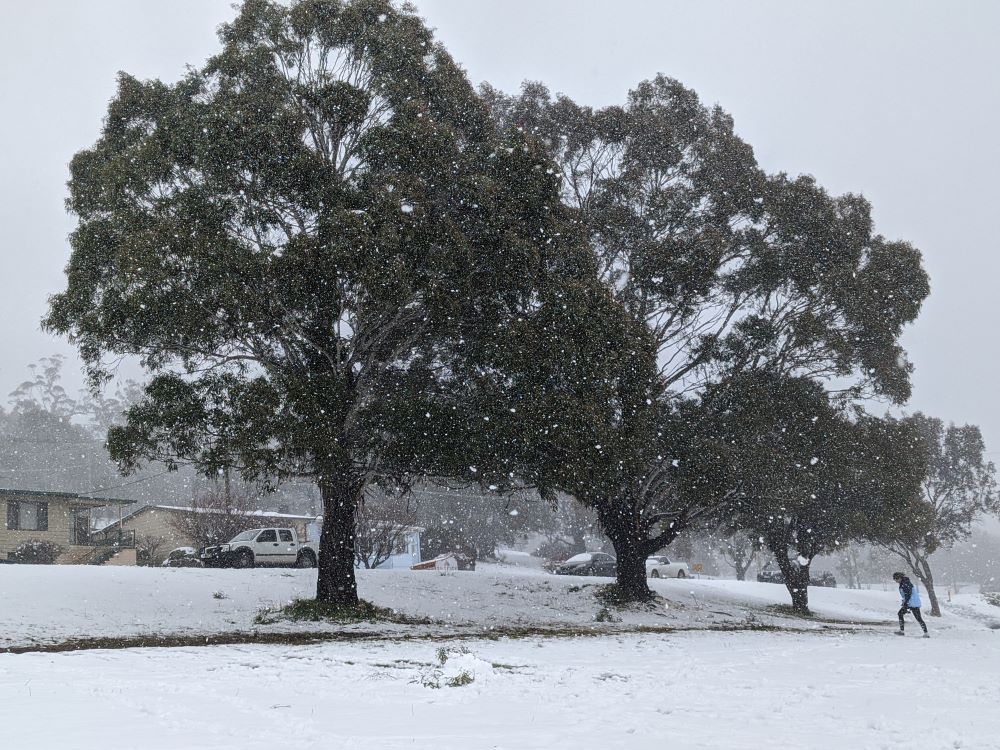 To avoid wheel spin, accelerate slowly with gradual pressure on the accelerator.

Brake gently, as the wheels can lock up easily with loss of steering and control.
Avoid braking into corners. Slow down before the corner whilst the wheels are straight.

If you are delayed in snowy conditions, maintain a fresh air supply in the cabin of your car to stay alert.

If you become stranded, keep your engine running and put your hazard lights on.

As snowfalls are uncommon, residents and tourists may be unprepared for the changing weather conditions.​ When travelling with children bring extra blankets and supplies in case you are stuck on a closed road. Also, bring torches and adequate warm, waterproof gear to wear.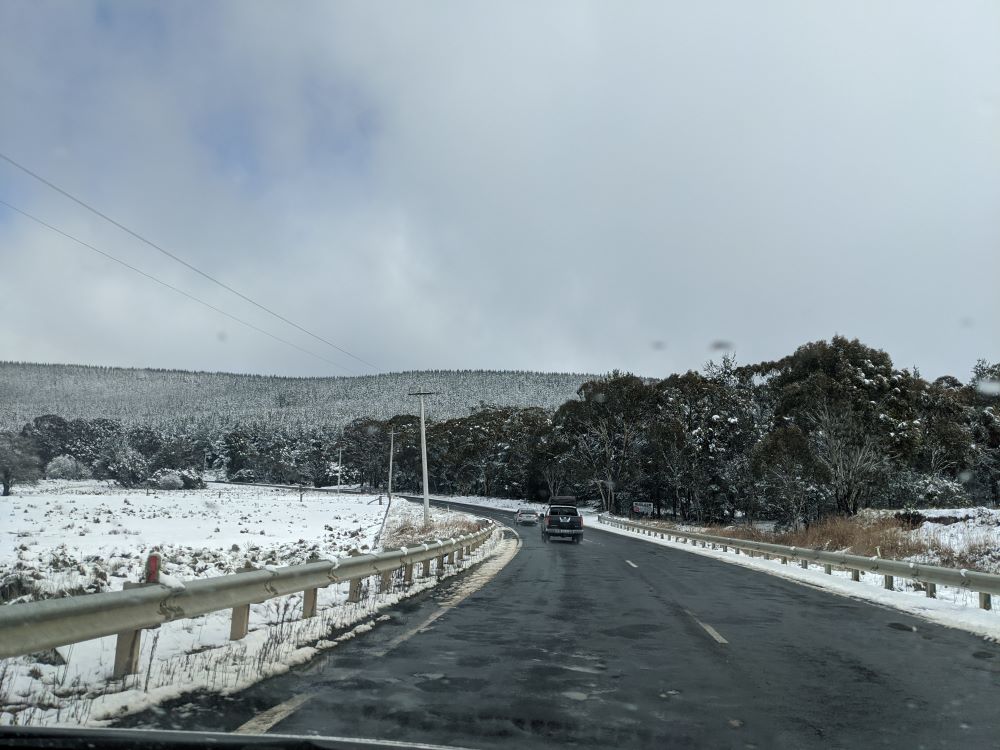 It is wonderful that we live in such a beautiful part of the world like the Blue Mountains to get the chance to take our children to experience snow. You've got to be quick though, or you'll miss it!
Follow our Blue Mountains Mums Facebook Page because this is where we announce when Blue Mountains snow is expected.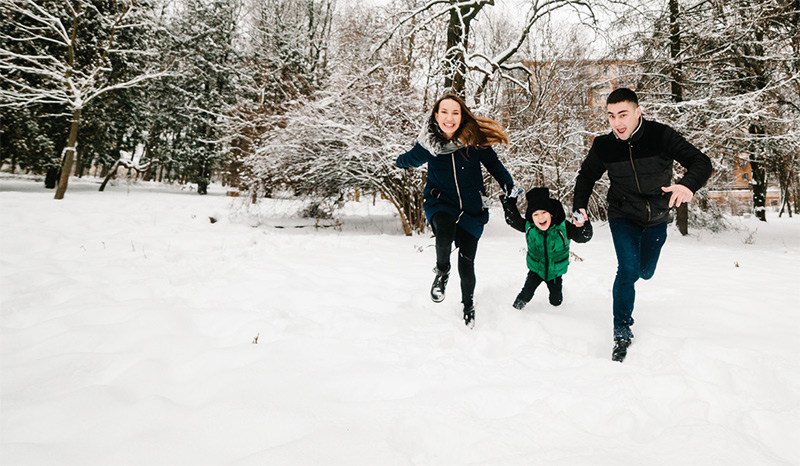 Join our Facebook Group to connect with other Blue Mountains Mums.