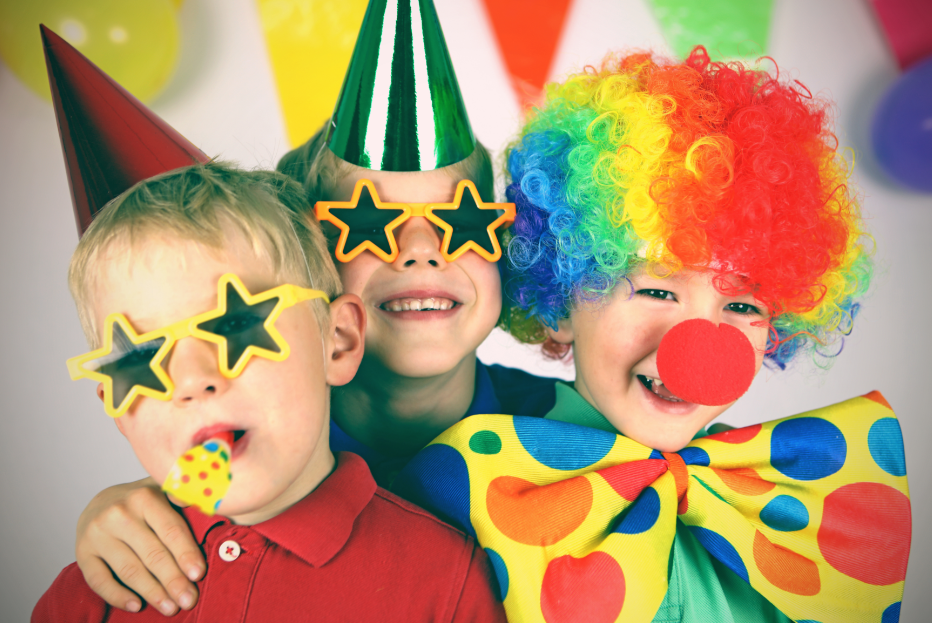 If you are planning a birthday party in the Blue Mountains and are after indoor and outdoor party venue ideas, our Blue Mountains Party Venues* and Party providers guide is here to help!
We are collecting all of the information in one easy place so that you can focus on what's most important – making your party as special and memorable as possible.
If you are a party provider, please email team@bluemountainsmums.com to add your business to our guide. We looking forward to adding as many party options for families as possible to make party planning as easy as possible for local families.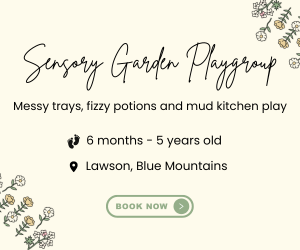 Enjoy reading through all of the wonderful options for birthday parties in the Blue Mountains or use the quick links below to take you to each section.
Rainbow Children's Entertainment – Magic shows, face painting, balloon twisting and party games!
Rock Sloth – Face painting, balloon twisting, disco and science parties, air brush tattoos and more!
The Woodland Faerie – Games, music, bubbles, storytelling, balloon twisting, face painting, glitter tattoos and more, with The Woodland Faerie!
Blue Mountains Stargazing – Celebrate your birthday with award-winning stargazing experiences led by an astronomer.
Shelley's Face Painting – Your local face painter for all occasions!
Cakely – novelty cake tins and cake lace mats to hire for your special cake.
Hire a hall in the Blue Mountains
Parties at parks and playgrounds
Bush play party
Rainbow Children's Entertainment
CREATE A MEMORABLE, MAGICAL
AND FUN DAY FOR YOUR CHILD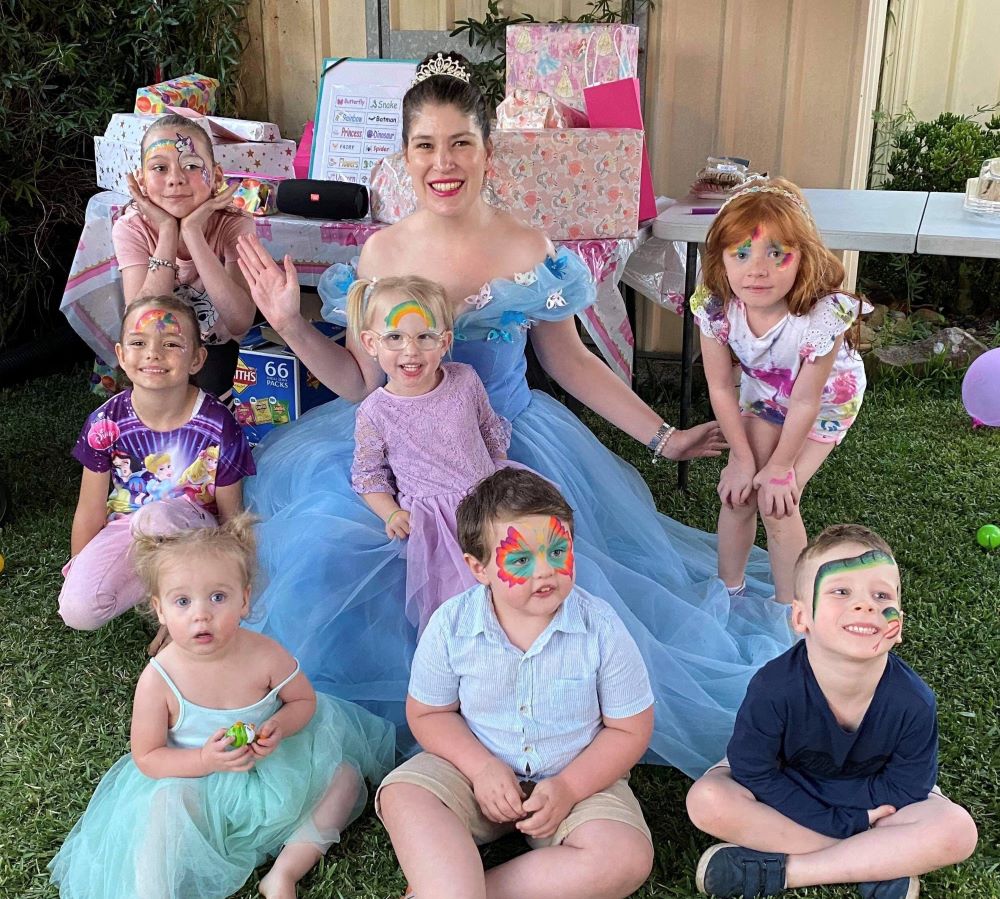 We provide enchanting and exciting Children's Party Entertainment. We offer Magic shows designed for 2-8 years of age, themed party games, face painting and balloon twisting. Our packages are customised to the age range of the children attending your party and your child's interests. Hosted by a range of magical and adventurous characters to tie in with your party theme.
We can entertain at your home, a local park, a community centre or cafe/restaurant/function centre. Some venues we have entertained at in the Blue Mountains include Mt Riverview Community Hall, St Andrew's Uniting Church Hall Glenbrook, Kids Kingdom Indoor Play Centre at Katoomba Sports & Aquatic Centre.
SUITED FOR: Magic show – designed for 2-8 years
Party Games – designed for 2-12 years
Face Painting – recommended for children 2 years and over.
Balloon Twisting – all ages (supervision of babies and toddlers recommended as broken balloons can present a choking hazard)
COST: Click here to view packages and prices:
Party Entertainment Packages & Face Painting packages
CONTACT: For more information, please contact Jessica at Jessica@rainbowchildrensentertainment.com.au
WEBSITE
SOCIAL MEDIA: Facebook
Rock Sloth
HIGH QUALITY KIDS' ENTERTAINMENT!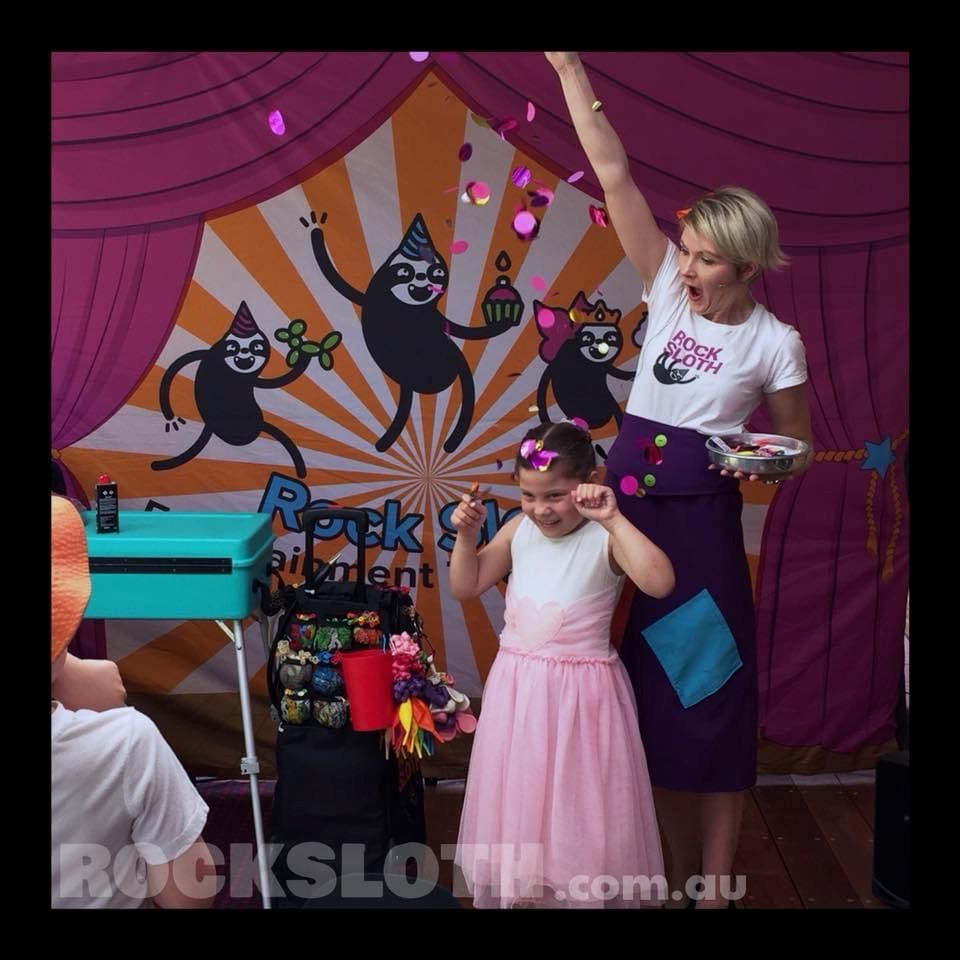 Having performed at over a thousand birthday parties and events in Sydney, Tennille brings a LOT of experience to your event. With a number of packages to suit any budget, Tennille can help you run a fun and exciting kids' birthday party without any stress!
Rock Sloth can provide:
Fabulous face painting
Amazing balloon twisting
Awesome disco parties with party games and prizes
Airbrush tattoos – great for older kids and pool parties
Super fun science parties
Magic, puppet and balloon shows for children with some super cute characters to meet, plus lots of laughs.
SUITED FOR: Ages 3-10
COST: Cost ranges between $220 to $490 depending on the package chosen.
CONTACT: For more information, please contact Tennille at info@rocksloth.com.au
WEBSITE
SOCIAL MEDIA: Facebook, Instagram
The Woodland Faerie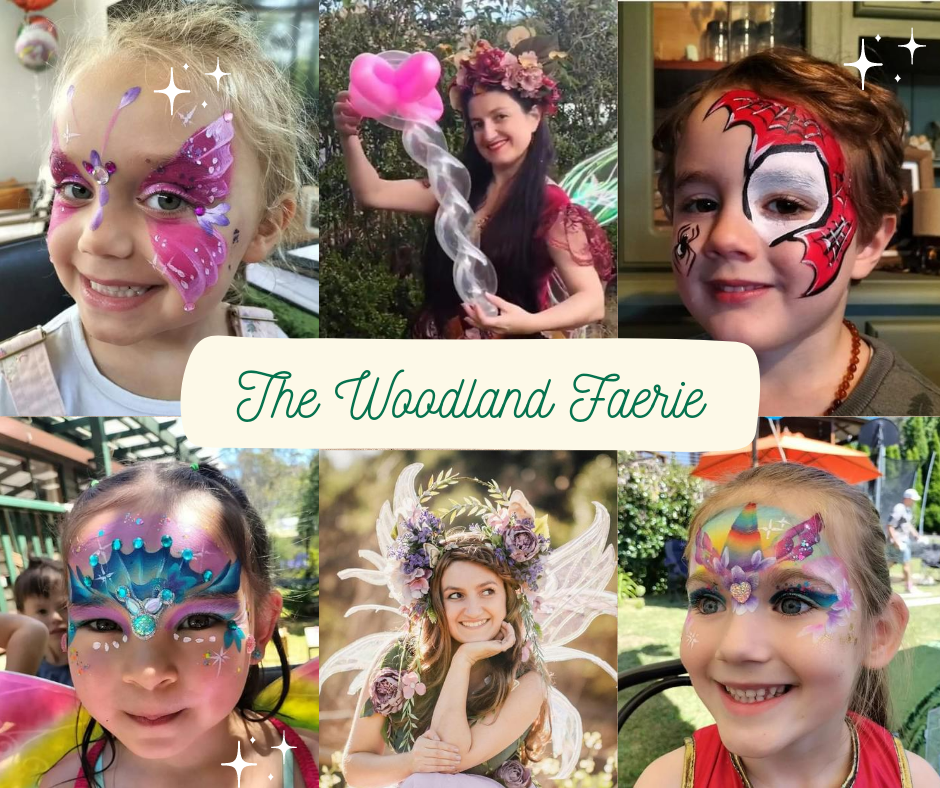 A boutique children's party and entertainment service including games, music, bubbles, storytelling, balloon twisting, face painting, glitter tattoos and more, all presented by Laura the Woodland Faerie.
The Woodland Faerie provides premium children's entertainment for birthdays, weddings, christenings, baby showers, mother blessings and corporate functions.
SUITED FOR: All ages.
COST: $300 – $450
CONTACT: For more information, contact Laura at laura@thewoodlandfaerie.com.au
WEBSITE
SOCIAL MEDIA: Facebook, Instagram
Blue Mountains Stargazing
AWARD WINNING STARGAZING EXPERIENCES LED BY AN ASTRONOMER. THE PERFECT UNIQUE ACTIVITY FOR KIDS' BIRTHDAY PARTIES!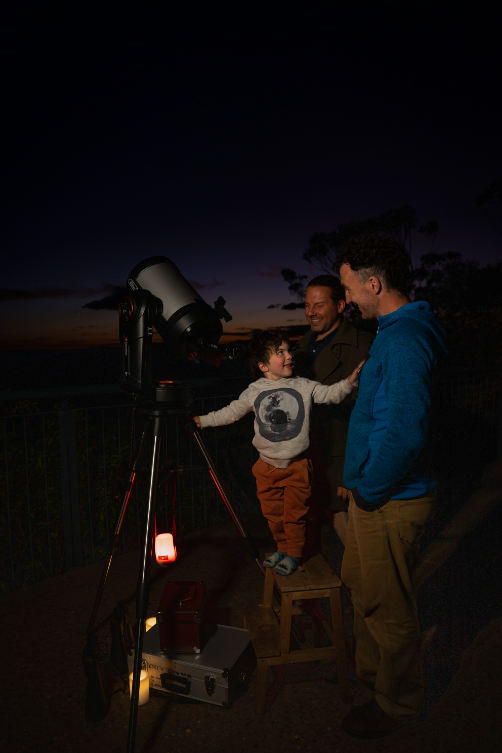 Stargazing tours with telescope and binoculars in the Wentworth Falls picnic area (60 min).
Naked-eye Astronomy,
Tips and hacks on how to identify stars and constellation storytelling,
Introduction to the celestial dance of planets, satellites, navigation, the Universe, our home Galaxy and beyond…
Observations through the professional-grade telescope objects such as (depending on the time of year and night):
– The Moon and its craters and seas
– Saturn's rings
– The moons of Jupiter
– Mars & Venus
– The Orion Nebula
– Star clusters
– Double & triple stars
– Deep space objects such as galaxies and our fabulous Milky Way
– Shooting stars
Indoor planetarium astronomy tours (inflatable dome and powerful projector) in Sinofield, Leura (60 min). This journey will include:
– Tips and hacks on how to identify stars,
– Introduction to the celestial dance of planets, satellites, navigation, the Universe, our home Galaxy and beyond…
– Astronomy from different cultures around the world,
– Constellation storytelling and star signs,
– Q&A with our astronomer.
Fun, educational, immersive experience (outdoor or indoor depending on weather).
SUITED FOR: From 5 years old
COST: $55 per child for 15 – 25 children. Minimum 15 children. No refunds are offered in case of cloudy skies. Minimum booking value of $825 (the equivalent of 15 participants).
CONTACT: Caroline at hello@bluemountainsstargazing.com.au
WEBSITE
SOCIAL MEDIA: Facebook, Instagram
Shelley's Face Painting
LOCAL BLUE MOUNTAINS FACE PAINTER
FOR ALL OCCASIONS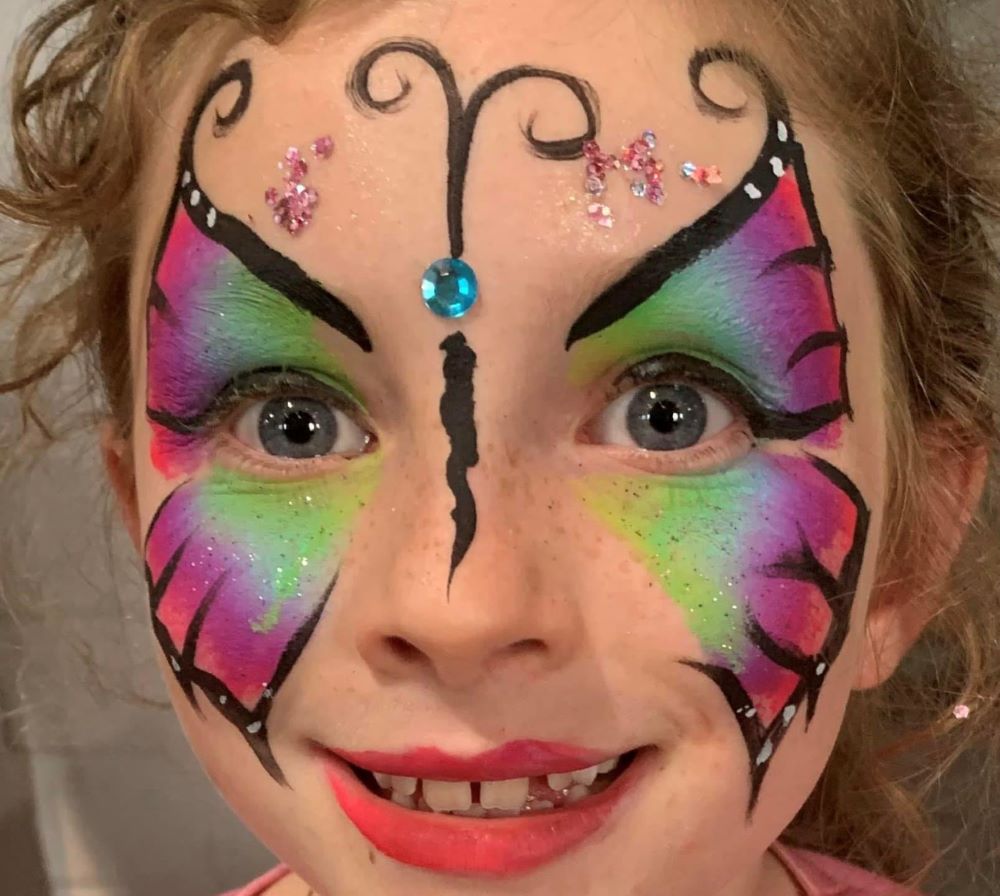 Let's face it, children love face painting and emerge into their favourite superhero, princess or animal! Professionally trained and skilled face painters can provide stunning face paint designs so every child or adult gets something they love.
At Shelley's Face Painting, we all have a working with children's check, police check and full public liability insurance for any party, event or venue. Face Painting is always a crowd pleaser, at any party or event, whether it's for children, adults, or corporate events.
Our face painters use only the highest quality non toxic, hypo-allergenic, FDA approved professional face paints which are safe and gentle on all skin types and washes off easily. We can also provide glitter tattoos and glitter art activities. Please send a message or give me a call if you have any enquires.
SUITED FOR: Mainly kids but I have also done plenty of adults' parties, such as Halloween or fancy dress.
COST: $100 an hour minimum 2 hours travel fee may apply if more then 60kms.
CONTACT: Shelley at shelleysensei@yahoo.com.au
SOCIAL MEDIA: Facebook
Cakely
HIRE A SPECIAL CAKE TIN FOR A TRULY MEMORABLE BIRTHDAY!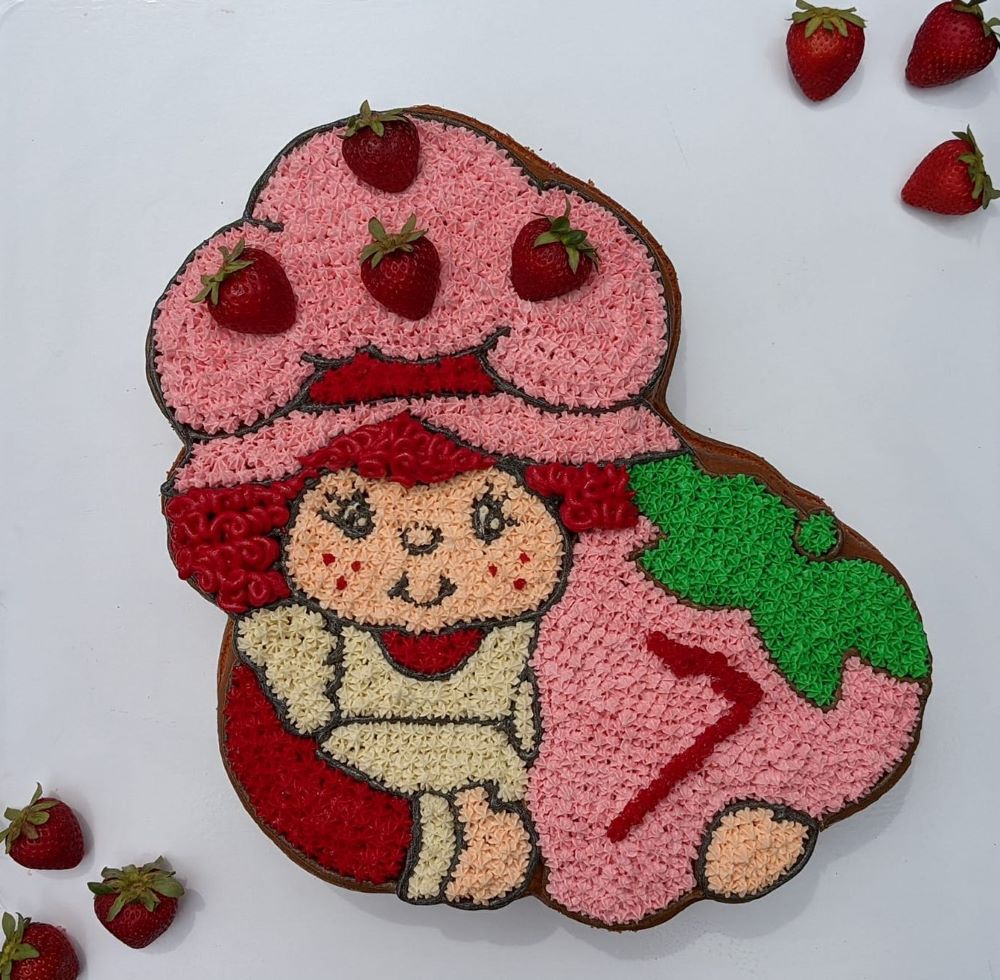 Cakely Blaxland is your one stop shop for cake tin hire and cake lace mats. We specialise in a variety of fun novelty cake tins, from Spiderman, Mickey & Minnie Mouse, Carebears, dinosaur, Elmo, Hello Kitty and so many more!
We also stock a variety of beautiful silicon cake lace mats to take a regular cake to the next level, with stunning edible embroidery. Head to our Facebook Page to see some examples of how cake lace can be used.
Don't buy a brand new cake tin that only gets used once. Rent a cake tin or cake lace mat and delight someone special with a stunning cake!
SUITED FOR: Anyone from 0 – 110!
COST: Between $2 – $4 a day
CONTACT: Joy at hello@cakely.com.au
WEBSITE
SOCIAL MEDIA: Facebook
Blue Mountains Party Venues:
Hire A Hall
Hall hire is an affordable way to have an indoor party in the Blue Mountains. Some of the halls are attached to playgrounds as well, so you get the best of indoor and outdoor fun!
Halls are for hire per hour and you need to book ahead. Click here for booking information.
How To Hire A Blue Mountains City Council Hall For Your Party
Blue Mountains City Council have now streamlined their booking service. It is now all online. All you need to do is make your booking online by selecting the hall for hire, estimating how many people will be there, selecting the date of your event and dragging the calendar from your start time to the end time (only the green time slots may be booked). You can then check the price. You need to log in to make your booking.
Blue Mountains Halls For Hire That Are Near Playgrounds Or Have An Outdoor Area
There are a number of community halls attached to playgrounds or outdoor play spaces which gives you the advantage of an area for outdoor fun, games and mess! We recommend that you visit the site you are interested in hiring before booking, to ensure that it meets the requirements of your party.
The Blue Mountains community halls that are attached to playgrounds include:
Mount Riverview Community Hall – This hall caters for up to 63 people and has an outdoor area that flows onto a small parkland area.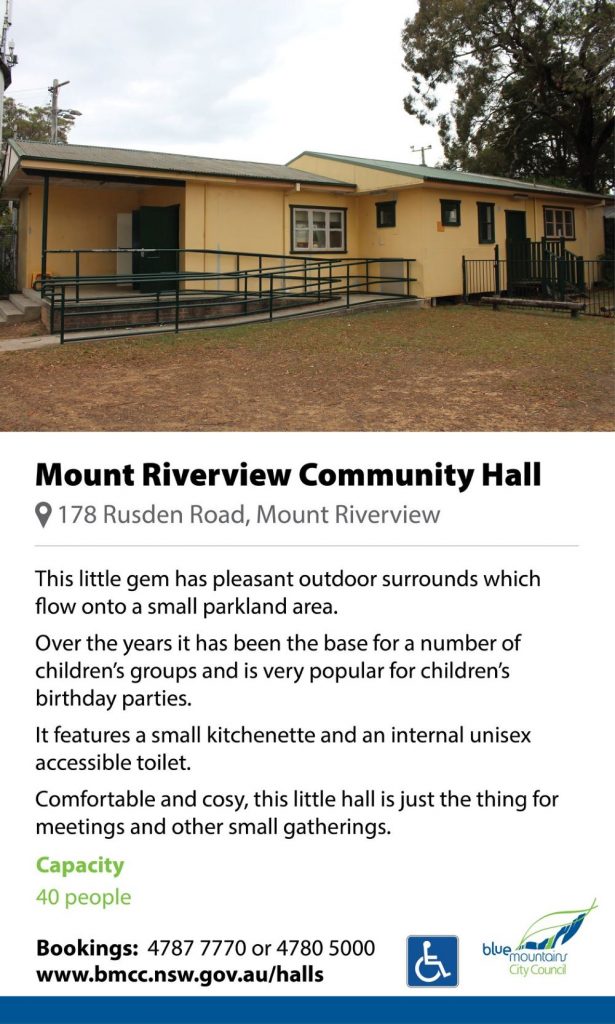 Faulconbridge Community Hall – This hall is popular for birthday parties! It is suitable for larger parties of up to around 112 people and is located next to Browett Park.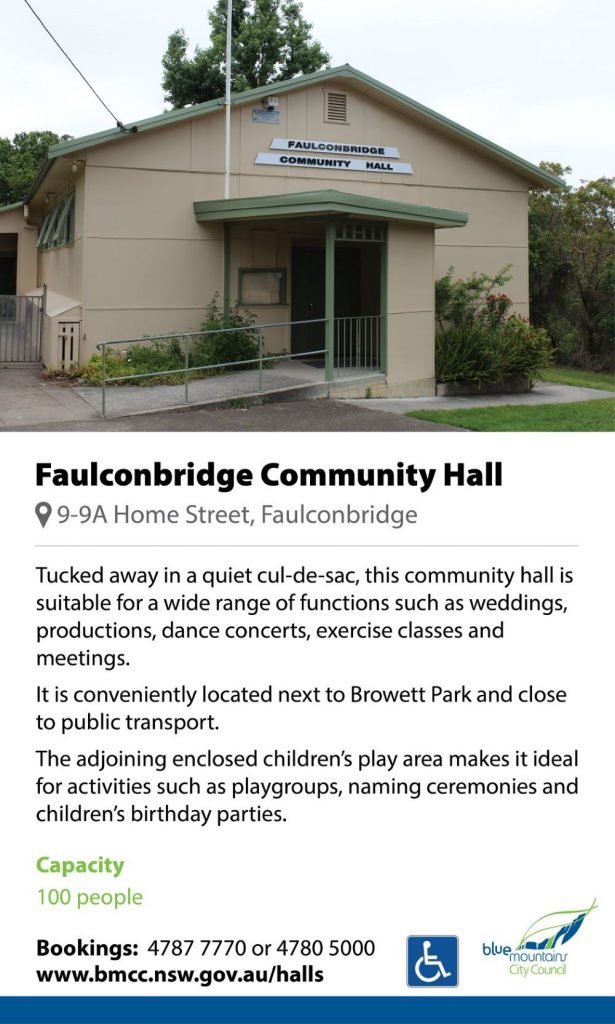 Weroona Park Facility, Woodford – The Weroona Park facility is attached to the Weroona Park playground and tennis courts but is only suitable for small parties of up to 18 people.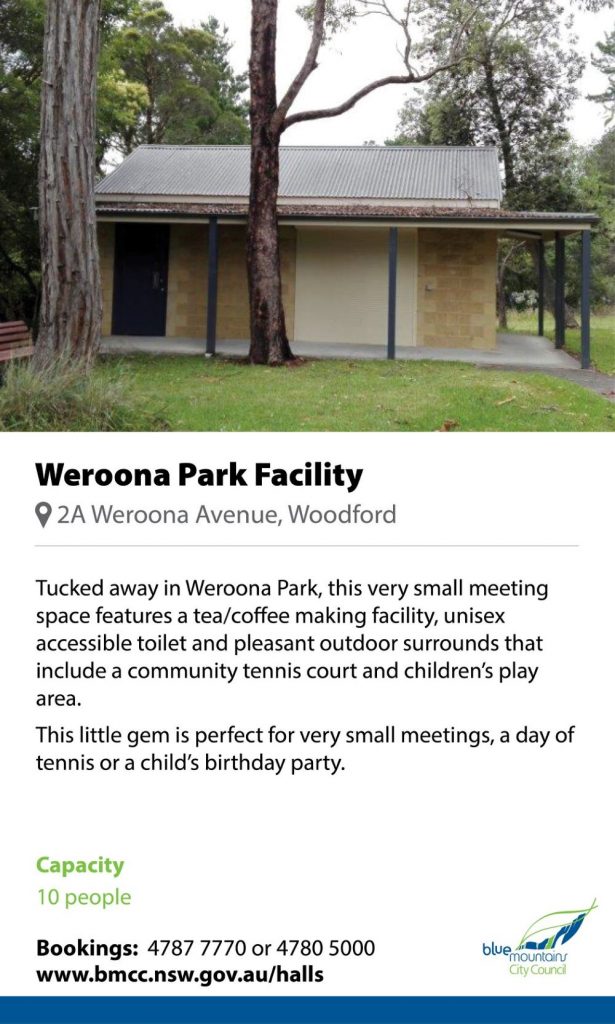 Megalong Community Hall, Megalong Valley – This hall can cater for up to 120 people. It has spacious outdoor surroundings with playground equipment. Call the booking officer for more information on 0438 879 181.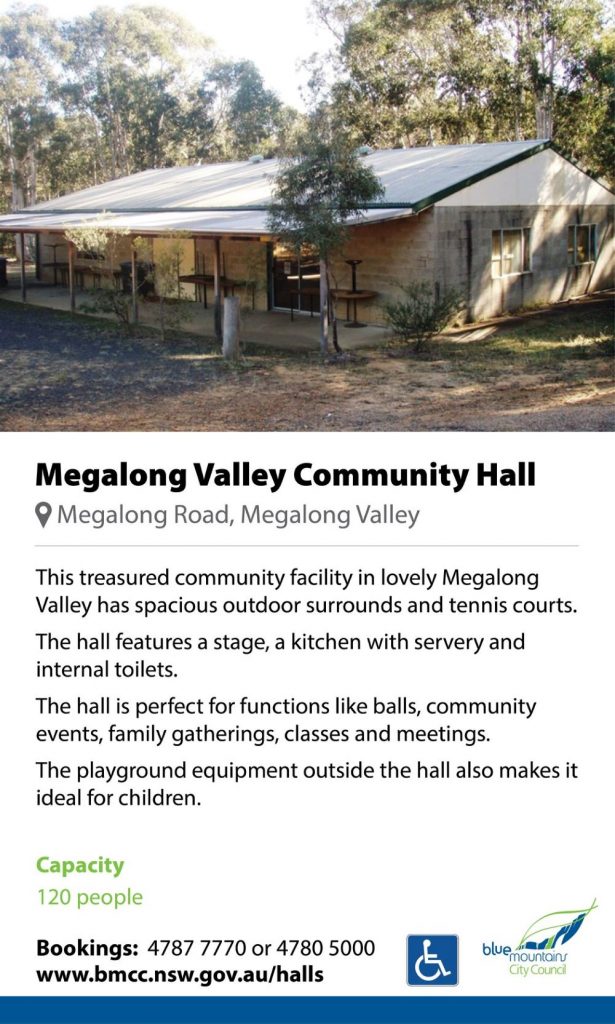 Mid Mountains Community Centre, Lawson doesn't have a playground but includes the use of a landscaped, fenced courtyard.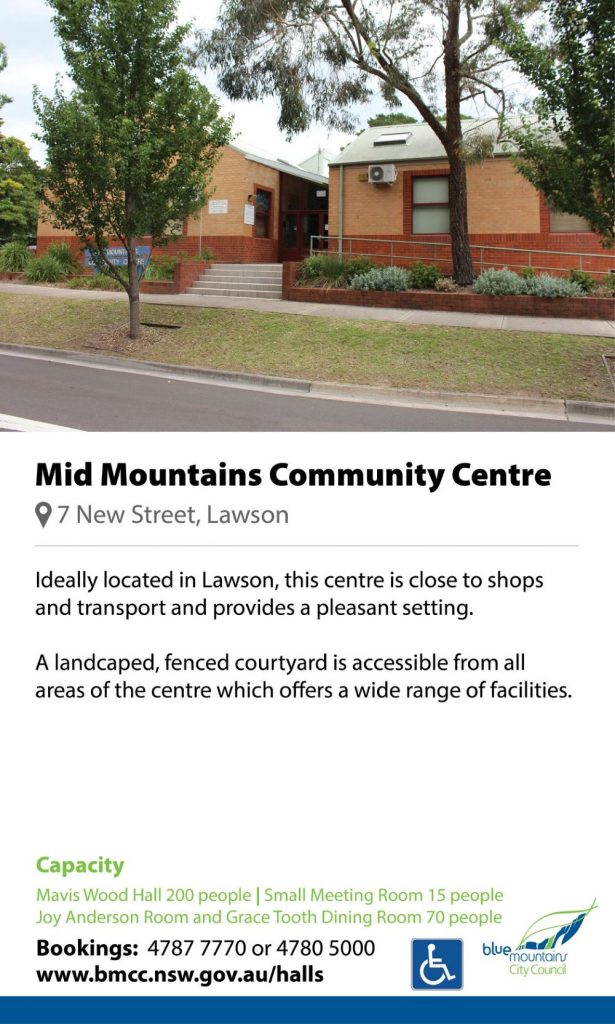 Glenbrook School of Arts – is part of Glenbrook Cinema but only the hall is for hire. The hall caters for up to 120 people and is located across from Glenbrook Park.
The hall is not attached to the playground but is separated by a carpark so children will need to be walked across and supervised. You need to book through Glenbrook Cinema by emailing: HallHire@glenbrookcinema.com.au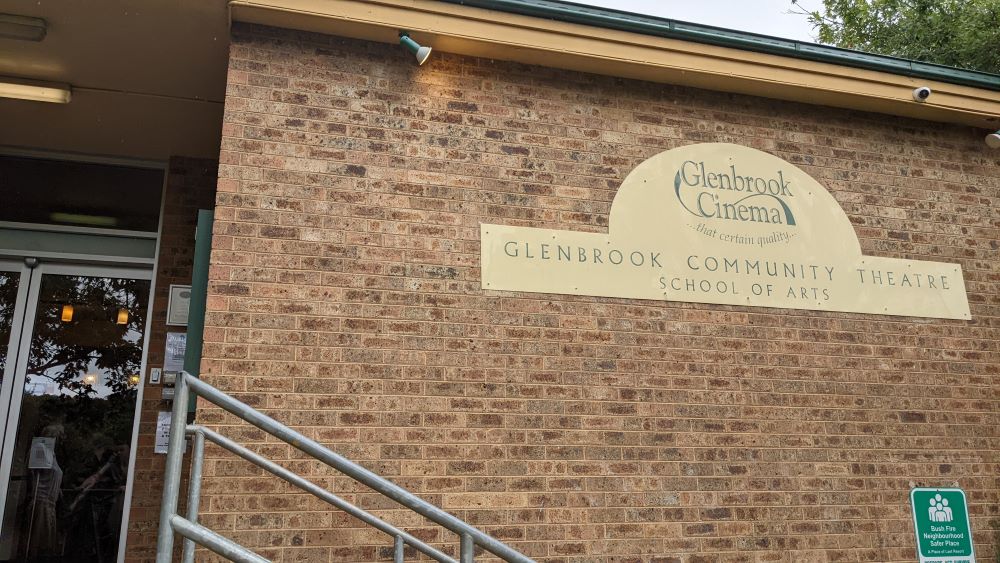 Host A Birthday Party At A Blue Mountains Park Or Playground
Organise a party to remember at one of our fabulous Blue Mountains playgrounds. You do not need to book to have your party at Blue Mountains parks or playgrounds (unless it's a large community event, in which case you'll need to fill in a form).
Therefore, you cannot reserve tables or equipment at the park. It is a 'first in' basis, so get there early to grab a table! Even better, set up your own trestle tables so you don't need to worry about table availability.
Many party providers, including Rainbow Children's Entertainment, Rock Sloth and The Woodland Faerie will also meet you at the park, or any location of your choice! It's so easy!
A few things to consider when planning your Blue Mountains park and playground party:
Will you have a theme for your party? Fairies, pirates, water play, Marvel or a Disney theme are popular.
Are there barbecues available and are they in working order? It is worth checking them before the day of your event.
Are there sheltered picnic tables to use?
Do you have a rainy day backup plan?
Will you need to bring additional seating, picnic rigs and trestle tables?
What games will you play and should children bring a bike or scooter?
How will you decorate the space and will they hold up if the wind picks up?
Bring extra rubbish bags, cutlery, serviettes, cups, an esky of drinks and matches/firelighter if you plan on having candles on the cake.
Will there be enough food and drinks for children and adults?
You may need to provide toilet paper and hand sanitiser.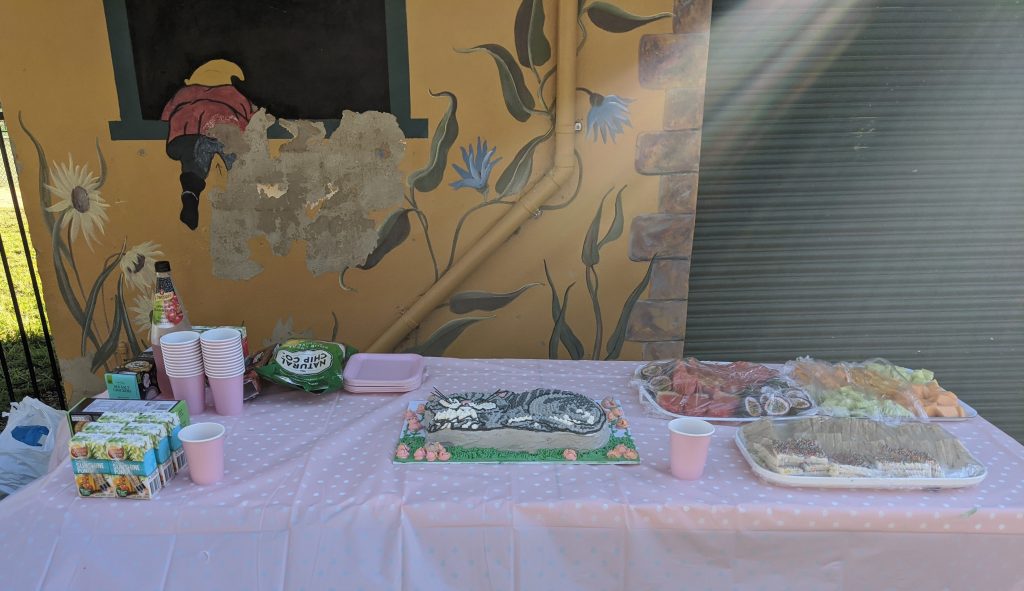 Playgrounds & Venues That Are Great For Birthday Parties In The Lower Blue Mountains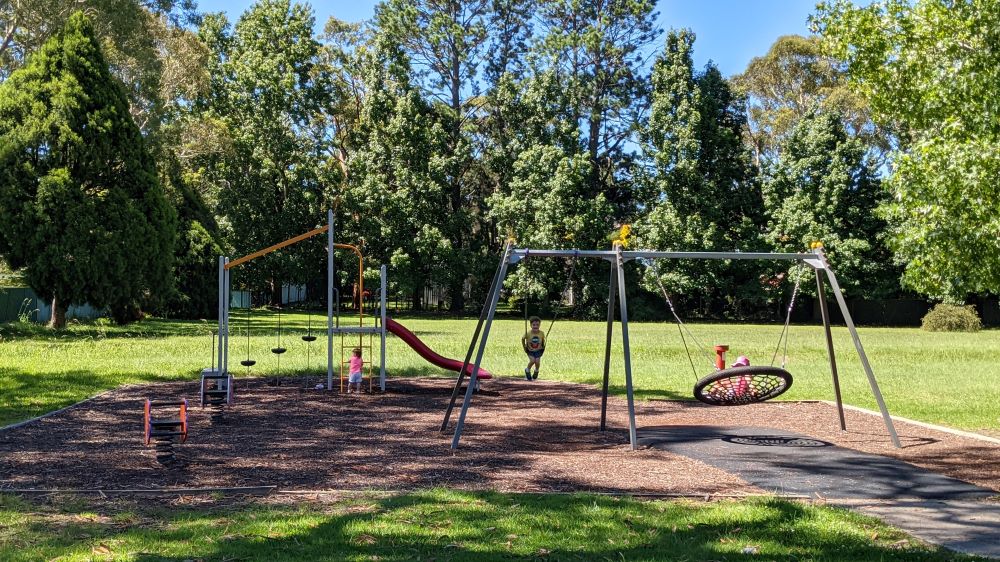 Glenbrook Park
Lennox Park, Blaxland
St Johns Playground, Blaxland
Possum Park, Warrimoo
Springwood Aquatic & Fitness Centre – Book your party here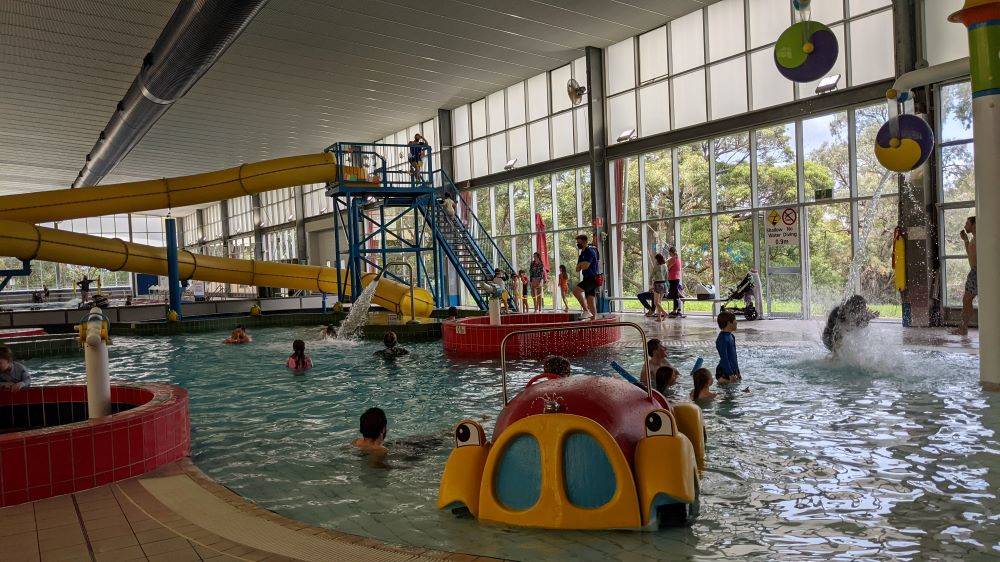 Glenbrook Swim Centre
Jackson Park Faulconbridge
Summerhayes Park, Winmalee
Buttenshaw Park, Springwood
Playgrounds That Are Great For Birthday Parties In The Mid Blue Mountains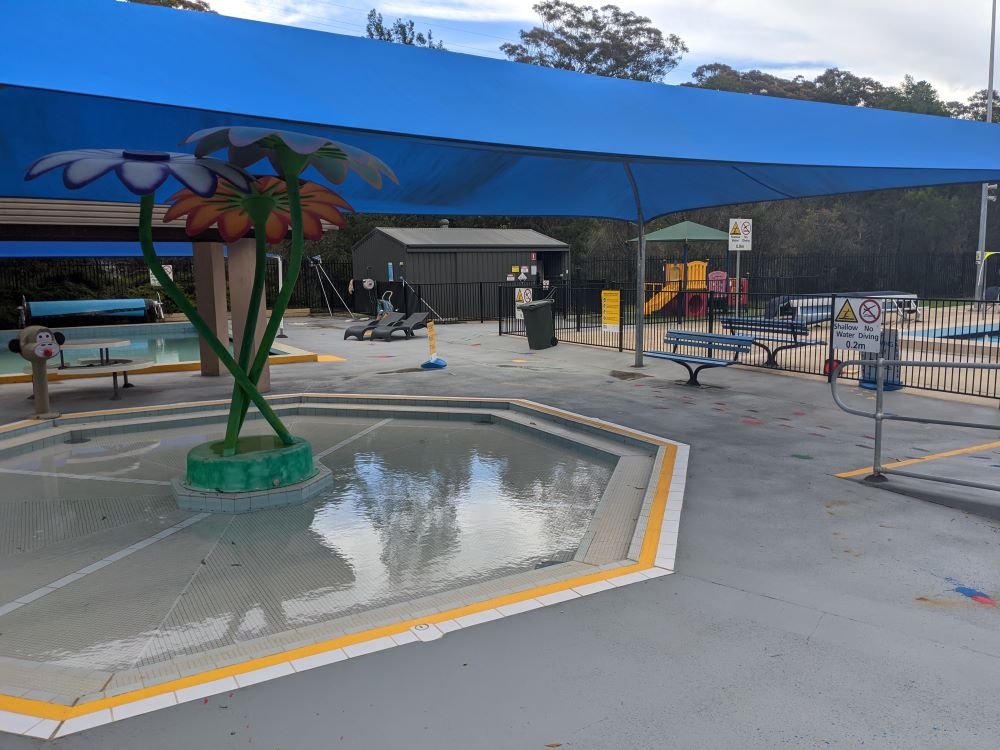 Gloria Park, in Hazelbrook
Weroona park, Woodford – hire the hall through Council and kids can bring bikes and play at the tennis court.
Lawson Swim Centre
Wilson Park, Lawson – public toilets, park benches, bins and playground plus a little creek to explore! (view map).
Playgrounds That Are Great For Birthday Parties In The Upper Mountains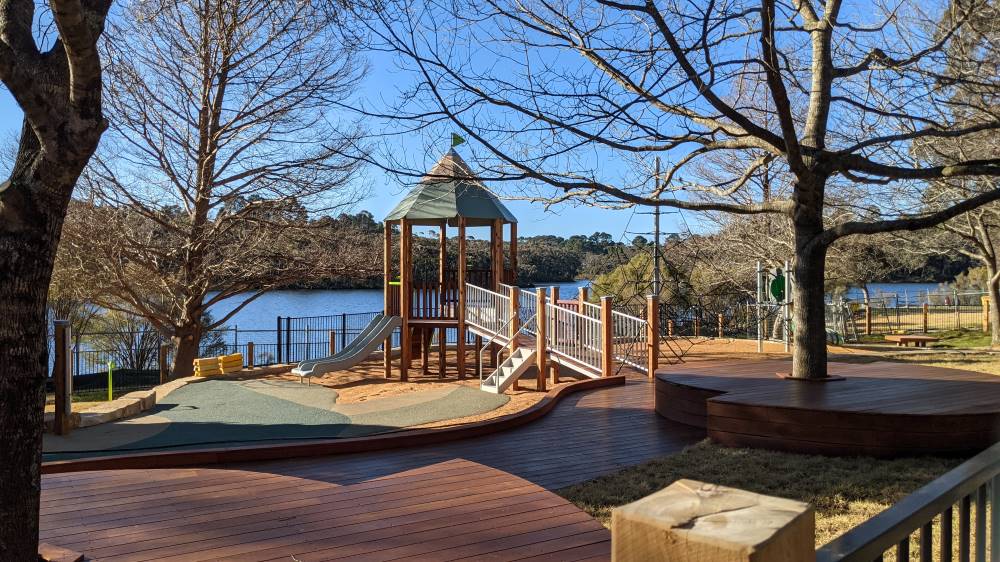 Wilson Park, Wentworth Falls
Jubilee Park, Blackheath
Memorial Park, Blackheath (the red rocket ship park).
Hinkler Park, Katoomba
Wentworth Falls Lake
Katoomba Sports & Aquatic Centre – Book your party here
Blackheath Pool
Gordon Falls Park and Playground, Leura – park benches, bins, barbecues, grotto shelters and the added bonus of the Gordon Falls lookout nearby, bring binoculars for birdwatching and walk down to Pool of Siloam (with plenty of adult supervision).
Further Afield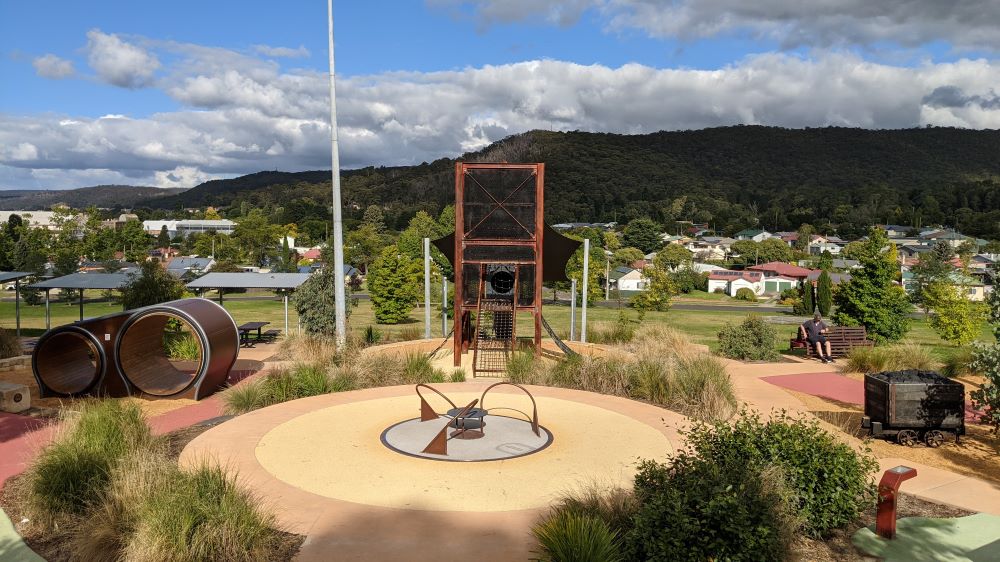 Lithgow Adventure Playground
Lions Park Emu Plains – undercover picnic tables, fenced playground, bike path loop and toilets (view map).
Livvi's Place Warragamba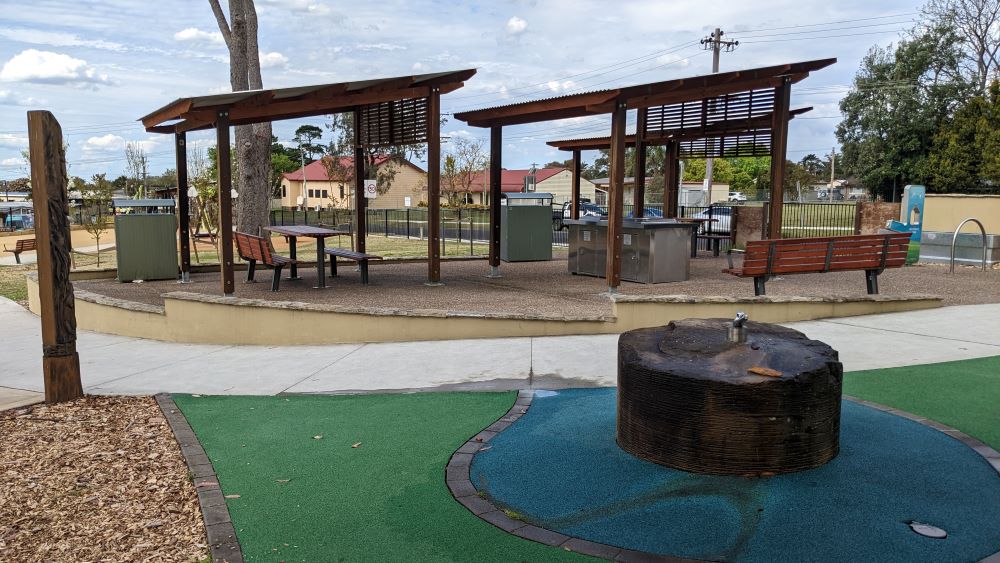 Warragamba Dam Picnic Area – landscaped picnic grounds (fill in this form for large groups)
A Bush Play Birthday Party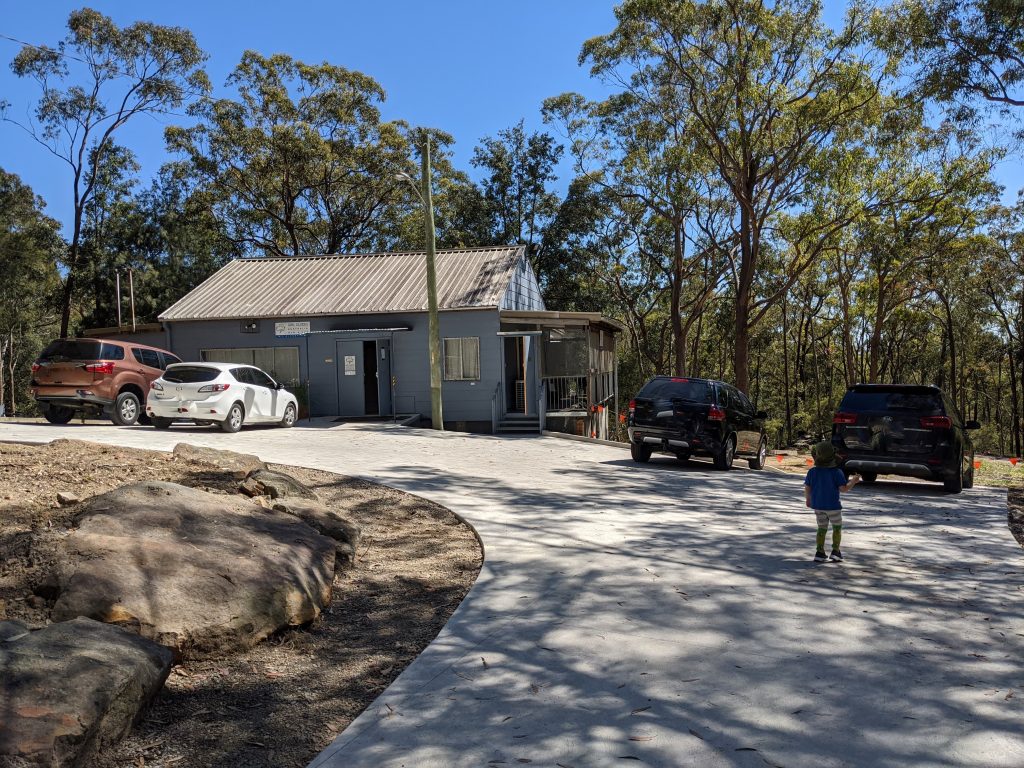 Another wonderful location for a birthday party is the Girl Guides Hall in Mount Riverview. It is located at 60 Bunbinla Avenue, Mt Riverview and is available to hire on an hourly basis.
The advantage of hiring this space is that you get access to the hall, which has kitchen and bathroom facilities, as well as a wonderful bush setting to set up activities and games.
There are wooden seats and little log seats in a circle for a firepit (click here to check the fire rating and here for rules during a total fire ban).
Send the Girl Guides a message here or phone them directly at 1300 447 548; 02 8396 5200 or send an email to enquire. The bookings officer will be able to tell you if the date you require is available and how to collect the keys (bookings officers are volunteers so they will contact you back as soon as possible).
If you do plan a bush play party it is essential that all rubbish and food scraps are cleaned up thoroughly to keep our Blue Mountains bushland beautiful and safe for animals.
Please also remember that Bunbinla Avenue is a quiet residential street so noise should be kept to a minimum. Please also remind guests to drive slowly down Bunbinla Avenue and to use the parking area provided within the gates, where possible, to respect the local residents who live near the hall.
We hope that our Blue Mountains Birthday Party Venues amd Providers Guide helps you with planning a memorable and fun filled party for your child and takes some of the stress out of finding that ideal party location and entertainment.
We would love to hear how your party went so please post your comments and photos below!
If you are a party provider, please email team@bluemountainsmums.com to add your business to our guide. We looking forward to adding as many party options as possible to make life as easy as possible for families when planning a party.
*In this guide, we have only included parks or venues that have toilet facilities to use on site or nearby.