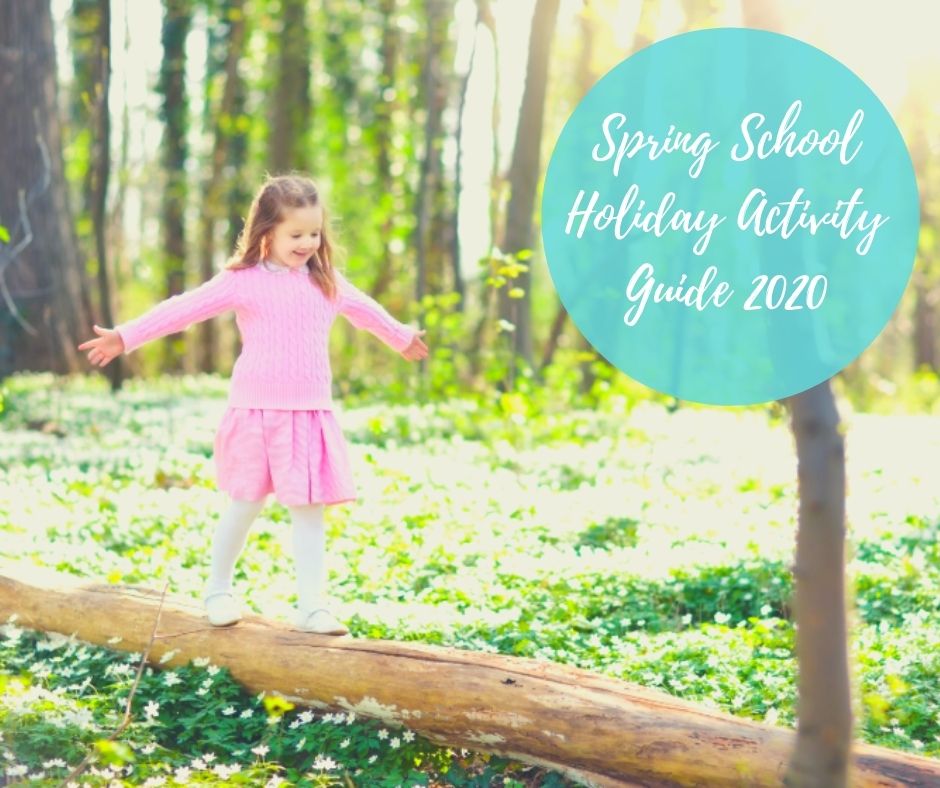 The Spring School Holidays are almost upon us! We have plenty of excellent Spring school holiday activities that will keep your children active, boost their confidence and engage them in amazing outdoor experiences. We are very excited to tell you all about these fantastic opportunities that are happening in the Blue Mountains these school holidays!
School Holiday Activities
Blue Mountains
Click the Quicklink below to go straight to the holiday activity of your choice, or enjoy scrolling through these fantastic holiday opportunities that your kids will love!
Motiv8sports, Multi-sports Day Camp Olympics, Nepean & St Claire
Kids Can Act Drama Workshops, Springwood & South Penrith
Fusion Football, Football Coaching Program, Glenbrook
High and Wild Australian Adventures, Katoomba – Canyoning, abseiling, rock climbing and bush survival adventures, 10% Off Special
BridgeClimb Sydney, Kids Climb for $99 these school holidays!
iFLY Indoor Skydiving, Safe, fun school holiday activity for ages 3 – 103!
Superb Family-Friendly Bushwalk, Birdwood Gully, Springwood
Campbell Rhododendron Gardens, Blackheath
Choctoberfest, Online
Blue Mountains Botanic Gardens, Mount Tomah
Blue Mountains Library School Holiday Program, Online
At Motiv8sports, we get kids excited about sport, and help them learn all about teamwork and sportsmanship in safe and fun settings. We offer awesome party packages, school programs and of course, the coolest kids' sports camps on the planet!
Our super fun, super engaging multi-sport day camps are the heart and soul of the Motiv8sports system. These daytime events are designed for kids from kindergarten to year six. They range from two to three-day events and occur between the hours of 8.30am to 3.30pm daily. We design our sports events for all abilities and focus on the energy and effort rather than a child's sporting ability.
Kids who attend Motiv8sports Camps learn about teamwork and sportsmanship in an environment fuelled by great leadership and constant motivation. Just ask the kids who've been coming to our camps for close to 16 years!
Motiv8sports campers are treated like superstars and our safety and supervision is second to none. We take sport and maximum participation to a new level with our innovative array of trademark sports.
Motiv8sports is a COVID SAFE business. All of our Motiv8sports multi-sports camps take place at brilliant facilities that provide your kids with a true Motiv8sports experience.
WHEN & WHERE:
St Clair October 1 & 2, 8.30am – 3.30pm
Nepean October 6 & 7, 8.30am – 3.30pm
Click here for all Motiv8sports Penrith's upcoming Programs
SUITED FOR: Motiv8sport's holiday programs are designed for children who are in primary school. No experience is needed.
COST: Holiday Programs are $100 and Motiv8sports accept Active Kids Vouchers!
HOW TO BOOK: Book online. For enquiries, contact Brad Horder on 0402 200 479. Email: penrith@motiv8sports.com.au
WEBSITE: https://motiv8sports.com.au/
SOCIAL MEDIA: Facebook, Instagram
---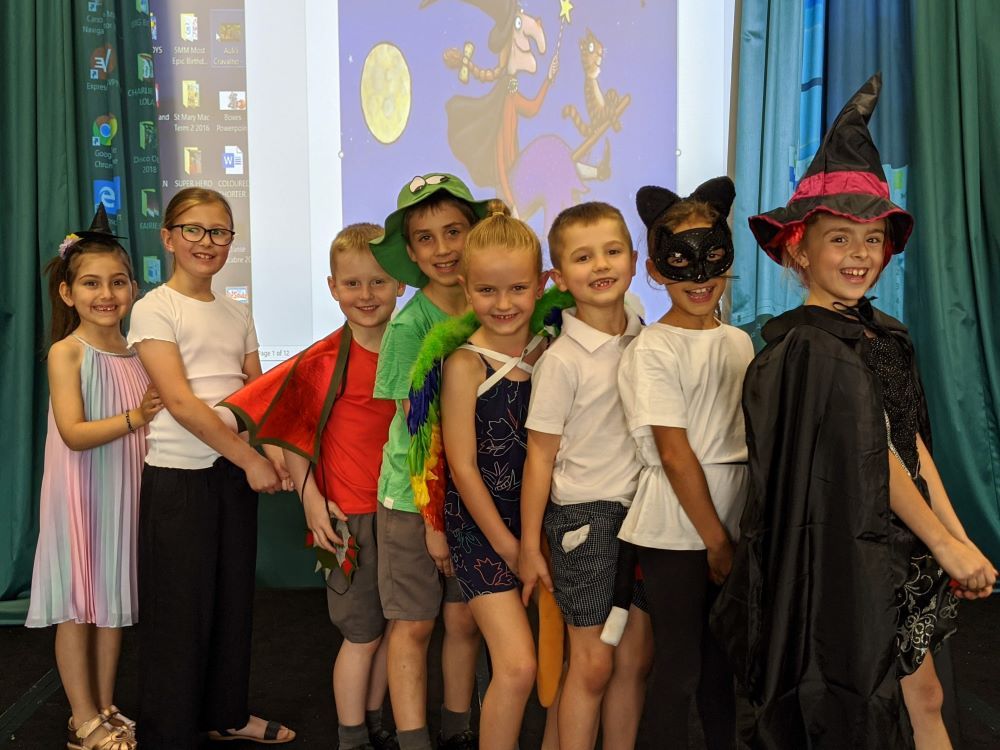 Allow your child to SHINE with Kids Can Act Drama Holiday Workshops in Springwood and South Penrith. Through Drama, every child can have fabulous creative FUN, whether they are a shiny star born for the stage or one who just needs some confidence, courage, and self-esteem to find their own voice and help them to navigate life.

Cathie is a school teacher and a Speech and Drama teacher of MANY years and is always happy to chat to find the right fit for your child.
At Kids Can Act Drama Workshops, your children will learn Drama in a positive, supportive, respectful, and encouraging environment.

Your child will experience fun in learning acting skills, using their imagination to build and create new characters and interacting with others. They will also develop other skills like playwriting, film making, storytelling techniques and designing their own costumes.

Kids Can Act is a COVID SAFE business. They run weekly Drama classes and FABULOUS Holiday Drama Workshops to keep the kids creatively busy, whilst learning new skills and making friends.

Kids Can Act are also a CREATIVE KIDS VOUCHER provider!
WHEN: September 30 – October 2
WHERE: Springwood and Penrith
SUITED FOR: Ages 4 – 15 years
COST: Cost varies depending on the workshop. Between $20 – $150. Discounted rate for two courses in one day.
If using Creative Kids Voucher get a FULL DAY for $20.
EARLY BIRD DISCOUNT ENDS SEPTEMBER 20.
HOW TO BOOK: Online. Contact Cathie on 0414 475 158; Email: kidscanactstudio@gmail.com
WEBSITE: www.kidscanact.com.au
SOCIAL MEDIA: Facebook
---
These holidays, Fusion Football Glenbrook is giving your children the opportunity to learn new skills and take their game to the next level with a cutting-edge three-day program designed to suit a range of ages and abilities. Fusion Football was founded and is run by local Dad, Mario, and his passionate team of coaches, who aim to motivate and inspire your children to acquire new skills for life in a fun, safe and challenging environment.
Professionally qualified coaches, each with current Working With Children Check certification, will engage your kids in skill-based activities that will help develop and strengthen the fundamentals of Football. All activities are designed to get your child thinking, moving, creating options, developing core strength and coordination, all in a team environment. Each child also receives a FREE T-Shirt to keep!
Their 3-day Spring School Holiday Program focuses primarily on three key areas: specific conditioning, skill development and gameplay.
Spots are limited so JOIN Fusion Football Glenbrook these school holidays!
WHEN: September 29 – October 1, 9.00am – 12.30pm
WHERE: Glenbrook Oval, Great Western Highway, Glenbrook NSW 2773
SUITED FOR: Ages 6 – 13 years
COST: $150 for all three days
HOW TO BOOK: Book online. For enquiries, contact Mario on 0450 227 508 or Email: info@fusionfootball.com.au
WEBSITE: https://www.fusionfootball.com.au/
SOCIAL MEDIA: Facebook, Instagram
---
GET 10% OFF ALL ADVENTURES AND GIFT VOUCHERS!
Use promo code 'INSTA10' when booking.
Experience a spectacular Half Day Abseiling Tour or Full Day Abseiling and Rock Climbing Combo with High and Wild Australian Adventures these school holidays! Suitable for anyone aged 8 years+ at all levels of ability, these are simply the best action-packed adventures you can have in the Blue Mountains.
Or experience the fantastic abseil/canyon combo with the Empress Canyon trip! This canyon is an exciting affair with water jumps, exhilarating swims, water slides and fantastic scenery. It concludes with one of the best waterfall abseils in the mountains. A truly unforgettable adventure!
High and Wild Australian Adventures has been known and trusted as the leading Blue Mountains adventure tour provider since 1989. Their guides are all outdoor enthusiasts and teach your children everything they need to know, so no prior experience is necessary. All equipment is provided and a gourmet lunch is provided on the Full Day Adventures!
High and Wild will donate $10 on each full day trip to Friends of the Brush Tailed Wallaby who are working to protect the Kangaroo Valley colony.
WHEN: Most days of the week
WHERE: 207 Katoomba Street (inside the Blue Mountains YHA), Katoomba
SUITED FOR: The Half Day abseil minimum age is 8 years.
The Empress Canyon minimum age is 14 years.
COST: Half Day Abseil: Kids 8-13 years $95, Adults 14+ $150;
Empress Canyon Full Day: $250.
Use promo code 'gettingoutthere' when booking to save 10%
HOW TO BOOK: Online; Call Aidan or Darren (02) 4782 6224; Email: info@highandwild.com.au
WEBSITE: https://www.highandwild.com.au/
SOCIAL MEDIA: Facebook, Instagram
---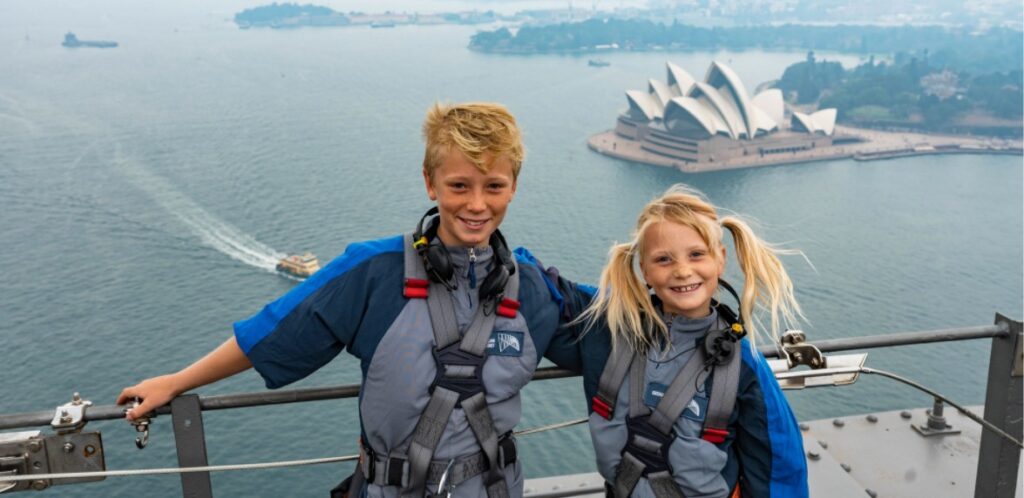 BridgeClimb Sydney is the perfect way to entertain the kids during the School Holidays, whilst connecting with your family and creating lifetime memories together.
KIDS CAN CLIMB THE ICONIC HARBOUR BRIDGE FOR ONLY $99! That's a SAVING of up to 62%!
Save over 50% on Kid's Climbs throughout the Spring School Holidays! This fantastic offer is available from 26 September to 11 October 2020.
Also, save up to 35%* off adult day climbs every Friday, Saturday and Sunday.
*$198 Unlocked Climbs run from 11am-1pm. Other select Day Climbs are available for $248.
Book with confidence with BridgeClimb Sydney's flexible booking options. So don't miss out on this unmissable Spring School Holiday Special Offer! Give the perfect gift or grab your partner, kids, or the whole family and uncover the beauty, history and views that Sydney has to offer – a sight you will never forget!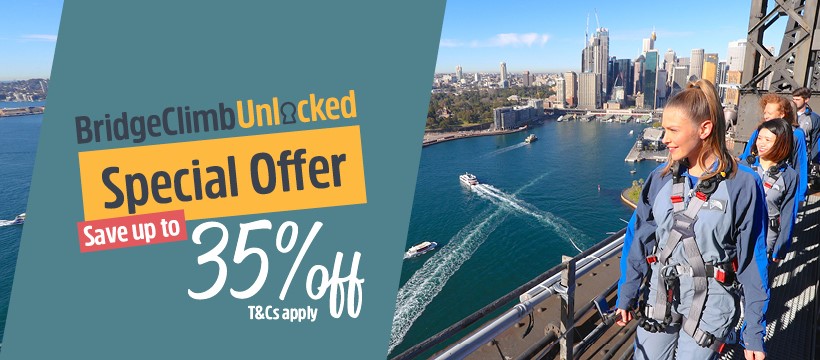 WHEN: Kids Spring Holiday Offer Valid From 26 September – 11 October 2020
WHERE: 3 Cumberland St, The Rocks NSW 2000.
SUITED FOR: Kids and adults. Kids must be aged 8 – 15 years and be at least 120cm tall. A ratio of one adult for every three children is needed. You must agree to health and safety questions.
COST: Kids can Climb for only $99! Adults can climb from $198*
HOW TO BOOK: Online Ph: 1300 90 80 57
WEBSITE: https://www.bridgeclimb.com/
SOCIAL MEDIA: Facebook, Instagram
---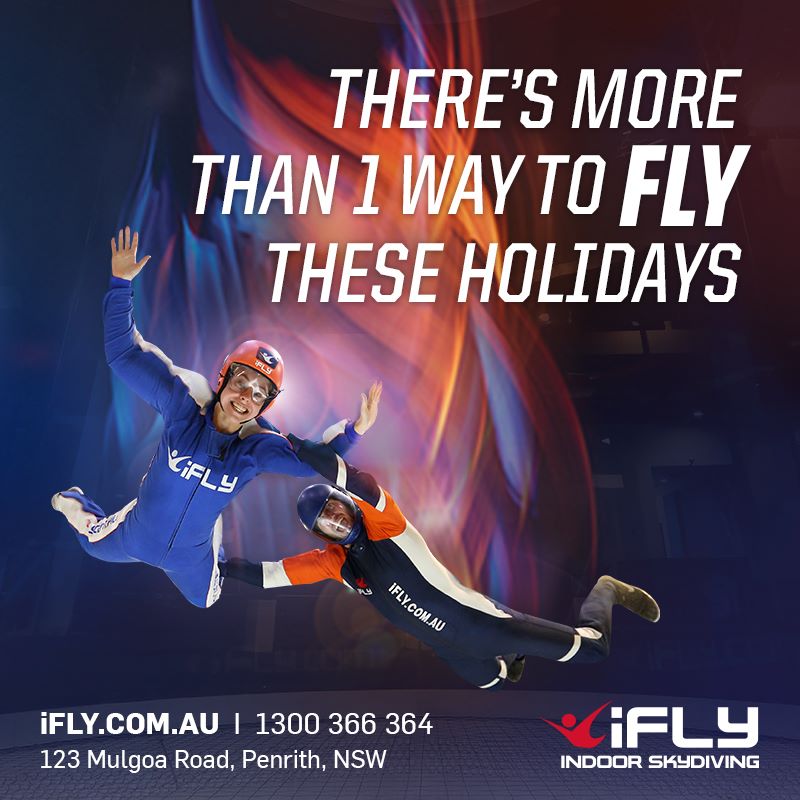 School Holiday Fun!
Have you been dreaming about flying away these Spring School Holidays?
Well, there's more than 1 way to fly and we have just the experience for you!
Spread your wings and soar through the air as you take flight with INDOOR SKYDIVING!
Safe, fun and accessible for ages 3+, with no maximum age limit (even Grandma and Grandpa can fly!). Indoor skydiving is an awesome activity that the whole family can do.
For a truly memorable birthday or special event, iFLY Kids Party Packages are also available!
WHEN: Mon – Fri 9am – 8.30pm, Sat 8am – 8.30pm, Sun 8am – 7.30pm
WHERE: Panthers Penrith Rugby Leagues Club Precinct
123 Mulgoa Rd, Penrith NSW 2750
SUITED FOR: Anyone aged 3+
COST: From $88 for group packages. Birthday party and sport taster sessions also available. See website for details.
HOW TO BOOK: Online, ph: 1300 366 364, e: Barbara@iFLY.com.au
WEBSITE: https://downunder.iflyworld.com.au/book-now
SOCIAL MEDIA: Facebook, Instagram, Twitter, YouTube
---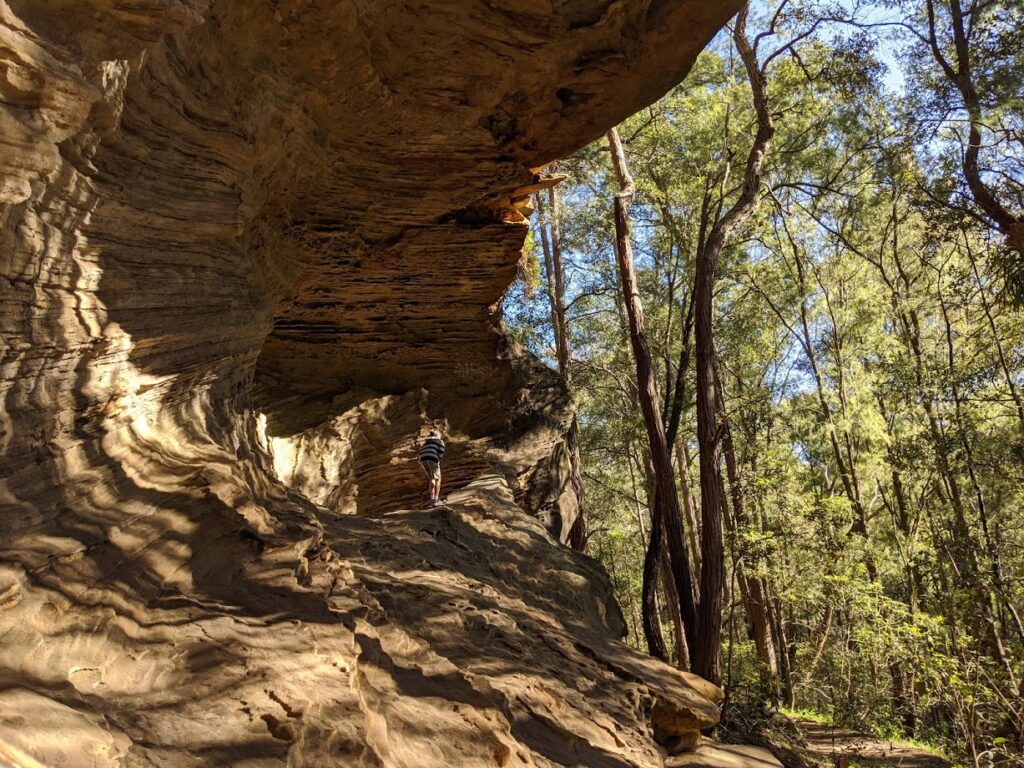 Birdwood Gully/ Madolin Glen track is a medium grade 2.6km bushwalk in Springwood that will take around 1 – 1.5 hours to complete. From little bridges and waterfalls to massive sandstone overhangs, ferns carpeting the ground, huge grass trees, glow worm caves and running creeks – this track is paradise and will leave your most reluctant bushwalkers relishing in the sights in awe and wonder.

WHERE: Access Birdwood Gully/Madolin Glen track from Lucinda Ave, Boland Ave or Bednall Road, Springwood.
SUITED FOR: children from ages 3+
COST: FREE
WEBSITE: Blue Mountains Mums
---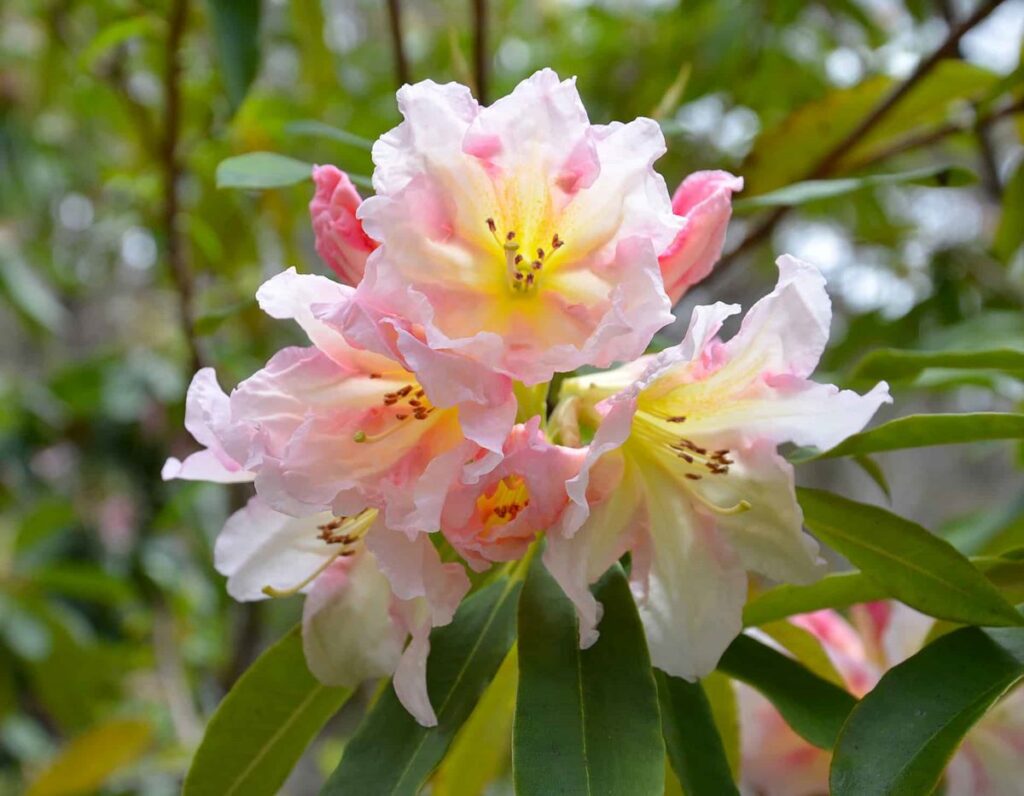 Spring is the perfect time of year to visit The Campbell Rhododendron Gardens in Blackheath! On sunny days – and even when the weather is cold – the (COVID safe) Rhododendron Gardens are a wonderful place to stroll with family and friends, or with your dogs (on leads).
Relish the fresh air, the peace and the beauty. Bring a picnic basket and rug from home…or first stock up on gourmet treats in the Village to make your picnic hamper.
WHEN: 9am – 6pm. The Garden and kiosk open early-October to mid-November 2020, dates to be advised. Pedestrian access available every day of the year.
WHERE: Bacchante St, Blackheath NSW
SUITED FOR: Everyone of all ages.
COST: The Campbell Rhododendron Gardens are thankful for your donation. They suggest a minimum donation of $5.00, for each visitor. Pop your donation into the blue-green Donation Box at the Information Kiosk, near the car park.
You may also donate before you arrive. All donations help to maintain, improve and expand the Gardens.
HOW TO BOOK: No need to book – just turn up between opening hours. Call (02) 4787 8965 on Monday mornings or send a message via their website.
WEBSITE: www.rhodogarden.org.au. Download a Map of the Gardens.
SOCIAL MEDIA: Facebook, Instagram, Twitter, YouTube,
---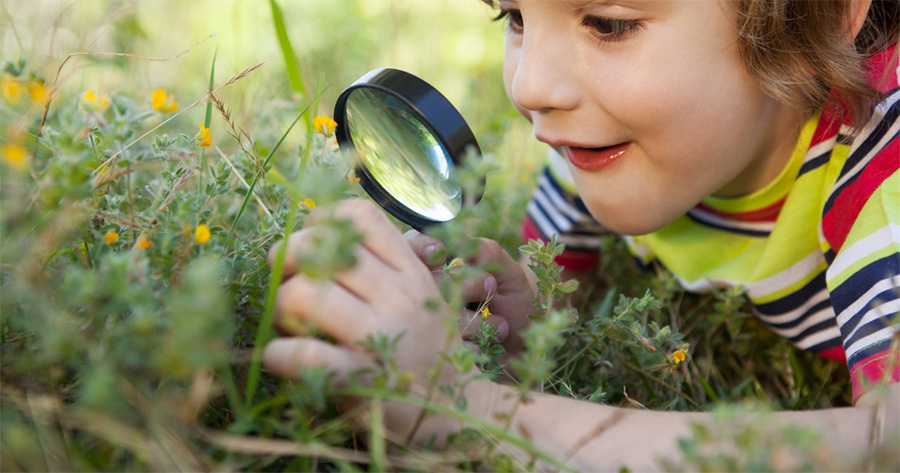 These Spring School Holidays enjoy the beauty and majesty that the Blue Mountains Botanic Gardens, Mount Tomah, have to offer. Walk through the Garden with your family and enjoy a BBQ or picnic lunch. Appreciate the glorious displays of cherry blossoms and arrays of native flowering this time of year.
Tours and guided walks are temporarily suspended but everyone is welcome to enjoy a self-guided tour of the Garden these Spring School Holidays. The Blue Mountains Botanic Garden, Visitor Center Mount Tomah is open and there is currently a Michelle Henry 'Oil on Canvas' exhibition. You will find 39 gorgeous oil paintings on display, that will inspire and delight your children.
The Blue Mountains Botanic Garden Mount Tomah have also created a wonderful Tree Trail for your children to explore on their walk through the Gardens. Explore Tree Trails around Sydney to engage your children this Spring as well as other amazing outdoor activities, like building a Bush Cubby!

Your budding Scientist may also enjoy the Sydney Science Trail, which is an online science adventure for kids that runs until September 15, to celebrate Australian Science!
WHEN: The Blue Mountains Botanic Gardens are open from 9am – 5pm
WHERE: Bells Line of Road, Mount Tomah, NSW 2758
SUITED FOR: Any age. There are some steeper sections that may be challenging for the elderly. Mobility aids may be hired out for $10.
COST: FREE
HOW TO BOOK: No bookings needed. For larger groups (10+) or buses bookings are recommended so that visitor services can expect larger numbers.
WEBSITE: https://www.bluemountainsbotanicgarden.com.au/
SOCIAL MEDIA: Facebook, Instagram, Twitter, YouTube

---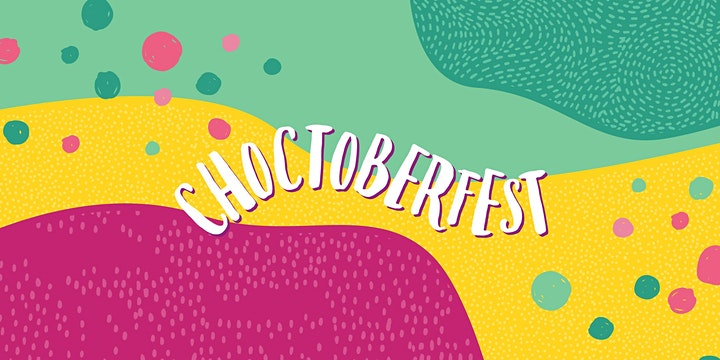 Choctoberfest 2020, by Imagine Nations Church, will be live-streamed on YouTube through INKids TV channel. It will be full of crazy games (including Kit Kat Jenga and the chocolate shower) and they will be presenting some challenges each day so at-home viewers can win some prizes by sending in photos or video, by the end of the long weekend following Choctoberfest. You will need to be able to come and collect the prizes from Imagine Nations Church. Year 5 and 6 students can register to be a part of the COVID safe live audience HERE.
WHEN: October 1 – 2, 9.30 – 11.30am, Pre-show from 9am
WHERE: Choctoberfest will be live-streamed in 2020 via INKids TV
SUITED FOR: Children from Kindergarten to Year 6
COST: FREE
CONTACT: Pastor Alison on 4736 3000. Email: info@inchurch.com.au
WEBSITE: https://inchurch.com.au/
SOCIAL MEDIA: Facebook, IN Kids Facebook, Instagram
---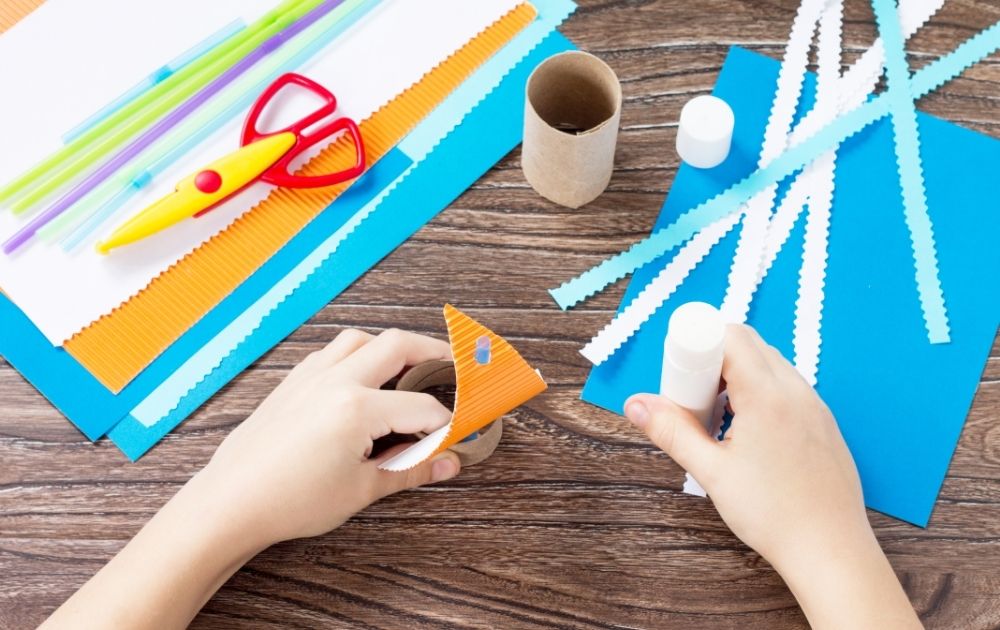 The Blue Mountains Library has many wonderful online activities for your children to enjoy these Spring School Holidays.
Discover How to Make Paper Pinwheels or Spring Tree Landscapes! Bookings are essential as numbers are limited. Cool Text Art and a variety of fun, Simple Videos are available through the Library's Facebook Page or Website. Also on their Facebook or website, learn how to create collages in the style of Eric Carle in the Eric Carle Collage Class.
Storytime is on every Wednesday morning and Babytime will continue on the 1st and 3rd Friday morning of each month. and the Library's eLibrary is always open. It has FREE online entertainment and information options including eBooks and eAudiobooks, eMagazines, streaming movies and documentaries on Beamafilm. You will also find other online resources including eLearning games for kids and their fantastic Storybox Library service. You will need your library card number to access these services.
WHEN: Eric Carle Collage September 30, 10 – 11am;
How to Make Paper Pinwheels October 1, 10 – 11am;
Spring Tree Landscapes October 7, 10 – 11am;
Cool Text Art October 8, 10 – 11am;
Simple videos with Naomi October 6, 10 – 11am.
WHERE: Online
SUITED FOR: Preschool – Year 6
COST: FREE
HOW TO BOOK: Email Blue Mountains Library for booking details: bmlibrary@bmcc.nsw.gov.au
WEBSITE: https://library.bmcc.nsw.gov.au/
SOCIAL MEDIA: Facebook, Twitter, Flickr, Tumblr,
---
Would you like more Spring School Holiday activities inspiration in the Blue Mountains? Check out these local spots for more family-friendly fun these school holidays!
We would love to hear from you! Please leave a comment below to let us know what adventures you and your family embarked on these holidays. Enjoy taking a breather in the next couple of weeks exploring our local area and supporting local businesses. Happy holidays!
Like us on Facebook to stay in the loop and receive special offers!
Join our Blue Mountains Mums Local Facebook Group to connect with other local Blue Mountains Mums.