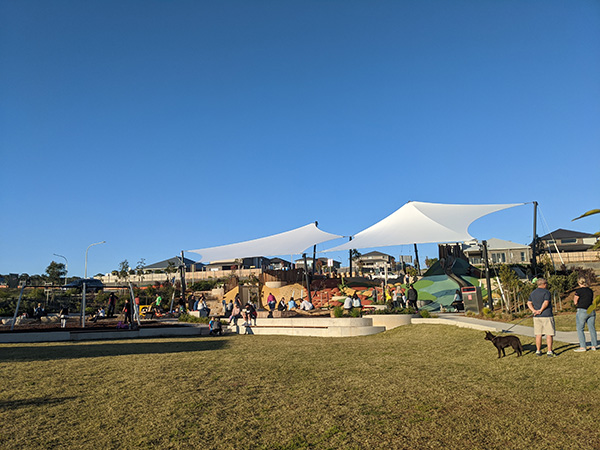 Linear Park playground is seriously fun. There are plenty of fun things to do for kids of all ages! If you happen to head east down the mountains, be sure to check in to this brand new playground situated in one of Sydney's newest estates, Mulgoa Rise. It just opened last week and is different from any other park around! This new exciting park is called Linear Park and you'll find it at 6 Frontier St, Glenmore Park. You won't be disappointed!
Linear Park Playground is a fabulous place for families
On first impressions, Linear Park in Mulgoa Rise is beautiful. It is very spacious and has a positive vibe. You'll see a large patch of grass for families to enjoy picnics, celebrate birthdays or for kids to kick a ball around. There are a couple of sheltered barbeques with picnic tables, two ridiculously fast slides, a super rock climbing wall complete with a thick climbing rope, a crawling tunnel for the little ones, bike rack, swings, water play, a concrete path for anything with wheels and heaps of seating for parents to supervise their children.
As this wonderful park is so brand new, it is very busy after school and on weekends, but despite the number of children, it does not feel too crowded and everyone seems very happy!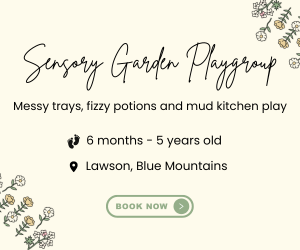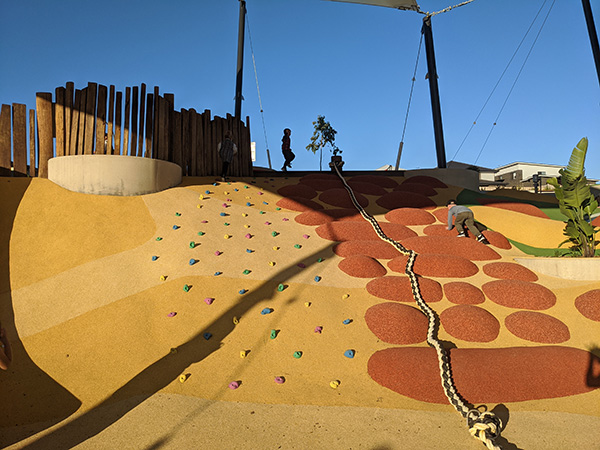 Water Play at Linear Park
The water play pumps are an excellent feature of Linear Park! They will be very popular in the warmer months. The water trickles down the rock climbing wall down to the bottom. It is a little underwhelming because it just becomes a big puddle of water at the bottom, but it will still be good wet fun for children to splash around in Summer.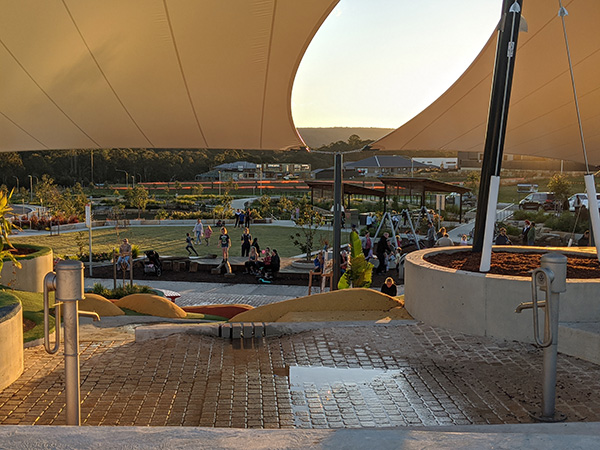 Linear Park is definitely worth the visit! An important tip for when you visit this cool new park – supervise your children carefully (especially up the back of the play equipment near the road) because currently, Linear Park is unfenced. This is especially important if your child is prone to 'exploring' further afield!
It is fantastic to see new parks popping up for families to enjoy! If you know of a new park in the making or if you have visited Linear Park in Mulgoa Rise this week, please let us know in the comments below.
If you would like to see more beautiful pictures of Linear Park's architectural design and facilities, click HERE.
Check out another new precinct and park, in Oran Park – Julia Reserve Youth Precinct.
You may also like to read our tips on our favourite parks and playgrounds in the Blue Mountains National Park.