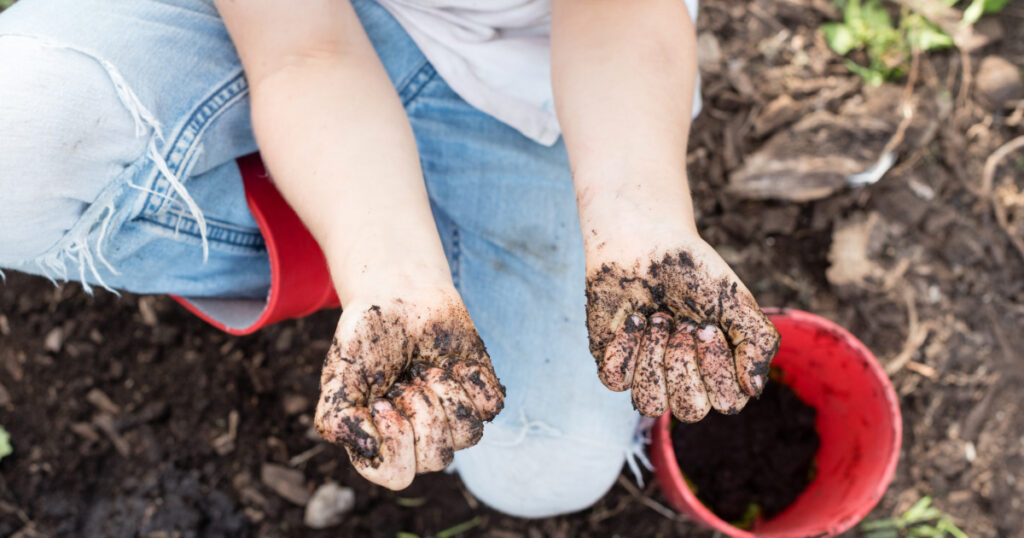 In Sweden, there is a famous saying that encourages folk to spend time outdoors, regardless of the weather: There is no such thing as bad weather, just bad clothes. In recent years, we have been inspired by the Scandinavian style of education and the value that they place on outdoor learning from a very young age. This is partly why Bush Playgroups are becoming highly sought after in the Blue Mountains, as we realise that playing outdoors does wonders for young developing bodies and brains.
However, there are usually long waiting lists to join a Bush Playgroup or Bush Kindy in the Blue Mountains. Your child does not need to miss out altogether though. If you are keen to attempt bush play with other families, you might consider meeting up with a couple of friends and their children to provide opportunities for bush craft, cooking, den-making and all kinds of creative and imaginative play in the beautiful bush setting that we call home.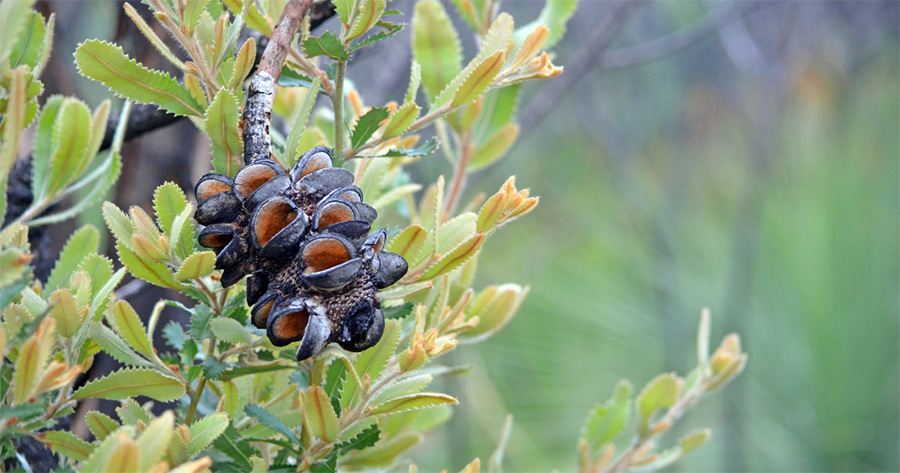 What is a Bush Playgroup?
Bush Playgroups are similar to regular playgroups as they are set up with formal and informal opportunities for children to explore nature, socialise with other children, develop fine and gross motor skills and learn to appreciate and understand the world around them in an outdoor bush environment. There is so much fun to be had at a Bush Playgroup and you are limited only by your imagination!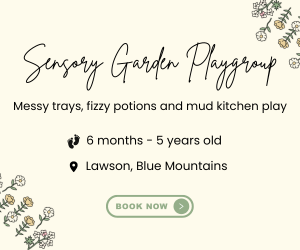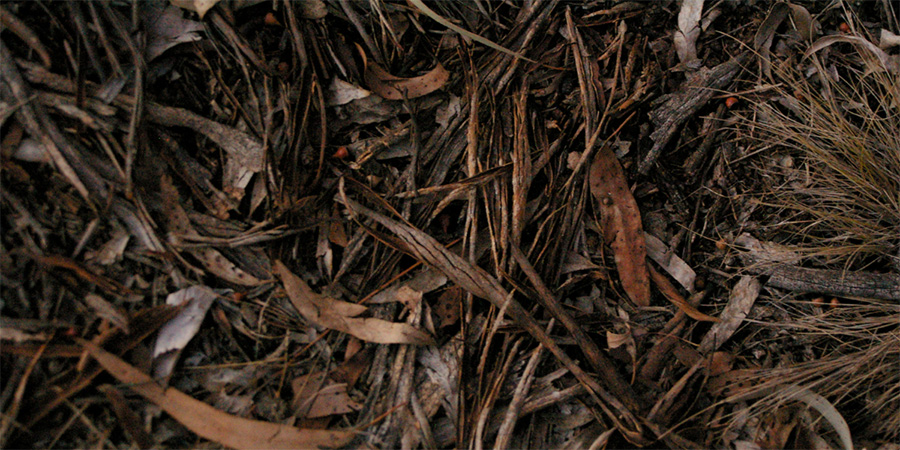 Why is bush play good for my child?
There are profound mental, physical and social benefits for children that are allowed to play freely in the bush with other children. It is recommended that children achieve at least 60 minutes of physical activity every day, but with the encroachment of screens on our lives, it is becoming more difficult to reach that goal. So, we may need to recognise our need to recalibrate and make outdoor play the norm again!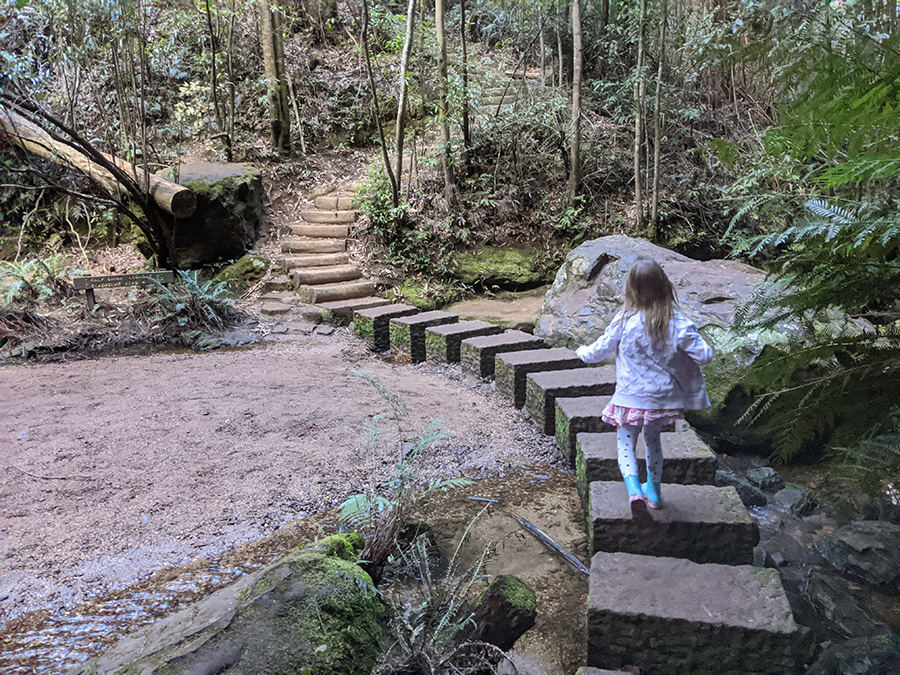 Bush Playgroups in the Blue Mountains
Bush Playgroups (or Bush Kindy) in the Blue Mountains, are provided by some preschools, including Blaxland Preschool Kindergarten and are designed to nurture holistic learning and development. Here are many of the reasons that we need to provide opportunities for our kids to get active outdoors – and messy!
Cognitive development through creative and critical thinking
Children develop a sense of autonomy by making decisions about what they would like to do, determine how they might build or construct a shelter, create imaginative play using natural resources, assess and safely manage risks and make inquiries about the world around them. Children are given opportunities to foster curiosity about plants and animals and find solutions for caring for their environment.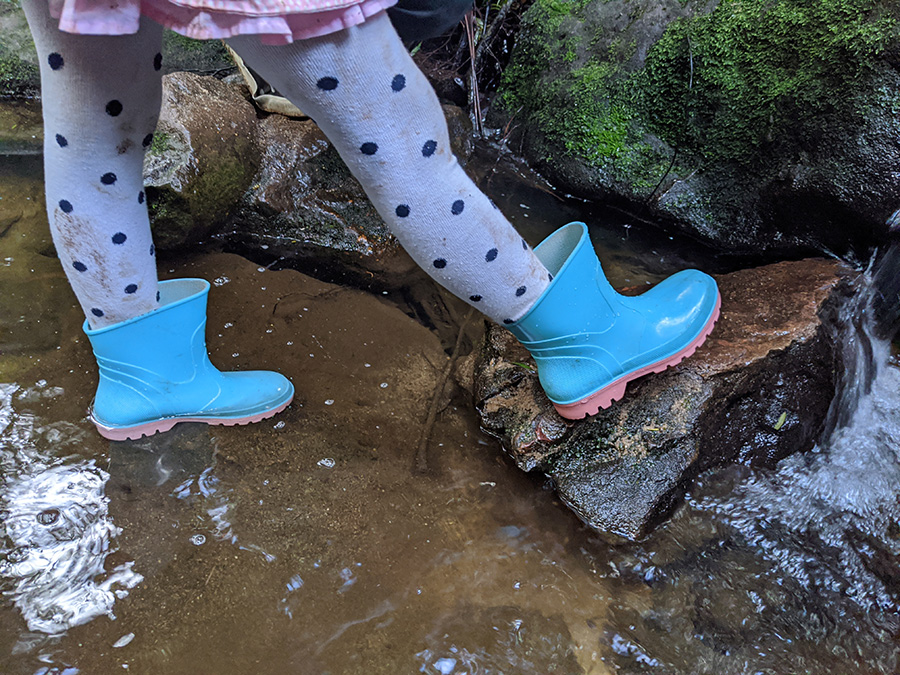 Language skills and increased vocabulary
At Bush Playgroup, children interact verbally and non verbally, express ideas and learn alongside adults and other children. Bush Playgroup promotes active and interactive learning through engagement with others and with materials in their natural environment. Children learn technical language as they interact with adults and use words to connect with other children. Vocabulary might include technical words such as: camouflage, deciduous, vivid, flowering, mild, overcast, fern, wattle, cave, sandstone, habitat, erosion, drought – and so much more!
Physical and gross motor skills
As children balance across a footbridge, scramble across rocks or walk on a mossy rock they develop more coordinated movement. They also gain strength and endurance by participating in bushwalks, especially when there are many stairs! Children breathe more deeply when they walk, which increases serotonin levels (improving sleep and appetite), reduces anxiety and improves wellbeing – happy, calm kids that eat and sleep? Yes, please!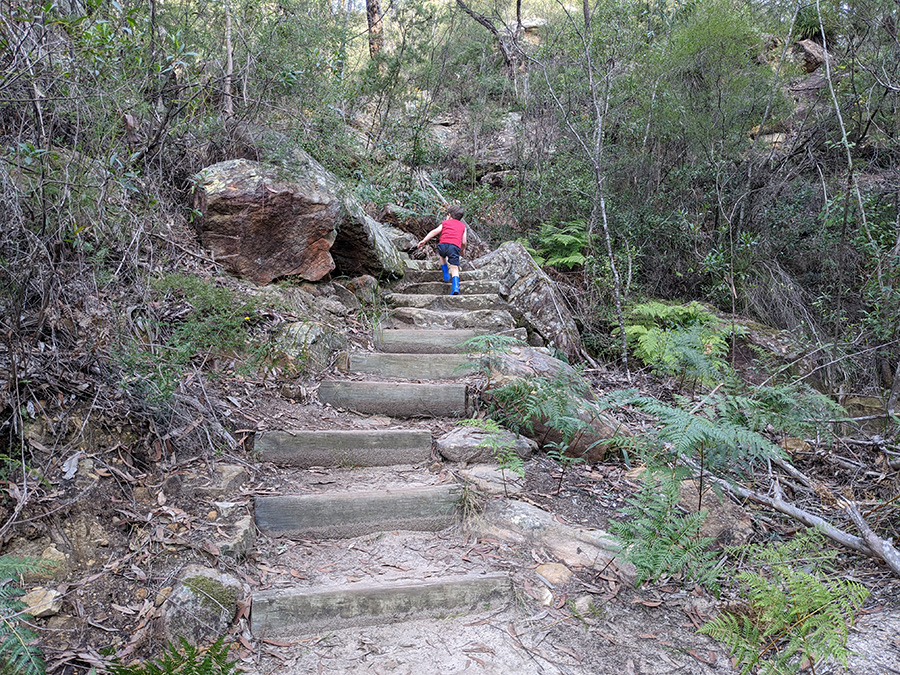 Spiritual development
Bush Playgroup fosters a connection with nature for children. As they play, children consider how they might contribute to their world as they wonder about the creation of their world, inquire about the uniqueness and creativity of wildlife, insects, birds and plants and ponder their purpose in the world.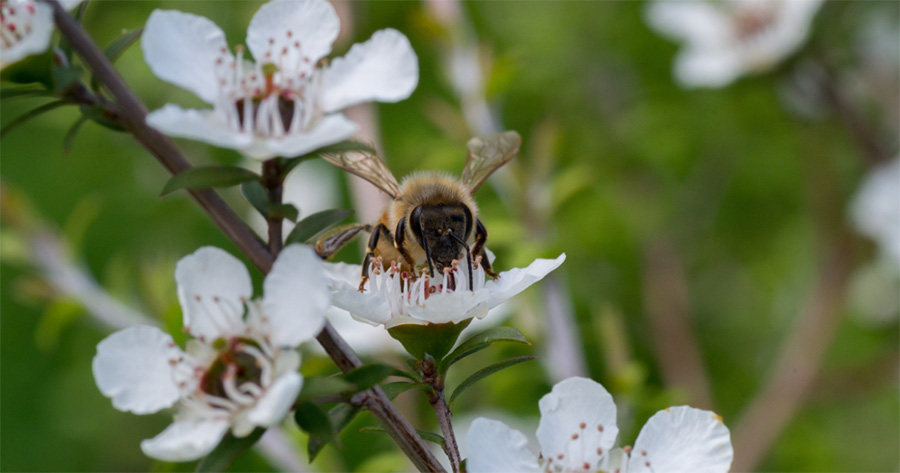 Social development
At Bush Playgroup, children learn to interact in relation to others with care, empathy and respect. They practise turn-taking, develop a sense of fairness, learn to share, cooperate and communicate with children of varied ages, backgrounds and abilities. At Bush Playgroups, children also become socially responsible and show respect for their environment.
Emotional development
By attending a Bush Playgroup, children develop empathy for living things, a respect for nature and they build self-confidence. Kids gain a sense of agency and belief in their abilities by attempting new challenges. They show enthusiasm and are inspired to learn more about their natural world. Bush Playgroup improves a child's self-esteem as they make decisions, experience achievement of goals and learn resilience when a task is difficult.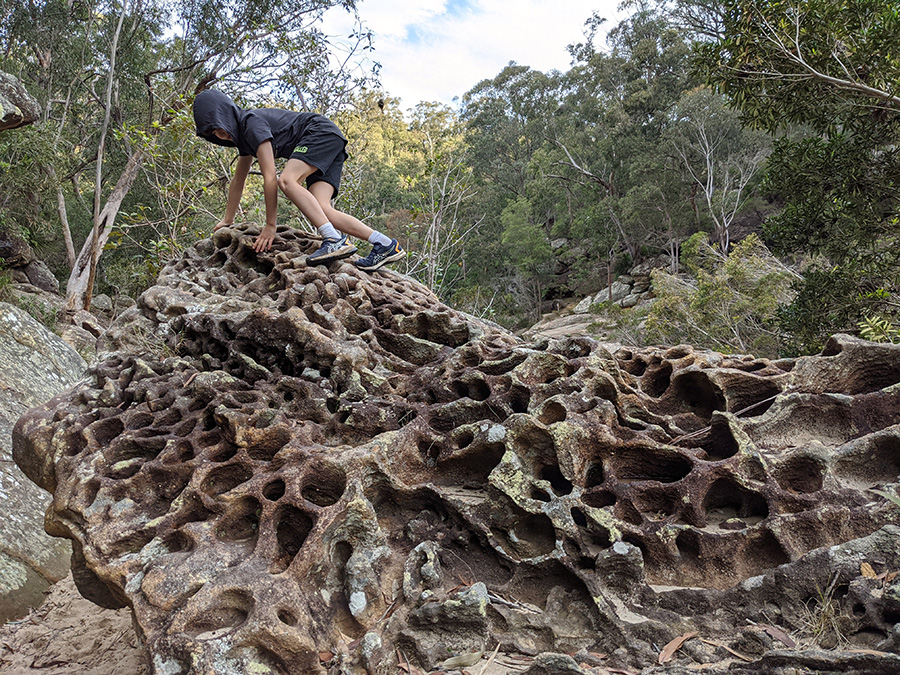 Sensory development
Children will listen for sounds in the bush, touch trees, squeeze mud, manipulate clay and compare textures of leaves and rocks. They will smell a variety of plants and flowers, taste food cooked over the fire and notice detail in nature, as they investigate plant and animals closely with a magnifying glass.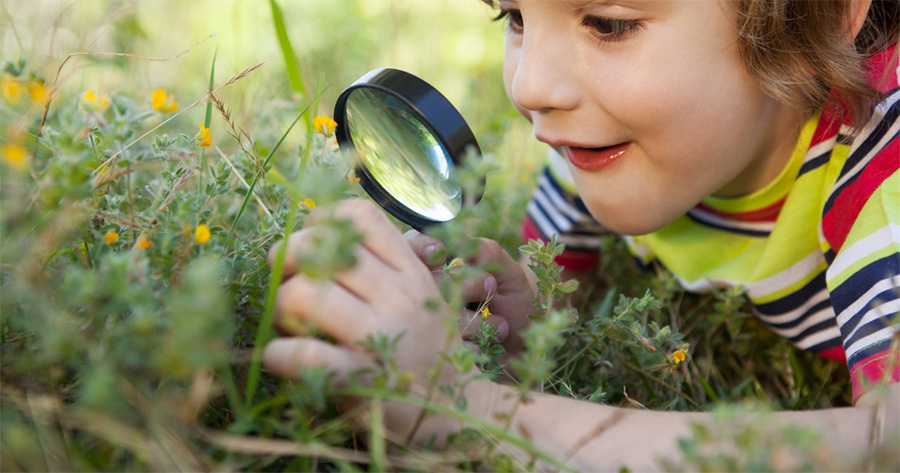 The advantages of your child engaging in Bush Playgroup are extensive and so exciting! Bush Playgroups provide child-centred, real-life experiences that enhance your child's sense of belonging and being in this world and helps him or her to realise who they are becoming. According to the Early Years Framework for Australia, children's early learning experiences influence their life chances. So when children experience wellbeing and a strong sense of connection in their early years, they develop a sense of optimism and engagement that enables them to establish a positive attitude to learning. Great for kids, their school work and the future of our world – Bush Playgroups are a win for everyone!
How to organise an informal bush playgroup with friends
First and most importantly, there are hazards that need to be assessed and managed in any form of bush play. Please read this guide carefully for risk management (particularly Hazards on pages 9 and 10). First aid knowledge and a first aid kit are essential for any form of bush play that you engage in.
You might have access to a lovely, safe area of bush on your property or know of one close by where you can meet easily with a couple of friends to create an informal playgroup together for an hour or two a week. Parents or caregivers might plan an activity each for children to enjoy. There may be a couple of core activities that remain the same every week because children enjoy and benefit from them a lot, then a couple of activities that change from week to week.
Don't forget that allowing children to play freely is important too, so avoid feeling pressure to over plan activities – you might be impressed by how creative your children can be when they are allowed to simply play. 
You may also consider creating a more formal Bush Playgroup – there is a great demand for Bush Playgroups in the Blue Mountains so this would be beneficial to the community. Becoming a Bush Playgroup leader requires you to have a moderate level of bush-skill, a heightened awareness of risk management and a willingness to plan each session.
A leader needs an active interest in the outdoors and a passion for introducing their community to the wonders of nature. If you are interested in this wonderful opportunity for your local community, read the setup guide here and contact Playgroup NSW for assistance to set up your group.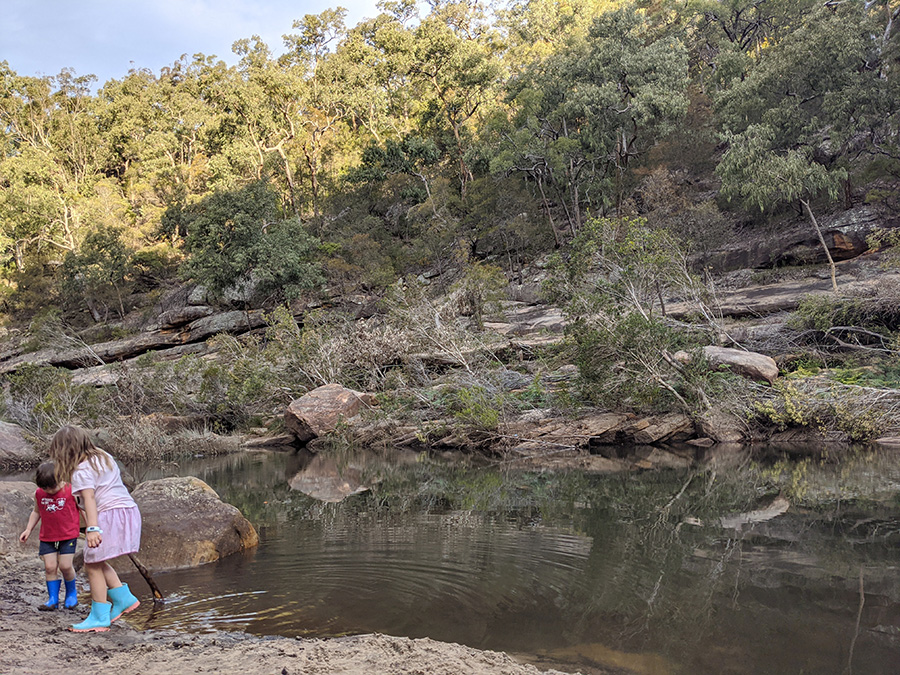 Ideas for bush play activities
*This article is intended as a suggestions guide only and should be used solely by parents and carers at their own discretion. The author takes no responsibility for any injury or mishap that occurs either directly or indirectly for following the suggestions made. Many hazards exist in the bush and must be managed proficiently by leaders, parents and carers.
If you plan on teaming up with friends for an informal Bush Playgroup, going out with the family on a weekend bushwalk or would like to create a community Bush Playgroup, here are an extensive collection of ideas that you can adapt to suit the ages and abilities of your group. Please remember to use items that have fallen off trees and bushes naturally and to bring a change of clothes for your child (closed in sturdy shoes, a broad rimmed hat long sleeves and long pants are recommended).
Literacy
Read Stickman, by Julia Donaldson and Axel Sheffler. Create the Stickman Family by collecting sticks with a fork in it for the legs. Use a variety of colours of wool to wrap around the stick to create clothes, attach a stick with twine for arms, add googly eyes and wool for hair on top.
Nature Bookmark – gather feathers, leaves, flowers and stick them on to a piece of card in the shape that you would like for your bookmark. Decorate and laminate. Punch a hole to tie a thin ribbon in the top.
Nature Names – write the first letter or full name using leaf litter, sticks and other items from the bush.
Bush Reading Hub – provide books relating to the Australian bush for children to read on a mat. Consider providing quality literature (fiction and non-fiction) about Australian animals, birds, flora and Aboriginal culture. Suggestions include:
Possum Magic, by Mem Fox;
Animalia, by Graeme Base;
Bilby Moon, by Margaret Spurling;
Bush Tracks by Ros Moriarty and Balarinji;
Can you find 12 Busy Bees? By Gordon Winch and Patrick Shirvington;
Clancy the Quokka, by Lili Wilkinson and Alison Mutton;
Colouroos, by Anna McGregor;
Hush Little Possum, by P Crumble and Wendy Binks;
Savannah Dreams, by Lolla Stewart;
Silly Galah, by Janeen Brian and Cheryll Johns;
Where is Galah? By Sally Morgan.
A Walk in the Bush, by Gwyn Perkins
Alphabush – as a group make the lowercase alphabet from sticks or other natural items by allocating a few letters per child. Provide A4 laminated sheets to model the letters and children can place items on top and/or next to the page.
Eye Spy With My Little Eye – play a game of eye spy as you eat morning tea.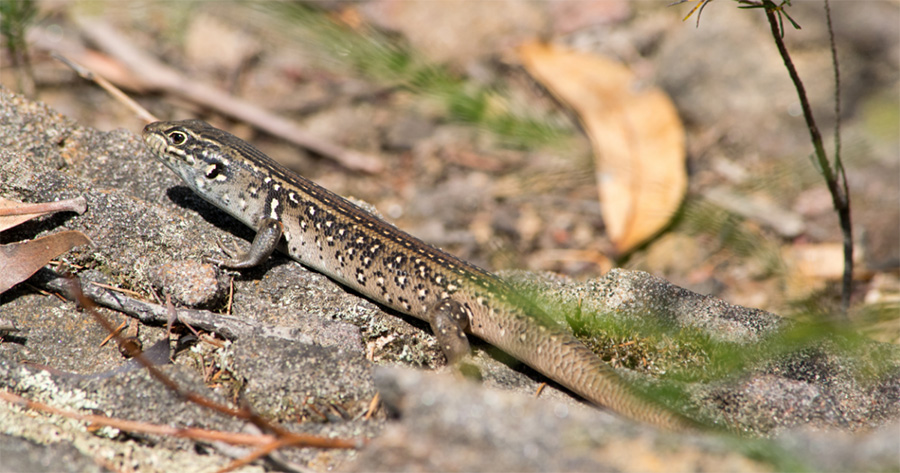 Numeracy
Loose Parts Play – provide a group of rocks, a bunch of sticks and gumnuts for children to simply use to create something. Count how many items your child used in his or her creation. Take one away, add one more and make items into equal groups.
The Order of Things – children collect a variety of sticks or rocks and order them from smallest to largest.
What's the Time? Create a Sundial – collect rocks and write clock numbers on them placed in a circle. Add a stick in the middle to create a shadow. Teach children how to read the clock.
Make a Pattern – create mathematical patterns using rocks, leaves, gumnuts and sticks.
Nature Matching – provide laminated images of coloured shapes collated in a mini booklet and get children to match shapes and colours from their booklet with shapes and colours in the bush.
Tally-Ho! – choose 5 – 10 things (pinecones, birds, spiders, webs, koalas) and tally how many you see on a walk.
Measure and Graph – temperature and rain totals from week to week.
Nature Sorting – find ten (or more) rocks and sort by colour, size, weight, texture or shape.
STEM (Science, Technology, Engineering, Maths)
Make a Bush Den Hideout – Use a tree trunk to form the strong central structure of the den. Search for long fallen branches to prop up on either side of the 'spine.' Then collect smaller sticks, twigs, twine and moss-covered branches to fill and weave in the sides. Kids may like to lay a soft blanket inside with some soft toys and books.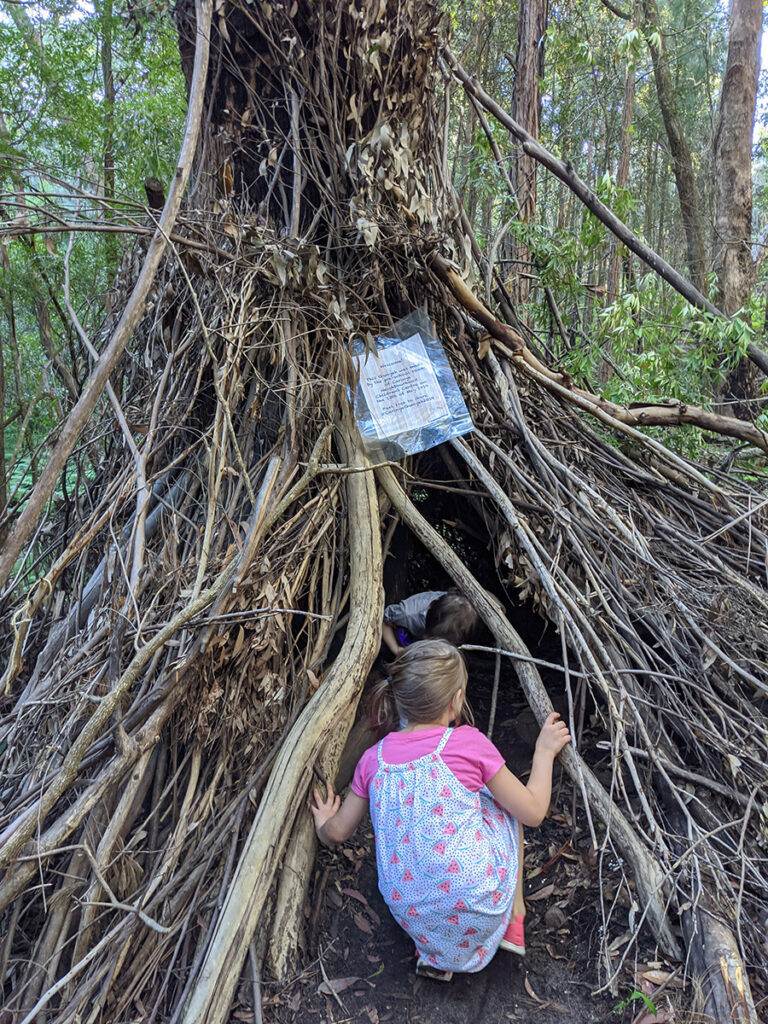 Fossil Find – fill up stretchy balloons with water to create fossil eggs and place small dinosaurs, ooshies, animals, feathers and small rocks in them. Freeze, then take off the balloon to reveal your round fossil! Children can chip away at the blocks of ice using a stick. You may find it easier to use containers to create your fossils. This is a great sensory, summertime activity!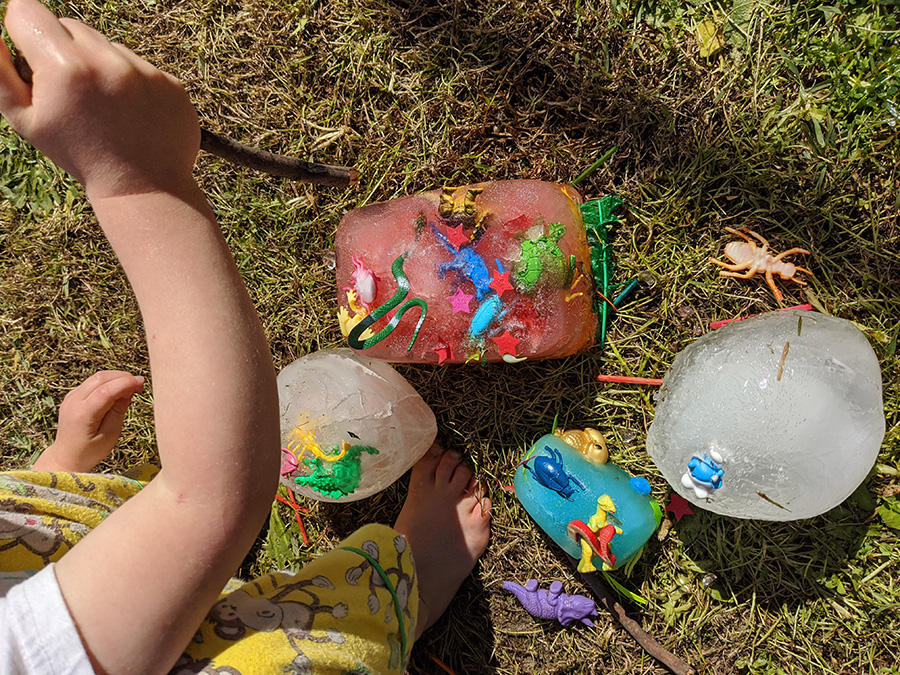 What's that Bird? Provide binoculars for birdwatching and koala spotting.
Little Pig, Little Pig – create mud bricks in ice cube trays and build a house, or other structure. Mix dirt and water together to create thick mud, add grass and sand and then pack them into ice cube trays. Let the bricks dry for at least an hour in the sun, then get building!
Plant seeds in a clear water bottle to watch the roots grow.
How Does it Move? Record a bug, butterfly or spider in slow motion on a phone to replay and observe.
What's that Tree? Identify trees by their leaves or bark.
I Hear You! Identify birds by their calls.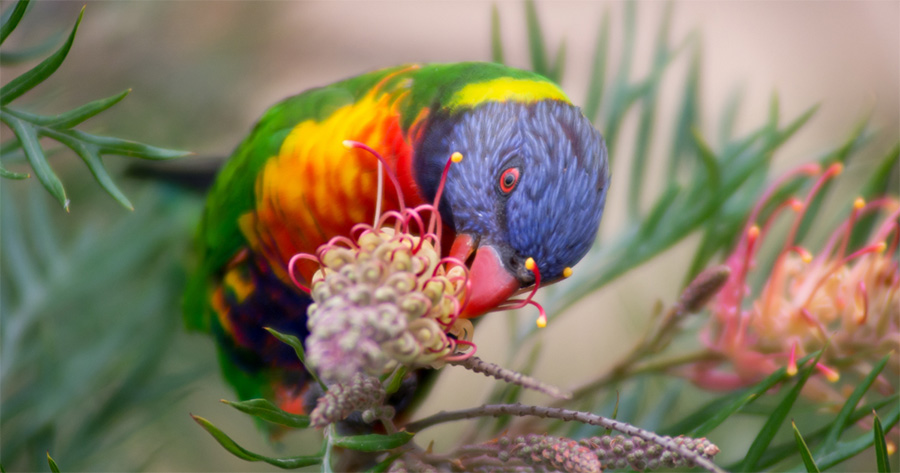 Bush Play Group Studios – aaaaand….Action! Create a stop-motion video using a mobile phone to take pictures of items from nature. Take a photo of the object in the starting position. Move the object bit by bit, by a very small amount each time, and take another photograph after each movement. Use video editing software like iMovie to create your movie!
Up Close with Nature – use a magnifying glass to seek and explore insects, flowers, leaves and rocks.
Name that Rock! Learn the names of different types of rocks. What do they feel like?
What is That Cloud? Learn the names of the types of clouds.
Craft
Jovial Jewellery – Make bush jewellery, such as floral headbands and bracelets. Create cardboard strips the size of your child's wrist and head circumference. Attach leaves and feathers with tape on the inside of the cardboard to create a fun piece of bush jewellery.
Oh Baby! Create a baby mobile. Find three sticks about 30cm each and smooth down with sandpaper, if you have some. Attach two sticks on either side of the first stick with twine, with a pine cone (or other) in the middle. Then hang other bush items from the two hanging sticks.
Nature Wands that Harry Potter would Envy – choose a long stick for your wand and wrap colourful wool, twine, shoelaces etc around the stick, attaching gumnuts, leaves or flowers along the way if you wish. Place a few feathers, flowers or leaves on the end, secured with your wool, to make the wand unique and pretty.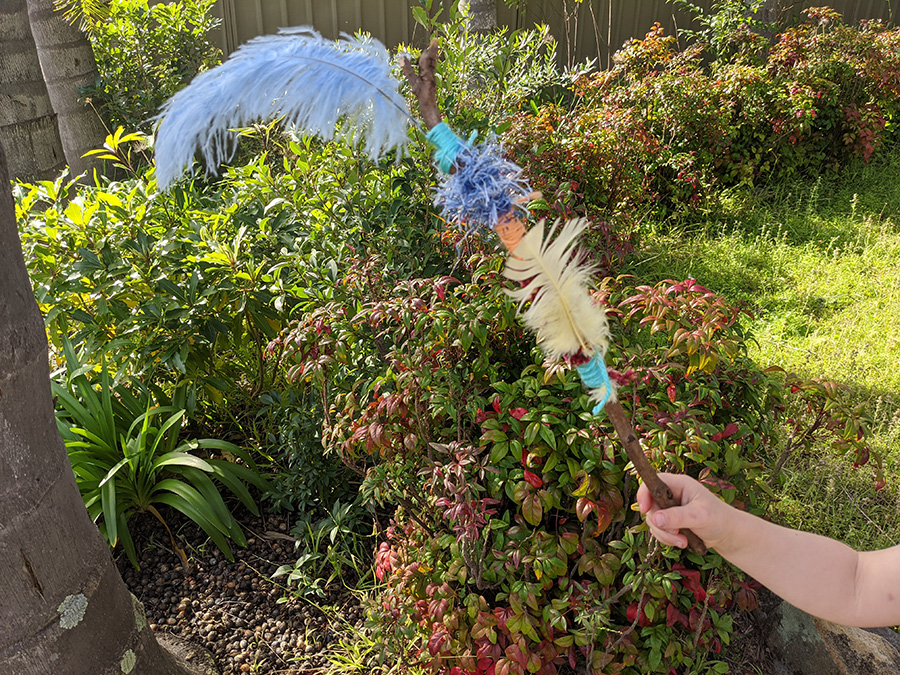 Nature Chandelier – create a cross out of two sticks and hang from colourful twine a variety of items found in the bush – pinecones, seed pods, bark, flowers, leaves etc.
Nature Windchime – snap sticks into lengths of about 25cm, decorate your sticks and use wool to fix your sticks and nature items together.
Nature Walk Bracelets – wrap the wrist with paper fastened with tape and glue on items found on your bushwalk. Each child has a small pouch to place their items into as they walk.
Mask It – cut out a mask for each child and glue on bush items to decorate. Punch a hole in each side to attach a piece of elastic that fits each child.
Leaf Garland /Nature Chain – make in the same way as paper chains but use long supple leaves. Attach together with tape.
Build a Paper Windmill!
Visual art
Bush Baby Collage – print off pictures of birds and animals and stick on thick card (echidna, bilby, snake, cockatoo etc) and stick a variety of items found in the bush, with craft glue, to decorate your animal.
Rockin' Rocks – paint rocks in bright colours and/or Aboriginal dot painting designs. Use rocks, bark, sticks and other bush items like gumnuts and pine cones to make prints on paper.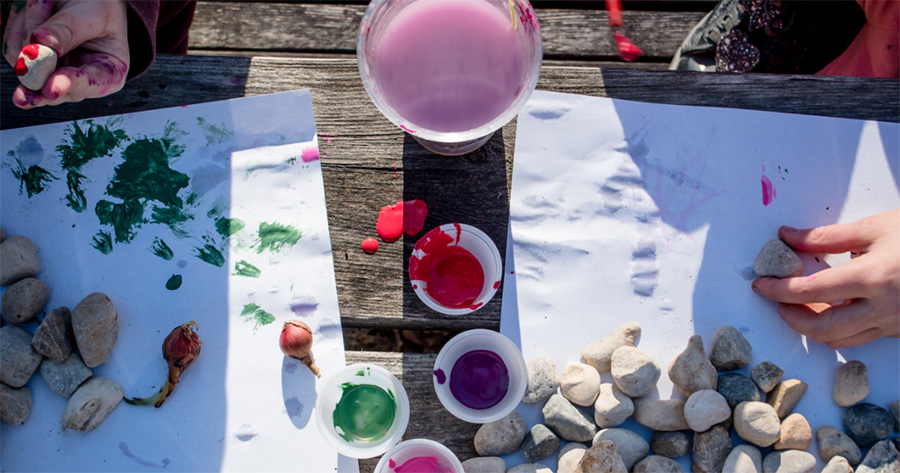 My Muddy Face – use thick mud to create a round face on the ground and use bush items to create all of the facial features and hair.
Make a Paint Brush – attach ferns, leaves, feathers or grass to the end of a stick. Use as a paint brush and compare the different textures and effects these brushes create!
Shadow Drawing – set up drawing subjects (fun animal toys such as dinosaurs are always good fun!) and paper. Make sure the subjects are in the sun and casting a shadow onto the paper for your kids to trace.
Leaf Rubbings – Collect leaves of various shapes and sizes. Place a leaf with its bottom side facing up. Place paper over the leaf and rub a crayon over the entire leaf. Compare the patterns of different leaves.
Finish the Leaf – cut leaves in half, glue onto paper and draw and colour the other half.
Rainbow Stick Painting – paint a stick in bright colours and press down onto paper several times to make a pretty pattern.
Nature Portraits – on a paper plate, or other flat, round surface, children create faces (of a person or animal) using items from the bush.
Tree Bark Rubbings – wrap butcher's paper around a tree fastened with tape and children rub over with crayons or charcoal to discover the tree's pattern.
Clay Creations – children might like to make creatures, pinch pots or fossils with leaf and/or animal footprints.
Bush Painting – roll out a long piece of butcher's paper for children to paint with rock paint and mud, glue on leaves and just be as creative as possible!
Trace & Decorate Me! Trace someone's body onto butcher's paper and decorate with things found in the bush.
Mister Squiggle – draw 20 circles on a large piece of paper and ask children to turn each into something from nature – bugs, planets, rocks and so on!
Nature Mosaic – Collect similar-sized pieces of bark and other fragments found in the bush to create a mosaic. Use printed pictures as a guide or simply freestyle artworks on the ground.
Sensory
Oozy Oobleck! Mix cornflour and water together in a shallow tray (with colouring if you like) and allow children to use it for sensory imaginative play. Provide figurines and other items from the bush for children to use in the oobleck.
Shake Shake! Create a sensory shaker using items found on the ground. Add glitter, other fun craft items and water into an old drink bottle with the lid taped up securely.
Can You Hear What I Hear? Close your eyes and listen – identify as many sounds of the bush that you can.
Gaze & Goggle – provide sets of binoculars for children to explore up trees and off into the distance.
Bushwalks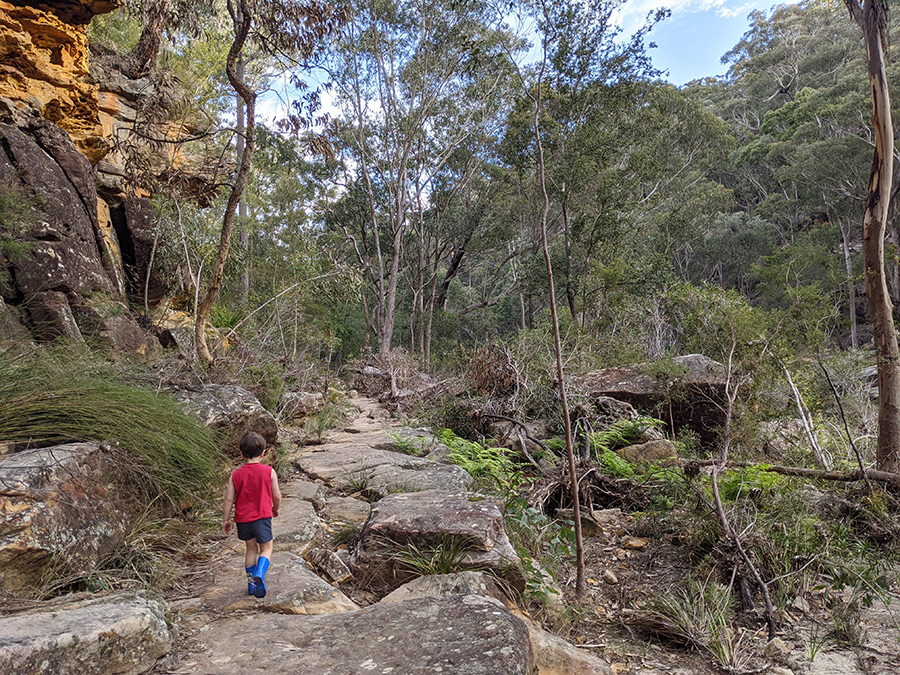 We're Going on a Nature Hunt – connect cards together with a variety of bush pictures on them. Give a bundle to each child to hold on their walk and try to find the items on their cards.
I Can See A Rainbow – find something on your bushwalk from every rainbow colour. An alternative is to provide cards (grab some from your local hardware's paint section) with colours found in the bush for young children to match.
Scavenger Hunt – using a clipboard with pictures and words of things found in the bush. Three different leaves, a smooth rock, small stick, large rock, spider in a web, bark on the ground, feather, bird, yellow flower, pinecone, butterfly, something rough, something prickly. Stick together as a group on a walk or make sure children stay with the boundaries.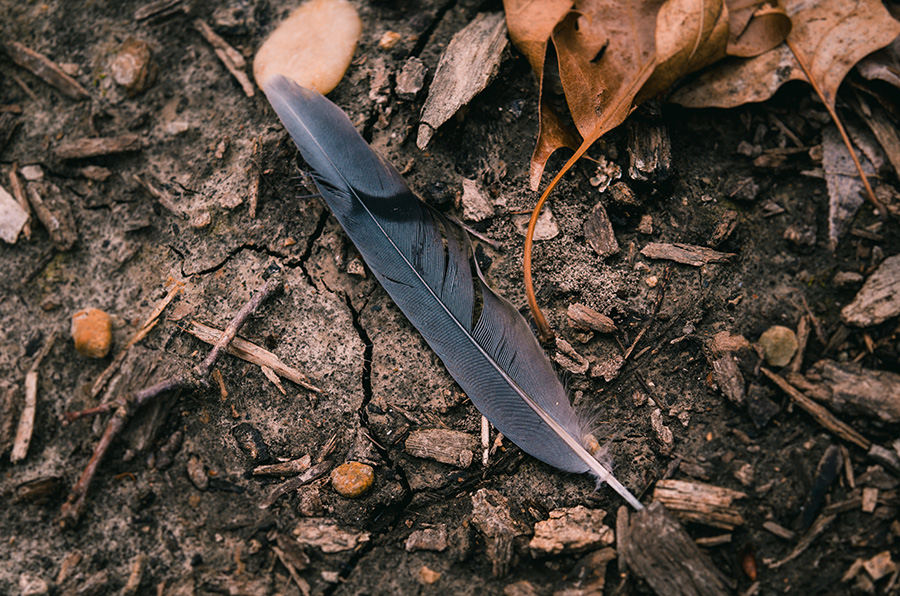 We're going on a Bear Hunt – Create a treasure, or bear, hunt with a map and clues. Write a clue to find a location or item, then have another clue waiting at that spot. That tip leads to the next spot, and so on. Place a treasure, animal or bear, at the final destination.
Which Way is Up? Teach children how to use a compass. Take a bushwalk using their new skill.
Open-ended play
Loose Parts Play – provide a bundle of sticks of various sizes, a pile of different sized rocks, a bunch of gumnuts and allow children to create, build and assemble the parts however they choose.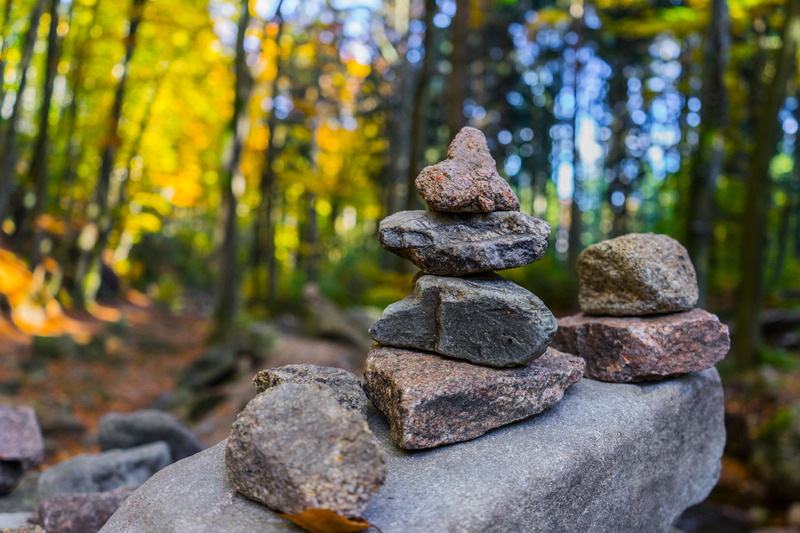 Leaf Threading – attach wool to the end of a small, thin stick and thread green leaves together through holes made with a hole puncher. Create a necklace, belt, bunting or Christmas tree decorations.
It's Child's Play – provide figurine animals (large, if possible) and place around mud, water and leaf litter as part of free play opportunities.
Mud Kitchen – provide water and a variety of pots, pans and safe kitchen tools and utensils (purchased from an op shop perhaps) to create open-ended bush cooking play.
Cloud Spotting – look at the clouds. What pictures or shapes do you see?
Music
Bush Disco – sing and dance together as a group in the bush. The Wiggles and Justine Clarke are always fun. Provide coloured twirling ribbons on sticks, percussion instruments, dress ups and any craft the children have made that day to use as they dance (ensure children keep their distance from one another to avoid accidents with sticks).
Thank You for the Music – invent a musical instrument using objects in the bush found on the ground.
Food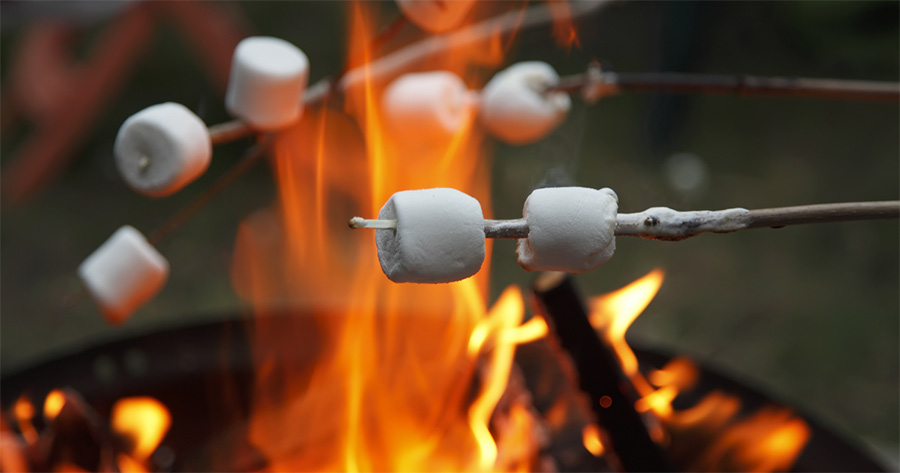 Bush Tucker – make damper and roasted marshmallows. Press dough onto a stick (like a pluto pup) and marshmallows on the end of a long thin stick to roast over a fire pit.
Popping Popcorn! Make popcorn over a fire pit by attaching a long, sturdy stick to a metal sieve on the bottom (that you don't mind getting a bit tarnished over the fire) and one on the top to create a lid. Place a large handful of corn kernels over the fire (not too close so that it burns) and wait a few minutes to hear the kernels start to pop. A healthy snack to share all together!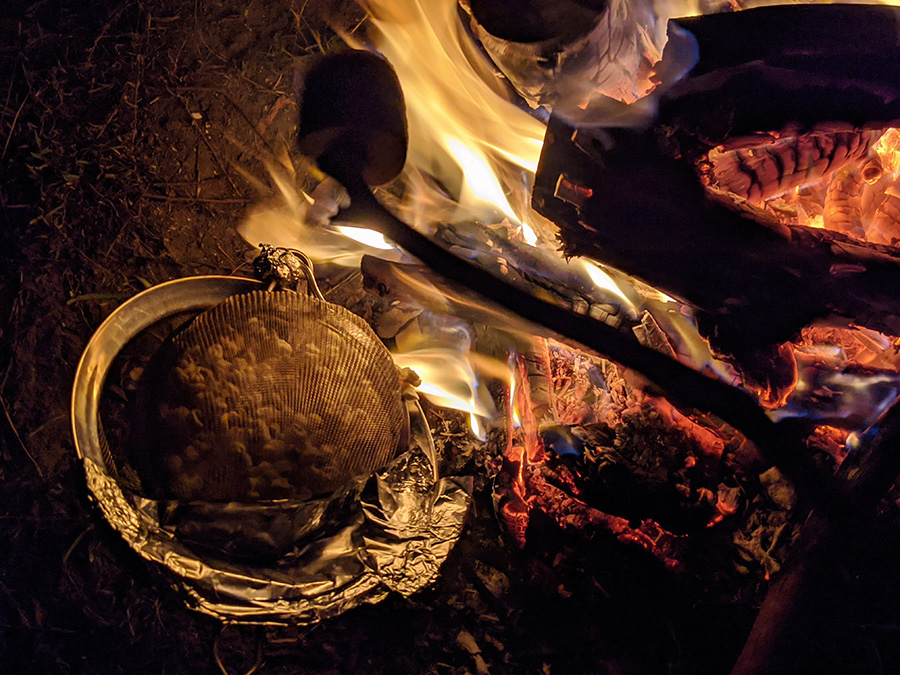 Other Ideas for Bush Play
Happy Birthday! Celebrate a Bush Party for your child's birthday. Cooler months are probably more pleasant. Use some of these activities to engage the children. Ensure you explain safety guidelines to the children and have plenty of adult supervision.
Bring the Bush to your Play Group – You may like to include many of these activities as part of your regular weekly playgroup.
Get a dose of Vitamin N in your life (Nature!) and inspire your children to do the same from a young age. Let's make outdoor play the norm again! According to the Early Years Framework for Australia, by allowing your children to play in natural environments with plants, trees, sand, rocks, mud, water and other elements from nature, you are inviting open-ended interactions, spontaneity, risk-taking, exploration, discovery and connection with nature.
Your children will foster an appreciation of the natural environment, develop environmental awareness and provide a platform for ongoing environmental education. What's not to love? Bush play is the way to go!
Do you have other ideas for Bush Playgroup activities in the Blue Mountains? Do you have a favourite location for bush play? We would love to hear from you! Leave your comment below.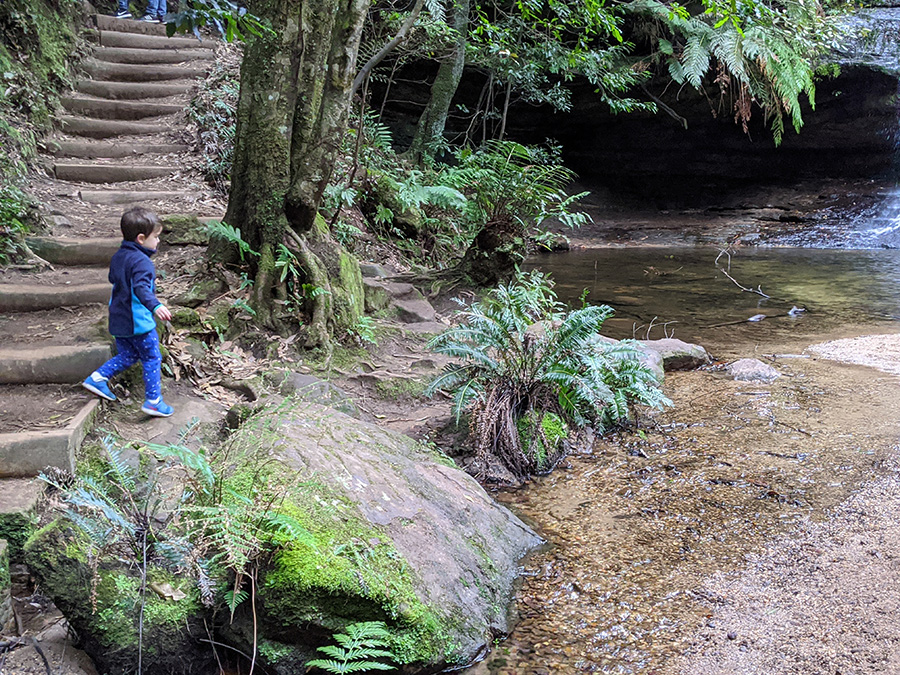 Bushwalking safety information
As always, please read our bushwalking safety information to always be prepared when out bushwalking with your children.
Ensure that you check all of the relevant safety requirements for the particular track that you are walking. Each walk is different and requires a different level of preparation. Please read our tips for keeping children safe on bushwalks. It's a good idea to also download the NSW National Parks app and check out the Think before you TREK advice on the NSW National Parks and Wildlife Service.
Special thanks go to the Stronger Families Alliance in partnership with the Blue Mountains City Council for creating the Bushtrackers Guides and Maps, which are an excellent resource for families to teach children how to safely enjoy bushwalks.