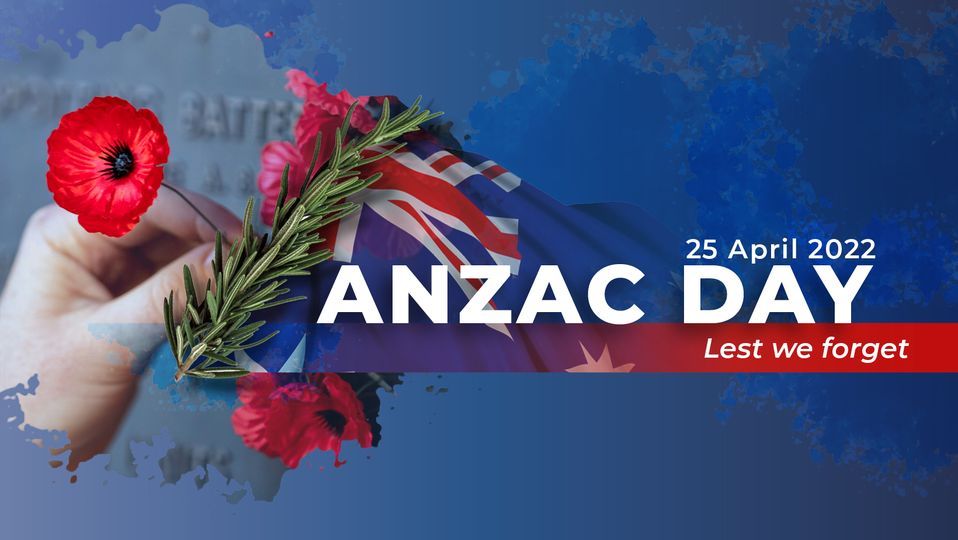 ANZAC Day services and events will proceed as normal this year. Even though the RSL suggests staying local and rallying your neighbours for the Light up the Dawn service, there are a few special events and other ways that we can pay tribute to honour our servicemen and women on this important day with our family, friends and our Blue Mountains community.
ANZAC Day Blue Mountains
Light Up The Dawn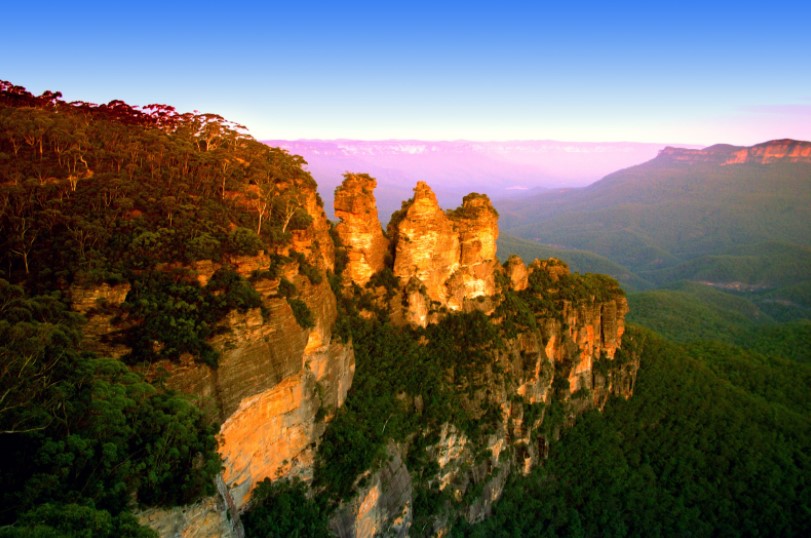 Australians can commemorate and show their support by staying local and participating in the national 'Light up the Dawn' service at dawn. The RSL encourages you to rally your neighbours to participate and share your service on your social media platforms.
'Light Up The Dawn' on Sunday with a small service in driveways, at front gates or on verandahs, to honour our veterans from home at 6AM.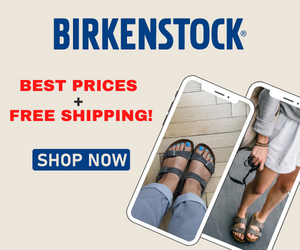 Lay A Wreath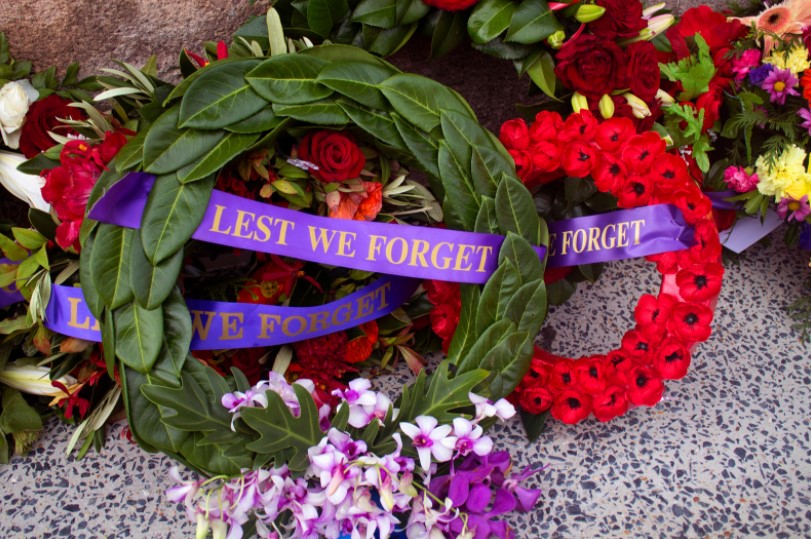 Wreaths can be laid at any memorial or cenotaph at any time before or on ANZAC Day.
Lawson Combined Services Club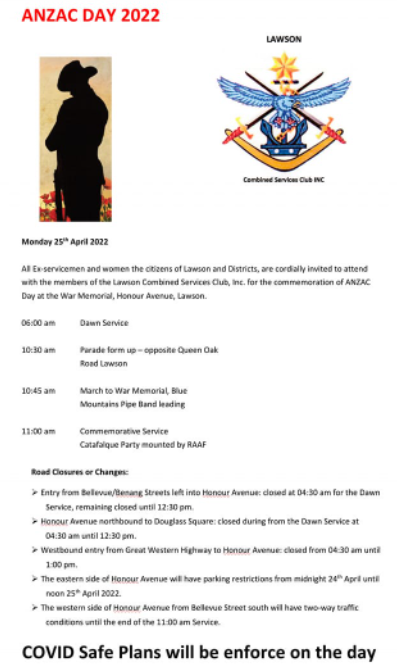 Lawson Combined Services Club will hold a Dawn Service at 6AM at the War Memorial on Honour Ave, Lawson. The Parade will form at 10:30AM opposite Queen Oak Road, Lawson. The march to the War Memorial will begin at 10:45AM with the Blue Mountains Pipe Band leading.
View 2022 ANZAC Day Parade and Ceremony Event
ANZAC DAY
Blaxland/Glenbrook RSL Sub Branch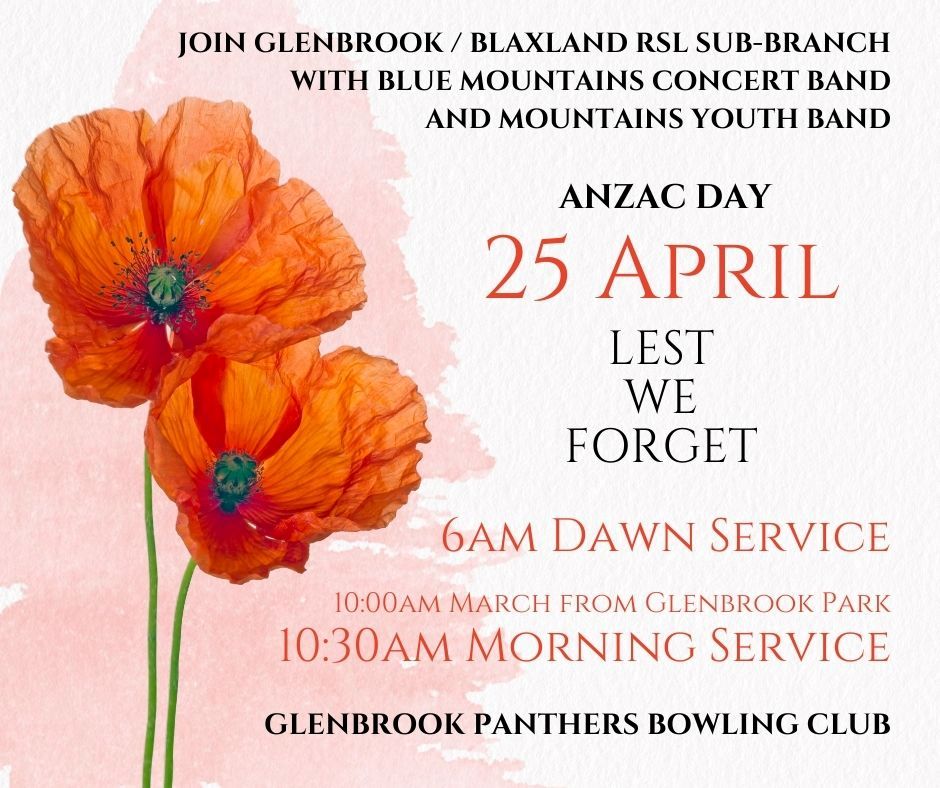 Blaxland-Glenbrook RSL will be hosting ANZAC Day services at the Memorial at Glenbrook Panthers Bowling Club.

The Dawn Service starts at 6AM.

For the march, meet up 10AM at Glenbrook Park.

The Main Service starts at 10.30AM Hare Street.
Bands will be performing as part of the 6AM Dawn Service and again at the 10:30am Morning Service at the Glenbrook war memorial.
Parking at the Bowling Club will be closed until 11.30AM.
Emu Sports Bar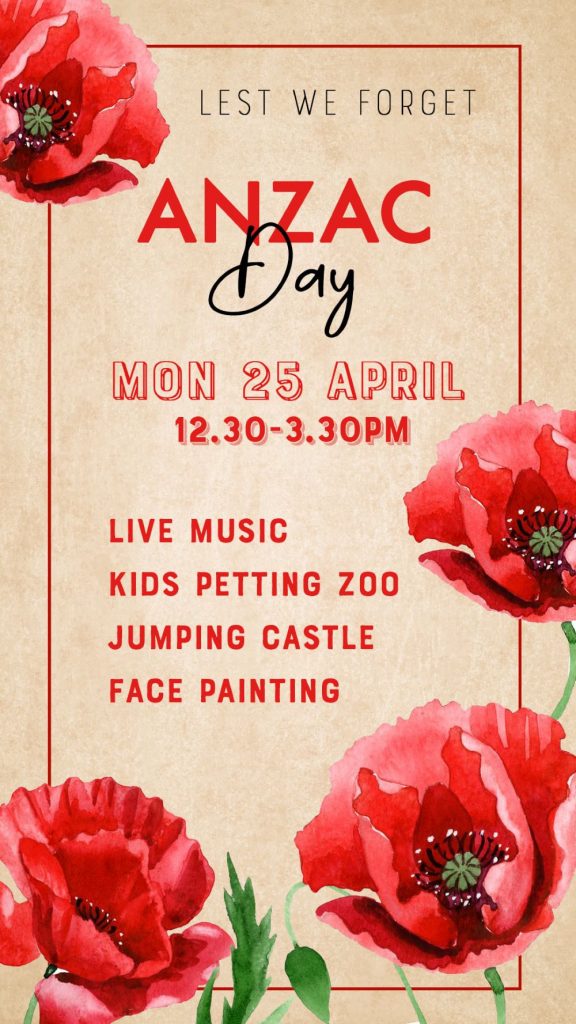 There is an ANZAC Day Family Event 2022 planned at Emu Sports Club – with live music, jumping castle, face painting and petting zoo from 12.30 – 3.30pm.
Penrith RSL Sub Branch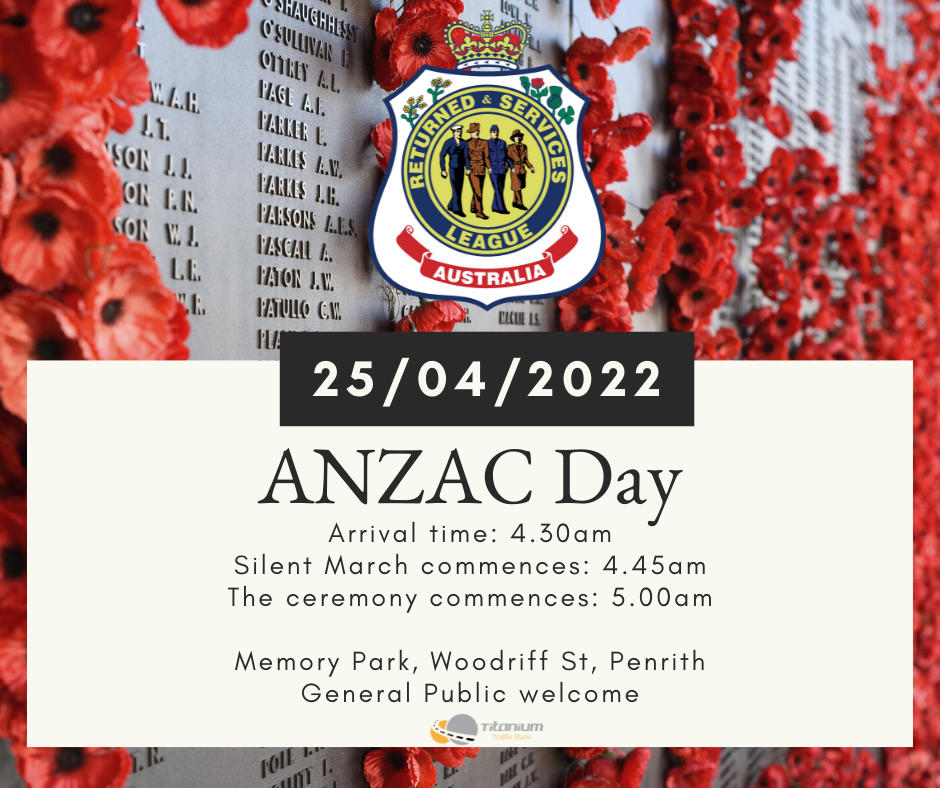 City of Penrith RSL Sub-Branch is commemorating ANZAC Day with its annual silent march, and this year it is open to the General Public to attend.Road closures will be in place in the Penrith CBD for the ANZAC Day march.
Ample, free parking is available at: Judges Place Carpark (Station Street Entry/Exit only); Allen Place Carpark; and Union Lane Carpark. Lest we forget.
ANZAC DAY Community Events 2022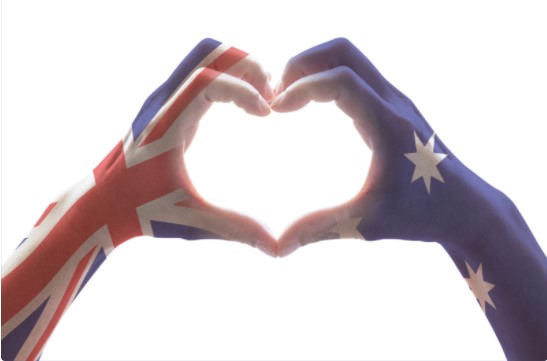 A number of local RSL Clubs will be hosting ANZAC Day commemoration services this year, including:
Watch ANZAC Day
March 2022 In Sydney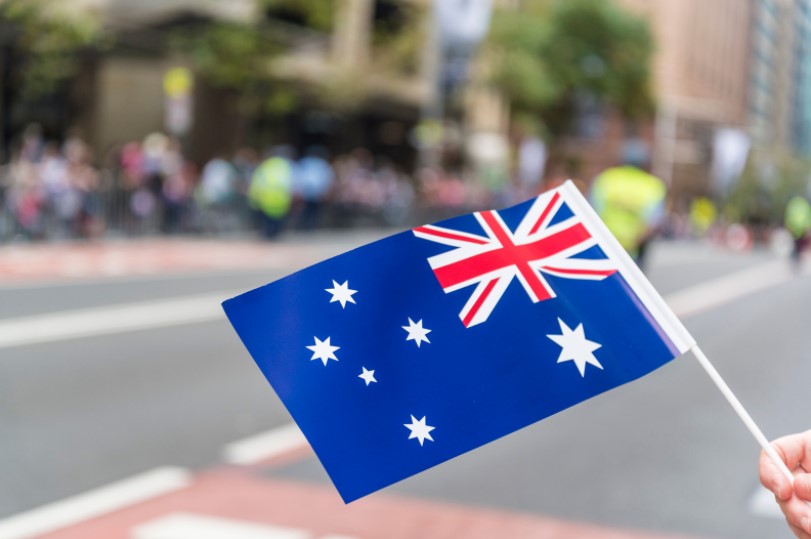 Watch the ANZAC Day Sydney March and service on the ABC. Visit https://ab.co/2Ph7hPN for more details on all ANZAC Day marches being held across the country and when you can view them on the ABC.
Watch the Live
ANZAC Day Dawn Service
The state's official Anzac Day Dawn Service will get underway from 4:30am at the Cenotaph in Sydney's Martin Place.
View it live on YouTube at 4.30am AEST. https://www.youtube.com/watch?v=v96z4vHXoH4
DETAILS FROM ABC NEWS: There is no ticketing or QR code check in this year, but RSL NSW says the wearing of masks is still encouraged indoors if you cannot keep a safe distance from others.
Anyone attending the Anzac Day March is encouraged to catch public transport to the CBD, with major road closures in place from 2:00am until 4:00pm.
The march begins at 9:00am at the intersection of Martin Place and Elizabeth Street, proceeding down Elizabeth Street and ending at the Liverpool Street end of Hyde Park (ABC News 2022).
Discuss ANZAC Day With Our Children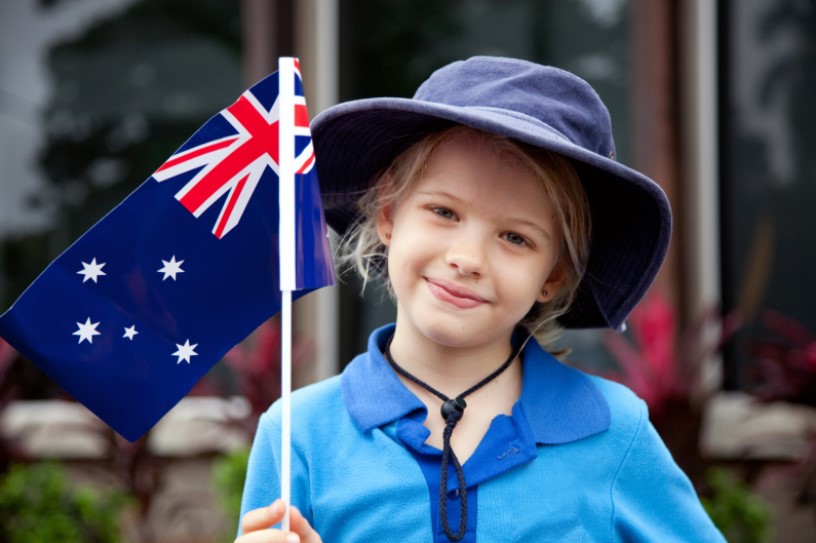 Talk about the significance of ANZAC DAY as a family:

What is ANZAC Day?
ANZAC Day is a national day of remembrance that honours people who served and died in all wars, conflicts, and peacekeeping operations.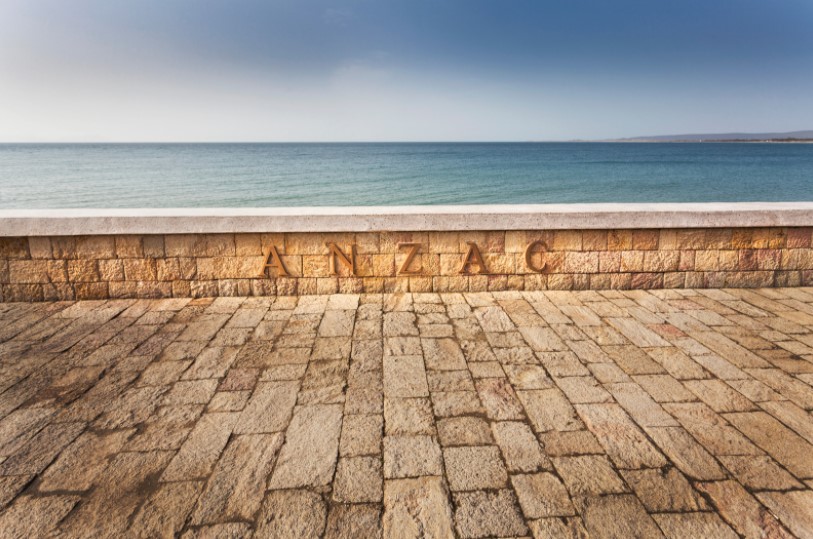 Originally the day marked the landing of Australian and New Zealand forces in Gallipoli, Turkey, in 1915 during the First World War. The acronym stands for Australian and New Zealand Army Corps. The first ANZAC Day ceremonies were held in 1916.
Read 'The Ode' Together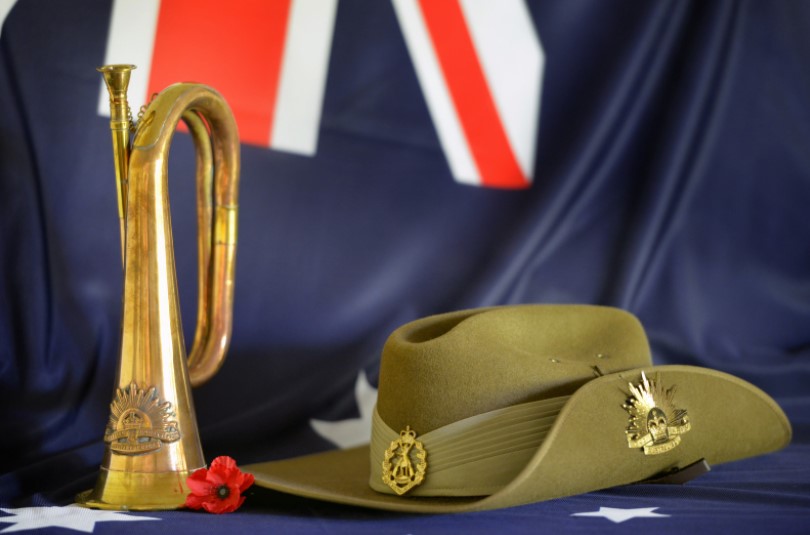 The Ode is a section from a poem called "For the Fallen" by Laurence Binyon.
They shall grow not old, as we that are left grow old,
Age shall not weary them, nor the years condemn,
At the going down of the sun and in the morning,
We will remember them.
Make Traditional ANZAC Biscuits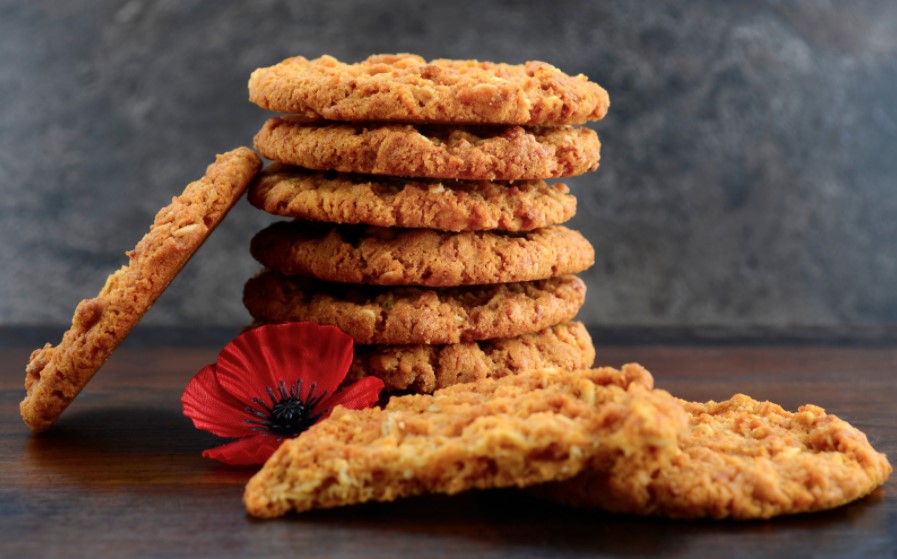 The ingredients originally used in ANZAC were rolled oats, sugar, plain flour, coconut, butter, golden syrup or treacle, bi-carbonate of soda and boiling water. All these items did not readily spoil. At first, the biscuits were called Soldiers' Biscuits, but after the landing on Gallipoli, they were renamed ANZAC Biscuits.
A favourite ANZAC biscuit recipe can be found here.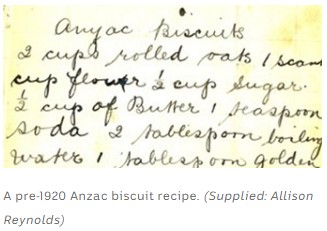 Donate to the ANZAC Appeal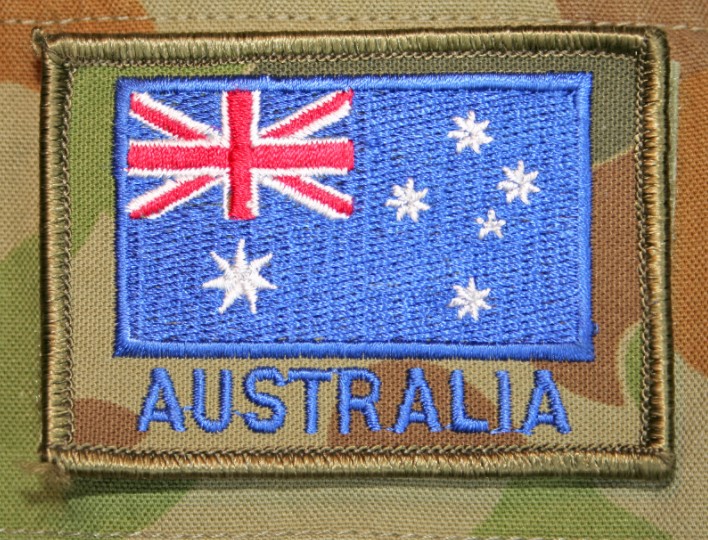 If you are in a position to provide financial support, you can donate to the ANZAC Appeal to help the RSL to continue delivering ongoing services and support to veterans across Australia. Any donation made from NSW is returned to RSL NSW and goes directly to the partner charity, RSL DefenceCare. Click here to donate or find out more.
If you have any questions about 2021 ANZAC Day commemorations in NSW please contact support@rslnsw.org.au

We make all attempts to include correct and up to date details but please note that circumstances out of our control may arise that mean that some details may change.
Lest We Forget