Premier Gladys Berejiklian and Deputy Premier John Barilaro said that from June 1, NSW we will be able take recreational trips across the state, including camping (check each site for booking availability), as long as they maintain social distancing and good hygiene. Lifting the holiday travel restriction will give everyone a much needed break and help get small businesses and the tourism industry moving again, which is welcome news for our Blue Mountains businesses. Here's the latest update on our easing restrictions…
With life looking a little more 'normal' and schools returning last week, great care must still be taken to abide by restrictions that remain in place. Those taking holidays are reminded that they must keep in mind to do so responsibly and continue to abide by physical distancing measures.Children may play at parks and skate parks now and up to 10 people are allowed to be seated in cafes and restaurants, provided they comply with the 4 square metre rule.
From May 15, the following was allowed:
public gatherings of up to 10 people
food and drink premises can open, but only to seat a maximum of 10 customers at any one time – this includes cafes and restaurants, a restaurant within a registered club or pub, or a cellar door that serves food
up to 5 visitors may visit another household at any one time
weddings can have up to 10 guests plus the people conducting or assisting in the conduct of the service, a photographer, a videographer, and the couple
indoor funerals and memorial services can have up to 20 mourners and outdoor funerals up to 30 mourners
religious gatherings and places of worship can have up to 10 worshippers
outdoor playground and exercise equipment can be used with caution
outdoor pools can open with restrictions.
COVID-19 testing advice
From May 21, an exemption for auction houses for purposes related to a sale as outlined in the exemption, and where a COVID-19 safety plan is in place. An exemption for drive-in cinemas was also announced.
From May 25 elective surgery could incrementally recommence.
On 29 May 2020, an exemption was granted for commercial vessels for the purposes of diving; snorkeling; and whale, dolphin or marine animal watching tours, with social distancing for non-family members.
Testing rates in Nepean Blue Mountains Local health district (LHD) high last week
During March there was an increase in cases in Nepean Blue Mountains LHD, largely due to an outbreak in the Anglicare Newmarch House aged
care facility. The last case associated with this outbreak had an onset on 4 May. There has been very limited transmission detected in regional and rural areas and limited transmission identified throughout all of NSW in recent weeks.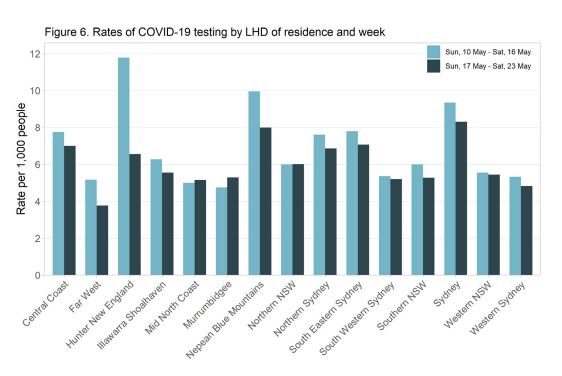 Children and COVID-19 rates
While testing rates are lower in children, so is the test positivity, suggesting that there may be lower rates of COVID-19 illness in children than adults. It is possible that children experience less severe illness than adults and consequently may be less likely to be tested.
As of 24 April 2020, NSW Health recommends COVID-19 testing for anyone with respiratory symptoms or unexplained fever. For more information, refer to COVID-19 testing advice.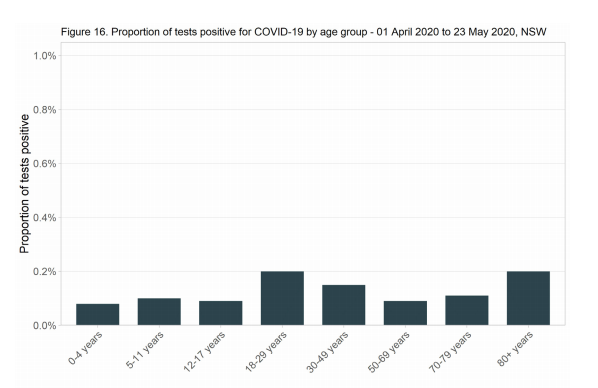 Blue Mountains Mums hopes that your children continue to enjoy a safe and happy return to school for Term 2. Let's continue to be vigilant with social distancing while we enjoy these new easing of restrictions. We look forward to seeing you out and about at playgrounds, skate parks and of course, cafes! In a few weeks, school holidays will be upon us all again (really!?) and even though many of us may still opt for a staycation for our Winter break, we are now able to enjoy a well earned rest with intra state travel, ski trips and camping.